The implications of current food trends on foodservice equipment and supplies.
Ask any consultant, or any operator or dealer for that matter, about the most important consideration before deciding on equipment selection or even breaking ground on a new space, and the response will be the same: develop the menu first.
These days, food is everything, from the simplest, deliciously authentic street food to high-end, Instagram-worthy dishes. But what is a food trend, and what's just a fad?
Experts agree that trends have real staying power. Eventually, things like eggs on burgers, quinoa bowls and avocado toast just become part of mainstream menus.
As trends constantly evolve, members of the foodservice industry must learn to adapt. "Given how trends shift like crazy, it's so important to consider multifunctional equipment," says Karen Malody, FCSI, principal of Culinary Options and a former food and beverage specialist for Starbucks and other food companies.
"Layout, design and service are all important factors in any foodservice operation, whether it's a coffee shop, restaurant or hospital — but the glue that holds all of these factors together is still always the menu," says Malody.
Every year, the National Restaurant Association releases its highly anticipated "What's Hot" list, which points to specific food trends based on survey results from chefs nationwide. This year, in looking at that report and other trend data, a variety of interesting developments are starting to emerge. For example, various African, Filipino, Mediterranean and Middle Eastern cuisines are growing in popularity. Techniques such as live-fire cooking, pickling and fermentation continue to enjoy a renaissance. Even saving on food waste continues to become more mainstream.
Here Malody and Brendan Spiro, principal of Quality Restaurant Corp. in Brooklyn, N.Y., who has helped conceptualize, design and operate a number of popular restaurants and eateries in the New York area, share their thoughts on the top five menu trends right now, and the lasting E&S implications.
Trend No. 1: Authentic Ethnic and Ethnic Mashups
The term "fusion" may have gotten a bad rep in the 90s from the Chinese chicken salads of the world and wasabi-infused everything that seemed to try too hard, but the blending of different ethnic flavors is making a comeback.
These days, however, the search for authenticity remains at the heart of ethnic mashups and modern ethnic menus, Spiro and Malody agree.
"It's more than just the grabbing of different flavors and smacking them together without much thought," says Spiro. "Rather than just using ingredients and recipes from a pantry, operators are going out in search of original cooking styles."
As such, more authentic equipment now occupies center stage in the kitchen as operators look to recreate real flavors from real cultures and cuisines. It's not unheard of for a kitchen to include tandoor ovens, Japanese-style robata or teppanyaki grills burning compressed hardwood binchotan, or even to see different forms of live-fire cooking happening for South American asado-style cooking.
Spiro points to Francis Mallmann's recently opened Los Fuegos in Miami Beach , Fla., as an example of an authentic kitchen space. The menu features Mallmann's native Argentine barbecue, complete with an entire live-fire kitchen with custom-designed grills burning real wood and charcoal.
A number of manufacturers have responded to this trending cooking style by introducing highly customizable grill, oven and flattop stations that chefs can manipulate using pulleys and levers to do things like bring a plancha down over burning wood or coals to infuse smoky flavors in different dishes, from meat to seafood and vegetables.
"The ability of manufacturers to customize their models for hyper-specific needs for operators and chefs will only continue to improve," Spiro believes.
On the tandoor oven front, Malody says she's seen more "Indian-ization" of different menus, with Indian flavors fusing with Asian and Latin ones and an influx of curry-based fast-casual concepts in urban markets.
African and North African cooking continues to become popular, reaching No. 2 on the "What's Hot" list in the global flavors category and a Top 10 food trend overall. Some operators even use tandoor ovens to bake different types of African breads, Malody notes.
Ethnic breakfast, in particular, was noted as a top trend (No. 6 overall). Malody has seen the use of plancha grills here as well, and even watched as some operators turned to their wood-burning pizza ovens to bake eggs in two minutes. Essentially, operators now use what used to be very specific pieces of equipment for specific dishes in different ways for different dayparts.
Trend No. 2: Veggie-Focused Cuisine
The days when vegan food and vegetarianism were assumed to be for granola-chomping hippies are way over. Nowadays, many consumers look to cut back on their meat consumption, both from a health and culinary exploration perspective.
Some restaurants have responded to this growing movement by swapping steaks for cauliflower and putting beautiful, farmer's market-quality vegetables front and center on the plate.
You know this trend has staying power when fast-casual restaurants get in the game, with celebrity chefs like José Andrés (Beefsteak) and food truck pioneer Roy Choi (Commissary) leading the charge. Abroad, the ubiquitous Pret a Manger and its vegetable-focused Veggie Pret shops have led to some serious menu redevelopment at the company's 76 restaurants here in the U.S., introducing things like banh mi sandwiches with miso-spiked sweet potato instead of pork.
"Healthy eating is becoming a new craze," says Spiro. "Things that used to be relegated to vegan houses and vegetarian fringe restaurants pretty much are now commonplace."
Although fast casual might seem to have an opportunity to play more with this veggie-centric style, full-service and noncommercial operators now harvest the benefits of going beyond meat on the menu.
One example: the budding business of bowls. This vast and growing menu segment includes compostable, takeaway bowls filled with seasonal vegetables, lettuces, ancient grains, eggs and avocado to big ceramic bowls for eating Korean-style bibimbap, brothy soups and extra-large salads in house. The latter appears on the menu at New York City chef Daniel Humm's Made Nice, a fast-casual restaurant focused on bowl-inspired dishes with some protein, but plenty of vegetables and grains. Some of the other add-ins for Humm's bowls include the Salmon Rösti with frisée salad, smoked salmon, soft-boiled egg, dill-caper relish, potato crouton, cucumber, radish, pickled onion and buttermilk vinaigrette and a bowl with plancha-cooked hangar steak combined with roasted broccoli, crispy rice, parmesan, lemon, chile and crispy shallot.
"What these places are doing is introducing the population to flavor again, and even if everything is not 100 percent healthy, it's more about looking for dynamic flavor combinations and textures that also happen to be wholesome and healthy," Spiro says.
These and other veggie-centric restaurants feature bright and wide open kitchens, with plenty of sleek steel, white tiling and other design elements that suggest clean eating, lightness and freshness. Salad and refrigerated prep tables naturally proliferate in these restaurants, as do cold-press juicers and blenders for making vegetable-laced beverages.
Malody points out some crossover with ethnic cuisine in that some operators use tandoor ovens, as well as wood-fired ovens, to roast vegetables in different ways and impart more flavor.
"As the cost of animal protein goes up, you'll find more operators using equipment in different ways to cook
vegetables," Malody says.
Trend No. 3: Fermentation and House-Made Condiments
Fermentation is big and includes house-made sauerkraut, kimchi, yogurt and pickled everything. As health departments begin to loosen up their restrictions against naturally fermented foods, more chefs at all different types of operations, from high-end restaurants to even healthcare foodservice cafes, are beginning to experiment in this area.
"Following on the popularity of new Nordic cuisine, the American palette is moving into the sour and bitter for the first time, so you have a lot of chefs trying to make these cultured butters and their own yogurt and even vinegar for different uses," Spiro says.
With some health departments still in limbo when it comes to the question of fermentation in commercial foodservice operations, the question, Spiro points out, is whether the operator wants the fermentation vessels to be seen. More basic fermenting chambers take the form of insulated coolers or other plastic bins, but menu items like homemade pickles and other accouterments make for nice tabletop and dining room design elements when housed in pretty jars or other containers meant to be lined on shelves or even sold in retail form to guests.
That said, some overlap exists between fermentation and the housemade condiments trend (which, by the way, the National Restaurant Association's "What's Hot" list ranked as the No. 1 trend in the accouterments category and No. 7 overall).
"I'm seeing more places making everything from hot sauces to chutneys, pestos and even Middle Eastern schug, a spicy herb garlic paste which is Israelis' answer to harissa," says Spiro. "This is something tabletop manufacturers might want to consider when introducing new lines of jars and other condiment vessels. For the back of the house, I could see more manufacturers introducing larger fermentation tanks or other containers for bigger batches of kimchi, sauerkraut, pickles and more."
Case in point: at Maharlika in New York City, restaurateur Nicole Ponseca is rediscovering the roots of her native Filipino cuisine, making her own vinegars in opaque clay vessels that are as functional for fermentation as they are pretty for service.
Trend No. 4: Instagram-Worthy Food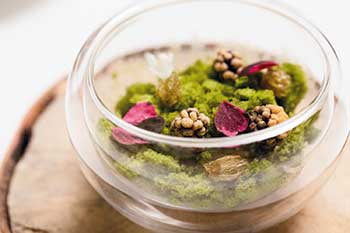 In the age when everyone's a blogger obsessed with food, Instagram has found its niche as young diners snap photos of their meals, from the health-focused fast-casual restaurants to the finer dining independents of cities big and small.
Search "Instagram worthy food" on Google and up pops a slew of articles on the topic, many of which have no actual reviews of how the food tastes. Instead, the sole focus centers around how to take a great food-picture and where to go to find outlandish concoctions worthy of taking a picture.
"There's a need for more of a textural component with food that is just as artistic as it is amazingly delicious," says Spiro.
Gone are the days of brown roasted chicken set over beige, pureed potatoes. "Now you have people putting mais tostato [corn nuts] or savory granola or seeded croutons and different herbs and microgreens that have some bite, chew and crunch but also photograph well," he adds.
These photo-worthy dishes have a major impact on tabletop choices as a result. Instead of the basic, plain white dishes, operators now experiment with different types of stoneware and more colorful plate and bowl choices meant to enhance the rainbow array of the dishes.
"We're seeing a broad shift in tabletop design to a much more playful and colorful palette," Spiro says.
Trend No. 5: Hyperlocal
Hyperlocal food can mean anything from full-scale, on-site gardens to small herb and hydroponic "farms" in kitchen basements. Either way, more chefs at all types of operations are getting into the game, typically by starting with some herbs and moving into more complex growing systems that not only cut down on food costs but also add something special to their menus.
"I'm seeing more chefs with these rooftop gardens even start to grow nonindigenous ingredients like Peruvian mint or specific chiles that can still grow well in our climate so they don't have to struggle to find them elsewhere," Spiro says. "This is the next level of farm-to-table cooking style in search of more authentic flavors."
The resulting impact on design and equipment is huge. "You're seeing these little gardens spanning out of the kitchen and even off the windowsills and green walls or into a small backyard."
You know we're entering a new era of foodservice equipment now when gardening equipment and supplies become the norm on a chef's purchasing list. Dealers who can start offering things like planter boxes, irrigation systems and gardening tools will likely see their bottom lines grow as this trend moves out of the fad stage and into a new movement, considered by many new-build concepts.
Don't forget the small-scale items like flowerpots, green walls and other growing mechanisms for display in the restaurants themselves. These items showcase hyperlocal offerings in a way that brings the outdoors inside.
As these and other food trends move from fads to permanent menu fixtures, the impact on equipment and supplies will continue to be huge. All industry players — from consultants to operators, dealers and manufacturers — should take note. This is a new era of foodie culture that will have a significant impact on foodservice equipment design.
Counter-Service Dining
While not technically a menu trend, counter-service dining continues to remain popular at all types of restaurants nationwide, signaling an operational and design trend that could easily stand the test of time. "Because of the cost of labor going up, I wouldn't be surprised to see more of this style of service, even in restaurants that aren't fast casual," says Karen Malody, principal of Culinary Options LLC. Even the National Restaurant Association's 2017 "What's Hot" chef survey pointed to counter-service dining as a top trend.
Malody points to chef Bill Kim's Urbanbelly in Chicago, the more fast-casual outpost located directly inside his dinner-focused, full-service bellyQ restaurant in the city's West Loop neighborhood as one example of this trend in action. Lunch crowds line up for the bowls of ramen, dumplings and more served quick-serve style during the weekdays as a way to build midday daypart sales when the main restaurant is closed.
As the counter-service format grows, Malody also sees more concepts moving to single-item or limited menus. "I think we'll see more places doing just arepas or just tacos or ethnically driven foods," she says.
In terms of equipment implications, blast chillers could help Kim prepare and save his famous dumplings so they're ready to go and still taste fresh right before service, Malody notes. And "as restaurants move into smaller and smaller places, you can do amazing things with ventless combi ovens and other multiuse equipment pieces if you plan your menu right and stick to a simple approach," she says.