This casual dining chain has opened its first store in seven years as part of the revival of parent company Real Mex Restaurants.
If turning a single concept around is hard, turning around multiple concepts in the same sector has to be much, much harder.
That is the task facing Real Mex Restaurants, a Cypress, Calif.-based company that operates a total of eight brands in the broad Mexican food category.
Even with multiple concepts and a period of overall solid growth for the restaurant industry, the firm has struggled for much of the past decade. Sales and store counts declined, and the CEO title changed hands multiple times.
In 2012, Real Mex emerged from bankruptcy with new owners and a new leadership team led by CEO Bryan Lockwood. Real Mex is now showing signs of life, with the company posting positive same-store sales for more than a year.
The turnaround, says Steve Vrabel, vice president of design and development, is due in part to leadership "making the tough decisions" to close multiple low-performing stores that were a drag on the entire company. "When you hear restaurants closing 10 or 12 or 15 units, everybody thinks they're in trouble. In this particular case, these were decisions that should have been made 10 years ago, and they weren't made," he says.
As a result of this move and several others, Real Mex now operates on solid financial ground. It is now in position to revive not just its finances, but its brands as well. Over the past few years, the company has done just that, undertaking redesigns or major development work on five of its eight concepts.
Chevys Gets a Facelift
One of the latest Real Mex concepts to get the redesign treatment is Chevys Fresh Mex, a 38-unit chain that last summer unveiled its new design in a mall in Northridge, Calif. The opening marks the concept's first new store in seven years.
According to Daniel Harf, owner of Orlando-based branding and design firm Blue Ocean Works, the project began with an evaluation of the concept's strengths given the long time between openings. The key finding: Chevys wasn't getting enough credit for the quality of its farm-fresh ingredients, which are often locally sourced, or its scratch-made food. These qualities, he says, give Chevys the culture of an independent restaurant and lead directly to the brand's new tagline: Mexican Unchained.
The restaurant's interior design also supports this unchained approach. "We purposely selected materials, chairs, furniture and fixtures so there was a little bit of randomness to the design so it looked homemade, like the food," says Harf.
For example, the design mixes and matches light fixtures in the front of the house. Seating also varies, as does the upholstery used in booths.
Despite this randomness, plenty of thought went into the front-of-the-house design, Harf stresses. The operation's color palette contains wood tones with turquoise and orange elements. These colors may be common in Mexican restaurants, but Chevys uses plenty of creativity in deploying them.
The operation's ceiling represents the clearest example of the restaurant's creativity. The ceiling height at this store varies from space to space. Some of this is due to the infrastructure in place at the mall. Other times, the design uses different ceiling heights to help define a space. To emphasize these changes, the chain installed real wood planks on the ceiling, with some sections painted turquoise.
Turquoise and orange also appear in the concept's new art program. In keeping with the space's indie vibe, the pieces on the wall look like they could have been bought at a garage sale — different sizes, different style frames and so forth — but their combined symbolism communicates the Chevys commitment to hospitality and quality food, says Harf.
Cooking on Display
The open kitchen, inherited from the space's previous tenant, helps emphasize Chevys' scratch-made menu.The clearest way to communicate that a restaurant serves quality fresh food, of course, is not to tell but to show.
And Chevys' show is hard to miss.
As in legacy restaurants, this new store makes its tortillas in the front of the house using a traditional piece of equipment called a comal. The new prototype features a redesigned station for better flow and ergonomics. What's more, this station features an enhanced appearance. The space uses white countertops on which team members can work, a definite visual upgrade compared to the basic worktables — folding tables in some cases — from the previous design.
"If you worked at a French pastry shop, you'd have this beautiful marble countertop where you'd make your pastries," says Harf. "We're doing the same thing. We've got to make it look like that."
The new restaurant also features an open kitchen. While the space's previous occupant built this kitchen for display, Chevys maintained that appearance, says Harf, to help drive home the freshness of the food it serves.
Chevys inherited other elements of the kitchen too. The chain carried over the gas hookups, the hood and the walk-in cooler, which helped shape the design. While there would likely be changes to the back of the house if given a blank slate, the company chose to use these assets to lower the build-out cost, says Vrabel.
The decision came down to simple math. "It's a financial decision. Do we want to add an extra $75,000 to $100,000, or do we make this work?" Vrabel says. "In this case, we made it work."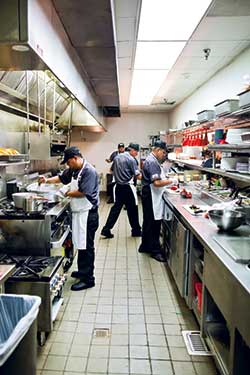 The kitchen in this new unit has a hot and cold side and makes use of a hood inherited from the space's previous occupant.Chevys' production kitchen has both hot and cold lines; kitchen staffers can switch between the two by simply turning around. Chevys' hot line, which sits against the kitchen's back wall, begins with an inherited piece of equipment, a simple hand sink. Next to that sits a gas-fired charbroiler, perhaps the restaurant's key piece of equipment. Culinary staff use this unit to cook steak and chicken for fajitas, nachos and quesadillas, as well as fish for seafood entrees. During prep, staff use the charbroiler to grill vegetables for the restaurant's house-made salsa.
This is not a standard grill, though. Below the main burners is space for a pan filled with water and a section for burning wood. A set of burners heat the pan, generating steam. As the steam rises, it forces smoke up from the burning wood, flavoring the beef and chicken on the grill.
Over the past few years, Chevys has swapped its legacy charbroilers (which cook with wood) with this unit, says Mike McKinnon, Real Mex's vice president of purchasing. While the legacy unit imparts a nice smoky flavor, wood is a more expensive and less consistent fuel source than gas.
"The cook was having to stoke and add charcoal and basically not only cook but control the heat. The gas allows us to have consistent heat ... but we still get the wood flavor," he says.
Following the grill comes what Chevys calls the chop station. Manned by the grill cook, this station has undercounter refrigerated drawers that hold raw proteins for the grill. After cooking the proteins, staff move the food to the chop station's cutting boards, which feature color coding to avoid flavor crossover. Toward the back of this unit sit refrigerated wells filled with ice, which hold knives, tongs and other utensils at safe temperatures. Other wells hold garnishes for foods coming off the grill.
The next piece is a six-burner range with an oven below. Staff use the oven primarily during prep to roast carnitas and other items. Above the oven, line cooks use the front burners to saute vegetables and shrimp for fajitas and other dishes. At the same time, staff use the back burners to warm the cast iron skillets in which the restaurant serves fajitas.
This represents a distinct change from how Chevys previously handled fajita service. Up until a few years ago, the chain relied on aluminum skillets. These pieces, says McKinnon, had a tendency to stain and warp, and they didn't retain heat well. To get the sizzle and smoke customers expect when ordering fajitas, Chevys actually had a separate chargrill dedicated to heating the aluminum skillets. Thanks to the switch to cast iron, that piece has been cut from the chain's hot line, saving money and real estate under the hood.
Single Setup
Though all Chevys have display stations for making tortillas, in the new design, the station features better finishes for an elevated look.Notably, the design of Chevys' kitchen allows a single team member to work the grill, chop station and range during all but the busiest periods. While this may seem like a lot, the nature of cooking on a charbroiler makes it possible. "With the grill, you put [the protein] on and then don't do anything for a minute or two, so you've got time to do other stuff," McKinnon says.
Chevys' enchilada station follows the range. The team member working this station frequently switches back and forth between the hot and cold side. The hot side includes a flattop griddle, which cooks use to make quesadillas and the occasional burger or chicken sandwich. Above the grill is a cheese melter for finishing nachos and other items.
If a guest orders a quesadilla or nachos with fajita meat, culinary staff cook that protein to order on the chargrill, McKinnon notes. This marks another change Chevys has implemented in recent years. Previously, the company would hold fajita meat for these items in steam tables. "We're trying to get away from steam tables and a bunch of overcooked protein lying around. We want to make sure everything's fresh," he says.
The cold side still employs a portable steam table, however, for holding shredded chicken, ground beef and other enchilada ingredients. When an enchilada order comes in, the station's cook assembles the dish at the steam table then turns to the hot side, where he or she finishes it in the cheese warmer.
Past the enchilada station sits Chevys' fry station. Since the chain makes large quantities of tortilla chips fresh in house, it relies on a pair of 80-pound fryers. Staff also use this cooking equipment to make french fries, which typically accompany kids' meals, as well as appetizers like flautas and chicken wings. This station also has a small commodity table, says McKinnon, that is home to a fry dump.
The last units under the hood are a pair of large stockpot burners. Staff use these burners primarily during prep to make large batches of beans, enchilada sauce and other bulk items. Past the stockpot burners sits a refrigerator that holds appetizer ingredients and a simple worktable. Staff use this table to assemble orders during meal service, and it serves as a work surface during prep.
As Chevys is a largely scratch-made food operation, the restaurant's head chef and a team of about four begin prep around 8 a.m. The team uses worktables in the front and back for cutting vegetables, while cooking beans, rice and some proteins held on the hot-line equipment, as noted above.
In the back, the chain uses a steamer to hold a sweet corn casserole-style side. The back of the house also has the necessary equipment to make dough for tortillas. This includes a horizontal chopper and a divider rounder for portioning and shaping the dough.
Wait and See
The newest Chevys location has been open for several months now and has been well received by customers overall, say Harf and Vrabel.
Despite this, Real Mex has no immediate plans to build a new Chevys restaurant. Instead, Real Mex plans to refine some of its other concepts. As it gathers more information on all of these redesigns, the company will decide which brands hold the most potential for growth and then focus its resources on those concepts.
Given Real Mex's struggles in recent years and the fact that the company is still in the turnaround phase, that approach makes perfect sense.
"We believe in what we're doing," says Vrabel. "We want to see how [our redesigned concepts] finish out, how they work and how they're received. Then based on the results of all of that, we'll figure out how to move forward."
Key Players
CEO: Brian Lockwood
Vice President of Development: Steve Vrabel
Vice President of Marketing: Steve Greer
Interior Designer: Daniel Harf, Blue Ocean Works
Kitchen Design: Steve Vrabel; Daniel Harf
Equipment Dealer: M Tucker, a division of Singer Equipment NY LLC
Facts of Note
Chain Headquarters: Cypress, Calif.
Year Founded: 1986
Signature Menu Items: Fajitas, margaritas and fire-roasted salsa
Number of Units: 38 (26 company-owned, 12 franchised)
Check Average: $22
Unit Size: Average store is 7,500 square feet (FOH 65 percent, BOH 35 percent)
Seats per Store (Prototype): Approximately 250
Location Type: The first store with the new design is built in a mall. Most Chevys are stand-alone units.