Following a period of growth, this polished-casual chain put a short pause on expansion to refine its look and improve kitchen operations.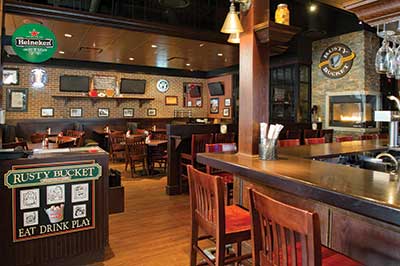 When a lot has changed in life, it's always good to stop, take a breath and take stock of where you stand and where you want to be. What's true for people is also true for restaurants — in this case, Rusty Bucket Restaurant and Tavern.
This 24-unit polished-casual chain out of Ohio underwent its largest growth period in late 2015 and early 2016. In seven months, it opened five restaurants, including locations in new markets in Sarasota, Fla., and Charlotte, N.C. Rusty Bucket also completed remodels on three existing locations.
The company has used the time since then to hone its design and its operations, says director of operations Jim Sauter. "We look at this period like it's a time to refocus on what got us here and take it to the next level so when we are back in growth mode in 2018, we really have our feet underneath us."
The effort has resulted in refinements to the front of the house, changes to the menu, and adjustments to the kitchen prep and production processes to make the operation more smooth and efficient.
50-50 View
Rusty Bucket was founded in 2002, with the first location opening in Dublin, Ohio, a northwest suburb of Columbus. The chain seeks these suburban locations first and foremost, according to Sauter. "We opened up with the idea of creating a neighborhood place where people could get a drink and good food in a neighborhood setting," he says.
From a strategy standpoint, Rusty Bucket tries to walk the line between food and drink, bar and restaurant. Guests entering the operation, in fact, encounter a view that is half dining room and half bar.
Rusty Bucket takes precautions with alcohol sales, such as not selling pitchers of beer, to ensure the environment remains inviting for everyone.At the same time, the chain takes steps to keep drinking under control so that all parties feel comfortable in the same restaurant, Sauter says. "Alcohol sales are very important to what we do, but we are very smart about how to use it. We don't do pitchers of beer, and the types of spirits used to promote shot drinking aren't really something that we market to our guests. The environment is for when you want to come in and have a couple of nice craft beers or a handmade cocktail."
Families appreciate the distractions for kids, including temporary tattoos and coloring sheets, as well a kids' menu featuring a made-to-order mac-and-cheese dish and craft root beer.
Good food and drink remain at the heart of the Rusty Bucket experience. The chain operates a kitchen that is 90 percent scratch, according to Sauter. The menu focuses on classic comfort food, including burgers, sandwiches, fish and chips and pizza.
While maintaining food quality, the appearance of Rusty Bucket's front of the house has changed in recent years. Originally, the place had a straight-up casual design, including plastic tablecloths and waiters in T-shirts.
A few years ago, however, the chain began updating its appearance to match the polished-casual quality of the food. The plastic tablecloths, for instance, have been replaced by hardwood tabletops. And the staff now wear high-quality branded polo shirts. The chain's color palette now includes natural materials, such as black leather upholstered seats, exposed brick and plenty of dark woods.
Many Rusty Bucket locations also offer outdoor seating on a covered patio. During the colder months, Rusty Bucket places vinyl panels on the patio and adds heaters to make the space usable.
While the earliest Rusty Bucket stores had beer signs, tin signs and other straight-up casual touches, the new store design features a much cleaner appearance. The new design limits wall decor. Though it does include one featured Rusty Bucket logo, it doesn't try to force the brand into the design, says Sauter.
"We already got them in the door. We don't need to pump our logo and the name repeatedly on top of our guests," says Sauter. "Over the last year we've been in the process of trying to take what we do and elevating it a notch, making sure everything was cleaner, more polished. We got a lot of the restaurant stuff out of the guests' view." Changes include repositioning side stands so guests no longer see waiters entering orders in the POS system and storing items like napkins and pitchers out of view.
Kitchen Efficient
Approximately 40 items were eliminated from the product line, which makes prep far more manageable for staff.The operational changes extend into the kitchen, where production has been streamlined.
According to Sauter, the changes were the result of a series of discussions held with the chain's frontline personnel. "We could feel by the end of 2015 that we were straining the stores with what we were asking them to do. So we started by going around and talking to the managers and hourly employees at our restaurants. I think we conducted about eight roundtables in all and just asked them for ideas to get more efficient. The info they gave us was very enlightening."
In some cases, for example, the chain just didn't have enough space to hold the ingredients for specials and would have to hold some in ice baths. In others, production on certain items was overly complex and time consuming.
Taking feedback from the restaurant employees, the chain eliminated approximately 40 items from the production line. This simplified work for the line cooks.
Some production items were automatically eliminated when the chain removed some of its low-selling items from the menu. In other cases, the chain consolidated ingredients. Four cuts of tomato were reduced to two, for instance, while two slaws, differing in just one ingredient, were combined into one.
Naturally, the changes helped lower labor costs. One area where this has helped is in prep, where having fewer items to prepare simplifies the job and reduces workload.
The chain's prep area typically contains three main stations. As part of a scratch cooking operation, staff begin working at these stations at around 9 a.m. These work areas can stay busy until closing time.
The stations include a table with a vegetable sink for prepping produce, one for portioning proteins and one that handles prepping bulk items like potatoes. That station also has a large tabletop mixer — a relatively recent addition made to help make pizza crust, which was added to the Rusty Bucket menu.
The production kitchen itself features a straight-line set up. Hot-side equipment sits against the back wall, with team members' backs to the expediting window. After finishing a dish, a staff member will turn 180 degrees, plate the item, add sides kept in holding equipment and put the finished plate under a heat lamp in the expo window. The expediting chef oversees the process to ensure orders come out in sync and then places items on trays.
The first station on the hot side is the grill, which has both a charbroiler and a flattop grill. The charbroiler, says Sauter, previously handled plenty of work during busy hours. Staff now use this equipment to primarily cook proteins made during the prep process, such as ribs and chicken breasts. Staff cook the majority of made-to-order-proteins on the griddle, including burgers, toasted sandwiches like Philly cheesesteaks and reubens, as well as quesadillas.
The station below the grill and charbroiler has three undercounter drawer units that hold proteins and one oven. The chain uses this oven to bake chicken in bulk; make desserts like the triple chocolate cake and sticky bun bread pudding; and parbake meatloaf, which staff later finish to-order in the same oven.
Following the grill comes the fry station. Depending on volume, the station has three to four fryers, with units dedicated to seafood, poultry and french fries to preserve flavor integrity. The station has one freezer that holds french fries and another that stores to-be-fried proteins such as cod and chicken, with cold wells on top for batters.
Completed fries are held in a dump station in the expo window. In some stores, this setup may take up too much space. Rusty Bucket, though, relies on a fry monitoring system that shows how many fry orders are ready and how many should be in the grease at a given time. As a result, the dump station has a minimal footprint.
Next to the fryers sits the saute station, which has a range with six to eight burners, an oven below and a salamander above. According to Sauter, this station doesn't do the volume that the grill or fry station does, "but the most technical items come off there. ... The way we outshine some of the other casual restaurants usually can be pinpointed to that station."
These items include a pan-seared salmon; chicken pesto pasta sauteed with garlic, white wine, olive oil, fresh baby spinach, mushrooms and oven-roasted tomatoes; fish tacos with blackened mahi-mahi; and an oven-baked mac and cheese entree (for adults) with Swiss and American cheeses melted on elbow pasta and topped with cheddar panko bread crumbs.
The final two stations are pizza and pantry, which can swap locations depending on the available space. The pantry station has a one-door upright refrigerator that holds ice cream, frosted mugs for root beer and chilled bowls for salads. Salads are assembled at this station on a table with cold wells and undercounter refrigerated storage.
The pizza station also has cold wells for storing ingredients, along with a conveyor oven on top of a three- to four-door cooler, which holds extra ingredients as well as dough ready for use.
Growing Again
With the new kitchen operations only in place for a few months now, Rusty Bucket plans to hold back on expansion until next year, presumably after it's taken the time to fine-tune some of these changes. The company expects to open four stores in 2018, according to Sauter.
The chain will likely target markets where it already has a strong presence, including suburban Detroit, as well as its new markets of Sarasota, Fla., and Charlotte, N.C.
When the chain is finally ready to expand again, says Sauter, the changes it has implemented in the past year will have it positioned to thrive in whatever market it chooses.
Key Players
President: Gary Callicoat
Director of Operations: Jim Sauter
Regional Executive Chefs: Richard Lindeboom, Josh Yosick and Brad Bidinger
Regional Directors: Bill Everett, Steve Gibson and Jason Brown
Facts of Note
Headquarters: Columbus, Ohio
Year Founded: 2002
Signature Menu Items: Deep-fried pickles, blackened salmon salad, Buffalo chicken sandwich, Asian tuna wrap, Baja fish
tacos, fish and chips, The Big Sicilian pizza and the Rusty Bucket Burger
Number of units: 24