Providing seniors with a gathering place for healthy aging, lifelong learning and delicious meals has long been the mission of the Montpelier Senior Activity Center in Montpelier, Vt. A disastrous fire in 2009 forced major renovations. The historic building housing the center, as well as the city's former recreation department and school superintendent's offices, was rendered virtually uninhabitable. "Practically the only components remaining were the original brick frame and foundation, stairwells, tin ceilings and some wooden floors," says Janna Clar, the center's director.
Photograph courtesy of gbA Architecture & Planning; photography by Gary Hall To salvage and renovate the building, the senior center teamed up with the Montpelier planning department and the Montpelier Housing Authority. The renovation team included gbA Architecture & Planning's architects Gregg Gossens, AIA, principal, and Jessica Thyme, AIA, LEED BD+C AP. Clar came on board in 2011 just after renovations began. A capital campaign for the center was also underway at the time. Eric Seidel, foodservice consultant and kitchen designer, also joined the team in 2011.
The refurbished building's first floor now houses the senior center, and the second floor houses two senior center activity rooms and senior housing. Additional senior housing is on the third floor. The renovations included new electrical and mechanical systems, an energy-efficient building envelope with an air ceiling and new windows and doors that accurately met the historic building's specific dimensions. "The building also comprises fresh paint, a rooftop covered in solar panels and a new boiler using compressed wood pellets that provide a sustainable, local and renewable resource for heat," Thyme says. Other facets of the project include the addition of a new entryway plaza and an elevator to make the entire building accessible. The building is Platinum LEED-certified.
"The new finishes are contemporary but don't compete with historic features," Thyme says. For example, the building features maple wood floors, aluminum reveal bases, white perimeter walls and a white ceiling. "Because of the fire, we made structural improvements," Thyme says. "For example, the beams and floor system were torn out and replaced. We removed a vestibule added in the 1980s and restored the entryway to its original design."
The Kitchen Design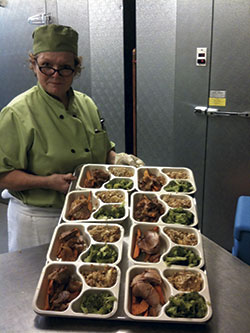 Mary Roehm, a trainee with Vermont Associates for Training and Development, presents FEAST at Home meals with slow-cooked pork, broccoli and apple crisp. Food sits in a disposable tray that will be flash frozen before it is delivered to seniors. Photograph by Justin TurcotteDesigning a kitchen required ingenious special considerations. Due to the positioning of a staircase, the kitchen space divides into two areas. "The brick on all four sides wasn't touched, but we had to separate the kitchen spaces from the spaces above acoustically and for fire protection," Thyme says. The kitchens' floors were replaced with a nonslip surface.
To complete the kitchen, Seidel had 90 days to coordinate the subcontractors and complete the project. Before the senior center project began, Seidel was the vice president of facilities in charge of construction, risk management and insurance at the New England Culinary Institute (NECI) in Montpelier and then in Essex as well. "The biggest challenge was the stairwell that stood in the middle of two kitchens," Seidel says. "We had to split up functions."
On one side of the stairwell sits a support kitchen with a walk-in cooler, walk-in freezer, warewashing sinks, wraparound dish line with a dishwasher and dish racks. The mixer and a slicer sit on mobile stands to give kitchen crew maximum flexibility. Food preparation also consumes a small amount of space in this area. "One sink survived the fire, which is used as a bench sink, but the others are new," Seidel adds.
The main kitchen space on the opposite side of the stairwell contains a large island worktable, smaller work spaces with tables and a vegetable prep sink. A flash refrigerator/freezer combination unit rounds out the equipment package along with a packaging machine that wraps home-delivered frozen meals on disposable trays.
The hot equipment includes a six-burner range, a flattop with a convection oven beneath, a countertop combi oven, a microwave oven, baker's racks, speed racks for laying out and assembling meals, a four-hotel-pan steam line and mobile warming cabinets to roll between two kitchens. "We selected heavy-duty, 16-guage equipment that will hold up over time," Seidel says.
Sanitation was a focus from the beginning of this project. "We invited the state sanitarian into the facility very early in the design process so the inspector could point out possible problems before the final inspections," Seidel says. "For the assembly of hot wells, the plumbers were able to come in and work quickly because the right equipment had been selected."
The kitchen features standard, high-efficiency fluorescent, recessed ceiling lighting. "The industry was in a transition to LED lighting, and the cost for that type of lighting was enormous," Seidel says. "So we couldn't afford to go that direction."
FEAST Together allows seniors to dine together at the center. Photograph courtesy of Montpelier Senior Activity CenterJustin Turcotte, owner of catering company Good Taste Catering, entered the picture in 2013 after responding to a request for proposal to manage and prepare food for the Montpelier Senior Activity Center. A Culinary Institute of America graduate, Turcotte brings a sophisticated approach to preparing healthy food from scratch. He works with one other full-time employee and many volunteers to prepare meals for FEAST, the senior nutrition program that provides meals to seniors in the community. It consists of FEAST at Home, which delivers meals to seniors; FEAST Together, the meal program in which seniors come to the community center to eat with one another; and FEAST to Go, the grab-and-go option.
The monthly cycle menu consists of high-quality food that sets a first-class standard for home and congregate foodservice programs: chicken breasts with tomato caper relish served over polenta with summer greens; chicken parmesan over linguine with maple-glazed rutabaga; coq au vin served over orzo with a green salad, baby lima beans and local beets; and roast beef au jus served with rissole potatoes, Yorkshire pudding and local collard greens.
Turcotte brings in as much locally sourced produce as possible and tags each ingredient to track the source. In the summer he uses up to 80 percent local produce. The program also locally sources approximately 10 percent of the proteins.
Meal prep begins at 7 a.m. each morning. For FEAST at Home, the staff plate and package food for two routes that deliver meals to seniors at their homes Monday through Friday. Staff plate some meals on trays and flash freeze the food before volunteers deliver the menu items to seniors, who heat the meals themselves. Volunteers also deliver small containers of fresh-cut fruit, salads and desserts. Some meals come with accompanying side dishes in separate containers.
Turcotte and volunteers Janet Miller and Carol Baker prepare locally sourced produce for a daily menu. Photograph courtesy of Montpelier Senior Activity Center For FEAST Together, staff serve congregate meals between 12 p.m. and 1 p.m. on Tuesdays and Fridays. Staff place hot menu items in steam table pans with side dishes nearby. Volunteers serve meals to participants who sit at tables in a large, brightly lit activity room.
Seniors and others in the community come together for FEAST to Go on Tuesdays and Fridays. "Sometimes corporations order meals," Turcotte says. "We can package the food in containers and supply them with ceramic plates and silverware that they keep at their workplaces and reuse each time they order from us."
Sustainability, Food TV and the Future
Sustainability continues to guide Turcotte's food choices. "Volunteers pick up to 80 percent of the produce we use from local farms," he says. "The farms can't sell this produce to stores like Whole Foods because it may be sunburned or too small. But we can clean up the produce. I cross-shift the cost of the produce so I can also use foods such as nuts, grains and olive oil, which aren't often used for this type of institutional foodservice."
In addition to the high-quality menu, the center incorporates yet another hardly-the-norm option. Via a web platform, a Vermont Food TV project documents and transmits video capturing the FEAST action. A media station in the kitchen includes a sound mixer, sound bar, wireless microphone system, off-camera interview microphone, light diffusion umbrellas, an LED panel spotlight, cameras, tripods, laptop, monitor and "On Air" sign. Turcotte, his staff and a cast of volunteers that may include retired emergency room surgeons, artists, housewives, teachers and other professionals as well as people doing community service for DUI convictions prepare meals while video cameras capture their motions. The center's stakeholders, meal recipients and other community members can view meal preparation in action on a public television station.
Steam table pans hold freshly prepared menu items. Photograph courtesy of Montpelier Senior Activity Center"The intention is to capture what we're doing here and share it with people who want to see what we're doing here and how we're doing it," Turcotte says. "For example, people at veterans' and other senior centers, nursing homes and public schools might like to know how to peel and core fresh pineapple so they don't have to depend on canned fruit all the time. With the high incidents of obesity and heart disease in many communities, we have a national health crisis. I feel that it's very important to help people make changes in the way they eat, and this is a means to hopefully make that happen."
In addition to providing meals and education, Turcotte says the programs also impact the community by providing what he calls "food therapy."
"A really cool thing happens here. Many volunteers come here to be part of a program that serves others," he says. "They also have a good time because the center has become a community melting pot and we all learn from one another."
Word keeps spreading quickly about the center's meal quality and the community spirit generated with the FEAST programs. Clar, Turcotte and everyone involved with the center's meals programs hope to reach more people. They remain well on their way to realizing that goal.
Key Players
Owner: Montpelier Senior Activity Center
Director: Janna Clar
Executive Director for Just Basics Inc. (a not-for-profit partner with Montpelier Senior Activity Center): Jaime Bedard
FEAST: A three-way partnership between the Montpelier Senior Activity Center, Just Basics Inc. and Good Taste Catering
Owner and Executive Chef, Good Taste Catering: Justin Turcotte
Architect: gbA Architecture & Planning, Montpelier, Vt.; Gregg Gossens, AIA, architect, principal, and Jessica Thyme, AIA, LEED BD+C AP, architect
Consultant and Kitchen Designer: Eric Seidel
Equipment Dealer: Kittredge Foodservice Equipment & Supplies, Williston, Vt.
Facts of note
Opened: June 2012
Scope of Project: A complete renovation of the building except for the original brick frame and foundation stairwells, tin ceilings and some wooden floors. The renovated kitchen provides meals for FEAST at Home, FEAST Together and FEAST to Go.
Kitchen Size: 600 sq. ft. split into two sections
Seats for Feast Together: 123
Meal Cost: Donations requested for FEAST Together; $7 suggested donation for seniors 60 and over and $7 flat fee for anyone under 60. Just Basics Inc., a not-for-profit partner, pays Good Taste Catering a contracted price
per meal, which is subsidized by federal Older American Act funds.
Total Annual Sales: $120,000
Annual Transactions: 22,000
FEAST Participants: 18,000 in 2015, which includes approximately 40 daily Monday through Friday for FEAST at Home, 123 weekly for FEAST Together Tuesdays and Fridays and 20 to 40 FEAST to Go customers Tuesdays and Fridays
Hours: Meal preparation begins at 7 a.m. daily. FEAST at Home meals are delivered Monday through Friday from 10:30 a.m. until 2 p.m.; FEAST Together and FEAST to Go meals are offered Tuesdays and Fridays from 12 p.m.
until 1 p.m.
Menu Specialties: Seared chicken breasts with tomato caper relish served over polenta with summer greens; chicken parmesan over linguine with maple-glazed rutabaga; coq au vin served over orzo with a green salad, baby lima beans and local beets; roast beef au jus served with rissole potatoes; Yorkshire pudding; local, organic vegetables such as butternut squash and late-season kale sauteed with a touch of bacon; fresh tomatoes and local mozzarella cheese; fresh filet of salmon with stone fruit relish, fresh snap peas, whole-wheat rolls; from-scratch desserts such as blueberry crisp and rich chocolate pudding.
FEAST Staff: 2 full-time employees, 4 trainees from other local organizations and 60 volunteers
Total Project Cost: $5 million for the three-floor building, including the senior center and 14 apartments
Kitchen Equipment Investment: $70,000
Website: www.montpelier-vt.org/msac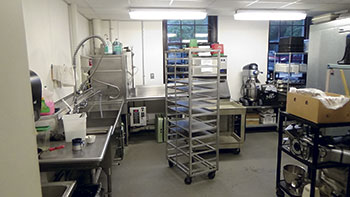 The support kitchen holds potwashing sinks, a dishwasher, mobile racks, prep tables, a mobile mixer and slicer and packaging machine. Photograph by Justin Turcotte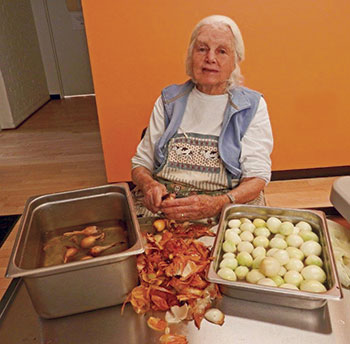 Justine, a volunteer, peels onions for meal preparation. Photograph courtesy of Montpelier Senior Activity Center
The main kitchen space holds dry storage and prep tables. Photograph by Justin Turcotte