It seems pop-up restaurants have replaced food trucks when it comes to good testing grounds for a potential full-scale concept. Pop-ups come in all forms, from chefs helping their chef friends make cameos and present special dinners, to hotels switching their dining rooms into different concepts and underground dinner hosts setting up shop in old warehouses, galleries, event halls, parking lots and other alternative spaces.
Hyatt Century City Experiments with Pop-Ups
The Hyatt Regency Century City in Los Angeles last year unveiled Viento, a pop-up restaurant that can periodically change to showcase different concepts through menu and design developments. By day, Breeze serves breakfast and lunch, but by night Viento, the current pop-up concept, serves a dinner menu inspired by Mexican, South American and Brazilian cuisine and led by a rotating roster of Hyatt Century City chefs with oversight from executive chef Felix Nappoly.
Building off of the existing footprint and mid-century modern style, designers incorporated a 1950s/60s color palette with retro orange, grey, teal and yellow accents and introduced staging and lighting that could be retracted or put away for breakfast and lunch service. Hundreds of votive lights create a Latin cathedral or grand square appearance, while enhanced lighting on the garden patio — including orange pendant lanterns hung from a banyan tree — gives a breezy, romantic
California atmosphere that diners seek.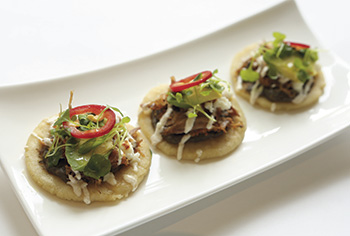 Pop-up restaurants showed an 8 percent increase in trend growth on the National Restaurant Association's Movers & Shakers list for 2016. According to the association's What's Hot survey, nearly 60 percent of respondents say they're still a viable trend.
Key equipment items for many pop-ups include sous-vide machines, induction cooktops and other smaller, countertop pieces. The culinary team might also use insulated coolers to make last minute adaptations to the existing kitchen, similar to a catering setup.
The Pros and Cons of Pop-Ups
Pros:
Ability to test a restaurant concept or menu before going full steam
Less overhead and lower startup costs and smaller loss potential if a concept or menu fails
More room for culinary creativity
Less pressure to demonstrate 4-star level service
Opportunity to evaluate current skills and areas of improvement as well as learn new techniques and ideas from others
Possibly attract investors interested in helping transform the pop-up into a full-time operation
Extra marketing power and built-in audience if "popping up" at another restaurant
Option to charge guests more for an exclusive, rare or unusual menu or dining experience and use flat ticket prices
Portability and the possibility to move from city to city or other locations with the same concept or menu
Cons:
Must work on the fly and operate

like a caterer, often with limited equipment and/or in unfamiliar territory
Despite potentially higher check averages, can be difficult to turn a profit if food costs are not controlled
Challenging to establish repeat customers if only doing occasional pop-ups or there's a gap in time between the pop-up and restaurant opening
Heavy reliance on publicity, social media and marketing — areas that need to be well-developed before running a pop-up
Photos courtesy of Hyatt Century City