Unique spaces create custom foodservice operations at four distinctly different food halls.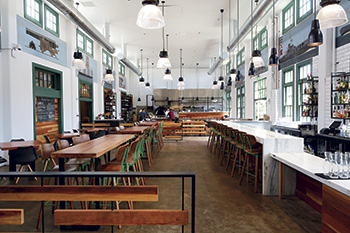 Mess Hall, a food hall in San Diego's Liberty Market, was once a naval base commissary. Photo courtesy of Robert BensonAlmost every major metropolitan area now has one or more food halls, each one distinctly individual. Some have anchor restaurants while others consist of a collection of food stalls. Some restaurants include a major retail component, while others stick to food. While their approaches may differ, they all face equipment and design challenges that often differ from those associated with typical restaurants. The following four examples offer insight into how to work through those challenges and create a unique and functional facility.
Under Construction: Revival Food Hall
Chicago
15 fast-casual vendor stalls, coffee shop, bar, seating for 250 to 300 people
Opening date: mid-August 2016
Chicago's newest food hall resides on the ground floor of a historic 1907 Daniel Burnham-designed building. The Revival Food Hall is part of the renovation of The National, a 20-story building in the heart of Chicago's Loop. The 19 floors above the food hall will consist of loft-style office spaces, while the ground floor will feature a 24,000-square-foot food hall. The hall will feature 15 permanent stalls, a rotating "pop-up" stall, coffee café and bar, as well as a retail outlet selling books and records.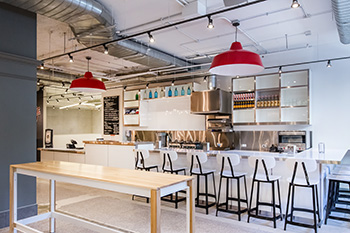 The Fat Shallot is known for it's classic sandwiches.Local hospitality collective 16" On Center is developing and managing the project. Justin Anderson, Revival's director of operations, explains why there's no anchor restaurant. "At first we thought about doing one anchor restaurant and maybe one of our own concepts," he says."The more we traveled around and visited other food halls, and spoke with other operators and vendors, we started to realize that people wanted to have variety they could enjoy on a weekly basis."
To that end – and to drive repeat business – Revival filled its stalls with popular Chicago neighborhood eating places which already have brick-and-mortar locations. The roster of restaurants ranges from Smoque BBQ to Brown Bag Seafood Company to Black Dog Gelato. The stall owners work with a design team from Chicago-based Blue Star Properties, a commercial real estate company, to achieve design consistency.
Turning a building that was originally home to the Commercial National Bank of Chicago into a foodservice operation naturally presents challenges. "Everything was steel and marble," Anderson says. "We couldn't put floor drains in so we had to adapt the rears of the stalls to put in floor sinks and floor drains." Where possible, existing parts of the building are being restored to their original glory or repurposed as design accents.
Revival Food Hall features 15 permanent food stalls. Photos courtesy of Jennifer Catherine PhotographyThe individual stalls range in size from 310 square feet to 390 square feet, so operators will have to make some minor adaptations to their menus and cooking styles. "People have decided to be as smart as they can be," says Anderson. That means using convection ovens, induction burners, ventless equipment and offsite food preparation when possible. Six of the stalls will be hooded, with air scrubbers installed. Charges for utilities, waste removal and other shared services will be billed back to the stalls on a prorated basis.
While Revival's business will primarily center on lunch service, Anderson says a few vendors will serve larger portions or expand their lunch menu into dinner portions for takeout. "It's going to be a very fluid and organic process," he says, "based on the volume and what the overall Monday-through-Friday crowd is going to dictate."
The hall incorporates already-popular Chicago eateries, such as Smoque BBQ.
Revival Food Hall features plenty of open space, with an overall footprint of 24,000 square feet. Photo ourtesy of Jennifer Catherine Photography
One Anchor, Many Stalls: Mess Hall at Liberty Public Market
San Diego, Calif.
27 vendor stalls, 1 anchor restaurant
seating 38 people with bar seating
for 50
Opening date: March 2016
Right: Mess Hall, a food hall in San Diego's Liberty Market, was once a naval base commissary. Photo by Mike PawlentySan Diego's Liberty Public Market occupies a 25,000-square-foot space that once was home to a naval base commissary. Given that history, it seems only appropriate that it should now hold a variety of artisan food stalls and an anchor restaurant fittingly named Mess Hall.
Tim Kolanko is executive chef both at Mess Hall and Blue Bridge Hospitality, one of the market's partners. He says the design of the space was really "a blank slate … easier than the last [restaurant] we did."
One of the original concepts for the space was modified somewhat during the construction process."We had originally conceptualized the kitchen to be a public kitchen," he says. "We were going to hold cooking classes and demos, and allow the vendors to do some of their big pot cookery." After investigating other markets, Kolanko and his partners found that the communal kitchen concept was often underutilized. "There's just not enough activity in those spaces. That brought us back full circle to doing a restaurant," he says.
Mess Hall features plenty of outdoor seating for al fresco dining.Photo courtesy of Robert BensonMenu development drove equipment decisions. Kolanko describes his menu as being "very market-driven, seasonal, changing and off-the-cuff." An early decision to go with a wood-fired oven started the process. Other equipment choices, such as combi ovens and griddles, were chosen to give him, as he says, "a lot of firepower in a very small space." Drawers for refrigeration also help conserve valuable back-of-house real estate.
One of the biggest hassles in converting the commissary to a public market space was redoing the internal
systems. "It was a big infrastructure," Kolanko says."We had to upgrade the plumbing; we had to upgrade the electrical. We had to do that for the entire building just to support the market as a whole." Health department regulations also played a role in the renovation. Local authorities required a drop ceiling in the kitchen and ordered installation of a sneeze guard around a marble expediting table between the kitchen and dining area. To get around the latter requirement, "we put up a railing at the end of the expediting table that didn't aesthetically ruin what we were doing," Kolanko says.
The original concept for the market allowed individual vendors to serve liquor under one license. The liquor control board reconsidered that decision, Kolanko says, giving Mess Hall the only liquor license for the entire market. The vendors "were not happy about that," he says. "But the market's been a great success, so most people got over it once they started [bringing in] revenue and saw the whole concept was going to be successful."
Doing it all: Maketto
Washington, D.C.
60-seat restaurant (90 seats with patio open), 40-seat café, with retail annex
Opening date: April 2015
Maketto seats 60 people inside. Photo courtesy of Bobby SperoMany food halls have some sort of retail component, but few take it to the extent that Maketto does. Its two-building complex in the Atlas District of Washington, D.C., houses a restaurant, coffee bar and boutique shopping hall featuring a mixture of high-end clothing, footwear, accessories and books. Chef Erik Bruner-Yang and his business partner, Will Sharp, own and operate the entire complex. Bruner-Yang explains that "Maketto is unique and different from other markets because it's all one business. The retail is not renting space from us."
Before opening Maketto in 2015, Bruner-Yang decided he didn't want to turn the space into a 250- to 300-seat restaurant. "Where Maketto is located is also where I live," he says. "All of the things we have going on here [in the area] are just basic. There's no boutique shopping; there's no coffee shop for about 10 blocks. We put all of these things into one."
According to Bruner-Yang, the Maketto complex had previously been a mom-and-pop dollar store.Fortunately, it didn't present major construction or design problems and allowed Bruner-Yang to set up a fairly elaborate kitchen that includes two sliding-door refrigerators, two stackable convection ovens, a fryer, 24-inch grill, 24-inch flattop, a 6-burner range, double wok stations and dim sum steamer. The one hitch during the design and construction process was hood placement. "We changed the location of the hoods twice as we thought more about the concept," he says. "That was a very expensive decision." The only thing he'd change about the kitchen now, he says, would be to add an additional fryer due to the popularity of his fried chicken.
Dry storage remains an operational challenge at Maketto, according to Bruner-Yang. "Our building is unique because it's actually two buildings," he says."Our dry storage is located in one building, separate from the kitchen." So staff use carts to bring supplies into the kitchen.
Bruner-Yang says he has run across that storage issue in other food halls. "You see food stalls that are very tiny and, especially if it's a high-volume place, they all have stacks of cups or napkins geared up for the day so they don't have to run back and forth to their storage, which is in a different location," he says."There are boxes everywhere. We're in our own space that we share only with ourselves, so we can work around that."
The Food Emporium: Mercantile and Mash at the Cigar Factory
Charleston, S.C.
125-seat restaurant/bar
Opening date: September 2015
Mercantile and Mash resides in a vintage building that dates back to 1881.Billing itself as a "food emporium" rather than a food hall, Mercantile and Mash, in Charleston, S.C., sits in a vintage 1881 building which originally functioned as a cigar factory. Besides a 125-seat restaurant and bar, Mercantile and Mash offers prepared foods to go, a coffee bar, butcher shop and a selection of locally sourced gift items, such as leather goods and cookbooks. The local angle is important, says Steve Palmer, managing partner at Charleston, S.C.-based Indigo Road Restaurant Group, because "Charleston has such a strong sense of place. What we're trying to achieve with the retail is showcasing the best of what Charleston specialty foods and goods have to offer."
Palmer's group has experience renovating old buildings and turning them into restaurant spaces: all of its restaurants in Charleston reside in buildings at least 100 years old. Even so, renovating the space for the Mercantile and Mash kitchen was not without its problems. "The challenges are the structural issues that are inherent with these old buildings," Palmer says, pointing to hood venting as an example of something often problematic in older structures.
Another factor that had to be considered in the design and equipment procurement process was the city's historic preservation society which, Palmer says,"wants to be involved in what you're going to demolish, what you're going to penetrate, where you're going to put your exhaust hoods and all the unattractive stuff that comes with developing [a restaurant] in a historic area."
Much like other operators, cost required the project team to reconsider certain assumptions during the design process. "We were going to do a demo kitchen but we couldn't vent the hood runs without it becoming cost prohibitive to work within the confines of the existing building," Palmer says.
In addition to prepared foods, Mercantile and Mash includes a coffee bar, butcher shop and a selection of locally sourced gift items. Photos courtesy of Mercantile and MashAny downside to having a big open space became an advantage when it came to the design of Mercantile and Mash. Palmer believes that people want to see how their food is being made. "We really wanted to bring the guest experience into the kitchen — all the way in — so we have as few walls as possible. It literally looks like you're in somebody's industrial kitchen." With an array of wood-burning ovens, gas-fired rotisseries and wood-fired grills, the back-of-house drama of food preparation is brought to the diners. Combi ovens help handle quantity production for catering in the Cedar Room, the Cigar Factory's event space.
Palmer advises that restaurant operators need to be aware of the differences inherent in running a food emporium. "Having been purely a 'restaurant guy' my whole career, I will tell you what a learning curve this has been and continues to be," he says. His advice is to be flexible. "Give yourself a year. You're going to try some things that work; you're going to try some things that don't. We continue to explore how to take this further. It's exciting."