This legendary restaurant chain rebrands itself as a steak and barbecue concept focused on full-service casual dining.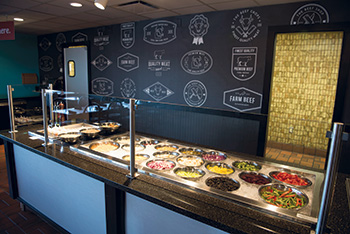 Instead of using drop-in wells in a refrigerated table, items in the salad bar are stored in bowls chilled in ice, giving the display a more authentic, less assembly-line look.Restaurant chains need a strong brand identity if they're going to thrive. If a chain can't distinguish itself from its competitors, it will be nearly impossible for the concept to grab and maintain customer attention in a market with more dining options than ever before.
That's why, up until a few months ago, Homestyle Dining found itself in a strange position: Two of its concepts, Bonanza Steakhouse and Ponderosa Steakhouse, were essentially identical.
Though they were founded at different times by different companies, when they ended up under the same parent, they slowly morphed into nearly identical concepts, says Thomas Sacco, Homestyle's president and chief executive officer. Both were steak-focused chains offering a large buffet at a value-oriented price point. They were, in essence, competing for the same dining dollar.
What's more, the chains even looked alike, so much so that customers could easily confuse the two, Sacco says. "People would go to the website and say, 'Is this Ponderosa or Bonanza? It's identical.' And it was. We didn't even change the colors on the website. If you look at the old logos, the logos were identical. There was nothing — nothing — distinctive about the brands."
This situation made little sense, either for customers, franchisee partners or Homestyle Dining itself. That's why, last year, Homestyle renamed and completely reworked the Bonanza concept. Now Bonanza Steak & BBQ, the operation has moved into the casual-dining space, where Homestyle intends to compete with established chains like Outback Steakhouse and Texas Roadhouse.
Developing a restaurant that can challenge those operations has required a revamped menu, a new look and feel for the front of the house and a complete redesign of the back-of-the-house kitchen.
Dress Casual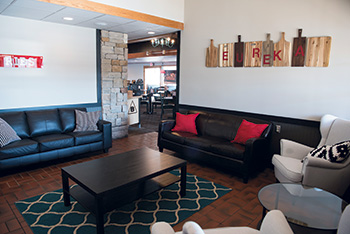 The lounge in the first new Bonanza is located in the previous design's entryway. Future restaurants will likely have a full front-of-the-house bar.The first Bonanza Steak & BBQ operation opened in Eureka, Mo., last November, in a restaurant that was converted from the earlier buffet-based concept.
Shifting Bonanza from buffet to casual meant the chain had to develop a design concept that wasn't just buffet-functional but actually provided customers with a memorable dining experience. With steak and barbecue at the heart of the new menu, the chain chose a design concept to match: modern butcher shop.
Some design touches unmistakably link to this theme. Wooden cutting boards, all in different styles and sizes, cover one section of a wall, while teal letters across multiple boards spell out the restaurant's name. A different wall includes a sheet of plexiglass painted with a Holstein cow that diagrams the different cuts of meat.
Another featured design element comes directly from the meat-cutting world. "In these big meat shops they have these big scales that can weigh up to 2,000 pounds," says Sacco. "When we were shopping for decor elements, we didn't want to put the whole scale in because they're very large, so . . . we bought the scale, took the face off of it and mounted it on the wall."
Other more subtle features clearly draw inspiration from the butcher shop theme too. The chain's color palette tends toward whites, blacks and gray/stainless steel tones — exactly, what one would find at an old-school meat cutter. To brighten up the look, the chain added some splashes of color throughout the restaurant, including red light fixtures above the booths and teal chandeliers in the center of the dining area.
The furnishings also recall meat cutting. Butcher paper covers and, you guessed it, butcher block–style tables. The decor package also includes oak-colored booths and solid black wood chairs. Both have faux leather padding. This particular upholstery serves two purposes, Sacco says. The leather-like material recalls the chain's beef-centric menu while also creating a more comfortable experience in line with casual-dining operations.
In addition to changing Bonanza's decor, the operation's overall layout now supports a more casual dining approach. The restaurant's old entry area/point of sale counter, for example, has become a lounge where customers can enjoy drinks before their meals or while waiting for their tables. These drinks, notably, are prepared at a back-of-the-house bar, since the footprint of the converted store didn't allow for the addition of a full bar in the dining area.
While darker colors are predominant, the chain uses food photography and splashes of brighter color to add energy to the space.Also gone, of course, is the large buffet offering salads and various hot items. In its place is a cold salad bar, where customers can walk down a line and choose ingredients that staffers assemble into a salad. The display itself is encased by a gray and black table. Ice, instead of cold wells, chills items displayed in bowls and pans. Different types of lights shine down on different ingredients in order to make their colors pop. This approach gives the salad a more appealing appearance — one that says "fresh made" and not "assembly line."
The chain, adds Sacco, has worked hard to make the salad bar a part of the Bonanza experience. When seating guests, the host points out the bar and explains the ordering process. This approach has swayed approximately 40 percent of diners to order the salad bar. At $2.49 per person, this represents a major upsell success. It also, Sacco says, differentiates Bonanza from its casual steakhouse competitors.
"We feel it sets us apart, it speaks to freshness, it speaks to wholesomeness. Literally, you're going to see them making the product, you're going to see the product displayed."
Another big menu differentiator, of course, is the barbecue. Thanks to an in-house smoker, the chain now offers smoked brisket (cooked overnight), ribs (14 hours in the smoker) and a signature smoked rib eye. The chain also uses the smoker for other menu items, including chicken wings and cold-smoke cheddar cheese used for burgers and house-made mac and cheese.
Behind the Scenes
Adding a smoker to the kitchen was one of the major changes to Bonanza's food production setup. In truth, though, the whole back of the house has been remade in this new restaurant.
The main area of the kitchen divides into three sections that together form a capital F. Most of the prep work takes place on the long spine of the F. The two shorter lines of the F serve as the primary food production areas, with an expo station sitting between them.
One production line serves as home to the smoker and a gas-fired chargrill that measures 6 feet. In Bonanza's previous kitchen, the grill was used to cook steaks, burgers, chicken and fish. Under the new setup, though, staff cook only red meat on the grill. Undercounter refrigeration beneath the grill holds proteins. A work table sits at a 180-degree turn toward an expo line.
Even with the more limited responsibility, this chargrill gets plenty of use, Sacco says. "We sell 1-pound T-bones, 1-pound sirloins. We've got some pretty big stuff that we put on that thing. It gets eaten up pretty quickly on a Friday or Saturday night."
Next to the grill sits the smoker, which staff use throughout the day. The culinary team places just-finished items in a hot-holding drawer and serves this food first. Additional hot-holding drawers store baked potatoes and baked sweet potatoes cooked in a nearby convection oven. After an hour, though, staff move smoked meats to cold holding drawers in another section of the kitchen.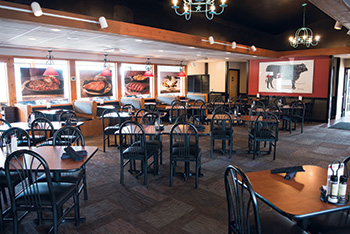 Booths line the perimeter of the restaurant, with a dropped-ceiling element and lighting fixtures helping to create a more intimate environment.That section is the fry/appetizer line, the second of kitchen's two main production stations. This line also has two primary pieces of equipment: a fry bank and a conveyor oven.
The fry bank has three units, one for french fries, one for seafood and one for all other fried items. Beside these sits an upright freezer that holds french fries and sweet potato fries. Staff use the fryers to cook house-made potato chips and onion rings, which are prepared in bulk and held in undercounter refrigeration on the line until it is time for cooking.
Next to the fryers sits the conveyor oven, which, along with the smoker, is one of the most significant additions to Bonanza's kitchen. Staff use this unit to produce chicken and fish dishes, which were moved off the chargrill. In addition, staff use the conveyor oven to rethermalize smoked meats held in cold drawers for food safety purposes. The conveyor oven also cooks sides like potatoes au gratin and mac and cheese, both of which staff prep and portion into individual-sized serving dishes in advance. An undercounter refrigerator at this section keeps these items at the ready for staff.
"That stuff is all set up to cook at the same period of time," Sacco says. "It doesn't require a really expensive grill guy to be able to watch it . . . You put it in one end, it comes out the other end identical every time, so you don't have to worry about a piece of chicken being undercooked. So it helps us execute at a higher level, helps us be more consistent, and it helps us with the tough labor market that we're all experiencing in this business."
Second Store Changes
With the first Bonanza Steak & BBQ now open for several months, the chain is building its second casual-dining restaurant, this one located in Seymour, Ind., about 45 minutes north of Louisville, Ky. While the first was company owned, this is a franchised unit.
This store will feature a handful of changes. Some are based on lessons learned from the first unit while others are new options made possible by a ground-up build.
The most obvious change is the addition of a full bar in the front of the house, a mainstay in full-service casual dining. The dining area in the new store will also offer more intimate dining spaces and additional booth seating. While the first, converted restaurant uses features like plants to break up the space, the second will use pony walls, with booths placed against these walls.
There will also be some changes to the back of the house in the new restaurant. One involves how staff restock the salad bar. In the first store, staffers had to walk between the salad bar and the BOH prep kitchen to get refills — a process that took dozens of steps. The new store will include a pass-through cooler along the back wall of the salad bar, connecting that area to the back kitchen and allowing restocking to be done in just a few seconds.
Another change is the addition of a second smoker to the grill/smoker line. This is a choice made by the franchisee, who will use the additional unit to expand the store's barbecue menu, including adding a smoked prime rib, Sacco says.
"If it works, we're going to add the smoked prime ribs at our place and make it part of the concept. That's the nice thing about the franchisee model. With our approval, they get a chance to do some experimentation, and if it works we systematize it and make it part of the package."
Franchised Future
While this second location is set to open in late summer/early fall, the chain hopes to add more locations in short order. Growth will target secondary and suburban markets — places like Eureka, Mo., and Seymour, Ind. Sacco does not foresee moving into downtown areas, where fine-dining steakhouses are prevalent.
One factor that should spur this growth, says Sacco, is that Bonanza Steak & BBQ is a franchise concept, a rarity in its space. "There aren't any major casual-dining steakhouses, at least that I can think of, out there that are franchisable," he says. "There are franchise products out there but none that really plays in that casual-dining arena with Outback and Texas Roadhouse. The new Bonanza does. What we're finding is that there's a pent-up demand for it."
The company is now in talks with several potential partners, including one area developer interested in contracting for dozens of stores. It has set a goal of having 100 locations in the next five years, most of them franchised, says Sacco.
If Bonanza hits these numbers, it will mark the emergence of a new player in the casual-dining steakhouse space. It will also represent the successful transformation of the concept. Bonanza as a value-oriented buffet will be a thing of the past, while the full-service, casual-dining Bonanza will be the company's future.
Facts of Note
Chain headquarters: Richardson, Texas
Year founded: 1963
Signature menu items: Flame-grilled steaks; authentic, in-house smoked rib eye steak, baby back and St. Louis ribs and brisket; farm-to-table, customizable salad bar
Number of units: 27
Unit size (prototype): 5,500 sq. ft.; 67 percent FOH; 33 percent BOH
Seats per unit (prototype): 200+
Location type: Free-standing ideally; endcap or mall location in higher-density and international locations
Total system sales: $45,640,000 Bonanza system-wide sales in 2015
Average unit sales: $1.7 million
Unit-growth projection: 100 units by the end of 2021
Check average: $13.55
Equipment package cost: $225,000
Key Players
President and CEO: Thomas Sacco
Chief Financial Officer: Brian Ripley
Vice President of Marketing: Jill Gouge-Laird
General Counsel: Jason Head
Director of Company Operations: Bob Lane
Regional Operations Support: Jillian Sams
Franchise Operations: Scott Sanborn, Kelly Kuhn and Dike Stoe
Director of Training: Sarah Koski
Equipment Dealer: Best Restaurant Equipment & Design, Columbus, Ohio