Student participation jumps higher at this refurbished foodservice operation in Florida's Orange County Public Schools.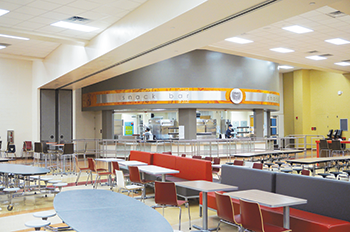 The renovated café features sleek signage, multiple serving lines and various styles of seating for 574 people. Photography courtesy of Clark Foodservice EquipmentWhen participation increases by 15 percent at a high school cafeteria there's good reason for investigation. This positive news comes from Orange County Public Schools' Cypress Creek High School. At a time when many school foodservice programs struggle to capture student interest and participation, a few more facts from the Food and Nutrition Services (FNS) program at this Florida high school are sure to pique interest:
Free breakfast participation increased 17 percent
Free lunch participation increased 28.7 percent
Paid lunch participation increased 39.9 percent
ROI: In FY15, lost $181/day or $33,666; in FY16, gaining $279/day or $51,894.
While the results are impressive, it's important to note they came about due to a Cypress Creek project to enhance employee and customer service. This project included restructuring kitchen storage, renovating the cafeteria servery and dining area, improving snack bars and adding a golf cart to deliver breakfast across campus. From planning to execution, the project spanned eight months. The project was part of a large building initiative completed in February 2016 that included adding a two-story classroom building and an orchestra classroom, enhancing the auditorium and classroom technology and expanding the student drop-off loop.
Planning and design phases for the kitchen and cafeteria servery areas started in January 2013. The initial intake meeting with district personnel for the dining room renovation components took place on January 20, 2015. The high school principal, foodservice personnel and representatives from the purchasing department met for a school intake meeting February 5, 2015; and a school student focus group meeting was held on February 5, 2015.
"The project was a collaborative effort," says Lora Gilbert, senior director of FNS. "We listened to customers about what they wanted, and we responded." Heather DeMeola, FNS area administrator of facilities and maintenance, conducted focus groups and Jennifer Smith, FNS area administrator of marketing, followed up with student surveys to determine how often students participated in the meal program last year and this year and what they liked about the new service. These responses were incorporated into menu planning.
The planning team met with the high school principal to share plans, pricing, and color boards on April 8, 2015. The purchase order was received by the furnishings company on May 5, 2015. Clark Food Service Equipment started the installation of the kitchen and servery equipment on August 17, 2015, and completed the project on August 20. "At times there was 'round-the-clock construction in the kitchen to make the deadline," says DeMeola.
The Kitchen and a Change of Image in the Servery and Snack Bars
As part of the kitchen improvement process, the walk-in cooler/freezer was removed and the space converted to dry storage. "A larger dry storage room was created by reorganizing existing spaces such as a lounge that wasn't being used," says Philip Bean, AIA, principal, Foodservice Design Associates Inc. A much larger walk-in cooler/freezer was added onto the exterior of the building with direct connection to the kitchen.
"The construction of a walk-in attached to the outside of the building must be done perfectly to protect the interior from water and vermin infiltration," Bean says. "The exterior and flashing must be sealed properly, and a rubberized, impermeable membrane must cover the entire roof and be wrapped down to make it weathertight." In Florida, exterior walk-in structures must also meet hurricane requirements that will help maintain structural integrity if one of these storms hits.
The servery also received a major overhaul. "Prior to the renovation, students had to snake around in long lines in the servery, and the dining room was plain with nothing remarkable," Gilbert says.
The new servery contains serving lines with six counters. "The serving lines can be self-service or secured, depending on what we are selling," DeMeola says. "We added points of sale and added another serving line by taking out the dishroom and giving space for this line. Everything is disposable, so we didn't need a full dishroom. This space was reconfigured so we can increase access to the snack bar area directly versus crossing through the dining room."
As students enter the lines they encounter convertible hot/cold wells with salads and fruit cups. Adjacent to the wells, a frost-top counter holds cold sandwiches or cold entrée options, and next, traditional hot wells hold entrées such as chicken teriyaki with lo mein noodles, chicken legs, macaroni and cheese, and chicken nuggets. A heated slide displays pizza, hamburgers, chicken sandwiches and other menu items wrapped for self-selection by students. Students next find juice or fresh fruits in a reach-in, glass-door refrigerator adjacent to milk and water/ice dispensers. A POS station sits at the end of the line. "The implementation of milk and water service in restaurant-like disposable cups instead of a carton is planned," Gilbert says. "In Florida, students want ice in their beverages."
"The architects installed remote refrigeration and remote beverage lines overhead to avoid saw-cutting and patching the floor," Bean says.
Hot and cold pass-through units sit between the kitchen and serving area, allowing staff to be much more efficient during service periods and provide a safer traffic flow.
The new dining room contributes to the new, noninstitutional and contemporary ambiance. Receiving much acceptance by students and administrators, the customer-friendly dining room features colorfully painted walls, contemporary furniture and electronic plug-ins. The existing cafeteria had seating for fewer than 400 students. The new food court environment provides seating for 574 students and administrators. Choices include high-top tables, cluster tables, booths, eating/charging counters, and an assortment of mobile cafeteria tables along with customer artwork for snack bar areas. "This is quite a contrast to the straight cafeteria tables and loose seating that we had before," DeMeola says.
"The current administration likes the new design and says the students are staying longer, like the more spacious ambiance and are taking care to leave the space cleaner when they leave," Gilbert says.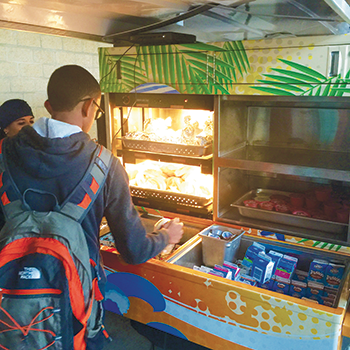 Students select options from the Cruisin' Kitchen cart to meet nutritional standards. Photography courtesy of OCPS FNS.The district's building and construction team currently utilizes prototypes for all new elementary, middle and high schools. Utilizing a prototype school assists the district by reducing time to design a school, speeding construction time and reducing costs. "It is important for the foodservice stakeholder to be included in all design and construction projects to ensure the student-customer voice and foodservice operations are incorporated in each phase," DeMeola says. "FNS has two elementary kitchen prototypes, one middle school kitchen prototype with snack bars, and one high school kitchen prototype with snack bars. FNS has developed several dining room packages that are good, better and best for each type of school to enhance the customer-friendly environment and drive increased meal participation. We make proposals for change to the design team after hearing from our customers."
For the Cypress Creek project, Gilbert's team had to justify putting in new equipment. "We did a business analysis to justify needing pass-through cabinets so staff can fill them from the back to service the front," Gilbert says. "They must work very efficiently in order to put 10 to 15 students through the line every minute."
Snack bars contribute significantly to building student participation. One, shaped in a full octagon, sits within the dining room and has a total of six points of sale. The other, a half-octagon, sits on the opposite side of the dining room and has four points of sale. A portion of the snack bars open up the dining room, and a portion open up to the patio courtyard. The snack bars received a full overhaul with new counters and attractive, more durable finishes. The counters were lowered to meet ADA height requirements. Pass-through heating and cooling cabinets and tray slides that hold pizza, hamburgers and chicken sandwiches make menu items more accessible to cashiers at the point of sale.
The Food Truck and Golf Cart
In 2004, a food truck began serving ypress Creek students lunch once every month or two. The food truck was gifted to the district following Hurricane Katrina to feed kids at schools with inoperable kitchens. "We initiated the truck to keep participation high," says Smith. The truck visits a different school each day, serves 200 meals per lunch period and resulted in a 13 percent increase in lunch participation district wide when the truck was on campus. The food truck also brings food to students attending special school parties.
Food truck equipment includes a flattop, refrigeration, a freezer, warmers, hot wells and a preparation counter. "We ask students who select meals from trucks to fill out an electronic survey so we can track whether they will purchase items on a regular basis," Gilbert says. "Items they like can be featured in the cafeteria as food truck favorites."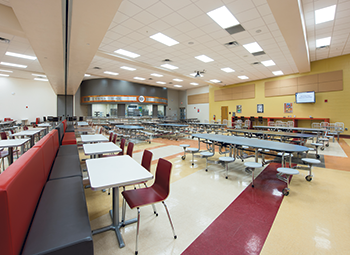 Seating choices include high-top tables, cluster tables, booths, eating/charging counters, and an assortment of mobile cafeteria tables along with customer artwork for snack bar areas. Photography courtesy of C.T. Hsu + Associates, P.A. In 2014 the FNS staff decided to use golf carts to deliver breakfast to Cypress Creek students. "Students are dropped off to enter the campus grounds on the opposite side to the cafeteria, so many students weren't eating breakfast," Gilbert says.
With the servery and the snack bars, the golf cart brings the total points of sale at Cypress Creek to 17.
Golf carts with a "Cruisin' Kitchen" beach theme became the mini-version of food trucks, serving breakfast, lunch and supper, but offering greater flexibility and at a lower cost. Students selected the beach theme over other options such as a racecar and graffiti.
Carts are retrofit with hot and cold holding equipment and filled by staff at the main cafeteria kitchen with 150 reimbursable breakfasts. "If we run out of meals, a driver can bring the cart back to the kitchen for more food and go out again," Gilbert says. "This is the age of convenience, and we need to go to the customers and not always expect them to come to us."
A POS system is attached to the side of the cart. Students punch in their student identification numbers, which tells the attendant if they must pay for their meals or if they receive them free of charge. The golf cart serves approximately 200 breakfasts, 300 lunches and 150 suppers daily. Two other OCPS high schools are also using the carts.
Staff operating the carts dress in the same uniform as foodservice staff working in the cafeteria with OCPS shirts and black pants. "We may get the cart staff beach-themed shirts," Gilbert says.
The cost of the mobile vehicles is paid in part by company sponsorship and by private foundation grants. Sponsors can place their logos on the cart. OCPS culinary chefs work with sponsors to offer menu items that feature the sponsors' products. "The chefs present the recipes to five students who select their top three choices," Gilbert says. "These appear on the food cart menu."
Cruisin' Kitchen cart is equipped with hot and cold holding units, drink barrels for milk and fruit juice and a POS system.In the future, sponsorship options may be offered for the food trucks, which could help to support upgrades and pay for another truck. FE&S
Facts of Note
Project Began: June 8, 2015
Opened: August 24, 2015
Scope of Project: Renovation of the cafeteria servery, dining room, kitchen and two snack bar areas for reimbursable meals
Size: Servery, 1,700 sq. ft.; snack bars, 1,682 sq. ft.
OCPS District: 226 schools, including 115 elementary schools, 89 middle schools and 22 high schools
Students at OCPS District: 186,000
Students at Cypress High School: 3,000
Students Participating in Free and Reduced Meals: 76 percent
High School Participation: 65 percent
Daily Meals Served at Cypress High School: breakfast, 925 meals; lunch, 2,000 meals; dinner, 290 meals; after-school snack, 400
Hours: Breakfast, 9 points of service (POS), 6:40 a.m. to 7:15 a.m.; lunch, 17 POS, 10:30 a.m. to 12:30 p.m.; and supper, 3 POS, 2:11 p.m. to 2:30 p.m.; after-school snack, 4 POS, 2:30 p.m. to 3:00 p.m.
Average Check at High School: $2.60 for lunch; $1.80 for breakfast
Seats: 574
Cypress Creek FNS Staff: 24
Total Building Cost: $58.9 million
Total Dining Room Renovation: $201,860, including signage
Key Players
Cypress Creek High School Principal: Heather Hilton, FY16; Dr. John McHale, new principal FY17
Senior Director, Food and Nutrition Services, OCPS: Lora Gilbert, MS, RD, FADA, SNS
Food and Nutrition Services Area Administrator of Facilities and Maintenance, OCPS: Heather DeMeola
Food and Nutrition Services Area Administrator of Marketing, OCPS: Jennifer Smith
Architect: C.T. Hsu + Associates, P.A., Orlando; Tim McNicholas, AIA; Robert Vella, senior construction administrator
Foodservice Consultants: Foodservice Design Associates Inc., Norwich, Vt. and Orlando, Fla.; Philip Bean, AIA, principal
Conceptual Design: Galvin Design Group, Winter Garden, Fla.; Thomas Galvin, FCSI, president
Equipment Dealer: Clark Foodservice Equipment, Bradenton, Fla.; Andrew Surprenant, project manager
Construction: Wharton-Smith Inc., Lake Monroe, Fla.