A redesigned prototype helps this fast-casual chain emphasize its authentic, scratch-made food.
The restaurant's diamond-tufted booths give it a traditional Italian feel, while splashes of color are added through its chairs and walls.Most fast-casual operations look like fast-casual operations. Basic tables and chairs, sometimes in hardwood, sometimes in metal or laminate, maybe some bench seating along a wall or partition. They often feature concrete floors and exposed ductwork to create an "industrial chic" appearance.
In many cases, a few small touches, like food photography, hint at the exact cuisine — whether the menu centers on burgers, burritos or something else.
Italian concept Go Roma's design, while still fast-casual, differs from its peers within the segment. From the furnishings to the signature design elements and the way it showcases its cooking, there's no doubt about what kind of place Go Roma is. Here, customers can enjoy a bowl of pasta, classic dishes like chicken parmesan or a custom-made pizza in a space that looks like what it is: an authentic Italian restaurant offering scratch-made food.
Go Roma, it should be noted, isn't exactly a new chain. The concept was founded in the early 2000s by Chicago-based hospitality group Lettuce Entertain You. Since then, it has switched hands at least two times. Presumably, each ownership group believed it could turn the restaurant into something special.
Despite the promise of the brand and the efforts of its many backers, though, Go Roma has never quite broken through. In fact, while the chain had six stores at one point, less than a year ago it was down to just two locations.
In June 2015, however, Go Roma's newest owners, Dallas-based investment firm Chalak Mitra Group, rolled out this new prototype store in Glenview, Ill. Not only does the design create a space that sets the chain apart from many other fast-casual players, it reduces the concept's footprint by nearly a third. This formula, Go Roma's new leaders believe, should help the chain finally achieve its potential.
A Deal at the NRA show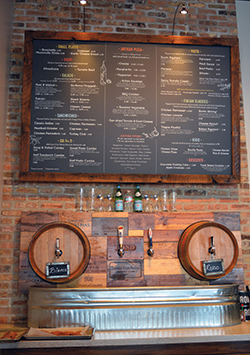 Go Roma uses custom-made chalkboard menus and casks with taps to drive home the authentic nature of its food.Chalak Mitra's acquisition of Go Roma can be traced to the annual National Restaurant Association Show. While in Chicago for the show a few years ago, members of Chalak Mitra had a meal at the chain. They came away so impressed with the overall concept and food quality that they contacted the owners about an acquisition.
Through off-and-on negotiations, Chalak Mitra ended up acquiring Go Roma in July of 2014. That's when the work began.
Despite their enthusiasm for the chain, Chalak Mitra recognized that not everything about it was perfect, says Joshua Hicok, Go Roma's operating partner. "It was a no-brainer that we needed to take their base concept and add some flair, add some uniqueness and put some great features in there for our guests," Hicok says.
The task of redesigning the restaurant front and back fell to Alicia Tomlin, Chalak Mitra's director of development.
When considering what direction to take Go Roma, Tomlin and the rest of the Chalak Mitra team realized the previous design didn't emphasize what was best about the chain: the authentic, scratch-made food. In addition, the overall layout required an update with more open spaces and warmer finishes and colors, along with some splashes of bright, energetic color, to provide customers with a comfortable yet fun environment.
From there, the emphasis on Italian-inspired design elements fell into place.
Instead of relying on basic booths, for example, Tomlin specified black diamond-tufted booths, very much like what you could find in an old-school Italian restaurant in Chicago, while the free-standing chairs were specified in a variety of bright colors. Some wall sections, meanwhile, have a brick veneer made from reclaimed Chicago bricks from the 1800s, with the Go Roma logo hand-painted on one large brick area.
Go Roma also went old school with its menu, passing on electronic displays in favor of custom-made chalkboards with hand-drawn details. "We really wanted it to have a handcrafted feel, that great care is taken in every step and every detail," says Tomlin. "A static chalkboard menu gives it that feel. Digital menu boards just did not go, televisions just did not go here."
Not everything Italian in the new design calls back to older restaurants, though. The chain also uses some more imaginative touches to drive home its Italian roots. Panels from old wine crates, with the wine logos showing on many of them, cover sections of the walls. For a playful touch, Tomlin located a 1960s-era Vespa motor scooter. The chain had the Vespa restored and painted. It now sits on a vestibule over the entryway door.
Tomlin also had fun with Go Roma's beer and wine setup, which has a handcrafted feel made possible by some innovative design.
Four taps, two for beer and two for wine, sit behind the POS station. The beer taps come out of a wall that's shared with the store's walk-in cooler, allowing for a direct draw of beer from kegs in the cooler. Two wine taps, one for white and one for red, flank the beer taps. The wine taps come out of wine casks built into the wall.
The casks, though, are for design only. They don't actually hold any wine. Instead the wine is drawn from wine kegs sitting in a small, two-zone wine cooler in front of the taps. The draw system is hidden behind a trough and under the counter beneath the taps.
By far the addition of a display kitchen represents the biggest change to the front of the house. Moving the production line up front creates energy and excitement in the dining area while, more than any other design choice, emphasizing the fresh, authentic nature of Go Roma's scratch-made food, says Hicok.
"Guests want that. They want to know what's going in their food. They want to know if you're pulling out a can and dumping it on my food."
Compact Kitchen
Not everything Italian at Go Roma involves traditional design elements — note the Vespa above the entryway door.To no one's surprise, moving the production area from the back to the front took more than just a cut and paste in a CAD file. In fact, the production line, prep kitchen and storage areas all underwent major redesigns in this project.
Many of the changes centered on making the kitchen and storage areas more compact. The new prototype cut these spaces dramatically, from as much as 1,600 square feet in the earlier restaurants to just 726 square feet in the new prototype. A good chunk of this space came out of the production line, which was reduced by more than 50 percent to just 250 square feet.
This display kitchen sits in a rectangular space and has two separate lines. The line against the back wall starts with a single refrigerated make table, where staffers assemble pizzas (like margherita, barbecue chicken and sun-dried tomato with goat cheese) and sandwiches (including the classic Italian sub, meatball grinder and chicken parmesan). In previous designs, sandwiches and pizzas had separate make tables.
Once assembled, these items move to the left, where Go Roma's ovens sit. In the previous design, these were cooked in an impinger oven. The new prototype has a double-stacked high-speed electric oven, with one chamber for sandwiches and the other for pizzas. This change, says Tomlin, results in higher energy efficiency and shorter cooking times, including pizzas that come out 40 seconds faster — a major advantage during peak hours. Forty seconds adds up quickly when multiplied by 10 or 15 orders.
In addition, Tomlin points out these electric units do not require a hood, "which is a huge cost saving when you're talking about your equipment package."
Since it is part of a display kitchen in an Italian restaurant, Go Roma has taken steps to make this oven a showpiece. To create the appearance of a wood-burning oven, the unit has a black pebble stone tile shell with a copper chimney cap on top.
Following the oven comes what Go Roma calls the "cut station." Consisting of another make table, staffers use this space to cut pizzas and sandwiches, add final toppings to sandwiches and assemble salads.
After the cut station sits a bank of two fryers next to a small undercounter freezer that stores fries. While Go Roma makes all fries on demand, the equipment package includes a small fry dump on top of the freezer that holds larger batches during peak hours. This station marks the end of the line across the back wall.
The chain created a shell over its high-speed electric ovens to give the impression of stone hearth cooking.The line on the front wall, where staffers face the dining area, starts with a convection oven, which sits at a 180-degree turn from the pizza/sandwich make table. Staff use the oven to bake bread as well as roast chicken for salads and other items.
Following the convection oven is a pasta cooker that staff use to make the five different styles of pasta served by Go Roma. Tomlin chose a pasta cooker over just boiling pasta in water because it is "more efficient in terms of energy consumption. More importantly the temperature is better regulated, the recovery time is less and the cook times are greatly reduced. This produces a more consistent product, a true al dente pasta."
Next comes one of the lynchpins of Go Roma's production kitchen: a custom unit that combines refrigeration with cooking and hot holding equipment.
The unit has undercounter refrigeration running its full 121-inch length. The top has a chef's rail elevated along the back for holding ingredients for pasta dishes and other menu items. In front of that chef's rail (and right next to the pasta cooker) sit four induction burners for sautéing pasta dishes and making other items to order.
To the left of the induction burners, the unit has four countertop hot-holding units, which are used to hold house-made soups and pasta sauces. Though this setup means pasta sauces aren't directly accessible from the induction burners, it's still an efficient design, says Tomlin, with cooks at the burners just two or three steps away from the ingredients they need.
While this custom unit marks the end of the production area, the other back-of-the-house areas have also undergone a major change. The prep kitchen went from more than 20 linear feet of prep tables to about 15. The walk-in freezer in the old design has been eliminated in the new prototype, replaced by a large three-door reach-in and the undercounter freezer in the display kitchen that holds fries.
Also gone is the tilt skillet. Though in the previous design this piece was placed in the production kitchen, it was primarily used for preparing soups and pasta sauces. Now those are made in the mornings, before the restaurant opens, on the display kitchen's induction burners.
While eliminating equipment helped the chain reduce the cost of a new build, Tomlin's design of the storage areas also helped cut costs. The footprint for these spaces was reduced by going vertical. The walk-in cooler, for instance has 12-foot ceilings, which adds about 20 percent more storage space than standard walk-ins, she says.
"Whenever possible, I always build my kitchens with 12-foot high ceilings to maximize vertical storage space. Anywhere I can put a high overshelf, we're putting one."
This and the other space-saving choices have reduced Go Roma's total footprint by 1,000 square feet to just 2,500 square feet. Since most of the space has been cut from kitchens and the back of the house, though, the chain's seat count was barely affected. It lost only about a dozen spaces, bringing it to 95 seats.
The economic benefit of this setup — 1,000 square feet smaller with nearly the same number of seats — definitely helps Go Roma's business case, Hicok says. With this new design, in fact, Hicok believes Go Roma can grow exponentially over the next few years. He's shooting for a total of 100 stores within three years and 500 within a decade.
That sort of growth, of course, won't happen only because of low overhead. The overall experience the restaurant now provides is what will really drive expansion, he says.
"There's three pillars to great restaurants: The pillar of guest service, the pillar of food and the pillar of environment. You need all three to be successful. And I think with the new look, the new way of Go Roma, you're hitting all three pillars."
Key Players
Go Roma managing partner: Joshua Hicok
Interior designer: Alicia Tomlin, director of development, Chalak Mitra Group
Kitchen designer: Alicia Tomlin, director of development, Chalak Mitra Group; Benjamin Whitlock, president, Mobile Fixture and Equipment Co.
Equipment dealer: Mobile Fixture and Equipment Co.
Logo/Marketing design: Liz Jones, director of marketing, Chalak Mitra Group; Shannon Phillips, Johnson & Sekin
Facts of Note
Owners: Chalak Mitra Group
Chain headquarters: Dallas, Texas
Year founded: Founded by Lettuce Entertain You in the early 2000s. Acquired by Chalak Mitra Group in 2014
Signature menu items: meatballs, pear and walnut salad, rustic rigatoni, pepperoni pizza
Number of units: 3
Unit size (prototype): 2,523 square feet; 1,716 front of house and 807 back of house
Seats per unit (prototype): 95 total (71 interior, 24 patio)
Location type: end cap
Equipment Package Cost: $150,000 Including hood package and walk-in cooler