When visiting Union Kitchen Ivy City in Washington, D.C., one might see 95 people using the facility's foodservice equipment and meeting spaces. Most people don't know each other since individuals working in the space represent different companies. They may be prepping menu items to move to a retail location, getting ready for a catered event, prepping for that day's food truck sales or engaging in wholesale manufacturing. They've come to use foodservice equipment and meet with Union Kitchen's support staff about branding, marketing and product distribution.
When members take advantage of Union Kitchen's services, they meet with consultants and hold or attend events in this space.Necessity was clearly the mother of invention for the development of Union Kitchen. In 2012, Jonas Singer and Cullen Gilchrist opened The Blind Dog Café in Washington, D.C. The restaurant's award-winning chocolate chip cookies became so popular that their small kitchen couldn't keep up with customer demand. The owners rented a 7,500-square-foot production space, which they had discovered was the only viable and available commercial kitchen in the city.
Singer and Gilchrist soon discovered the space was too large for their needs. "We realized there must be other food companies in need of production space," says Gilchrist. The owners decided to share the kitchen and its amenities with other culinary businesses looking to produce items and expand their menu offerings.
The first Union Kitchen, in D.C.'s NoMa neighborhood, opened in 2012. Singer and Gilchrist set up a system wherein people purchase memberships, which gives them access to the kitchen space and other services. "It's similar to joining a gym," Gilchrist says. "There are different types of memberships to fit the scope of members' needs."
The business soon expanded to include distribution of members' products. In less than a year, Union Kitchen Distribution expanded its reach to more than 75 local and national outlets. In January 2015, Union Kitchen Distribution began supplying members' products to Whole Foods as its first new distributor in the Mid-Atlantic region since 1996.
In 2015, Union Kitchen opened Union Kitchen Grocery in D.C.'s Capitol Hill neighborhood. The café and corner store offers more than 100 Union Kitchen member products alongside grocery staples such as local meats and produce.
In September 2015, Singer and Gilchrist opened a second incubator space, Union Kitchen Ivy City, in the northeast part of the city. They also rent this space.
Foodservice Equipment and Value Engineering
Members have access to an array of equipment at Union Kitchen Ivy City that they can use 24 hours a day, 7 days a week.Access to kitchen equipment is part of all memberships. Union Kitchen Ivy City's second floor includes a full assortment of equipment: convection ovens; gas stoves; stockpot burners; grills; flattop grills; 10-quart, 40-quart and 60-quart mixers; a dough sheeter; a tilt skillet; a steam-jacketed kettle; a deck oven; a rolling rack oven; an ice cream machine; a hardening cabinet; a meat slicer; a deep fryer; speed racks; fridge carts; cutting boards; mixer attachments; mixing bowls; colanders; food processors; induction burners; induction pots; induction sauté pans; small pots; stock-pots; sauté pans; trays; and roasting pans.
"We didn't create pods, but rather grouped the ovens, ranges and other similar types of equipment together," Gilchrist says. "We feel this configuration is not as limiting as pods. Unlike our first kitchen that was a renovation of an existing kitchen, this space is in keeping with our model. It's much bigger and more open."
On the first floor of the Ivy City building, members provide their own equipment, such as smokers, that may not be available on the second floor. "We have a modular utility system to provide gas and electricity so people can bring in equipment that works for them," Gilchrist says.
The kitchen's sustainable features include the use of
Energy-Star-rated equipment when possible, LED lighting and on-demand hoods and fans. "We worked with D.C. Sustainable Energy Utility to help us determine what was needed to conserve on energy and resources," Gilchrist says.
In order to provide a facility that is functional and cost-effective, the Union Kitchen owners collaborated with Rob Mescolotto, founder and owner of Hospitality Construction Services (HCS). Mescolotto's team agreed to provide value engineering to make it possible for the project to get underway. "We saved the owner about a half-million dollars," Mescolotto says.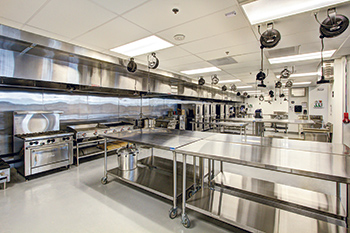 Grouping similar equipment works better than pods. Retractable extension cords provide flexibility for members using equipment.The HCS team created a 4- to 5-inch concrete curb underneath the walls. "This curb allows for regular cleanings, which will not affect the concrete and epoxy flooring," Mescolotto says.
The construction team also installed clean ceiling tiles, roll-up doors for food trucks to load and unload, and grease interceptors built below the floor. In addition, they installed massive walk-in freezers and refrigerators.
"We kept the project well under budget by paying close attention to the layout, reengineering the duct work and avoiding fire wrap installation, modifying the PVC piping rather than using cast iron piping, and installing equipment intelligently," Mescolotto says. "We also saved about $30,000 by using cleanable and durable epoxy paint on the floor rather than installing a polished and stained concrete floor, which is a multilayer process and was unnecessary for what is needed." Retractable extension cords also were installed to provide flexibility.
Five tankless water heaters mounted on a wall represent another space- and cost-saving feature. "If we didn't use these, which fit in 30 square feet, we would have needed 300 square feet," Mescolotto says.
Additional Membership Services
Union Kitchen offers several membership options. Basic membership gives access to foodservice equipment and all business services and allows participation in all revenue-driving services, including catering and events, distribution, marketing and finance. The most complete membership provides access to a 10-foot by 16-foot production space, including 10 feet of hood space; 24-7 access to the Ivy City space; 15 storage shelves; access to all business services and revenue-driving services; and a parking space.
The dishwashing area features a dishmachine, three-compartment sinks and spray nozzles. Services provided by Union Kitchen Distribution include access to the company's staff, which develops relationships with nearly 100 local and national retailers like Whole Foods, MOM's Organic, Glen's Garden Market and YES! Organic. The staff also place orders with buyers and coordinate orders with members. Union Kitchen Distribution delivers products and handles all billing and invoicing. This distribution team also arranges on-site tastings for buyers.
For catering and events, Union Kitchen develops menus sourced from members' product offerings and handles all aspects of the event, including client acquisition, bar services, rentals and staffing. Events take place at Union Kitchen Ivy City. Members can also take advantage of a menu and product-offering consultant, discounted rates for use of the venue at Union Kitchen Ivy City and discounts or preferred rates for event vendors.
As part of the financial services, members meet one on one with Union Kitchen's finance team to discuss business finances and access to capital through several lending and funding programs.
"The marketing and partnership support services offer one-on-one meetings with our team members, who offer advice about everything from branding and social media to press outreach," Gilchrist says. "The services also offer access to farmers' markets and seasonal events held by local and national retailers, and we spotlight members' brands on Union Kitchen and Union Kitchen Grocery social and digital channels and website." Business resources include on-site working spaces with access to desktops and a business center with color printing, scanning, copying and wireless internet. Other resources include access to business and educational support with on-site vendors, entrepreneurship classes and subsidized staffing services.
Members also can host their own pop-up events at Union Kitchen Ivy City's on-site venue space or attend quarterly open kitchen tasting events hosted by Union Kitchen with press, market buyers and industry representatives in attendance. Members can collaborate with each other at member happy hours and other social and community events.
Five tankless water heaters contribute to space and cost savings.The facilities services include waste management for trash, compost and recycling; facilities management, including preventative maintenance of equipment; utilities, such as water, gas and electrical; towel and apron service; use of Union Kitchen as a delivery location and business address; and cleaning.
Since its opening, Union Kitchen has proven to be a successful model. "Today, we have about 175 members," Gilchrist says. "About 25 members have opened up their own storefronts, and another 50 have products in the market, which we support with distribution. We also have many members who are caterers. We've seen very few members whose businesses have failed." As real estate and product launching becomes more expensive, having access to facilities and business support will most likely become even more attractive.
Facts of Note
Opened: December 2012
Scope of Project: A facility with foodservice equipment and meeting spaces
Size: 16,000 square feet (across two floors in a warehouse)
Total Annual Sales: $3.6 million
Hours: 24-hour access
Staff: 20 at this facility; 50 total at four locations
Total Project Cost: $2.5 million
Equipment Investment: $1 million
Website: www.unionkitchendc.com
Key Players
Owners: Jonas Singer and Cullen Gilchrist
Consulting and Construction: Hospitality Construction Services Inc., Washington, D.C.; Rob Mescolotto, founder and owner
Union Kitchen Ivy City's walk-in cold storage includes two walk-in freezers and four walk-in coolers. Shelving in each helps members to keep their products organized and accessible.
Almost every part of the space contains maximally efficient food preparation, storage and cleaning areas that offer businesses easy access to electricity, water, gas and all of the equipment needed to operate. The efficient kitchen allows for businesses to lower their cost per unit and maximize their output and profitability.
All Photographs courtesy of Hospitality Construction Services; photography by Matthew Lynch and Jim Cuddy