The hot dog chain's new prototype helps it stand out with a look inspired by its earliest stores.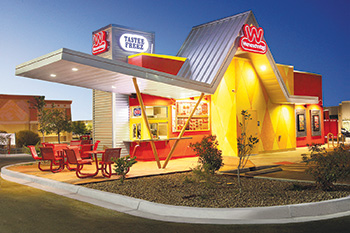 To help itself stand out in a competitive restaurant market, the chain developed an A-frame-inspired prototype painted red and yellow.As the clouds lifted from the Great Recession, countless companies found themselves trying to recapture the sunnier days of yesteryear. And Wienerschnitzel was no exception.
Founded in 1961, this California-based hot dog chain once had a store count approaching 500. In 2012 that number had shrunk to around 330 units. Even worse, there was no sign of real growth on the horizon.
"We'd open 10 to 20 locations a year, but at the same time we'd lose 10 to 15, so our store count was becoming very stagnant," says director of real estate and development Geoff Ingles, who joined the company in 2012. "I came on board and had to figure out really why that was."
Years of study and work on this problem resulted in the opening of a new prototype store in early 2015. This new design promises to turn the chain's fortune around by providing Wienerschnitzel with a strong brand identity while dramatically lowering the cost of entry and operation for franchisees.
Diagnosing the Problem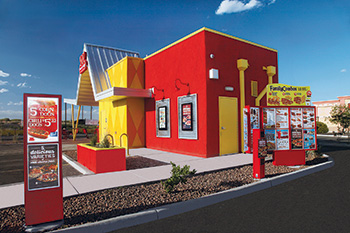 The chain's new prototype can be placed on as little as 10,000 square feet. This allows Wienerschnitzel to source prime real estate at a low cost.To help Wienerschnitzel get back on track, Ingles started by looking into the reasons for its low growth. In talking with franchisees, the answer was clear: The cost to build and operate a store simply didn't justify the investment.
While this could be said of any struggling franchise, for Wienerschnitzel, that statement is packed.
At its founding and during its best years, Wienerschnitzel's prototype location was a 700- to 800-square-foot A-frame building that offered no indoor seating. Over the years the chain developed new models, which ultimately evolved into "vanilla box prototypes," says Ingles. Not only were they visually indistinguishable from a dozen other quick-serve restaurants, they were also much larger than their older stores, in some cases coming in at roughly 2,400 square feet. By the end of the Great Recession, many stores just couldn't make a profit at that size and with that overhead. These designs, he adds, didn't do much to help the chain stand out.
Ingles and a team of experts in real estate, marketing, operations and design then set out to create a new prototype that offered franchisees a lower cost of entry while giving Wienerschnitzel an identifiable "theme-based" look. They surprisingly came back to an A-frame — a model that offers lower building and operating costs with an appearance that truly allows Wienerschnitzel to stand out in a crowd.
A-Frame-Esque
Wienerschnitzel took several steps to lower the cost of its equipment package, including eliminating one sandwich table. The hot dog and hamburger grills now share a single table for finishing ordersOf course, Wienerschnitzel didn't go back to the old A-frame entirely. Doing so wasn't even an option, Ingles says. The design of those original buildings conflicts with the Americans with Disabilities Act, though the A-frames built before the Act have been grandfathered in. Further, the building's style is outdated enough that most municipalities just won't allow an A-frame to be built within their borders, he adds.
So Wienerschnitzel created a drive-thru/walk-up-only prototype with A-frame-like features, along with other unique flourishes. Franchisees can locate this small, efficient and affordable structure on patches of real estate measuring as little as 10,000 square feet. That size allows the chain to source prime real estate in high-traffic areas at a low cost, Ingles says.
What's more, the building's unusual look draws attention to the operation and provides customers with not just a hot dog but a memorable experience too. "You put this little building in front of a shopping center, even if you don't know what Wienerschnitzel is, you're going to say, 'What is that?' It really pops out at you," says Ingles.
A steeply pitched roofing element is the most A-frame-esque of the new prototype's features. The building also has a corrugated metal tower that displays signage and an overhang covering an outdoor seating area accommodates walk-up customers. The structure itself is painted with diamond-patterned red and yellow, reminiscent of ketchup and mustard.
While seats had been removed from the prototype exterior, the outdoor seating area plays an important role in the new design. The area's concrete has been stained tan, distinguishing it from the walkway leading to the walk-up window. The area's furnishings have changed as well. In previous designs, the chairs and tables were "concrete bunker" style, says Ingles. Though these could last for years, they were far from comfortable. The new furnishings are made of sheet metal and steel and are powder coated red. The chairs themselves now swivel and lean, providing a much better customer experience.
This seating arrangement has proven extremely popular, Ingles notes. While the design team forecasted 10 percent of the new store's business would come from walk-up customers, that figure is actually closer to 20 percent. "People are wanting to stay and eat outside and really take in the whole theme of the building," says Ingles. "I think that really has to do with the seating. If we would have stayed with our traditional concrete, it would have taken away from the iconic, theme-based look of the restaurant." Outdoor seating has proven so popular, in fact, that the chain may add additional chairs and tables in future designs.
Kitchen Cost Cut by a Quarter
The chain's redesign created a compact, efficient kitchen to lower the cost of entry and operations for franchisees.While the structure itself is smaller and thus cheaper to build and operate, the new prototype also includes a new kitchen design. In fact, the new equipment package is a full 25 percent cheaper than its predecessor, says Rusty Bills, director of operations.
Much of this cost reduction was achieved by eliminating custom-made equipment in favor of off-the-shelf units. In other cases, the chain squeezed out savings as small as a few dozen dollars per unit by choosing smaller or more middle-of-the-market items. "'We're not the level of restaurant that needs to have, like I say, the Mercedes of storage racks. A Honda Accord rack is perfectly fine," says Bills.
Wienerschnitzel's new prototype interior is essentially just the back of the house of a more traditional operation. It roughly consists of two main sections. The back portion of the building serves as a storage area. This space includes a walk-in refrigerator and freezer and 32 linear feet of dry storage, as mandated by Wienerschnitzel's home state of California. The storage racks in this area were changed to mid-grade units from high-grade. That decision alone, Bills says, cut roughly $2,000 from the cost of the equipment package.
This back area also contains a cubby-like section containing an ice machine, CO2 tank and bag-in-box soda system. To save money ($200) and space (8 linear inches), Wienerschnitzel moved from a 1,000-pound ice machine to an 800-pound unit. The chain also went from a horizontal to a vertical rack for its bag-in-box storage, saving even more space.
The front half of the building
consists of Wienerschnitzel's food production lines, where staff produce hot dogs (40 percent of sales), hamburgers (a surprisingly low 10 percent of sales) and corn dogs. The chain serves its renowned chili on dogs, burgers and fries.
The production area is set up like the five on a die, with dots at each of the four corners and one in the middle. For Wienerschnitzel, the fry station and drive-thru window represent the top dots. The grill line (with two stations) and the walk-up window represent the bottom dots. The middle dot is a landing table with heat lamps, where staff can place completed orders.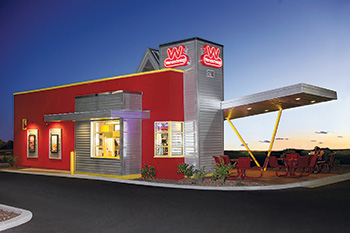 The outdoor seating at Wienerschnitzel has changed from "concrete bunker" chairs and tables to powder-coated metal, with chairs that swivel and lean.The fry station (the top right dot) has enough space for three fryers, though Wienerschnitzel only uses two at the moment. While space is at a premium in the operation, Bills designed this small bit of flexibility into the building. This, he says, gives the chain room to evolve.
Next to the fryers sits a 36-inch undercounter freezer for storing fries. This freezer is actually larger than in the previous prototype, Bills notes. While slightly more expensive, the extra space reduces the number of trips staffers make to the walk-in to restock. Even better, the additional surface area on top allowed the chain to eliminate a small custom-made (and therefore pricey) table that was used to hold the chili warmer and shredded cheese. These now sit on the larger refrigeration unit.
The bottom right dot is the start of the grill line. It contains a small worktable where staffers prep vegetables like onions, lettuce and tomatoes; a two-eye burner for making and holding chili, and a two-foot flattop (replacing a three-foot unit) that's used to cook hamburgers.
Following the hamburger grill is a sandwich make table, with undercounter refrigeration. Unlike in the previous design, this one table serves both the hamburger and hot dog grills.
The hot dog grill (the die's bottom left dot) comes next. Though it's shielded by a pony wall, this grill sits next to the walk-up window. Since the chain sells far more hot dogs than hamburgers, it sits closer to the walk-up window to provide faster service to customers, says Bills.
The walk-up window itself is placed on the corner at the front of the building, next to the outdoor seating area. It's actually an L-shaped installation with two openings, one for ordering and one for picking up food.
This window was another case where custom was dropped for an off-the-shelf product. Bills found he could save franchisees $600 by ordering out of a catalog. This change, though, required that the design team slightly tweak the building.
"That was a good awakening of the collaboration of our teams to do this," Bills says. "I had to go to our development team and say, 'Hey, guys we need to make sure we change our walk-up by four inches on both sides,' and they were like, 'OK, great.' That's how we understood there was a design element, and within that design element I had to implement our entire operations flow. That's what was great about this whole project."
With the window sitting on the corner, the production area continues along the perimeter of the building, perpendicular to the grill line. The next station holds the chain's soft-serve machine, where Wienerschnitzel dispenses its Tastee-Freez–branded treats. A drawer next to the machine holds the toppings — no need for a candy display that can't be seen by customers — while cones and cups sit on top of the drawer unit. Around the next corner sits the soda dispenser, followed by the drive-thru window (the top left dot).
The drive-thru, says Bills, actually sits in a bump-out that measures 3 feet deep by 10 feet long. Though the bump-out increased the building's cost, it was added to accommodate an exterior door. Dubbed the "runner charger door," this has been part of Wienerschnitzel's design since the chain's earliest days. When the operation's drive-thru is backed up, a staff member will use the door to bring drink orders to customers and to take their payment.
"I did a kitchen without [the runner charger door], but then we decided we needed it," says Bills. "It's for the efficiency of service as well as holding on to our brand's nostalgic, philosophical principle."
Looking Ahead
So far this combination of efficiency and nostalgia are paying off in the new prototype. On its very first day of operation, the new prototype store (located in El Paso, Texas) was profitable, Ingles says. Multiple franchisees have since expressed interest in the model, and Wienerschnitzel projects building 35 new stores this year — about half based on the new prototype.
That success doesn't mean Wienerschnitzel is done with designing, though. The chain is already developing a modified prototype that turns the outdoor seating area into a glass-enclosed patio. This option, Ingles says, was requested by franchisees in locations with cold and inclement weather, where indoor seating can pay for itself.
The overall look of this modified prototype, though, will remain the same: ketchup and mustard paint along with an A-frame-inspired structure that truly stands out. "The core product of what Wienerschnitzel is — there's a demand and desire for it," says Ingles. "We had to find a way to repackage it and bring brand awareness. I think that's really what this building does." FE&S
Key Players
Chairman and CEO, Galardi Group (Wienerschnitzel's parent company): Cindy Galardi Culpepper
President and Chief Operating Officer: Dennis Tase
Chief Marketing Officer: Doug Koegeboehn
Chief Financial Officer: Ken Wagstaff
Director of Domestic Franchise Development: Ted Milburn
Director of Real Estate and International Development: Geoff Ingles
Interior Designer and Architect: NCA Partners, Dallas, Texas
Kitchen Design and Equipment Sales: Ray Callahan, Western Pioneer Sales Co.
Facts of Note
Chain headquarters: Irvine, Calif.
Year founded: 1961
Signature menu items: Chili dogs, chili cheese fries, corn dogs, Tastee-Freez soft serve
Number of units: 325
Unit size (prototype): New Heritage prototype is 750 square feet
Seats per unit (prototype): New Heritage prototype seats 12 to 15 people; Heritage Plus units with enclosed patios may seat 16 to 24 people
Location type: Heritage prototype is freestanding with
a drive-thru and walk-up window. Wienerschnitzel will
consider viable inline, endcap, mall and street locations.
Total system sales: Approximately $233 million
Unit growth projections: 35 new units planned for 2016
Equipment package cost: $180,000 to $280,000 depending on FF&E needs