Foodservice production is much more efficient and safe thanks to the overhaul of a 70-year-old kitchen.
The new steam kettles contain the same volume but are narrower. The finished floor consists of poured polymer/epoxy.

The main kitchen at Overlook Medical Center had stood the test of time for 70 years. "We've replaced equipment over the years and two years ago put in $400,000 in new equipment," says Michael Atanasio, foodservice director. "But we have never done a major renovation, due to limited resources and other priorities such as patient facility expansion and the need to add new POS systems."
Change had to be made when water leaks from the kitchen floor to the hospital's central storage area below became too numerous to patch. "The leaks were causing thousands of dollars of damage," Atanasio says.
For four months, staff implemented a multiple-phase project to renovate the kitchen, in which food is prepared for patient meals and retail operations at Overlook Medical Center and Overlook Union Campus.
The project included removing all floor tiles in the main kitchen and replacing them with poured polymer/epoxy flooring; renovating the hospital hallway in front of the kitchen; replacing a 12-foot-by-13-foot walk-in freezer on the loading dock; refurbishing 4 walk-in coolers and installing new walls; and redesigning the kettle area, including redoing plumbing for kettles and installing 3 new 60-gallon kettles. The project also included installing stainless steel on all kitchen walls and adding LED lighting in the kitchen.
Today, the kitchen operates more efficiently and safely than before. The project team and the entire kitchen staff made this possible in three months through what was nothing short of a well-orchestrated Cirque du Soleil-like performance.
"The key to this project was anticipating what was needed and planning every detail," Atanasio says. "The equipment we had available at any given time was a moving target because construction locations were always changing."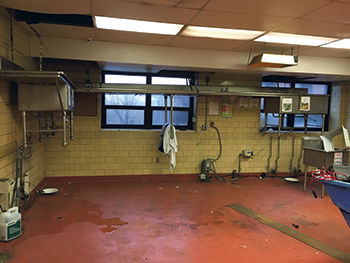 All equipment was removed from the prep room before renovation began. Rather than cutting and removing the large worktable and sink, they were hung from the ceiling. "Despite all the planning, we had to be very flexible and turn on a dime as needed because we didn't know how long each phase would take," says Todd Daigneault, executive chef. "For example, a surprising 38 holes under the floor tile were discovered when the dishmachine was removed, so restoring the floor took a lot longer than expected. This is the room where the dishmachine had to be broken down and reassembled."
Another turn-on-a-dime situation occurred in one phase when the staff served breakfast on the normal menu and then had 1 hour and 45 minutes to break down the physical trayline and equipment, move it into a room where the dishwasher was (the dishwasher was disassembled, and the operation used paper service) and then set it up again with a makeshift arrangement before starting on a non-select menu. "In total we did this in 1 hour and 20 minutes," Atanasio says. "When we had to move the trayline back, we broke down the trayline, moved it back to its original location and reassembled it. Meanwhile staff reassembled the dishmachine."
"This required a lot of coordination with the diet office, trayline staff, culinary staff and vendors who moved equipment and broke it down and set it up," Atanasio says.
Also during the three-month project Atanasio and Daigneault discovered that one of their main bakery suppliers was going out of business. Daigneault asked the owners to stay open for an additional week while another bakery vendor was located who could produce similarly healthful products. (Daigneault and the baker had produced gluten-free cakes, vanilla blueberry quinoa cake and a nutritious lemon bar.)
Clear and continuous communication was imperative throughout the process. Atanasio and Daigneault recall exchanging numerous calls and texts at 3 a.m. to respond to situations such as where vendors were to drop off deliveries when their normal locations were shut down due to construction at the loading dock. "We knew that nipping problems in the bud right away was crucial," Daigneault says.
Keeping staff informed about what to expect as changes were made was also an ongoing necessity. Staff were assigned and reassigned to jobs and various production stations as needed. "Keeping staff informed and motivated in anticipation of a new, much better kitchen was crucial," Daigneault says. "They want to know that all the pain they're going through would have a good outcome." Staff members often saw Atanasio and Daigneault step in and work at stations in need of extra hands. This effort not only supported production efficiency but also served as a morale booster for staff whose work shifts were often out of the ordinary. "They knew we were totally committed to making this work well," Atanasio says.
Communication also had to be stellar to patients, nursing staff and other hospital staff.
Working from a Mobile Kitchen
Staff learned how to work in small quarters in the mobile kitchen.The project included multiple phases. Parts of the kitchen were shut down at different times, so staff members were moved to stations where menu production could take place. "We continued to produce the same quantity of meals, but the staff were allocated differently depending on which areas weren't under construction," Atanasio says. In addition, we did nearly all of our catering with the exception of a couple that we asked our retail operations to do. We did $150,000 in catering during this time," Atanasio says.
In order to produce patient menus and meal items for retail operations and events, the project team brought in a mobile kitchen. The mobile kitchen was installed off the main kitchen loading dock. The kitchen was in use for two months. "We went from having a production space of more than 8,000 square feet to a space of about 240 square feet," Daigneault says. "We use a full array of equipment in the kitchen, and in the mobile kitchen we had a range, flattop griddle, tilt skillet, a steamer, convection ovens, dry storage, a walk-in freezer, walk-in refrigerator, worktables and a hand sink."
In order to get the mobile kitchen up and running, the project team had to get permits from the city, and engineers installed a steel plate that holds propane tanks, ran plumbing from inside the kitchen out to the mobile kitchen, installed a grease trap, placed hurricane straps from the ground to the mobile kitchen, made footings for the mobile kitchen, ran an umbilical cable from the building to the mobile kitchen for electricity and built graded ramps for roll-in racks.
The only way Daigneault and his culinary team could make patient meal service work was to strategically create menus that could be produced given the amount of cooler and freezer space available at any given time. For example, if freezer space wasn't available, Daigneault substituted several products and purchased them in refrigerated form or freezer form depending which phase of the project was underway. Daigneault also had to retool menus depending on the type of equipment available. "For example, we didn't have a griddle, so rather than searing roasts, we set up and used pans as sizzle plates to do so," he says. "We normally use 12 convection ovens and a double-stacked combi unit, but we went to having only two convection ovens and a steamer. We were always changing on a dime to accommodate the time for each phase."
Daigneault created a non-select menu and remade other menus to include more salads and sandwiches than regular entrées. For example, Daigneault created a Tuscan grilled balsamic chicken breast dish, substituted sundried tomatoes for fresh tomatoes in salads, used shelf-stable wraps rather than fresh bread and garnishes for featured items such as the Cape Cod wrap and Tuscan grilled chicken salad.
"We considered bringing in food but decided against it, because we have many different therapeutic modifications and, if a vendor can't meet these perfectly, our patients would be at serious risk," Atanasio says. "In addition, we have many initiatives such as a hyper- and hypo-glycemic Six Sigma project going on, and we had to change the diabetic menus."
In order to communicate to staff members about the daily menus, Daigneault posted recipes and pictures on the walls. Temperature guides hung in the mobile kitchen's cooler. In addition, numerous hand sanitizer stations were available because there were fewer sinks. "Also, we didn't have phone lines in the mobile kitchen, so we used walkie-talkies that weren't always working, and people had to run back and forth from the main kitchen to the trailer."
Setting Up a Smooth Operation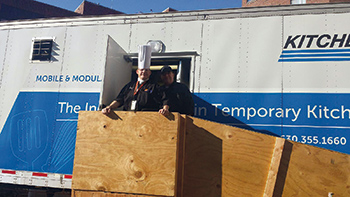 Todd Daigneault and Michael Hicks wait for a delivery to the mobile kitchen."The litmus test was running the operation as smoothly as we normally do and keeping up with catering orders, including an employee barbecue for 3,800 people during all this," Daigneault says. In addition, our operation continued to provide food for three off-site facilities. And we conducted cooking demos for the Greenwood Estates, participated in the Association for Healthcare Foodservice and installed security cameras throughout the kitchen. This involved more coordination with vendors and installers."
Also in the kitchen, the kettle area was redesigned. This part of the project included reducing the six-kettle array to four steam kettles. The new lineup includes a 1950s kettle — Atanasio didn't have capital to replace all of the cooking equipment — and three new, narrower units with the same 60-gallon capacity as the old kettles. "The old kettles are actually sturdier than the new ones," Atanasio says. "Our engineers reinforced the moving parts on the lids of the new kettles."
Because the kettles consume less area, more space became available to create an island service for production. Plumbing was also redone. "We were limited in what we could do here because the hoods had to stay in place," Atanasio says. "But we incorporated ergonomic design into this area so kettles are easier to turn on and off, and repositioned the floor sinks. In addition, we reconceived our use of the kettles so staff members turn over products more frequently and need two fewer kettles."
The mobile kitchen contained a range, flattop griddle, tilt skillet, steamer, dry storage, walk-in freezer, walk-in refrigerator, hand sink, convection ovens and worktables.Efforts to enhance the kitchen operation's sustainable features included replacing sinks and faucets to minimize water use, purchasing more energy-efficient steam kettles, selecting a freezer that is more energy efficient due to the use of new refrigerants, introducing a blower in the back that creates natural air flow and upgrading the walk-in cooler to be more energy efficient. In addition LED lighting replaced most of the incandescent lighting.
Strategy and flexibility were necessary until the very last day of the project: Toward the end of the project, the production area was ready on a Monday. The old freezer was emptied on Tuesday and moved into the mobile kitchen in addition to hot production moving out of the mobile kitchen. The new freezer was installed on Wednesday and ready for use on Thursday. Food from the mobile kitchen was moved into the new freezer on Thursday. The mobile kitchen was detached and was ready for pickup on Monday. The next day, on Tuesday, staff produced food for and served a function for 3,800 people. The last phase of the floor started on Wednesday. And the final phase — refurbishing three indoor walk-in coolers — took place on Thursday.
After the project was completed, staff returned to their positions, and operations began getting back to normal. The new normal includes some menu changes to introduce lighter dinner fare such as salads and sandwiches that replace some of the heavier entrées. "The success is all about the staff, because, if you have the right people, in the end they always get the job done," Atanasio says. A formal thank-you meal took place in January when the top hospital administrators attended and thanked the staff.
Key Players
Ownership: Atlantic Health System
Director of Operations: Gerry Durney
Foodservice Director: Michael Atanasio
Executive Chef: Todd Daigneault
Patient Services Coordinator: Amir Kamal
Business Coordinator: Janelle Juvelis
Retail Coordinator: Karen Pallino
Engineering Coordinator: Sal DiFranco
Interior Design: Michael Atanasio, project manager; Todd Daigneault, kitchen design
Equipment Dealer: Culinary Depot, Monsey, N.Y.
Equipment Service Company: Pronto Repairs, Tappan, N.Y.
Facts of Note
Total Staff at Both Hospitals: 4,500
Overlook Medical Center Kitchen Project Opened/Completed: December 2015
Scope of Project: During a 3-month period, replaced the entire main kitchen floor, renovated the hospital hallway in front of the kitchen, replaced a walk-in freezer on the loading dock, refurbished 4 walk-in coolers, redesigned the kettle area, including redoing plumbing for kettles and installing new kettles. Walls were resurfaced with stainless steel (about one-third in the receiving area is diamond plate).
Size of Kitchen: 8,675 sq. ft.
Total Patient Meals (both campuses): 647,201
Total Retail Meals: 553,886
Total Foodservice Budget: $10 million
Total Annual Retail Sales: $3.7 million
Annual Catering Sales: $550,000
Average Retail Check: $4.75
Kitchen Hours: 5:30 a.m. to 8 p.m., daily
Menu Specialties during the Renovation: Grilled Tuscan chicken salad; inner harbor–style Maryland crab cakes; Cape Cod chicken wrap; braised beef Florentine; Mediterranean braised chicken thighs
Staff: 155
Total Project Cost: $560,000
Equipment Investment: $97,000, which includes kettles and replaced and refurbished coolers, and $24,000 for stainless steel kitchen walls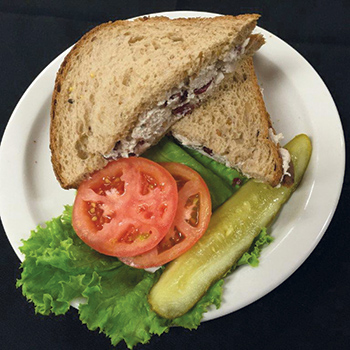 A Cape Cod chicken sandwich with sundried cranberries served on a seven-grain bread was popular during construction.
Photography by Todd Daigneault