This emerging chain expects huge growth through cooked-to-order, fast-casual Asian food offered for dine-in, carryout and delivery.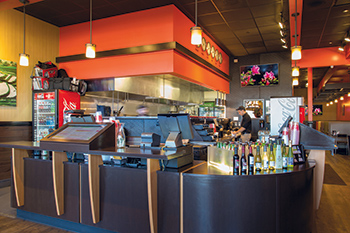 Mama Fu's melds fast-casual, carryout and deliveryWho doesn't love getting Chinese food delivered right to their door? The metal-handled white boxes that you can eat right out of, the disposable chopsticks, the sauces and fortune cookies — they all come together to create a convenient, fun and often delicious experience.
While convenient, fun and delicious are great, today's restaurant customers look for more in a meal. Diners also want fresh and healthful. Frankly, most people don't associate those qualities with the food they order from their local mom-and-pop Chinese place.
That's the niche Mama Fu's strives to fill. This emerging chain leverages the built-in goodwill for Asian delivery and carryout but adds extra appeal by serving fresh, cooked-to-order food with the quality associated with fast-casual restaurants. Last April, the chain rolled out a new prototype store that supports delivery and carryout while also offering a high-quality experience to dine-in customers.
Two Foundings
Mama Fu's new prototype is 1,000 square feet smaller than its predecesor.Mama Fu's was founded by multiconcept franchisor Raving Brands about a dozen years ago. Seeing great potential in the restaurant, franchisee Randy Murphy bought the chain's branding and intellectual property in 2007. He then assembled an experienced team of restaurant and chain operators to help Mama Fu's grow.
This team included Cody Armand, who now serves as Mama Fu's director of facilities, operations and development.
"We started to evolve the brand and just put the systems in place, started to build a culture that would breed success into the brand," Armand says. "We felt like the staples were there. It was a great menu, the food quality was excellent, and we had a model that was a niche in the United States in that there just aren't a lot of corporate-driven Asian concepts."
To unlock the chain's growth potential, the Mama Fu's team dabbled with different ways to offer the concept to customers. The company tried a flex-casual format that offered a full-service experience on nights and weekends, while following a standard fast-casual approach during weekday lunches — a model that some stores still use.
While the in-store experience wasn't a homerun, Mama Fu's knocked it out of the park with carryout and delivery, Armand says. Customers responded so well to these offerings that Mama Fu's has made major investments to support this business.
One of the largest investments was the creation of a corporate call center that takes orders for all company-owned stores and will begin supporting franchised stores this year. The call center has a direct feed into each location's kitchen and POS systems. This addition, says Armand, allows Mama Fu's to "open the door wider. I don't think you realize when you only have two or three or four lines going into a store how many calls you're not getting."
What's more, the call center allows the chain to offer all customers a better experience. In-restaurant patrons don't have to wait to be served while an employee takes a phone order, while callers get the full attention of someone trained in explaining the details of an Asian menu. In addition, the call-takers can upsell, pitching limited-time offers, appetizers and other revenue enhancers to call-in customers.
The success of this approach led directly to the creation of the chain's new prototype, which was designed with carryout and delivery in mind. The first of these locations opened in the chain's hometown of Austin, Texas, last April.
One of the biggest differences between Mama Fu's new prototype and its older stores is size. While the earlier units ran about 3,000 to 3,200 square feet, the new model measures just 2,200 square feet.
This smaller footprint offers some major financial advantages in the areas of startup and overhead. This includes lower construction costs, rent and energy bills, making the stores cheaper to build and operate.
A smaller footprint can also bring risks, however, typically in the form of less space with which to generate revenue — a smaller footprint equals fewer seats. This new Mama Fu's prototype does have far less customer seating, but thanks to the chain's emphasis on delivery and carryout, sales haven't suffered in the new stores. In fact, the first prototype location led the system in sales for most of 2015, and remains in the top 3 today, despite having 1,000 fewer square feet and half as many seats.
The Prototype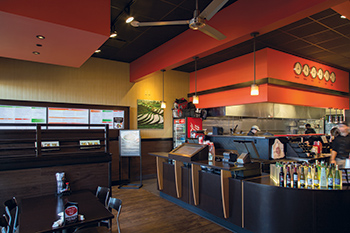 Front-of-the-house seating has been cut in half, to about 45 seats.Cutting the footprint of an operation by nearly one-third means that nothing in the redesign is safe. At Mama Fu's, the new prototype includes a redesigned kitchen that takes advantage of vertical space for storage and eliminates the need for a dedicated prep area by building working surfaces into the production line.
Employees entering the back of the house will find the dishroom to their right. The chain put the dishroom closest to the BOH doors to make it easy for staffers to drop off dirty dishes and get clean ones for serving. This area houses a chemical dishmachine; a three compartment sink; clean and dirty dish tables; and storage for smallwares, pots and pans. If the footprint requires it, the chain can also place its three electronic rice cookers in this room, though that is not the preferred solution.
Moving past the dishroom and down the walkway, employees encounter a T intersection. To the left sits a walk-in cooler with a small walk-in freezer inside. To the right is the production area.
The start and the star of the production line is the wok station. In the redesign, Mama Fu's uses two separate wok tables, each with two wok burners and a large stockpot burner holding a big pot of boiling vegetable stock. Here, the chain makes classic dishes, such as teriyakis and sweet and sours, as well as more adventurous offerings, like lemon sriracha stir-fry.
Turning 180 degrees from the wok station, staff find the drahma station, where staff assemble ingredients for these dishes. During slow periods, wok cooks can man this station (a sandwich table with undercounter refrigeration), first assembling ingredients and then cooking their dishes.
At peak volume, though, this table has a dedicated worker whose one job is to portion ingredients into 12-inch metal trays and line them up in easy reach of the wok cooks. "That way the wok cook is constantly facing his station," Armand says. "As soon as one dish is done, he's cleaning out his wok and preparing it for the next dish. It's right in front of him, so he dumps it in and off he goes."
Mama Fu's new prototype allows greater flexibility based on location and footprint.Next to the drahma station sits a table with two electric rice warmers (not cookers), followed by a salad table with undercounter refrigeration for assembling entrée salads, like ginger sesame chicken salad or seared ahi tuna salad.
On the hot side, sitting next to the wok station is a new addition to the cookline: a 36-inch flattop grill. This piece is actually part of a much larger change to Mama Fu's kitchen. By adding the grill, the chain was able to cut the number of wok stations from three or four in its earlier stores to the two it now uses.
According to Armand, staff can cook about two-thirds of Mama Fu's wok items on the flattop. It's best used to make wok orders in bulk, he notes. "If multiple orders came in at the same time for chicken lettuce wraps, instead of cooking them one at a time in one wok, we can spread those ingredients across the flattop, add the sauce, finish them off, portion them and send them out."
What's more, the griddle allowed the chain to expand its menu, offering items such as chicken satay and street tacos. The change has also helped Mama Fu's reduce its startup costs and footprint. The flattop is smaller and less expensive than a wok station, resulting in a shorter cookline, smaller hood and smaller, cheaper kitchen overall.
The flattop wasn't the only change to Mama Fu's cookline. After the flattop comes a bank of three fryers, followed by a worktable with three electric rice cookers. These cookers were a big shift for the chain.
In the earlier prototype, Mama Fu's used 2 gas-fired 55-cup rice cookers. While these units got the job done, they weren't ideal. Cooking 55 cups of rice at once meant the chain had to throw out rice on a regular basis. These 24-cup units mean less waste. And because they're electric, they heat up more quickly and can even be moved from under the hood if required by the footprint and allowed by local codes.
The smaller, plug-in units also help create prep space for kitchen staffers. "When I'm making rice, I can pull it to me, batch the rice, hit the start button, push it to the back of the table, and I still have two square feet of working space right in front of me," Armand says.
This is an important design aspect of the production area as a whole, notes Armand. Not only does the table with the rice cookers offer prep space, so does the salad table and the drahma station's sandwich table. On top of that, each wok table is designed with a small open area on one corner that staffers can work on.
Together, these work spaces have allowed Mama Fu's to entirely eliminate the need for a dedicated prep area. Instead, between peaks, workers simply get ingredients from undercounter refrigeration or the nearby walk-in and then do all the cutting and chopping at their own stations.
Smaller but Livelier FOH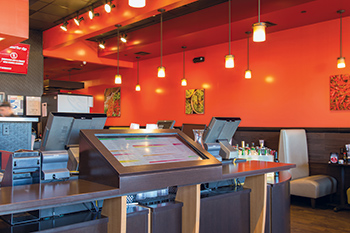 Mama Fu's reworked color palatte emphasizes just two colors: red and orange.Of course, no redesign is complete without changes to the front of the house, and the front of Mama Fu's has changed dramatically.
One of the clearest differences is the size. In the new prototype locations, the front of the house is several hundred square feet smaller. That means its total seat count has been cut in half, to about 45 seats.
While this meshes with the chain's emphasis on carryout and delivery, the chain's leadership knew it presented a major design challenge: how to make the smaller space still look and feel like a high-quality fast-casual establishment where customers would want to sit and enjoy a meal.
"If we're going to shrink this front of the house, we need it to feel more open, and we need it to provide as rich of an experience as we can give inside this smaller dining room," says Armand.
One way Mama Fu's achieved this is through the cookline. The chain moved its production area from behind a pass-through window to a display kitchen that's almost entirely visible from the dining area. The drama and energy of wok cooking enhance the customer's experience.
In addition, Mama Fu's reworked its color palette. With an aim of emphasizing the freshness of its food, the chain now uses just two paint colors, a red and an orange, along with a reed-patterned wallpaper. Wall decor includes images of rice fields, Asian landscapes and food markets. Dark wood furnishings provide the space with some warmth.
Mama Fu's has also put a handful of flat screens in the dining area, playing what the chain has dubbed "FuTube." This includes clips of cooking shows and Asian images that match the wall art, as well as information on catering, delivery and limited-time offerings.
Growth but Not Through Franchising
With an innovative business model and new prototype designed around this approach, Mama Fu's is ready to start adding stores both domestically and internationally. The chain, in fact, has a deal with an overseas operating company to open stores in the United Arab Emirates, the first of which began operations late last year.
U.S. growth, meanwhile, will focus on Texas and its surrounding states. This expansion will be achieved almost exclusively through company-owned stores. Frankly, Armand says, the chain has the culture and the ability to grow corporately, so there's no need to bring in additional partners.
While Mama Fu's declined to put concrete numbers on this long-term growth, Armand says it has set aggressive plans for itself, while the chain's press materials say it expects a "huge expansion" in the coming months thanks to its delivery and carryout options combined with the quality of fast-casual food.
The reason, Armand says, is simple. "People are looking for a fresh, cooked-to-order Asian experience that they can count on time and time again."
Facts of Note
Chain headquarters: Austin, Texas
Year founded: Founded by Raving Brands in early 2000s; acquired by president and CEO Randy Murphy in 2006
Signature menu items: Spicy General Fu, pad thai, lemon sriracha stir-fry, Vietnamese vermicelli
Number of units: 16 units with 50 in development
Unit size (prototype): 2,200 square feet
Seats per unit (prototype): 44
Location type: Endcap preferred, but design allows for inline stores.
Equipment package cost: $130k
Total system sales: $20M
Average sales: $1.25M
Unit growth projections: 16 today, 15 to 20 more in 2016
Check average: $23
2015 same-store sales growth: 20 percent over 2014
Key players
President and CEO: Randy Murphy
COO: Stephen MacManus
Interior designer: None; design was handled in-house by leadership team
Kitchen design consultant: None; design was handled in-house
Equipment dealer: No one dealer. Costs are negotiated throughout the process.
Photography courtesy of Justin Wallace