Breakfast continues to expand its reach outside the morning rush, with QSRs offering egg-based meals throughout the day and food brands revamping their marketing campaigns to cater to the protein-seeking consumer.
Breakfast Sales on the Rise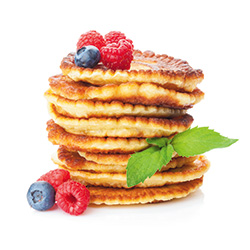 Breakfast/morning meal visits grew by 5 percent in the year ending June 2015 over the same period last year (when visits grew by 2 percent), according to The NPD Group. Quick-service restaurants, including retail foodservice, were responsible for most of the visit gains at breakfast.
Breakfast sandwich servings increased by 3 percent, or a total of 3.6 billion servings, an increase from flat growth the prior year. Servings of pancakes ordered increased by 7 percent to 816 million servings in the year ending June 2015 as compared to the previous year when servings were down by 4 percent, reports NPD.
"Growth at the breakfast daypart has been good for the foodservice industry and also led to an increase in distributor sales within key breakfast operator segments," says Annie Roberts, vice president of NPD's SupplyTrack. "As breakfast traffic continues to grow, competition in the breakfast space will require distributors, manufacturers and operators to become innovative in providing quality and value at breakfast."
According to Mintel, key market drivers affecting weekday breakfast at restaurants include the economy, health issues, government calorie disclosure legislation and price increases. While unemployment is decreasing and consumer confidence is growing, consumers continue to spend with caution. As such, quick-service restaurants are increasingly competing on price. In fact, 40 percent of consumers find price point to be important when selecting a breakfast restaurant. Also, legislation regulating calorie disclosure and other nutritional claims has placed a spotlight on better-for-you items, and consumers are beginning to demand healthier options. Even vending machines are increasing in complexity, offering customized beverage offerings and hot, made-to-order foods.
Value menu items still have pull when it comes to influencing consumers in their decisions about where to go for breakfast (45 percent), according to Mintel. They also appreciate a wide variety of menu options (38 percent) as well as combo meals (27 percent). Offering customization options and serving breakfast items throughout the day can increase menu variety.
Weekday breakfast at limited-service restaurants has become more popular due to the specialty coffee movement, increase in on-the-go consumption, and growth in snacking, with 59 percent of consumers having visited a limited-service restaurant for breakfast in the past month and 47 percent of consumers visiting at least once during the week.
The most popular ordering method for limited-service breakfast is drive-thru (46 percent), followed by to-go (41 percent), dine-in (29 percent) and delivery (8 percent), according to Mintel. Thirty-seven percent of respondents consume their orders at home.
McDonald's All-Day Breakfast Sees Success
Since rolling out a limited all-day breakfast menu in October, McDonald's execs say they've seen some initial success, including a rapid growth in Egg McMuffin sales and improved third-quarter same-store sales, the first quarterly sales increase in two years. The QSR giant began testing daylong breakfast in some U.S. markets last May before expanding the program nationwide this fall. Not all franchises offer a complete breakfast menu; to manage the impact of sweeping operational changes necessary for the rollout, McDonald's removed a handful of items from its menu.
America's Favorite Sandwich
Breakfast sandwiches appear on 17 percent of menus across the U.S. and 48 percent of QSR menus specifically, according to menu research firm Food Genius. These portable, egg-based sandwiches consume 13 percent of market share nationwide. Bacon (71 percent) and ham (65 percent) are the two meats most often used on breakfast sandwiches in the U.S., while bagels are the most common carriers. (Source: Food Genius)