Visitors and midtown residents viewing art and attending events at this modern museum also receive culinary and beverage creations delivered by Dave Kwiatkowski and Marc Djozlija, partners of Wright & Company.
Desserts on display encourage customers to indulge in these treats.Nine years ago, the Museum of Contemporary Art Detroit (MOCAD) opened its doors as a non-collecting institution in Detroit's cultural center. The museum sits in a 22,000-square-foot building, which was formerly an auto dealership designed by architect Andrew Zago. Foodservice consisted of a simple menu of sandwiches and beverages produced from a small, minimally equipped kitchen.
In February 2015, the museum introduced a new dimension to its services. Executive Director Elysia Borowy-Reeder and MOCAD's board partnered with Dave Kwiatkowski, owner of Detroit's Sugar House and Wright & Company, and Marc Djozlija, co-owner of Wright & Company and formerly of Wolfgang Puck, to open Café 78. Kwiatkowski and Djozlija lease space from the museum and return a percentage of revenues.
Designed by Daniel Moskop of Dan Huffman Architecture, the café was expanded and re-equipped to include a prep kitchen and counter, 179 seats and 14-foot bar that sits in a 4,800-square-foot space topped by a 25-foot-high ceiling. Mosko joined plywood paneling and phenolic-coated plywood to create a minimalistic ambiance. Natural light emerges from the pre-existing 14-foot glass garage door, which will eventually open to patio seating in nice weather. The bistro and bar's name refers to rule 78, which governed how interest was charged on car loans.
"When I arrived in 2012, I realized we needed full-designation amenities that people have come to expect at a museum," says Borowy-Reeder. "We offer great art shows here, and my specialty is art history and education, not food, so partnering with Dave and Marc made perfect sense. They are renowned chefs and cocktail masters and bring a premier level of food, beverage and service to this café." Borowy-Reeder was formerly the director at the Museum of Contemporary Art Chicago, which contained a Wolfgang Puck operation. She wanted to bring that level of food and beverages to MOCAD.
The foodservice operation transitions from a café in the morning to a bar and bistro at night. The museum received a liquor license in 2011 so it could serve alcoholic beverages. "The café gives us elasticity," Borowy-Reeder says. "Dave and Marc's excellent, creative and internationally inspired food and beverages and premiere service standards are a great match for the museum, where we want to provide memorable experiences for our visitors and members, whether they enjoy breakfast, lunch or a light snack during a visit to the museum; an elegant catered dinner at a private evening affair; or an electronic-techno concert."
Next to the main entrance, garage doors open and will allow outside dining in the future.For Kwiatkowski and Djozlija, Café 78 is their first museum venture. When they arrived at the museum, they found a small, 10-foot-by-10-foot kitchen where a staff prepared salads and cold sandwiches. The Café 78 partners expanded the kitchen so they could enhance the menu, and they added a bar that features cocktails, wine and beer.
To date, the entire kitchen operates off electricity, and therefore the equipment package does not require an exhaust hood. In the future, Kwiatkowski and Djozlija may put in a proper hood system and a range so they can expand the menu offerings.
The all-electric kitchen includes an upright refrigerator and upright freezer, which stand side by side; a 3-compartment sink; a hand wash sink; one small and one slightly longer prep table; two tabletop burners; and a bain-marie to warm soups and sauces. In order to produce the new menu, the partners added 1 flattop griddle, which required more electrical power.
The production kitchen's long, narrow footprint of 12 feet by 14 feet requires Djozlija, who heads the culinary operation here, and support staff to restrict the menu and work very efficiently.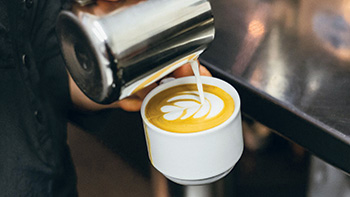 Pastries from the local Ferndale's Pinwheel Bakery represent the only menu items brought in from outside vendors. The menu consists of celery soup topped with garlic croutons and chives; Gulf shrimp rolls with herb mayonnaise; pea meal bacon sliders topped with lettuce and tomato and honey mustard sauce on small brioche buns; a wedge salad with blue cheese and pickled onions in a mustard vinaigrette; croque madame, an interpretation of a toasted ham and cheese sandwich with a fried egg; and a pasta salad.
Snacks accompanying beverages include roasted and Moroccan-spiced cashews. For dessert, Café 78 features a dense chocolate panna cotta topped with almond brittle and fresh raspberries served in a glass jar.
In order to work within a small space and keep labor costs contained, culinary staff must prep a lot of food in advance. "We always make sure we're well prepared with ingredients for the next day's service," Kwiatkowski says. "But we also have a backup because Wright & Company is only a half-mile away."
The Bar Scene and Cocktails
Café 78 sits in an space designed intentionally with raw, minimalistic materials. The former auto dealership has 25-foot-high ceilings.Café 78 is also becoming a destination location for its 14-foot bar. Kwiatkowski's admitted joy: he takes great pride in building a craft cocktail program inspired by the Pantone color palette system. "This fits in perfectly with the colors and exhibits in the art museum," he says. The eight Pantone colors serve as inspiration for the cocktail menu. Combos include Pantone 1205 with bourbon, banana cream, cinnamon and egg white, and Pantone 1595 with gin, carrot, ginger, lemon and Pedro Ximinez sweet Spanish sherry wine.
The bar's equipment package includes a nine-foot undercounter refrigerator with three doors. One bay holds juices, which the staff mark with the dates to track freshness, and the other two hold beer and wine. The bar also includes a mixology station, glass racks, back bar coolers, an underbar icemaker, an ice bin, and a unit Kwiatkowski designed with a sink, pitcher rinser and dipwell.
"Because we offer craft cocktails, which take a lot of prep, when the kitchen is closed, bartenders make syrups for the next day. Juices and syrups are made with a rotary juicer the same day," Kwiatkowski says.
A 14-foot-long bar features craft cocktails, beer and wine.In addition to the space challenges, the owners also face great fluctuations in the revenue stream due to an erratic pattern of scheduled events. Furthermore, event planners can bring in their own caterers. "We are the only caterer that can serve liquor, beer and wine," Kwiatkowski says. "But we must always be prepared for periods with a lot of business and others that are very slow. Financially, we must insulate ourselves with savings."
Light-rail construction on the street in front of MOCAD's main entrance means visitors must use the side entrance to enter the museum. Borowy-Reeder is understandably anxious for the construction to be completed, not only because of the noise and disruption but also because it will provide convenient transportation to visitors who don't want to drive and find parking. In addition, when construction is complete, outdoor seating will be available and, next year, MOCAD will celebrate its tenth anniversary. Café 78 will play a starring role in the celebrations. FE&S
Key Players
Owner: Museum of Contemporary Art Detroit
MOCAD Executive Director: Elysia Borowy-Reeder
Restaurant Operators: Dave Kwiatkowski, owner, The Sugar House and Wright & Company, Detroit, and Marc Djozlija, chef and co-owner of Wright & Company and formerly of Wolfgang Puck
Architect: Dan Huffman Architecture, Raleigh, N.C.;
Daniel Moskop, AIA, LEED AP BD+C, principal and president
Equipment Dealer: Bell & Sons, Redford Charter
Township, Mich.
Facts of Note
Opened: February 2015
Size: 5,000 square feet (includes the large, public programming space)
Seats: 179 potential; 50 seats on a typical day
Average Check: $6 for breakfast; $7 for lunch; $7 to $10 for cocktails
Total Annual Sales: $750,000 anticipated
Transactions: 20 to 40 daily; special events for up to 250 people
Hours: 8 a.m. to 8 p.m. Tuesday through Thursday; 8 a.m. to 10 p.m. Saturday; 11 a.m. to 5 p.m. Sunday; open as needed for catered events
Staff: One chef, one support staff member, one barista on Sundays, one dishwasher, three to four bartenders, one cashier
Total Project Cost: $80,000 by museum; $50,000 by foodservice providers
Equipment Investment: $50,000
Website: www.mocadetroit.org/café.html
Photos courtesy of MOCAD; photography by Jade Homicz