The redesigned kitchens in this chain, which boasts 400-plus units, highlight its signature fresh grilled chicken. Now, El Pollo Loco aims to become a national player.
There's no question that restaurant customers' tastes have evolved over the past several years. Premade, heat-lamped food is out, while fresh and authentic are in. Some well-established chains clearly struggle with this shift, while others benefit from it.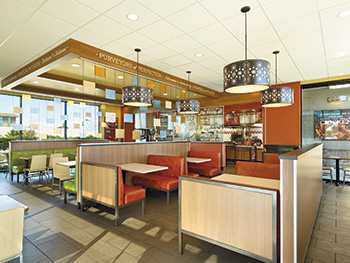 El Pollo Loco's current dining area features energetic, fresh colors. The chain is planning a redesign of the front of the house that will likely feature more stainless steel and gray colors.One restaurant chain reaping the rewards is El Pollo Loco. This California-based chain specializes in citrus-marinated chicken that's chopped fresh off the grill for each customer. That's been the restaurant's signature since its founding in 1980 in Los Angeles.
As its style of food and cooking became more in demand in recent years, El Pollo Loco worked to take advantage of customers' evolving tastes. Three years ago, the chain updated its menu to feature more entrée items, including new salads, tacos and burritos, all of which feature its fresh grilled chicken.
Customers have embraced these items, and El Pollo Loco is in a growth phase. It has more than 400 stores located in just 5 states: Arizona, California, Nevada, Texas and Utah. In the coming years, El Pollo Loco aims to grow into a nationwide chain.
Tightening the Operation
High-quality food that customers want isn't the only thing a concept needs to succeed on a national scale, though. Its operations must be efficient, both to attract franchisee business partners and to win new and repeat customers.
With that in mind, El Pollo Loco redesigned its kitchen and its entire back of the house. This effort was spearheaded by chief operating officer Kay Bogeajis, who came on board with the chain about a year after it rolled out its new menu.
"When I joined the brand they were — and still are — having tremendous success growing the business through a variety of menu items. As a result of that, when I came on board I could see some opportunity in streamlining and improving the kitchen line, being able to gain more throughput and productivity," she says.
This redesign, she notes, supports the unusual market niche El Pollo Loco occupies. Bogeajis describes the chain as QSR-plus. With both counter service and a drive-thru it offers the speed of fast food, the quality of fast-casual and a price point that lies somewhere in the middle, she says.
Staking a claim to the best parts of two operational styles means El Pollo Loco's kitchen has to be both fast and flexible enough to produce high-quality, highly customizable dishes. While the old kitchen performed well for the chain's smaller, more basic menu, it simply wasn't designed for more and more complicated offerings, Bogeajis says.
In the redesign, the grill was moved to a more visible location, providing energy to the front of the house and allowing the chain to emphasize that its food is fresh.In both the new and old prototypes, the production line sits on an island behind the ordering counter, visible to the front of the house. In the previous design, though, team members could only work on one side of the island. The new design allows staffers to work on both sides to assemble items. "That helps support the drive-thru business and the front-counter business. It helps us be more efficient and ultimately faster. If we can be faster, we can gain some throughput," Bogeajis says.
In addition, the placement of ingredients (lettuce, cheese, rice, etc.) on this island has been reworked. This was made necessary, says Bogeajis, by the new menu items. Under the old design, staffers moved back and forth along the line to build these dishes, wasting several steps and valuable time with each order.
Combined, these inefficiencies "made it very difficult for two or more people to assist on the line. We were dependent on only one person on that line, and we could only go as fast as they could go. I wanted a line that would allow for multiple people. Now I can have four people on the line instead of one," Bogeajis says.
The metrics show these changes are paying off. This can be seen most clearly in speed-of-service times, which have improved by 19 percent, Bogeajis says. At the same time, order accuracy has improved, since there's a simpler, more linear workflow for assembling menu items.
On top of that, the redesign has made life in the kitchen easier and better for employees. The simplified production process means staffers can be trained in about three-quarters of the time, while the improved speeds mean staff don't feel like they're falling behind as often. "Greater organization makes it easier for managers to anticipate the business instead of reacting to it. That was something I was looking for. We want people to be able to enjoy serving the customer, not feel like they're always behind," Bogeajis says.
Efficiency and a Show
Efficiency was just one of the goals in this redesign. In fact, the kitchen's efficiencies had to be designed around another goal: theatricality.
Customers, Bogeajis says, want to know their food is freshly prepared. While El Pollo Loco's chicken has always been fresh off the grill, the previous production kitchen didn't showcase that as well as it could have.
In the new design, the grill station sits front and center, fully visible from the ordering counter. This position lets customers know their chicken was just cooked, while adding some energy and activity to the restaurant — "the theater of chicken," as Bogeajis describes it.
Like the production line, the grill station features an island setup. It's made up of four grills with one 5-foot grill and one 4-foot grill on either side for a total grill length of 18 feet.
El Pollo Loco uses a significant amount of packaging, so the production area was designed to place all of this in reach.According to Silvia Peterson, director of consulting for foodservice engineering consultancy Profitality, which handled the redesign, this setup matches how El Pollo Loco cooks its chickens. "Raw chicken gets loaded on one grill, and it makes its way through the different cooking cycles all the way to the end of the grill station." Next to the final station on the grill sits a small worktable with a cutting board, where staff cut or chop chicken immediately after it is cooked.
After staff chop the chicken, it moves a few feet to the start of the 14-foot production line, which staff members can access from both sides. At the start of the line sits a steam table that holds hot ingredients like beans and rice that act as the base for menu items. This table also holds a tortilla press for starting burritos and wraps.
Next comes a refrigerated worktable that holds such cold items as cheese, coleslaw, produce for salads and burritos, and other cold items and garnishes like guacamole and salsa. This section of the line also has a microwave sitting above the counter, which is used to steam fresh broccoli on demand.
Following the cold section is another hot holding table where side items like mashed potatoes, mac and cheese and corn are stored.
El Pollo Loco makes use of the areas below and above the production tables as well. At the start of the line are trays, while packaging — which the chain uses a good amount of, as roughly 44 percent of its customers utilize the drive-thru — sits both below and above. The design also makes use of undercounter refrigeration at the cold section of the line, holding prepped backups items. "Every inch is used to maximize the motion and minimize the amount of times you have to walk away to restock," says Peterson.
A Better Back
The front-of-the-house production line accounted for just part of the overall redesign. The chain also reworked its back-of-the-house storage, refrigeration and production kitchens, making everything operate more efficiently, and actually adding whole sections without increasing the square footage.
According to Peterson, one of the main goals in this part of the redesign was reducing the number of steps it takes to perform prep work and to move between the front and back of house. One way they achieved this, she says, was by adding a second door connecting the front and back, allowing for quicker movement between the two.
A similar change was also made with the cold storage. El Pollo Loco's previous prototype had two walk-ins; the new design only has one, which has a door that allows for direct access to the front-of-the-house production line. This adjustment allows kitchen staffers to move marinating, raw chicken from the cooler to the grill in just a
few steps.
The chain also put in sections dedicated to specific functions or tasks, making operations easier for everyone from the manager to the prep cook. For instance, new to the back of the house is a dedicated dry storage area. Previously, dry items and packaging were stored throughout the back.
Having them in one area has made it simpler for staffers to find what they need, Bogeajis says.
The production line at El Pollo Loco has been redesigned to have staff work on both sides. This allows the chain to better serve counter and drive-thru customers.The new prototype's prep areas have also changed significantly, thanks to one small addition: an extra prep table that accompanies the hot-side equipment. "Having that table allowed us to separate hot and cold prep. They were convoluted before, they were getting mixed up. So now we have dedicated areas," says Bogeajis. In addition to the table, the hot pep area has a rice cooker and a stove with four large burners for making beans, mashed potatoes and other hot items.
The dedicated cold prep section includes two 4-foot worktables, and a variety of smallwares and tabletop/handheld foodservice equipment, including a food processor with various blade attachments. Staffers use these tools to clean and cut produce and to make fresh guacamole, various salad dressings and different salsas. This area was also given extra work space and storage space that allow staffers to efficiently preportion garnishes, condiments and dressings into disposable ramekins.
"El Pollo Loco has a salsa bar," says Peterson. "That's where they feature all these in-house, freshly made salsas. If you're going to have a drive-thru business, you're going to have to provide all of that [to those customers]. There's a lot of portioning of those items in that cold area."
One other dedicated area in the back is used for marinating the chicken. Here, the chain relies on a piece of equipment designed by one of its franchisees. Chicken and marinade are placed into a side-load tumbler, which then rotates for an hour, fully imparting the flavor of the marinade to the meat. For food safety reasons, this section remains separate from the hot and cold prep areas.
Front of the House Is Coming
To date, only a handful of new restaurants have been built with this design. The changes have proven successful enough that this prototype will be the standard going forward. Existing stores, says Bogeajis, will be retrofitted to gain operational efficiencies when feasible.
Other upcoming changes involve the dining area. The current design features bright colors, including blues and oranges and greens, along with furnishings that are higher quality than those found in a traditional QSR, says Bogeajis. Plans are underway to update the look to something more modern, likely utilizing grays and stainless steels. Other design features will emphasize the fresh grilled chicken. These additional changes, she says, should make El Pollo Loco more appealing to new franchisees.
Also appealing is the infrastructure the company is putting in place to support franchisees out of its southwest home area. For its move into Texas, the chain hired a franchisee support team based in and dedicated to partners in that state. This includes teams for operations, real estate and construction. "We're there. We're not just managing from afar. We're building a base there," Bogeajis says.
As the chain pursues its national aspirations, it will set up similar support teams for different regions of the country, Bogeajis says.
While Security and Exchange Commission full disclosure rules prevent Bogeajis from getting too detailed about El Pollo Loco's national expansion, this effort, like its kitchen redesign, seems well thought out. "We have a plan," says Bogeajis. "It's more contiguous based. We know what markets we're going in next, and we're preparing for that. It will be thoughtful."
Facts of Note
Chain headquarters: Costa Mesa, Calif.
Year founded: 1980 in Los Angeles
Signature menu items: Citrus-marinated, fire-grilled chicken and Mexican entrées
Number of units: 418 as of July 1, 2015
Average unit size: 2,999 square feet total (1,650 square feet FOH; 1,349 square feet BOH)
Average seats per unit (prototype): 84
Unit growth projections: 24 new units in 2015 (16 company owned; 8 franchised)
Equipment package cost: approximately $250,000
Key Players
Chief Executive Officer and President: Stephen J. Sather
Chief Financial Officer: Laurance Roberts
Chief Operating Officer: Kay Bogeajis
Chief Marketing Officer: Ed Valle
Interior Designer: Gensler & Associates
Foodservice Engineering Consultant: Profitality
Equipment Dealer: TriMark RobertClark