A stand-alone catering facility and The Beanery café contribute to the broad range of dining services on this large campus in Storrs, Conn.
At the University of Connecticut's sprawling 31,000-student campus, dining services leaders continually anticipate customer needs. Two additions to dining services contribute to the diverse services available to students, faculty, staff and visitors.
Shippee Catering Facility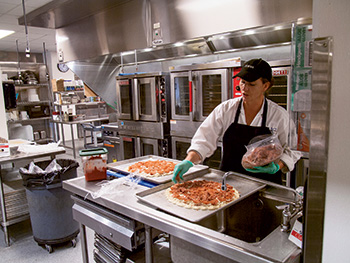 A staff member prepares pizzas to bake in the convection ovens in the catering facility. Photos courtesy of UConn Department of Dining ServicesIn 2008 UConn invited a National Association of College and University Food Services (NACUFS) professional review team to visit Storrs, Conn., to evaluate the campus catering operation. "We did not have a general manager in place, and we were going out to search," says C. Dennis Pierce, executive director, Department of Dining Services. "We wanted a report that the new manager would be able to use as a strategic plan for the growth of our catering business."
The review team consisted of representatives from the University of Maryland, Harvard, Notre Dame and the University of Virginia who looked at every facet of the catering operation. "They reported that keeping multiple inventories and staff in three locations was not efficient," Pierce says.
In an attempt to run a more efficient operation, UConn now takes a more centralized approach to catering. Located on the main floor of Lester E. Shippee [residence] Hall, the facility brings together offices for sales and a production kitchen into one location. Previously, catering functions were dispersed across three campus locations. The enhanced productivity and efficiency at this LEED Silver–certified facility has saved dining services an estimated $270,000 since its opening two years ago.
The 14-month transformation included constructing a new sales office in what was a traditional residential facility serving 150 students. In addition, a new production facility was built out from an existing catering facility. "We know we are very fortunate to have real estate dedicated to catering," Pierce says. "Having sales in the same building as production is extremely efficient. We have early morning meetings to discuss everything from VIP clients to the day's schedule. And we have a conference room where we can hold menu tastings for clients."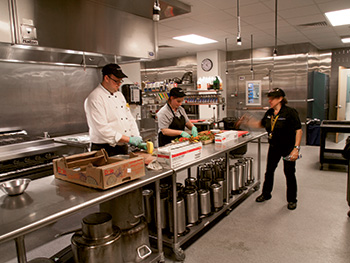 Staff prepare food for approximately 140 to 189 events weekly in a well-equipped facility that contains ample storage space.The facility also contains improved access for both delivery vehicles at the loading area, which is visible to the main road, and customers who come to schedule events or taste menu items.
Menu ingredients arrive at a loading dock. Staff move the food to nearby walk-in coolers, a freezer and dry storage. Compressors for all refrigeration, which could not be installed on the roof due to unwanted sight lines from the main campus, sit on the ground level.
"Recipes drove the equipment with the exception of our wish list, which included a smoker," says Steven Wojtyna, general manager of University Catering. "We love the smoker for making menu items such as pork bellies, pork shoulders and prime rib." Wojtyna also likes the new blast chiller, which staff use for cooling and holding appetizers.
The catering kitchen's equipment package includes traditional ovens, a charbroiler and a tilt skillet for searing chicken breasts and beef as well as cooking pasta. Staff use a six-burner range for making sauces and sautéing vegetables. Steam kettles cook vegetables and rice blends. The new design decreased staffing, eliminated duplicity in tasks and improved efficient flow of product.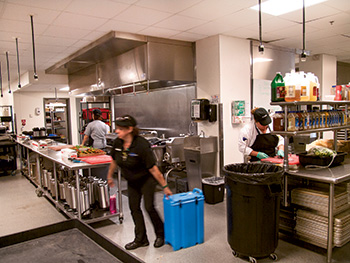 Sanitation and safety are top priorities for staff in the catering facility.Catering supplies menu items for outside events as well as indoor events. For barbecues, staff transport via a small trailer that attaches to a truck. This allows staff to grill outside as customers watch.
Catering includes menu production for 140 to 189 events with an average of 17,400 customers per week. Staff ship the food from the kitchen in cold containers and portable warmers to locations including ballrooms on campus. Some ballrooms have kitchens that support catered operations. One serves as a test kitchen for gluten-free items.
University Catering received a silver medal in the prestigious NACUFS Loyal E. Horton Dining Awards in the special event category in 2011.
Facts of Note:?Shippee Catering Facility
• Opened: August 12, 2013
• Scope of Project: Demolition of an old dining hall, which was replaced with a stand-alone catering facility
• Size: 8,400 gross sq. ft.
• Average Check: $8.52
• Total Annual Sales: $3.02 million
• Annual Transactions: Approximately 5,300 events; 335,283 guests
• Hours: 5 a.m. to 11 p.m., daily
• Menu Specialties: Farm-to-Table event menus
• Staff: 30 FTEs and 60 to 80 students
• Total Project Cost: Slightly more than $6 million
• Website: http://dining.uconn.edu/university-catering
Key Players:?Shippee Catering Facility
• Owner: University of Connecticut (UConn)
• UConn Project Manager: John Warner, Projects in ?Architectural Engineering Services (PAES)
• Executive Director, Department of Dining Services: ?C. Dennis Pierce, MBA
• General Manager: Steven Wojtyna
• Production Manager: Jessica Stanizzi
• Architect: STV Architects, Pa.
• Foodservice Consultants: Porter Khouw Consulting, ?Crofton, Md.; Albin T. Khouw, senior vice president of design and operations
• Equipment Dealer: Kittredge Equipment Co., Agawam, Mass.
• Construction: Carlin Construction Co., New London, Conn.
NOVEMBER 2015 • Foodservice Equipment & Supplies •
Sanitation and safety are top priorities for staff in the catering facility.
The Beanery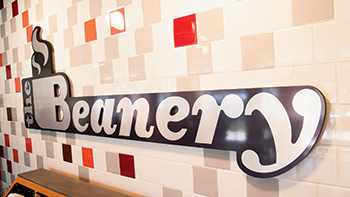 Located in the Benton Museum in the center of UConn's campus, The Beanery reopened its doors in April 2015. Dining services returned to operate the café after a 10-year hiatus during which museum staff and students, working together as the Bean Team, managed the operation.
"The operation was losing money, so the university's president asked us to come back in," Pierce says. "Our charge was to serve as a resource to the Bean Team. We made it a coffeehouse experience by renovating the location, extending the café's operating hours, changing the menu to make it unique on campus and providing programming such as an open mic night each Tuesday evening."
For the transformation, designers retained the decoupage seating and added more seats in what had been a gift shop. They also placed seats on the outside patio. A counter with stools sits along an external glass wall to offer seating variety. In addition, low coffee tables and soft seating encourage customers to eat, gather and linger in this space.
Since The Beanery has no back-of-house space with the exception of an area for the ice machine and two-bay sink, staff at the central commissary on campus prepare the café's food. Other staff members deliver the menu items daily to the café in a van. Café staff hold food in undercounter refrigerators and heat food in a rapid-speed oven.
Customers place orders at a service counter. Glass cases, merchandising racks and baskets display food so customers can view what they are purchasing. Tile walls contribute to the upbeat, enticing coffeehouse environment.The four-week rotation menu includes cake pops in flavors such as peanut butter banana, N.Y. cheesecake, raspberry, and red rum; skewered bacon in caramelized pecan and candied jalapeno varieties; "chocolate bombs" (tart shells filled with a blend of chocolate mousse and ganache); Benton cannoli; Benton scones; Husky Clusters; Benton danishes; pecan shortbread cookies with bacon; croissants; pastries; muffins; bagels; and parfaits. The Benton signature sandwich menu features selections such as sweet melon and capicola croissants; Moroccan pulled pork with mint slaw; chicken pad thai; chipotle short rib ciabatta; and gluten-free and vegan choices. Artisan pizzas, grilled cheese sandwiches and salads also attract customers.
Customers at The Beanery also find beverages with coffee, espresso, tea and Italian sodas. After placing food and beverage orders, some customers remain to eat on-site while others prefer takeout.
The sustainable aspects of the operation include postconsumer paperware and postconsumable serviceware made from big-box store coat hangers. "When I walked in recently, I couldn't get a seat, which is great," Pierce says. "This is because the customer base is strong and has changed to include a mix of students, faculty and support staff who love the atmosphere, the eclectic menu and satellite radio playing Beatles music."
Comfortable seating encourages customers to relax while frequenting The Beanery.
Facts of Note: The Beanery
• Opened: April 2015
• Scope of Project: An enlargement of the existing café run by Benton Museum
• Size: 2,600 sq. ft.
• Seats: 65
• Average Check: $3.76
• Total Annual Sales: $304,000
• Daily Sales: $1,504
• Daily Transactions: 383
• Hours: 7:30 a.m. to 9 p.m., Monday through Thursday; 9 a.m. to 4:30 p.m., Friday; 10 a.m. to 5:30 p.m., Saturday and Sunday
• Menu Specialties: Nontraditional sandwiches; pastry items from UConn's bakery; daily soups; specialty items such as chocolate-covered bacon; locally roasted coffee; Italian soda
• Staff: 1 FTE and 12 students
• Total Project Cost: $465,310, including the hood and fire ?suppression system
• Equipment Investment: $70,000
• Construction Cost: $325,000
• Website: http://dining.uconn.edu/the-beanery
Key Players:?The Beanery
• Owner: University of Connecticut (UConn)
• Executive Director, Department of Dining Services: ?C. Dennis Pierce, MBA
• Architect: Gregg Wies & Gardner Architects, New Haven, Conn.; Samuel E. Gardner, AIA
• Equipment Dealer: Kittredge Equipment Co., Agawam, Mass.
• General Contractor: Sarazin General Contractors Inc., North Windham, Conn.; Paige Sarazin, project manager
• Construction: Carlin Construction Co., New London, Conn.