This Michigan-based craft beer bar boasts $5 million in yearly sales per location thanks to a great beer selection and a commitment to quality eats.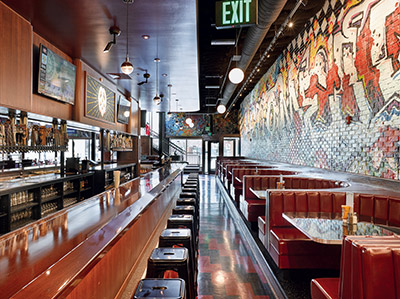 The art at HopCat is unique to each location, and the chain often hires local artists to paint murals.Mark Sellers is not a cookie-cutter guy.
Not many people would interrupt a college career to try to make it as a jazz pianist. Nor would most leave successful careers as hedge fund managers because that's not how they want to spend their lives. Sellers did both.
After leaving finance, Sellers went back to his hometown of Grand Rapids, Mich., to figure out what was next. To stay busy, he opened up a bar — just something to keep himself occupied while he decided where to take his career.
The bar wasn't cookie cutter either. Following his own tastes, Sellers decided on no uniforms, no smoking — this was before Michigan's smoking ban — and craft beers only, meaning nothing from the big three U.S. breweries.
"I had a couple of other bar owners who told me it will never work," recalls Sellers. "People want to smoke, people want their Budweiser. You'll lose a huge number of customers, and three months from the opening you'll change your mind . . . It's been eight years, and we haven't changed any of those things."
The bar Sellers opened eight years ago operates under the name HopCat, a nod to Sellers' jazz days. The concept earned high praise in the craft beer world — several different specialty publications and websites have named it one of the best beer bars in the country and in the world. It has grown into a 6-unit chain, with another 2 stores set to open by the end of the year and 20 locations forecasted by the close of 2017.
HopCat accounts for the largest part of Sellers' operating company, Barfly Ventures, which owns three other bar/restaurants in Grand Rapids. Sellers expects Barfly to hit $36 million in sales this year and $92 million in 2017.
Not bad for a project that started out as a way to fill the days.
Not a Cookie-Cutter Design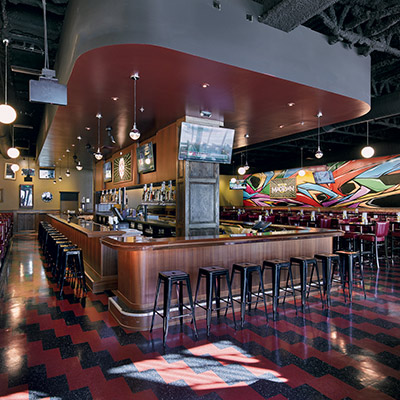 While the chain's furnishings change, it sticks with warm, inviting colors in all of its restaurants.Authenticity and originality help shape HopCat's identity as a craft beer bar. This remains visible not just in its beer list, but also in the space where HopCat serves those beers.
Take the artwork. Across all HopCats, the work on the walls follows the theme of jazz and rock musicians. This plays out differently in each store, though. The Ann Arbor, Mich., and Madison, Wis., locations each have murals painted by different local artists. The Detroit HopCat, meanwhile, commissioned an artist in Tijuana, Mexico, to make a velvet painting of musicians including John Lennon, Ella Fitzgerald and Stevie Wonder.
The furnishings follow a similar pattern. While the chain uses warm materials like hardwoods and ruby-red faux leather, the exact furnishings change to match the surroundings. The stores in more historic buildings have more classic-looking furniture, while HopCats in newer locations put forward a more modern look. The furniture at future locations will probably mix and match from pieces that have been used in existing stores, Sellers says.
While unique environments are nice, people don't come to HopCat for comfortable chairs. They come for good beer.
Though a lot of places offer craft beers, HopCat takes its commitment to these brews to a level not found at many other bars. The company only hires waiters and servers with at least three years' experience, and each must become a level-two Cicerone, which is essentially a sommelier for beer.
"The employees are able to recommend beers to customers; they're able to describe the taste. When somebody comes in and says they really like Budweiser, they'll have a whole list of things they'll direct them to. We also have a strategy of trying to
progress the new craft beer drinker into something more complex. We really try to bring people to the next level in terms of their craft beer knowledge and experience," Sellers says.
How the burgeoning chain manages its beer program represents another indication of its commitment. While the original HopCat has 48 beers on top, the newer builds can have up to 3 times that number. That figure varies because the chain has no set number of taps it wants to hit, according to Mark Gray, chief operating officer.
Instead, Gray adds, HopCat's leadership team looks at the local distributors, microbrews and other factors and makes a determination based on what it believes the market can sustain. "If we put on 100 beers or 130 beers, we want to make sure we represent craft beer well," Gray says. Along those lines, the chain puts a lot of effort into managing the beer lineup in each store and making those lineups flexible. While some operations won't offer a brew without a months-long guaranteed supply, HopCat will gladly offer a good craft beer even when it can get only one or two kegs.
The typical HopCat beer cooler measures about 600 square feet."We rotate [beers] constantly," said Sellers. "That's a very complex process where you have to plan ahead, you have to manage your inventory very well and you have to have agiant walk-in cooler."
But HopCat doesn't depend exclusively on beer to bring people in the door. In fact, the chain put a lot of time and effort into improving its food program in recent months, adding new and innovative items and upgrading some of its existing offerings.
"[Customers] are expecting craft beer, they're expecting a big tap list, but where we have the opportunity to blow them away is with the food. We've been putting a lot of work in the menu over the last year and a half to have that stand out and be a larger part of the brand," Gray says.
This effort seems to be paying off. HopCat's signature menu item is its "crack fries," which are beer battered and seasoned with a pepper blend. This menu item earned a place on Food Network Magazine's list of the 10 best fries in America. For its popular burgers, HopCat uses a proprietary grind — a mix of short rib, brisket and ground chuck. Steak is a recent addition to the HopCat menu, and the chain continues to experiment with fresh fish entrées. Thanks to these efforts, the chain now enjoys a 50-50 sales split between alcohol and food, Gray says.
Naturally, supporting these changes has meant changing the back of the house, which is 400 to 500 square feet larger at newer locations than at the original HopCat. Larger walk-in coolers and freezers for food storage consume some of this additional space, while beer remains in its own 600-square-foot cooler. A 21-foot-long cookline, 4 feet longer than before, and a bigger prep kitchen with its own hood take up the additional square footage.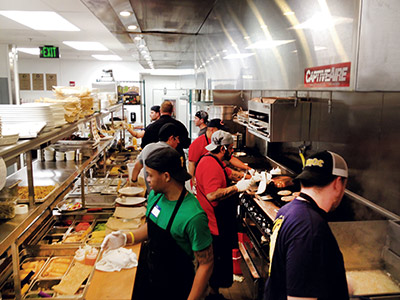 Through a redesign of the back of the house, the chain recently added 4 linear feet to its cookline.The expanded cookline at HopCat features more and bigger equipment than the previous iteration. Up against a wall is an eight-burner sauté range that sits on a stand. Culinary staff use this unit to primarily prepare mussels and pasta dishes, including mac and cheese. Next comes a 4-foot griddle, which measures a foot longer than in the previous kitchen design — a change made to account for the larger number of seats in newer stores. Staff use the flattop, which also sits on a stand, mainly to toast buns and make quesadillas.
Following the griddle is a 6-foot gas-fired chargrill that staff use to make burgers, steaks and chicken entrees. The chargrill sits on a refrigerated drawer unit that holds proteins and cheeses.
The hot cooking equipment ends with a bank of four fryers, one more than in previous designs. This was one of the most important changes to the back of the house, according to Gray. "We have one fryer completely dedicated to cooking our signature item, crack fries. It's the only thing that can be cooked in that grease. It gets brand-new, fresh grease twice a day, then we rotate that grease down into the other fryers. We're always cooking our signature item in the newest, freshest, cleanest oil."
Cooked in these other fryers are items like pretzel nuggets, fried fish for fish-and-chip entrées, and fried chicken and pork for specialty sandwiches.
Turning 180 degrees, kitchen staffers find the cold side of the production line. Two tables with cold wells and undercounter refrigeration flank this area. Culinary staff use the table opposite the fryers to assemble both hot and cold sandwiches, while the unit on the other side holds toppings for HopCat's 10 burgers as well as garnishes for steak, quesadillas and other items. Two additional stations sit between these refrigerated tables. One is a simple worktable, while the other is a table with heated wells used for holding soups, beans and similar bulk hot offerings.
After topping or garnishing a dish, a staff member passes it over the production line, where it may briefly sit beneath hot holding lamps. The expediter then adds any final garnishes before sending it out to the customers.
HopCat's prep kitchen supports all of these efforts. The prep kitchen's design changes with the building footprint, Gray says, and has gotten larger to support HopCat's new focus on its menu.
"We realized we were going to start staffing more prep people as we expanded the menu and made it more intricate," says Gray, "so we made the work space a little bit bigger and a little more effective by giving them their own cooking equipment so they don't have to go back and forth to the line so much."
According to Gray, the prep kitchen needs at least 10 feet of stainless steel worktables to run smoothly. New to the kitchen are two large, low-to-the-ground burners that staff use to cook soups and sauces. Another new item is a convection oven where staff cook bacon as well as chicken for wraps and salads. In previous designs the oven sat below the cookline's sauté range, and soups were heated on the range itself.
For dry storage, the chain needs 25 feet of shelving. This may have its own area, or HopCat can integrate it into other back-of-the-house areas.
Walk-ins measuring 350 square feet hold cold items, though the size of this space may change based on seating capacity. The freezer takes a big part of this space, Sellers notes. This isn't because HopCat has a lot of frozen foods on its menu, Gray says, but specifically because its crack fries are so popular that
25 to 35 cases are in storage at any given time.
Waste Management
HopCat's handling of waste is another of the chain's distinguishing features. The chain divides all of its trash into three streams: recycling, composting and landfill. Setting this program up does take some initial work, Sellers explains. While most communities have recycling programs, composting programs can be harder to find. In fact, one store had to work out an agreement with a nearby farmer to take its compost.
The program also requires extra training of staff and extra space for waste bins in the restaurant. In addition, when scouting locations and negotiating leases, Sellers and his team must account for space to locate two additional dumpsters. Once set up, HopCat locks these dumpsters to prevent people from unwittingly throwing trash into a unit for recycling or composting. This keeps the waste streams pure and helps maintain the integrity of the chain's efforts.
Despite the extra work — HopCat actually has a staffer dedicated to managing its recycling composting program — Sellers says the effort is paying off. Ninety percent of its waste is either recycled or composted. The program is now part of the chain's marketing pitch, and it's good for employee morale. "It's the right thing to do, and the employees love it," Sellers said. Any operations that are interested setting up their own composting/recycling program are welcome to come to HopCat for advice, he adds.
Company Owned for a Reason
With a concept that's winning both customers and acclaim, Sellers expects to open about 12 new HopCat stores by the end of 2017. These openings will focus on markets within a four- to six-hour drive of Grand Rapids, allowing the chain's leadership to keep close tabs on all of its stores.
For these openings, the chain targets mid-sized cities with large college student populations — places like Ann Arbor, Mich. (home to the University of Michigan) and Madison, Wis. (the University of Wisconsin).
While craft beer is well represented in places like Chicago, the smaller markets that HopCat is targeting are underserved, Sellers say, making them a good business opportunity. As for the focus on college towns, Sellers is working with an insight into craft beer's fans: "I truly believe a lot of people don't realize how much college kids love craft beer at this point," he says.
One thing that these stores won't be is franchised. While there may be short-term money in such a model, it wouldn't work in the long run, Sellers says. Too much of HopCat's success is built upon its culture, which could be diluted in a franchise model. Instead, Sellers will continue doing what he's done since he decided eight years ago to pass the time by opening a beer bar.
"We didn't try to figure out what other people liked, we just did what we liked. That was a good lesson for me in business. Do what you're good at and do it well."
Key Players
Owner: Mark Sellers
Chief Operating Officer: Mark Gray
Vice President, Finance and Accounting: Lisa Miller
Director of Human Resources: Ellen Warren
Construction and Project Manager: Mike Vosseler
Interior Designers: David Dodde and Mark Sellers
Kitchen Design Consultant: Chris Christianson
Facts of Note
Chain headquarters: Grand Rapids, Mich.
Year founded: 2007
Signature menu items: Crack Fries, Bar Z Burger (proprietary grind burger with cherry-smoked bacon, jalapeños and a cheese mixed with horseradish and onions), Better Living Through Tacos (grilled "street-style" tacos on flour or corn tortillas filled with chipotle black bean dip and seasoned ground beef, garlic cream chicken or chipotle black bean patties, and topped with pickled veggies, spicy fried jalapeños and avocado ranch sauce), I Am the Pork Sandwich Who Knocks! (pork tenderloin topped with Swiss cheese, blue cheese and apple cider BBQ slaw, lettuce, tomato and haystack onions, served on a jumbo toasted English muffin), Madtown Grilled Cheese (Wisconsin dill havarti, smoked gouda and Muenster on grilled Italian sourdough with ham, apple slices, garlic aioli and honey)
Number of units: Six, all company owned
Average unit size: 9,000 square feet, with 30 percent back of the house and 70 percent front of the house
Average seats per unit: 300
Total system sales: $36 million, including sales from three other restaurants owned by Barfly Ventures, HopCat's operating company
Average sales: $5 million for HopCat units
Unit growth projections: 6 per year; 24 over the next 4 years
Check average: $22