After updating its menu, its look and even its name, this 35-year-old concept is finally expanding out of its home state of Arizona.
Native's new prototype features a more open floor plan that allows the chain to easily accommodate families and large parties.It's a bit ironic that a company with the word "native" in its name was actually started by a family of regional expats. But that's the story behind Arizona-based Native Grill and Wings. The chain finds its beginning in 1978, when the Andersons — father Floyd, mother Judy and daughters Jamie, Shari, Linda and Debbie — grew so tired of the winters in Buffalo, N.Y., that they packed up their car and headed to one of the least cold and snowy places they could find.
When they arrived in the Southwest, they started Native New Yorker, a restaurant dedicated to bringing a classic New York dish to another part of the country.
That dish wasn't Buffalo wings, though. It was New York–style thin-crust pizza. The plan, says Native's current CEO Dan Chaon (pronounced Shawn), did not go well. "They had a real tough time of it . . . They were almost bankrupt," he says. So, in a last-ditch effort, "they went out, bought a bunch of raw chickens, cut them up themselves and introduced wings to the Southwest."
The introduction was a hit. The Anderson family ended up operating and franchising roughly 30 Native New Yorker restaurants across Arizona until 2009. That's when Floyd, after a successful 30 years in the restaurant industry, passed away.
With the death of the chain's cofounder, things were bound to change at Native New Yorker. Indeed, the rest of the family recognized the need to bring in new leadership that could help reimagine the concept and ensure its continued success in the years to come.
Now, five years after that push began, Native New Yorker has transformed its look, its menu and even its name and has begun to expand outside of Arizona.
Front of the House
Embracing its sports bar roots, the smallest of the chain's many televisions measures 50 inches.Native's makeover, which began in 2010, has touched on everything from food quality and branding to plating and back-of-the-house productivity. Driving all of this, says Chaon, is a desire to "add value back to the franchisees." He explains, "They are our customers, and that's the most important thing you can do as a franchisor."
The leadership team didn't start this process by tackling issues like kitchen layout and the front-of-the-house design, however. Instead, they went to more basic elements of the customer experience — things like food quality, presentation and service — all of which were due for an upgrade after 30 years.
This required a retooling of the chain's menu. Over the years, Native's offerings had become unfocused. "It's easy to get too many menu items," Chaon says. "What put us on the map was our signature dry rubs and sauces. We spent a lot of time incorporating those rubs and sauces into other menu items."
Native shrunk its menu by 20 percent despite introducing several new options that reinforce the brand. These new menu items include buffalo chicken sliders, barbecue pork sliders flavored with honey barbecue wing sauce, and various flatbreads that can come topped with any of the chain's 15 wing sauces.
Once the menu was locked down, Native's leadership team began developing a prototype for the chain. With existing units ranging between 3,000 and 7,200 square feet, the chain had never really had a single location that served as a model for all other stores.
Native's new — and really its first — prototype now measures 5,007 square feet and looks significantly different than older units. While older stores have darker tones and sectioned-off spaces for the bar and dining areas, the prototype is more "polished sports grill and casual dining," says Chaon. It features lighter and brighter colors, and a more open floor plan makes the restaurant welcoming to large groups. "We do an amazing job with big parties and families, and we wanted to accommodate them because that's one thing our competition was not doing very well," Chaon says.
Much of the restaurant is built around its island bar. Aged barn wood covers the sides of the bar, which features a red quartz top. Televisions hang above the bar from a large rectangular structure, also covered in barn wood.
The restaurant's chairs feature wooden backs, a black metal frame and red seats that match the color of the bar. The booths use a red, gray and black color scheme and maple tabletops.
Each new store will also include three distinctive walls. One celebrates the chain's beginnings with a 4-foot fabricated metal sign declaring Native was "founded in 1978." The second, a brick wall, displays a stencil of Chicken Willie, the chain's buffalo-riding chicken mascot. And local artists paint the third, a mural wall, to depict something important to the community such as a sports teams or a landmark.
A fourth wall features floor-to-ceiling windows and glass doors that open to a patio area with seating for more than 30 people. Close proximity to the bar makes it easy for outdoor diners to get refills.
The redesign also includes elements meant to appeal to younger, more tech-oriented consumers, Chaon notes. All new restaurants will have free Wi-Fi, and USB ports at tables will allow diners to charge their devices while they eat. The company also plans to invest in a mobile application and mobile pay options.
Around the time Native New Yorker finished developing its new look, it also decided to rebrand, says Chaon. The chain's research showed that people just referred to the restaurant as Native. That is a word that "everyone grabs on to," Chaon says, whether they're a native New Yorker, native Arizonan or something else. The emotional connection to the word is so strong that the chain embraced it and changed itself to Native Grill and Wings.
Back of the House
Native's name and look aren't the only things that have changed, of course. The back of the house experienced a major transformation as well — one that should appeal to potential franchisees.
According to Chaon, the new prototype cuts Native's old back of the house by more than 700 square feet, a huge amount of space that the chain can now dedicate to revenue-generating seats up front.
Native's new infrared oven, in the foreground, is the linchpin of its redesigned kitchen. In the chain's operation, it has replaced a convection oven, griddle and chargrill.A good piece of this space was saved thanks to changes in the cookline. An infrared conveyor oven with five different conveyor belts anchors the new prototype's cookline. The unit sits in the middle of the line, with work flowing toward it from both ends. The conveyor oven alone, says Chaon, replaces several pieces of equipment, including a flat top, a chargrill and a convection oven. By incorporating it into the design, the company reduced its cookline by 8 to 10 linear feet, all of which used to sit under a hood.
The change also improves consistency and efficiency. "It completely takes away the guesswork from a food quality standpoint," says Chaon, while simultaneously reducing the number of steps kitchen staffers have to take to produce an item. Such efficiencies have cut kitchen labor costs by 1.5 percent to 2 percent, he adds.
The flow to the conveyor oven on one end of the line starts with a salad table with refrigerated wells that hold produce. Undercounter refrigeration stores prepped backup ingredients. Moving toward the middle, next comes a sandwich table, where staffers assemble the meats, cheeses and breads of sandwiches made with deli meats, such as the traditional club sandwich and Turkey in the Rye (turkey, Swiss cheese and coleslaw on marble rye bread). Next comes a pizza table where kitchen staff prepare items such as traditional pizzas and calzones along with wing-inspired offerings like Buffalo chicken pizzas.
Following the sandwich and pizza prep tables comes the infrared conveyor oven. Staff place pizzas, hot sandwiches and flatbreads on the dedicated belts that cook items at set temperatures for a set amount of time. The oven also cooks burgers and chicken breasts for sandwiches. The refrigerated drawers below the ovens hold the ingredients in raw form.
An expediter retrieves items coming out of the conveyor oven, slices pizzas, and tops sandwiches and burgers before passing them to servers through a window. This expediting station marks the end of the other half of the cookline.
The fryer station starts this half of the line. Here, kitchen staff members lightly bread wings, shake excess breading off in a colander and then cook the wings in one of the kitchen's five fryers. This station also handles items like tater tots, french fries, and fried fish and shrimp.
These fryers represent another significant change from the previous design. The high efficiency units offer fast recovery times and lower energy usage. The chain also takes extra steps to ensure fried food quality and to extend the oil life. To avoid flavor mixing, each fryer cooks specific menu items. Staff filter the frying oils twice a day and rotate them on a daily basis. In addition, Native plans to test a high-end fryer oil that could have double the life of the oil it now uses.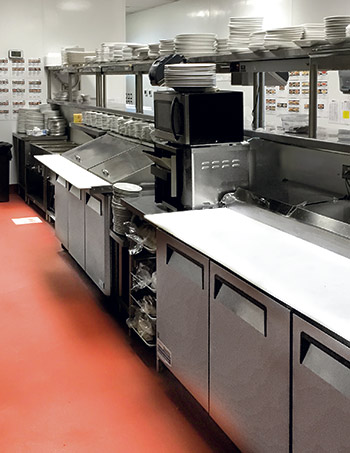 Half of Native's cookline features a sandwich table, toaster and pizza prep table.Following the fryer comes the saucing station, where culinary staff dip wings in one of 15 sauces or coat the chicken in one of five dry rubs. Staff then pass all finished dishes through a window, where a server takes the menu items to waiting guests.
With the design and operation of the kitchen nailed down, Chaon sees the chain making one last major change to how Native's back of house operates. "Now that we've got our equipment identified, our cooking procedures [set] and our menu reduced, the last piece is incorporating a kitchen display system for the back of the house. Everything will be automated on screens instead of tickets coming through the printer."
In addition to changes in cookline design and operations, the redesign has resulted in changes to Native's storage and prep procedures. The chain's walk-in cooler measures about 225 square feet and holds produce and raw proteins. In the new prototype, the cooler also holds kegs of beer, stored in a locked cage and pumped to the bar through a glycol system.
Good Reception
The changes to Native have been well received by customers, Chaon says, with the chain seeing improvements to visit frequency, cost of sales and guest counts.
Franchisees are responding positively too. Before the redesign process began, the chain only had units in Arizona. It has now expanded to Texas and Colorado, and franchisees are actively developing stores — meaning they're somewhere in the permitting and building process — in Idaho, Massachusetts, Montana, South Dakota and Utah.
What's more, not all those units will follow the 5,007-square-foot prototype. Native is developing a scaled-down version of the restaurant for urban areas and expects to sign the first franchise agreement for at least one of these locations soon.
All of this innovation and expansion mean Native is expecting to ramp up its unit count greatly over the next few years. While the chain currently has 31 locations, Chaon expects to have about 35 stores by the end of this year, and 70 stores by the close of 2018. FE&S
If the chain meets these growth projections, diners not just in Arizona but around the country could be finding a Native in their own hometown.
Key Players
CEO: Dan Chaon
Director of Procurement: Mike Coll
Marketing Director: Cynthia Velasco
Facts of Note
Chain headquarters: Chandler, Arizona
Year founded: 1978
Signature menu items: Wings, which can be ordered in any number with any of Native's 15 sauces or 5 dry rubs
Number of units: 31
Average unit size (prototype): 5,007 sq. ft.; BOH 1,800 sq. ft., FOH 3,207 sq. ft.
Number of seats: 207 inside, 60 on the outdoor patio
Total system sales: More than $60 million
Unit growth projections: 6 units in 2015, 15 in 2016, 15 in 2017, and 20 to 22 units in 2018
Franchisee Fee: $35,000