Best known as a place for celebrations, this fondue concept is shifting its menu and updating its look to encourage more frequent visits.
The Melting Pot is flexible about locations. Units are located in new developments, older buildings, malls and stand-alone spaces. This unit is in a multilevel space in San Diego's Gaslamp historic district.With nearly 130 locations in the United States (plus a few more internationally), The Melting Pot serves as a special occasion restaurant. Utilizing fondue's fun, interactive cooking style for some truly indulgent dishes, it has always been a great place to celebrate birthdays, anniversaries, engagements and other good news and happy events. The Melting Pot is known for these occasion-driven dining experiences.
It's also what the chain's leadership is trying to change.
Not completely, of course. The Melting Pot will always be a destination restaurant that strives to provide its guests with "the perfect night out," says president Mike Lester. But the chain
also wants to offer a more low-key dining experience where customers can also enjoy a simple meal on a random weeknight.
This shift grew out of a series of customer focus groups the chain conducted across the country in 2011 and 2012, Lester explains. The results show that customers "loved celebrating with us two or three times a year, but they also told us that they love us so much they wanted us to give them additional reasons to dine with us on other than those special occasions . . . When guests say, 'Hey, we want to dine with you more often,' I think it's smart business to accommodate them."
Turning The Melting Pot into a place that's more attractive to everyday diners started by changing the menu, Lester says. Pre-focus group, the chain's menu was almost exclusively prix fixe. Starting at $75, customers got a 4-course meal for 2 that included a cheese fondue appetizer to share, individual salads, individual entree fondues (typically featuring beef, seafood and/or chicken) and a shared chocolate fondue for dessert.
This approach put up two barriers that limited visits, Lester points out. The first was time: Someone who wants a relatively quick bite to eat just won't go to a place that only offers a 90-plus-minute dining experience. The second barrier was cost. While $75 for 4 courses for 2 people is "an exceptional value," Lester says, it can cause sticker shock and may be more than some guests are willing to pay on a Tuesday night.
So the chain went with the obvious solution. While the four-course option remains, The Melting Pot now has an extensive à la carte menu that allows people to customize their dining experiences.
Along with this more modular menu, the chain began allowing franchisees to include ingredients and offerings that appeal to local tastes and preferences. A franchisee can now choose three of the six cheeses for the cheese fondue. The Melting Pot's Albuquerque location, for instance, offers a fiesta cheese fondue made with cheddar cheese blended with a lager beer and jalapeño peppers. Stores are also encouraged to select locally sourced fruits, vegetables and chocolates.
These new menu initiatives rolled out over the past two to three years, first in testing phases and then system wide, to great effect. "Immediately upon implementation [of the à la carte menu] in 2013, all of our guest metrics jumped. Our intent to return, our perception of value, quality of service — all those guest metrics spiked," Lester says.
And those qualitative metrics have translated into hard numbers exactly as The Melting Pot hoped. For years before the menu change, the average Melting Pot customer visited about 1.8 times per year. Since the shift, that number has increased to 2.3 times per year. While that's relatively low, says Lester, "it's a significant improvement percentage-wise."
New Look for a New Menu
The chain places lights above each burner to highlight the fondue and the interactive nature of the concept.Getting customers to think of The Melting Pot as a place that offers a simpler, more low-key dining experience requires more than changing the menu. The chain's decor gets an update too. The goal is to make its stores feel like places a person can go for just a bite to eat while maintaining the celebratory feel.
Many of these changes are piecemeal, Lester says. "When it's time for a new coat of paint, we're doing lighter and brighter colors. When we review their artwork, we're doing more modern pieces. There are a lot of things we're doing here and there that match the facility to the dining experience we're now offering our guests."
Other changes are more involved. While the existing units' design gives customers private spaces for their celebrations, new and remodeled units feature a more open design and the ability to provide privacy for those who want it. These stores have two distinct areas. The section for everyday diners usually centers on the bar area, which has slightly brighter lighting and modern pop music hits playing. Customers visiting for a special occasion will sit in an area with more private seating, lower lighting and softer music.
The chain's colors are changing too. The Melting Pot's classic color palette is built around bronze, black and white. Over the past few years, however it has added three new color palettes for franchisees to work with: golds and browns, purples, and grays and blues.
"From restaurant to restaurant, it may be the same style booth — but it will have different fabrics, and the walls will have different colors," says Scott Evans, the chain's director of construction and design.
"The Perfect Night Out"
One aspect that will remain uniform at The Melting Pot is the dining experience, which stands out because of how truly interactive it is. Servers not only take orders, but they spend large stretches of time at the table, where they melt the cheese for the appetizer fondue and teach guests how to properly — and safely — make their entrees. From there, guests turn into their own chefs, using their fondue forks to dip chicken, beef and seafood into pots of broth or oil heated using each table's built-in induction cooktops.
This style of service means The Melting Pot's waitstaff has to be especially high quality, the type of people that guests want to talk to and spend time with. Because of this, the chain strives to hire team members "who have hospitality in their heart and have that genuine desire to make other people happy and serve other people," Lester says. To find such people, The Melting Pot's interview process asks servers a number of scenario-based questions, though Lester acknowledges that there's no foolproof way to measure hospitality.
For special occasion visitors, The Melting Pot raises the bar even higher. "You don't want to mar a special occasion with poor execution, so we work hard and ultimately are successful at delivering that perfect night out for our guests," Lester adds. "That's what they want from us, and that's what they've come to expect."
The foundation of the perfect night out goes back to the basics of every well-run operation: genuine hospitality, exceptional food and beverage, immaculate and inviting
surroundings and happy team members.
Beyond those, The Melting Pot takes steps to surprise and delight its customers. These surprises can come in many forms: a greeting card signed by the staff, rose petals sprinkled on the table, or complimentary chocolate-covered strawberries. For romantic occasions, some restaurants also sell flower bouquets or jewelry that can be ordered in advance.
A Kitchen Just for Prep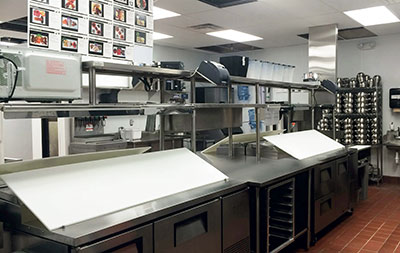 The chain's kitchen is essentially prep only and is centered around an island of back-to-back refrigerated tables and worktables.With most of its menu items actually cooked at the table, The Melting Pot's back of the house is unusual: It is little more than a prep kitchen.
At the center of this kitchen sits an island measuring 18 feet by 6 feet, with an overshelf used for storing plates and platters. Kitchen staff works one side of the line, while the waitstaff works the other side.
The line starts with a matched pair of 66-inch refrigerated pizza tables. Staff use the cook-side table to plate raw proteins including chicken, beef and seafood, on sectioned platters and fill stainless steel pots with broths, which customers use to cook the proteins at the table. Used for expediting, the wait-side table includes a number of sauces, which staff pour into ramekins for customers to eventually dip proteins into.
Beyond these two refrigerated tables is a table that stores plates, trays, platters and more. Next is a second pair of refrigerated pizza tables placed back to back. The cook-side table holds the salad station with fresh produce and other ingredients held in wells; refrigerated compartments below store backup items. Staff prepare cheese fondue on the server-side table, which holds wells with different shredded cheeses that staff portion into pots for melting at the table. A steam table caps the line and holds melted chocolate for the dessert fondues.
While this main line is very prep oriented, the back of the house also has an area dedicated to food preparation that takes place before service begins. This space has dry storage, a vegetable sink and 10 to 15 linear feet of worktables, along with various smallwares and countertop equipment. Here, vegetables are chopped and meat is cut into fondue-friendly pieces, while various dipping sauces are made in bulk and poured into carafes, allowing them to be distributed to their appropriate stations.
The prep area also has The Melting Pot's one piece of bona fide cooking equipment: a tabletop electric oven. This unit holds four half-sized sheet pans, and staff use it to finish par-baked bread. Before cooking, The Melting Pot holds frozen loaves in the freezer section of a combined refrigerator/freezer walk-in unit that measures 15 feet by 8 feet, while the cooler section holds produce and meat.
Evolving with the Times
From a business standpoint, the simple kitchen is one of The Melting Pot's most attractive features. Compared to combi ovens and fryer banks, pizza tables and steam wells come at a relatively low cost. And with just one small piece of electric-powered cooking equipment, the concept requires no expensive hood system. As a result, the kitchen itself becomes a relatively small expense that offsets the cost of the induction-equipped booths and tables.
This helps make for a relatively simple operation: No significant cooking equals less training for kitchen staff, while the shared dishes require less coordination along the line and less splitting and timing of tickets. "Over the years, a lot of the people who have become franchisees have no restaurant experience. The concept itself is fairly easy to learn and run," Evans says.
Indeed, many of the franchise inquiries The Melting Pot receives every year come from customers whose interest was peaked during a visit to the restaurant. With people eating where they live, though, that means they are usually inquiring about markets that are already sold.
In fact, while The Melting Pot still has available markets in the United States — including in metro areas that have existing stores but could add more — the chain projects most of its growth in the coming years will be international. "We started investigating [international expansion in 2008] . . . We learned what we already knew, which is that the fondue method of cooking translates well to many other cultures. In Asia there are various styles of hot pot or tableside cooking. It really translates into a lot of different countries," Lester says.
While The Melting Pot has had stores in Canada and Mexico for years, in recent months it has opened locations in Saudi Arabia, Indonesia and the United Arab Emirates. In total, it has signed international franchise agreements for a total of 23 new locations and is seeking franchise partners in countries that include India, Brazil and South Korea. Any international groups that partner with the chain will need to commit to five locations, Lester noted.
The changes The Melting Pot has taken on — shifting its menu and customer experience and looking overseas for growth — represent the chain's overall attitude toward the future, Lester says. The Melting Pot needs to be nimble and take some risks if it wants to continue to succeed.
"We're finding that our guests are evolving quickly, and we want to evolve with them to make sure we're meeting their needs. I don't think that's unique to The Melting Pot. I really do feel like the restaurant industry consumer has evolved quickly over the last several years. I don't think that's letting up anytime soon. I want to make sure I position our organization to answer the needs of that rapidly evolving customer."
Facts of Note
Chain headquarters: Tampa, Fla.
Year founded: 1975
Signature menu item: Fondue
Number of units: 129
Average unit size (prototype): 3,500 to 5,500 sq. ft.
Total system sales: $203,437,347
Average sales: $1,571,383
Unit growth projections: One to two new domestic units; two to four international; and 15 to 17 remodels in 2015
Check average: $40.79 (per person average)
Equipment package cost: $220,000 to $250,000
Franchisee fee: $45,000
Key Players
CEO and chairman of the board of directors of Front Burner Brands, The Melting Pot's operating company: Bob Johnston
President of The Melting Pot Restaurants Inc.: Mike Lester
Vice president of franchise development of Front Burner Brands: Dan Stone
Interior designer: Deborah Ramos
Kitchen design consultant: Varies depending on supplier; currently working with Johnson-Lancaster and Associates of Clearwater, Fla.
Equipment dealer: Johnson-Lancaster and Associates