Panda Restaurant Group, operator of Panda Express, Hibachi-San Japanese Grill and Panda Inn, a modern Asian concept, has been on a steady path toward sustainability for the last decade.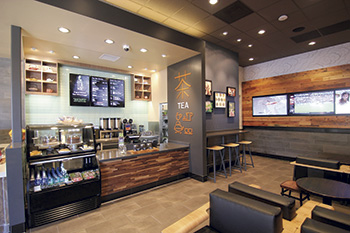 The first step in Panda's green direction began with a system-wide energy audit to identify efficiency problems and opportunities to go after low-hanging fruit. "Initially, we started with bill pay consolidation as a key first step in getting a handle on our energy consumption," says Roger Goldstein, Panda's executive director of facilities.
The company turned to an energy and sustainability management firm to collect all the company's gas, water and electric bills. This not only allows Panda to retain more capital by paying all bills at once, but it also helps the multiconcept operator track energy and water use throughout the company's brands and store locations. As a result, Panda can identify patterns and outliers.
"The system produces a report with scatter plots that shows what average usage is per store or per square foot so we can identify stores with problems," says Goldstein.
A store might have higher energy use because the air conditioning was turned up. In one example, managers had turned up the AC due to guest complaints but forgot to reset the system the following day. Now Panda locations feature an energy management system to keep HVAC systems running at set rates. Managers have an override capability for the day, but the system will revert back to its set points overnight.
To drill the analysis down further, Panda continues to experiment with point-of-use metering in specific kitchens to identify inefficiencies in equipment, HVAC systems or operations. Some power companies offer this service free of charge, Goldstein points out.
Energy- and Water-Efficient Woks
Almost all of the cooking at Panda Express happens on a Chinese range with woks. "Traditional Chinese ranges have very aggressive burners with flames, so they use a ton of gas and put out a lot of heat," says Goldstein. To reduce gas use and heat in the kitchen, the chain worked with an equipment manufacturer to develop a special unit with a much milder burner that provides the same output but uses two-thirds less gas. Panda also adjusted cooking processes to use less energy.
Water consumption represents another big issue with traditional Chinese woks. These units constantly stream cold water to cool down the range while cooking. The new — and now waterless — Chinese range uses an air gap between the stainless deck and the hot cast iron components to manage the heat, using water only as necessary for cleaning.
"We retrofitted several hundred stores in 2008, and it's been an ongoing process with new store plans since then," says Goldstein. "Once we noticed how many gallons of water we were going through and the costs, we knew we had to do something to make the range work more efficiently."
In addition to reengineering the woks, Panda also installed low-flow toilets, electric sink hand washers and a recirculation system for every sink to instantly draw hot water, thanks to a tiny pump that continuously draws a little hot water.
HVAC Control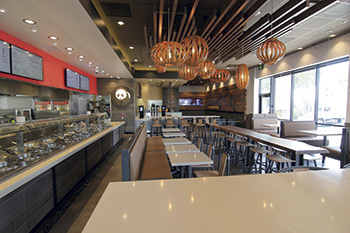 While Panda has remotely controlled the temperatures of its stores for four years, the chain has been working on reintroducing an enhanced, state-of-the-art energy management system in 2016. The new system will feature an easier-to-use interface and more advanced dashboard to capture even more energy-use data for analysis.
"Now I can be on my iPhone in California and change the temperature in a store in Illinois on the spot," says Goldstein.
The chain also plans to start testing demand-
controlled ventilation systems to further monitor and reduce energy consumption system wide. "As opposed to a burger joint that might run on high power all day, with Chinese cooking it's either full blown with a lot of heat fast, or it's cooled down," says Goldstein. "We need to be able to come up to full speed as soon as we start cooking but then be able to shut everything down to save energy during off-peak times."
Along the lines of smart technology, the chain also installed a smart defrost system that uses sensors to monitor evaporator temperatures and defrosts as needed. The older system ran the defrost every 30 minutes regardless.
Like many operators, Panda installs LED bulbs in all new build packages to instantly save on energy and costs, and the chain plans to retrofit its older stores.
Additional savings came from replacing the high-powered parking lights with 100-watt LED bulbs versus the former 500-watt bulbs. "We've saved more energy this way than changing bulbs in the store," Goldstein says.
Waste Management
To reduce hauling costs, Panda installed compaction devices in the front of the house and for the back of the house, a packing drum that compacts up to seven bags of trash into the size of one — with a super-heavy-duty bag to prevent breakage.
"We're currently conducting a 40-store pilot with the drum," says Goldstein, who adds that the chain has already seen a 50 percent reduction in hauling costs.
In addition, Panda has been sending cooking oil to biodiesel companies and negotiated a deal for rebates to make up to $400,000 a year. "Not only do we know where our oil is going, but we had a huge monetary gain," says Goldstein.
Panda Restaurant Group continues to research additional steps toward "greenness" not only for the environmental and brand benefits but also from a legitimate business standpoint: it saves real dollars.