With a simple menu and impressive sales figures, this Denver-based Asian concept forecasts going from just a handful of stores at the start of 2014 to 100 by 2018.
Most regions have a culinary specialty that they're known for far and wide. Memphis has ribs. Maryland has blue crab. Chicago has deep-dish pizza. And when you think of Seattle, fresh-off-the-boat seafood — especially salmon — probably comes to mind.
But Seattle has another specialty, one the locals know about but most outsiders don't: teriyaki restaurants. Thanks to a menu of reasonably priced, fresh, healthful Asian dishes, these restaurants remain popular and as easy to find as a Starbucks, says Seattle native Rod Arreola. In his travels around the country, though, Arreola noticed that he couldn't find teriyaki restaurants outside of Washington state. His brother, Alan, and cousin Eric Garma, noticed the same thing.
That simple observation, combined with the family's entrepreneurial streak, led to the creation of Teriyaki Madness, an emerging fast-casual restaurant chain that has plans to more than double its store count this year alone.
Making Madness
In 2003, after much discussion, Alan, Eric and Rod decided to take the leap and start their own teriyaki restaurant. The first step was to find a location — not just a shopping center or intersection that hit their demographic sweet spot, but a city and state where they would start their journey. Since teriyaki restaurants were already well known in Seattle, they crossed Washington state off the list. But the rest of the map was wide open.
The food production area consists of two straight lines, one for cooking veggies and proteins and the other primarily for assembling meals.After exploring different markets, they settled on Las Vegas. Not only was Eric a student at the University of Nevada, Las Vegas, at the time, but the city's population was growing by leaps and bounds. With so many people from all over the country moving to Las Vegas and bringing their own regional preferences with them, succeeding there would help prove the teriyaki concept's viability in other parts of the country.
Having a good idea in a good market doesn't guarantee success, of course. Opening and running a restaurant continues to be a complicated exercise. For Teriyaki Madness' partners, the degree of difficulty was even higher: Not one of them had industry experience beyond waiting tables.
Fortunately, they did have a family friend who owned a restaurant in Seattle and was initially on board as the group's fourth partner. He helped set the first store's kitchen layout and taught Rod, Alan and Eric the basics of restaurant operations, teriyaki cooking and recipe development. Their friend, in fact, moved to Vegas to help run the first unit. He didn't take to his new surroundings, however, and returned to Seattle within a few months.
Left to their own devices, the three remaining partners simply figured it out as they went along, says Rod Arreola. "We've learned from our mistakes and evolved through our experiences with the back of the house, with consultants coming in and by adding people to our team to show us better ways to do things . . . We've been doing this 12, 13 years, so we've been educated quite a bit."
Of course, it helped that their prediction about the concept was correct. The first Teriyaki Madness opened in a suburban strip mall about 10 minutes east of the Las Vegas Strip in 2003. Within a year, the store's financial metrics, including profitability and return on investment, were strong enough that the partners started to look at expanding.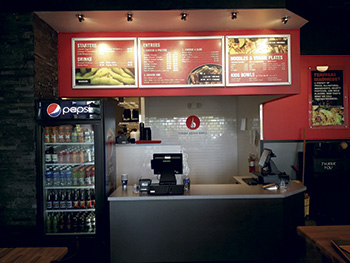 One aspect of the chain that appeals to franchisees is the simplicity of its menu, which easily fits on a small menu board.After considering different routes, they decided to franchise. In 2005 and 2006, they sold four stores in the Las Vegas area. "We learned a lot from that," says Rod Arreola, "how to support these guys, make them profitable and how to duplicate the success on a multiple-store level."
When the Great Recession hit in 2008, the chain took a pause on adding new stores, though its same-store sales actually grew during the period. By 2010 the partners felt comfortable enough to return to growth mode and decided it was time to move beyond Vegas. "At that point, the economy was getting better, and it was time to look at expansion not just on a local level, but on a national level," says Rod Arreola.
Three years ago, to help manage this next phase, the partners joined forces with Franchise Sherpas, a Denver-based incubator and development company for emerging brands. In exchange for an equity stake, Franchise Sherpas helped Teriyaki Madness develop a national franchise system that includes franchise sales, support, training, real estate identification, site construction, market analysis and more. Teriyaki Madness actually moved its headquarters to Denver to get the most out of this partnership.
Keeping It Simple
The simplicity of the menu and operation represent a couple of reasons Teriyaki Madness remains appealing to franchisees.
When ordering, customers go to the cashier and start by choosing a protein; options include beef teriyaki, various styles of chicken teriyaki and a handful of other items such as tofu teriyaki and orange chicken. They then select a base of white, brown or fried rice or noodles and a side of stir-fried veggies, green salad or macaroni salad. The menu also features noodle dishes and classic Asian appetizers like crab rangoon, chicken potstickers, eggrolls, edamame and shrimp tempura.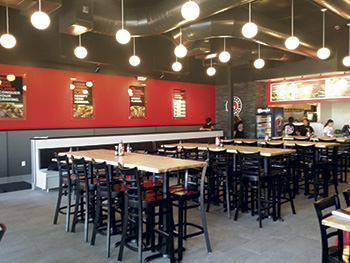 Teriyaki Madness emphasizes a clean look with strong, contrasting colors to provide visual variety.Teriyaki Madness' front of the house complements this simple menu by sporting a clean, slightly industrial look. According to co-founder and director of operations Eric Garma, this is actually a change from the restaurant's earlier days, when stores had a more mom-and-pop feel with handwritten signs and a bit of clutter on the counters and the condiments bar.
The chain's primary colors are red, black and white. The walls, for instance, feature a lively red paint. Attached to them, behind plastic coverings, are food images with phrases like "Conquer Your Cravings." Stores also feature a wall made of gray stones, along with the Teriyaki Madness logo, adding a slightly upscale element to the restaurants.
The chain's flooring and furniture contrast with each other to create a fun, visually appealing environment. The restaurants feature gray tile floors with solid wood chairs and metal table bases. The butcher-block tabletops sport a light natural wood. The chain, says Garma, tries to mix booths, tables and high-top tables into each unit to provide some additional visual variety to the seating area. To illuminate the front of the house, the restaurants shine spotlights on the wall, menu board and counter, while frosted white globes hang from the ceiling.
While many of its fast-casual counterparts use an open kitchen, Teriyaki Madness employs a semi-open cookline, visible from roughly the waist up through a window behind the cashier. This helps add a sense of excitement and energy to the restaurant while keeping the less glamorous aspects of foodservice out of sight, Rod Arreola says. "We want the customer to see that everything is being cooked fresh to order as much as possible, but with chicken and raw meats, we don't want them to see all that kind of messy stuff. We just want them to see all the action with the flames and the movement."
This exposed kitchen consists of two straight lines separated by a walkway. The line that sits against the window is where dishes are assembled and finished, while the hot line sits against a wall separating the cooking from the prep areas.
The first piece of hot equipment is a 48-inch chargrill, where staffers cook chicken breasts and thigh meat. Staff marinate the thigh meat for about an hour and bring it to the cookline in buckets. While cooks can add sauce to chicken breasts during cooking, Garma says, in order to satisfy health-conscious customers, the breasts are not marinated.
Next to the chargrill sits a 12-inch griddle that staff use exclusively to cook beef. "The reason we use a flattop and not the grill is because our beef is shaved very thin. The flattop keeps all of the meat on there, as opposed to the chargrill where the meat falls through. It doesn't change the flavor profile at all," Garma notes.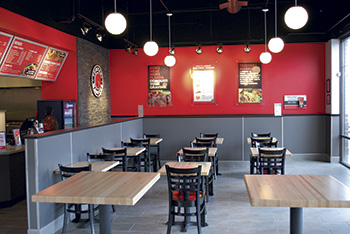 One of the chain's signature design touches is a rock wall with the concept's logo hanging on it. Teriyaki Madness also uses high-top and low-top tables to break up the seating area.Beneath these two pieces resides a 60-inch undercounter refrigeration unit with drawers, which stores backup proteins and appetizers. Staff cook many of these appetizers at the next station, a set of two fryers. Staff use one fryer for eggrolls and crab rangoon, while the other is used for fried entrees, like orange chicken and chicken katsu, a Japanese-style fried chicken.
The last station on the hot line is also the kitchen's busiest, the range. This unit has 8 to 12 burners, depending on the store's volume. Here, staff use 10- to 12-inch woks to stir-fry fresh vegetables and prepare items like fried rice and spicy chicken.
Given the level of activity at the station, it simply doesn't work to have an undercounter refrigerator beneath the range. Instead staff at the range turn around 180 degrees to access a sandwich table, the first piece of equipment on the finishing/expediting line. Here, line cooks find fresh vegetables held on cold wells on top, along with their prepped backups in refrigerated units below.
Continuing along this line is a four-well steam table. This, says Garma, is where all cooked meats go, either for holding just ahead of peak hours or for assembly into full dishes using the different rices and vegetables. This table serves as the expediting station, where kitchen staffers finish dishes and pass them through the window to the cashiers.
Next to the steam table sits a worktable with a cutting board on top. Line workers at this station cut proteins cooked on the chargrill or flattop and pass them to the expediting station/steam table.
Teriyaki Madness's prep area sits behind a wall that separates it from the cookline. The prep area consists of two worktables, dry storage, a reach-in freezer for holding frozen appetizers and a walk-in cooler measuring about 8 feet by 10 feet, which stores produce and proteins — both prepped and unprepped. Staff at Teriyaki Madness typically handle prep between the lunch and dinner rush, with smaller stores doing just same-day prep and bigger locations prepping for the next day, says Garma.
Getting Ready for More Growth
Teriyaki Madness uses a small flattop to cook its beef since it is sliced too thin to go on the chargrill.By any measure, the Teriyaki Madness formula appears successful. The chain's 2014 same-store sales grew by 13 percent, and stores that have been open for more than a year averaged slightly less than $1 million in sales.
Teriyaki Madness's store counts continue to grow as well. The chain added 9 stores last year, bringing its total to 17 units in 7 states at the end of 2014. The chain expects to open an additional 25 stores this year and reach the 100-unit mark by 2018.
With Teriyaki Madness growing both sales and store count by leaps and bounds, one of the chain's biggest challenges will be managing growth. A big part of this, says Rod Arreola, is finding the right people to work with. In recent months it has expanded its team to about a dozen people who bring to the table experience in areas like real estate construction, training and support, operations, marketing and finance. Many of these individuals have worked in foodservice before for highly successful brands like Chipotle and Jamba Juice.
The chain is also determined to find the right markets for expansion. Instead of focusing on a particular region, Teriyaki Madness is paying more attention to the demographics of cities and potential locations, Rod Arreola says. At a high level, he says, Teriyaki Madness wants to expand in communities that have a population of at least 50,000 within a 3-mile radius, and average household income of more than $60,000.
The chain also wants to identify locations with good co-tenants and anchor tenants. Interestingly, the chain's most successful locations reside in strip malls that have health clubs as anchor tenants, since the Teriyaki Madness menu appeals to the health conscious.
Managing all this growth, finding the right locations, hiring new employees — it's all more than enough to keep the chain's founders busy. Their schedule and the chain's rapid growth, though, prove one thing: Their bet that the rest of the country would embrace Seattle's teriyaki shop concept has paid off. FE&S
Key Players
Chief Executive Officer: Michael Haith
Executive Vice President: Erin Hicks
Director of Operations: Heather Winslett
Director of Construction: Shaun Polak
Cofounders: Alan Arreola, Rod Arreola and Eric Garma
Interior Design and Kitchen Design: A design committee consisting of the founders, the director of operations, and architects FM Group and Lingle Design Group
Equipment Dealer: Concept Services
Facts of Note
Chain headquarters: Denver, Colo.
Year founded: 2003
Signature menu items: chicken teriyaki, spicy chicken, beef teriyaki and chicken yakisoba
Number of units: 17 (15 franchised, 2 company-owned)
Average unit size: 1,400 to 1,800 square feet
Average seats per unit: 40 seats
Total system sales: $10,047,140 in 2014
Average sales: $999,731 for stores open at least 1 year in 2014
Unit-growth projections: 25 new units in 2015
Check average: $13.37 in 2014
Equipment package cost: FF&E including millwork, hoods, walk-in and kitchen equipment averages about $105,000
Franchisee fee: $40,000