Page 1 of 2
Chicago-based Q-BBQ makes a name for itself with a menu that covers the country's best regional barbecue styles and customer service investments not typically seen in the fast-casual sector.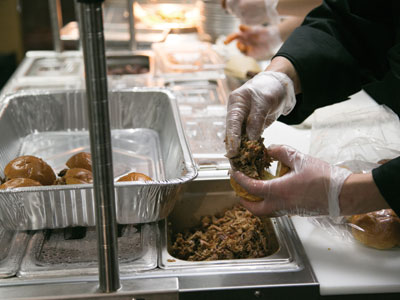 Q-BBQThere probably isn't a cuisine that has inspired as many regional styles — and regional passions — as barbecue. Texas is best known for sliced beef brisket. Kansas City is famous for its "burnt ends on a bun." Memphis has pork ribs, both wet and dry, itself a subject of much intraregional debate. And the Carolinas specialize in pork with a variety of vinegar and mustard sauces. Every region claims theirs as the best barbeque — and even, the only real barbecue. In some situations, disagreeing amounts to fighting words.
Barbecue doesn't have to be so divisive, though. In fact, an emerging Chicago-based chain brings all of these regional styles together under one roof, drawing rave reviews to boot.
"I wanted a place that would appeal to a broad audience," says Michael LaPidus, owner and founder of Q-BBQ. "Barbecue is subjective. People are stuck in their ways. So if we can bring four of the best barbecue regions to one restaurant, that's going to be a successful concept."
Q's Beginnings
Given the deep passions barbecue inspires, it makes sense that the man who brought these different regional styles together doesn't come from a barbecue region and doesn't have a deep personal or family history tied to the food. LaPidus actually grew up in the Chicago area and got the idea for
Q-BBQ during his days selling commercial lawnmowers. The job had him calling on clients around the country, giving LaPidus the chance to sample and appreciate the regional barbecue styles and specialties.
In 2004 LaPidus left that position to start a franchised sandwich shop in the Chicago suburb of LaGrange. That store lasted five years before closing its doors in 2009. At that point LaPidus decided to use the same space to open a barbecue joint.
Though he's not a trained chef or pitmaster, LaPidus began by concocting and testing different recipes for meats, rubs and sauces, eventually hitting on the combinations he liked. A few months later, the first Q-BBQ opened its doors and found near immediate success.
"I had gone to some friends, told them that I was closing my franchise and needed to borrow some money for this great idea," he recalls. "They lent it to me and within eight months I had paid everyone back. It was a really great feeling."
The success in LaGrange led to a second store in the suburb of Naperville about a year and a half later. This February, LaPidus expanded out of the burbs with his third store, located in Chicago's Lakeview neighborhood, in the heart of the city's North Side.
QStyle
When it comes to the actual act of barbecuing, different temperature and wood choices mean that operators can employ even more cooking techniques than there are barbecue styles. Q-BBQ goes the low-and-slow route, smoking its meats with hickory and apple woods at 225 degrees F for up to 22 hours.
As for how the chain manages to offer four barbecue styles? That comes after cooking, LaPidus says. On every table in the dining room sit four bottles of sauce: Spicy Texas, Sweet Memphis, Carolina Vinegar and Carolina Mustard.
Brisket is probably the most important meat at Q-BBQ, where it comes in three different styles: sliced, chopped or as burnt ends on buns, which LaPidus describes as "filet mignon meets beef jerky." The menu also includes Memphis-style ribs (cooked dry), Memphis chicken wings, Carolina pulled pork, Texas spicy sausage, pulled chicken, spicy chicken wings and smoked turkey legs.
These are all fairly straightforward staples of barbecue places around the country. And just the act of serving them all in the same store would have made LaPidus a groundbreaker. But as a "trained eater, not a trained chef," he wanted his menu to have some culinary originality and flair. Hence, QStyle sandwiches, which put a spin on traditional barbecue offerings.
One example is the QStyle Texas brisket sandwich, which was inspired by a bleu cheese-encrusted steak LaPidus had at Chicago's Morton's Steakhouse. The sandwich comes with crumbled bleu cheese, coleslaw and North Carolina vinegar sauce served on a toasted buttery brioche bun. The QStyle burnt-ends sandwich includes mozzarella, coleslaw and sweet-and-spicy aioli on a brioche bun. Customers have responded so enthusiastically to these dishes that they consistently outsell their plain counterparts, LaPidus says.
Q-BBQ's culinary ambition remains apparent in the sides as well, which include fresh green beans with garlic balsamic dressing, a four-cheese macaroni and cheese topped with crushed cheese crackers, and fried Brussels sprouts with jalapenos.
This approach has earned Q-BBQ high praise. All 3 of its stores have earned at least 4 stars on Yelp, with more than 100 reviewers for its Naperville location and 200 for its LaGrange store. In addition, the eatery was 1 of just 69 Chicago-area restaurants honored by the 2014 Michelin Guide with a Bib Gourmand Award, which recognizes dining options that are both excellent and affordable.