Sous vide (soo-veed), French for "under vacuum," is a cooking technique that vacuum seals food in a specially designed pouch and slow cooks it in water at precise temperatures.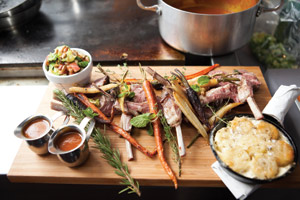 Developed in the late 18th century, the cooking technique was rediscovered by French engineers in the mid-1960s and popularized even further in 1971 by Dr. Bruno Goussault, now chief scientist at Cuisine Solutions, a sous vide equipment and food supplier. Long-revered as a food preparation and preservation method in Europe, sous vide has grown in popularity in the United States because of its consistency and hands-off approach. Sous vide cooking also helps maintain the nutritional integrity and safety of food.
Research
Sous vide was one of the top four trending preparation methods, according to the National Restaurant Association's 2014 What's Hot chef survey.
The Forbes Travel Guide called sous vide one of the year's "Hottest Food Trends."
Root & Bone
Jeff McInnis from Root & BoneAt his recently opened New York City restaurant, Chef Jeff McInnis relies on his sous vide equipment to reduce fire-to-pickup times and delicately cook meats and vegetables including lamb rack and loin; thick-cut pork chops and steaks; artichokes with white wine, butter and fresh thyme; and even whole heads of cauliflower. The two-step vacuum-sealing and water bath process can be set to specific temperatures so steaks come out perfectly medium-rare without any overcooked edges.