The term "modern barbecue" might seem an oxymoron, but for Steven "Kip" Kolow, the idea of giving authentic barbecue a contemporary spin through format, environment and menu mix is one whose time has come.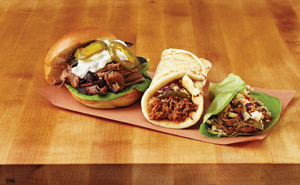 SlowBones' fast-casual menu features a variety of traditional barbecued meats and a collection of more traditional and more healthful sides and sauces.SlowBones Modern BBQ opened its first unit in November in the Boston suburb of Burlington, Mass. It's a concept that Kolow, who more than two decades ago co-founded Boston Market, says fills a void in the fast-casual marketplace.
"No one has created a national presence for fast-casual barbecue, particularly in a way that draws people in frequently by offering, not just authentic barbecue, but also lighter, more healthy choices," Kolow says. "We provide that. We're redefining barbecue for the modern lifestyle."
SlowBones' menu features a variety of smoked and barbecued pork, ribs, chicken and brisket options. Large glass-fronted rotisserie smokers and carving stations reside behind the line in view of guests, who can choose plates, sandwiches or wraps served on their choice of brioche roll, naan bread or lettuce wrap with house-made BBQ chips.
Where SlowBones really differentiates, however, is with the balance of the menu and its commitment to high-quality, natural ingredients that enable guests to "honor how they choose to eat," says Kolow. That means no canned vegetables and no high-fructose corn syrup in any of its 12 signature sauces. It also means gluten-free choices that include fresh-baked brownies and Maple Smacked Quinoa. It means Healthy Black Beans in a light broth as well as traditional Smokey BBQ Beans, and balsamic-glazed grilled fresh vegetables as well as macaroni and cheese and coleslaw. And it means creative entrée salads that solidly stand on their own or can be customized for guests with a choice of meats.
While its first unit is 1,600 square feet, the SlowBones prototype going forward calls for 2,400 square feet and an average of 60 seats. Kolow describes the brand's look and feel as "organic, modern, warm, cozy, rustic and sophisticated. We spent a lot of energy creating continuity in the look and feel of everything we're doing, from the organic materials used, such as stone and wood, to the lighting, to the way the food is presented, to the logo," he says. "Every element is important to accurately represent the essence of who we are and how we differentiate ourselves."
Kolow plans to open 8 to 10 more units in the Boston area and, with California-based partners, to develop a larger "pod" of stores in the Los Angeles area. South Florida is also on the development radar. "We've built a strong infrastructure to support our growth," he says. "Once we prove our initial feasibility, we're ready to roll these out."
Quick Look
HQ: Boston
Founder/CEO: Steven "Kip" Kolow
Menu specialties: Authentic barbecue, traditional and healthy sides, salads, fresh-baked desserts
Segment: Fast casual
Units: 1 open
Average check: $8 to $12
Growth strategy: Corporate, no franchising
Website: slowbonesbbq.com