Intermountain Medical Center (IMC) serves as the flagship hospital for Intermountain Healthcare. In October 2020, the Murray, Utah, facility made the transition to room service style of feeding for patients from a more traditional tray service approach to patient feeding.
Photos courtesy of Intermountain Healthcare"Room service style delivery is the Intermountain Healthcare system standard," says Amelia Stocking, director of patient meal experience for Intermountain Healthcare. "Intermountain Medical Center is our last large facility to make the transition, and we knew it would take a large, diverse team working together to implement best practices and lessons learned from other facilities."
IMC was supporting two other facilities when they made the transition to room service. Those facilities became self-sufficient in the process. Once IMC no longer needed to provide support in the form of patient meal trays to ancillary facilities, it allowed IMC the flexibility to provide room service for the entire hospital, says Eric Wilkinson, director of facilities and operations for Nutrition Services.
"Our goals are to improve the overall patient experience by improving the overall quality of the food," says RJ Owen, MPH, RD, nutrition services manager at IMC.
"With the changes to the room service menu across the Intermountain Healthcare hospital system and now to Intermountain Medical Center, we're serving foods with drastically less sodium," says Alex Govern, corporate executive chef for Intermountain Healthcare. "Foods are focused on plant-forward eating, whole grains, fresh ingredients and whole proteins, and we even make desserts available to fit practically every diet."
To make the conversion, IMC needed to renovate the existing kitchen. "This required a move into a temporary space across the hall — we borrowed 500 square feet from materials management — to set up a limited, traditional patient tray line while the existing area was demolished and the new operation was constructed," says John Egnor, principal and designer, JME Hospitality, The Woodlands, Texas. Egnor served as the project's foodservice designer.
Transitioning to room service during a pandemic brought with it some additional challenges. "We experienced many challenges, such as recruiting enough labor for a new program, but COVID lent some advantages," Owen says. "We knew we'd see a lower volume of foodservice in retail and catering operations." As a result, IMC was able to shift some labor from retail and catering foodservice to patient feeding.
Rightsizing the room service team continues to challenge Owen. "Room service helps us reduce the amount of food costs and food waste, but the process is more labor intensive," he says. Owen intentionally overstaffed in the beginning so the team could figure out what was needed.
Inside the walk-in cooler, speed racks at right hold prepped protein and vegetables before they go onto the line for preparation. The setup keeps staff organized throughout prep and production.
Room Service Production
After deliveries arrive at the loading dock, staff separate food items and place them into two walk-in freezers, eight walk-in coolers and dry storage.
Nutrition Services' caregivers — which is how the facility refers to all employees — prepare cold menu items for all retail, catering and room service menu items using food processors, blenders, mandolins and peelers. Staff prepare several bulk menu items using cook-chill equipment that was held over from before the renovation, including such items as large steam jacketed kettles and a pump fill station.
Caregivers place menu items, which include soups and sauces, in a blast chiller and into refrigerators to remain cold until they are needed. Most of these menu items are reheated for service. Staff also prepare other cold menu items, such as salads, desserts and mise en place, and place those into refrigerators until needed for assembly and service.
Room service assembly uses a directional flow. On one side of the tray line, team members place entrees onto trays. On the opposite side, team members place side dishes and condiments onto the same tray. "The solution is efficient and scalable based on patient population," Egnor says. "The solution required several design reviews with life-size layouts and mock service points."
The tray assembly occupies one long line with a mirror approach — team members face each other. "We talked about two separate lines," Owen says. "But we thought one line would be the most efficient and would give us more ease in training people. We can prepare 300 trays for each meal period and aren't duplicating work in two spaces."
Nutrition services manager RJ Owen and Trina Taueva, administrative assistant, discuss the tray line assembly process. Tray assemblers begin their tasks after receiving patients' orders. Patients, Nutrition Services team members, nurses or family members phone orders into a call center where diet technicians screen orders for dietary compliance with doctors' orders. The tickets then print on the room service line.
Tray assembly begins by placing trays on a tray roller system that includes a utility distribution unit with an integrated meal pass, which is a critical component that contributes to the overall success of the process. "This roller system acts as the backbone for the meal assembly line," Egnor says. "It allows for a continuous face-to-face interaction of the cooking side with the tray assembly side and puts all components of the tray assembly within ergonomic access."
Tray assemblers take cold items located in six air-curtain refrigerators, add shelf-stable condiments located in storage bins, and place them on the trays. As the trays move along the rollers, caregivers add plates holding hot and cold menu items that the culinary team prepares on the cook line. Each plate rests on a pellet that keeps food hot for up to 45 minutes.
The cookline supports a la minute cooking. The line contains a chef's counter; refrigerated sandwich units; a combi oven for cooking proteins and vegetables; a convection oven for roasting vegetables and cooking baked goods; a 48-inch flattop griddle for preparing pancakes, French toast and salmon; and a charbroiler for grilling proteins. Staff use an eight-burner range for sauces and vegetable stir-fry and a pasta cooker for menu items such as Tuscan pasta. High-speed ovens cook hand-stretched pizzas. The area also includes hot holding cabinets, two refrigerated prep tables, a reach-in freezer and a steam table.
"We put a lot of effort into minimizing movement and placing menu items in front of staff at shoulder and eye level so they can work efficiently," Owen says.
Designers purposely modeled the production and tray line after hotel- and restaurant-style food preparation and execution systems. "We designed the cook side and assembly side to be efficient and make great use of the space," Owen says. "Everything except the chef's counter is movable. Additional power strips in the ceiling allow staff to prep food wherever best suits the menu. The space also includes strategically placed accessible utilities [power and water] to allow movement of equipment in response to changing business needs over time."
A view of the tray line with the six air-curtain refrigerators that can keep food cold for up to 90 minutes. Mirjana Porobic, administrative assistant, reads the ticket order and selects condiments for the trays.At the end of the line, staff members check to ensure patient trays contain the proper menu items. Insulated domes keep food items hot or cold as needed. Patient trays are then loaded into delivery carts. Delivery carts are held until full or for up to 10 minutes after staff load the first tray. Patient floors are broken into zones to help streamline the delivery process and ensure delivery times. Caregivers deliver trays to patient rooms within 45 minutes of patients placing orders. Once patients are finished with their meals, caregivers place soiled trays into return carts that are taken to the cart-washing area in the main kitchen.
The project includes a variety of green and sustainable elements. For example, hoods use artificial intelligence to monitor heat generation, which indicates when exhaust ventilation should automatically turn on and off, thus saving electricity, Owen says.
As Intermountain Medical Center returns to the new normal, Owen and the Nutrition Services team will continue to tweak the room service system to meet patients' changing needs and expectations.
Facts of Note
Intermountain Medical Center: The flagship hospital for Intermountain Healthcare, a Utah-based, not-for-profit system of 24 hospitals, a medical group, a health plans division and other health services
Room service went live: Oct. 20, 2020
Scope of project: Conversion of a cold plate retherm patient meal delivery system into a la carte room service; renovated about one-third of the kitchen; built in an additional cold prep area; relocated the call center; moved and renovated the dietitian office
Patient beds: 516
Census: 325 to 425
Size: 2,000 sq. ft.
Patient meals/day: 650 to 800
Menu specialties: Vegan gyros and build-your-own bowls
Hours: 6:30 a.m. to 7:30 p.m.
Foodservice staff: 115 to 125 employees
Room service staff per shift: 3 to 4 cooks on the line; 3 to 4 staff members on tray assembly side and 2 transporters per shift; 6 ambassadors/diet techs on floors
Total project cost: $1.6 million
Equipment Investment: $700,000
Website: intermountainhealthcare.org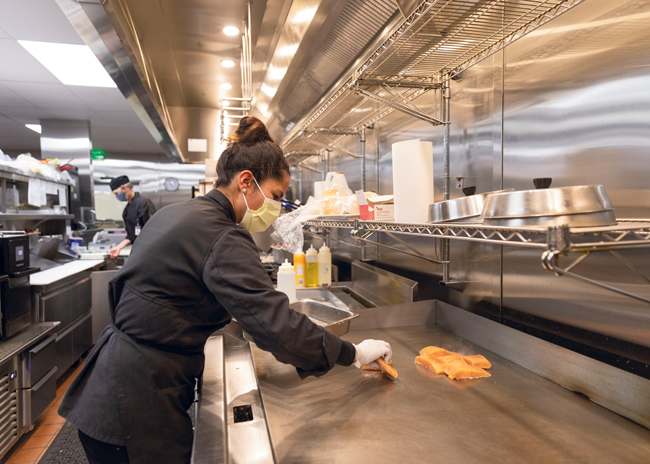 An employee places salmon onto the flattop griddle on the new hotline.
Key Players
Owner: Intermountain Healthcare
Intermountain Healthcare Nutrition Services System leadership team:
Assistant vice president of Nutrition Services: Robin Aufdenkampe
Director of operations and facilities for Nutrition Services: Eric Wilkinson
Corporate executive chef: Alex Govern
Director of patient meal experience: Amelia Stocking
Director of retail and catering: Laurie Westover
Learning business partner: Ali Spencer, RDN
Intermountain Medical Center leadership team:
Administrator: Blair Kent
Operations officer: Justin Bradshaw
Construction project manager: Steven Brown
Nutrition Services team, Intermountain Medical Center:
Nutrition services manager: RJ Owen, MPH, RD
Sous chef: Ricardo Hernandez Marquez
Patient services manager: Abby McNeil, RD
Nutrition services supervisor: Cathy Oberbeck, CDM
Nurse manager: Annan Fetzer, RN, MS
Architect: JRCA Architects, Salt Lake City: Scott Holmes, AAIA, principal, project manager
Foodservice consultant: JME Hospitality, The Woodlands, Texas: John Egnor, FCSI, principal and designer; Mari Thulin, project manager
Equipment dealer: Resco, Salt Lake City