The new kitchen, servery and dining room at this Jackson, Miss., middle school use contemporary technologies for a more efficient child nutrition program.
The renovation of Northwest Jackson IB Middle School (the "IB" stands for International Baccalaureate) in Jackson, Miss., offered Mary A. Hill, SNS, executive director of food services, and her child nutrition team an opportunity to build a new foodservice operation to serve the school's 359 students in grades 6 through 8. "We also designed an entirely new dining space that enriches the dining experience for the students," Hill says. "We brought in contemporary equipment for the kitchen and servery in order to enhance food preparation and meal production."
Hanna Smith, a middle school student, gathers her menu selections at the service line. Photo courtesy of Jackson Public Schools, photo by Sherwin Johnson
During the renovation months, Hill's staff members were able to serve meals from the old kitchen. "We were so appreciative that we didn't have to satellite in meals," she says.
Prior to the renovation, the school often experienced cracking and shifting of its building slab and walls, which created a structurally unsound facility, according to Burris/Wagnon Architects, P.A. These areas included the cafeteria, gymnasium, auditorium, plus some classrooms and support areas; they were demolished and replaced by a new addition that employs a deep foundation system that connects to the areas not included in the renovation.
Better Workflow
After food deliveries arrive at a loading dock, staff place them in the aligned two walk-in coolers, a walk-in freezer and dry storage, all of which are larger than those in the previous kitchen. "We can maintain a larger inventory, which helps contain delivery costs and can increase the menu variety," Hill says.
The renovation also repositioned the manager's office so she can see the back door and deliveries as they arrive. "The manager also has a complete view of storage areas and some of the prep area," Hill says. "This gives her supervisory control of incoming and outgoing activities that she didn't have in the previous facility."
The operation's efficient flow moves from delivery to cold preparation, to hot preparation and to the servery where staff serve students. In the cold preparation area, staff use worktables and sinks to wash vegetables, a slicer to cut vegetables and fruit, a food processor to cut and mix food items for recipe preparation and a 20-quart mixer to make menu items like mashed potatoes and cornbread.
Kitchen production equipment includes a 40-gallon tilting kettle, a tilting trunion kettle, a 40-gallon tilting fry pan and a double-stacked steamer. Photo courtesy of Jackson Public Schools, photo by Sherwin Johnson
Convection ovens and combi ovens support staff's preparation of chicken, meats and vegetables. Photo courtesy of Jackson Public Schools, photo by Sherwin Johnson
The kitchen includes an island-type cooking battery with a convection steamer, a 40-gallon tilting kettle, a 6-gallon tilting trunion kettle and a 40-gallon tilting fry pan. Staff use a 4-burner range to melt butter and heat gravy. "We also have a water spout over the kettles, which is contributing greatly to staff efficiency," Hill says.
On another line staff use two roll-in combi ovens, which replaced fryers here and in most area schools, and two double-deck convection ovens. "The combis allow us to offer greater menu variety, and we receive energy usage rebates for this and other energy-efficient equipment," Hill says.
Yet another line features mobile ingredient pans, a reach-in refrigerator, a utensil rack and worktable. Nearby sit mobile pan racks, a 60-gallon mixer, a pair of worktables, ingredient bins and a crushed ice machine with a bin.
"We're buying some products such as preformed hamburger patties and pizzas, and we're making some of our own menu items, like chicken tetrazzini and spaghetti and meatballs," Hill says.
Other popular menu items include fish fillets, chicken nuggets, hamburgers, pizza, macaroni and cheese, lasagna, cheesy chicken and baked chicken. Sandwiches and wraps feature ingredients such as ham and cheese, turkey and cheese and chicken Caesar. "We're serving a salad of the day every day and many grains and vegetables, making them look attractive, and hoping students will take these healthful items as well," Hill adds.
In preparation for service, staff place cooked foods in holding cabinets and cold foods such as preplated salads, fruits and juices, in refrigerators. Before service, staff put the food in wells and display units along the service line.
A More Efficient Front-of-the-House Servery
When students arrive at the servery, they pick up a tray and move it along a slide to select their meal item at one of two L-shaped service lines. First students help themselves to hot foods displayed in hot food wells. Choices include two hot entrees. Breakfast choices, such as grits, sausages, biscuits, pancakes and waffles, are more limited than lunch options because students have only a few minutes to eat breakfast. As they move along the line they find cold foods, including fruit, salads and juice sitting in cold pans or displayed on shelves. Next they select milk or juice.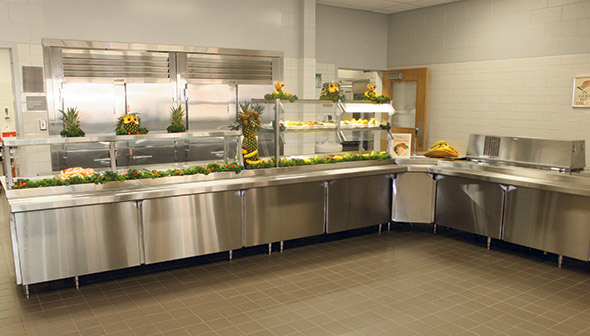 L-shaped serving lines enable staff to present food attractively and encourage students to select healthful choices. Photo courtesy of Jackson Public Schools, photo by Sherwin Johnson
If the day's menu includes ice cream or extras, such as baked chips, students take these treats from a container at the end of the line before checking out at the cashier stations. Even though every student receives a meal at no cost through the Community Eligibility Provision, the school still needs cashiers on staff to check out items to comply with the reimbursement requirement. Students must also pay for the extras like ice cream.
The wall between serving and dining contains half-high glass panels in order to show off the serving area and facilitate supervision. "This also gives us an opportunity to display the appearance of our food in hopes they will come through the serving line to eat," Hill says.
Staff wash dishes and smallwares in a room between the serving lines. This placement accommodates soiled trays returning from students, while also remaining accessible to the main production area. The room contains a disposer that handles waste, a three-compartment sink for cleaning pots and a conveyor-style dishmachine to wash all of the dishes. "We didn't have this type of dishmachine before the renovation," Hill says. "The staff finds it so much more efficient." A separate can-washing room sits on the dock area near receiving.
The back kitchen also contains a new washer and dryer for soiled towels and aprons, and a janitor's closet that holds soap and chemicals. "Both are front-loading, which staff find much easier to use," Hill says.
For sustainability, energy efficiency is used throughout the buildings, including the kitchen's lighting system, exhaust system and several pieces of equipment.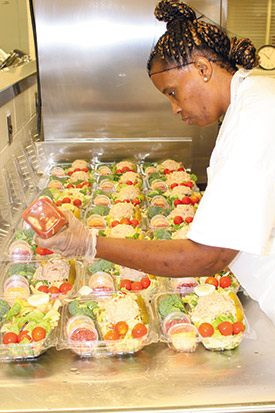 Sonia Jenkins, a foodservice worker at Northwest Middle School, prepares salads for the day's service. Photo courtesy of Jackson Public Schools, photo by Sherwin Johnson"The staff members are very pleased with the new operation, and morale has increased tremendously," Hill says. "They enjoy using the new equipment and learning how to operate pieces such as combi ovens that they didn't have in the old facility. They are very proud of their work environment."
The renovation also improved staff efficiency because there is more storage space for a greater number of menu items.
The new serving equipment also contributes to higher morale among staff and students' interest in the foodservice program. "We have more self-serve with the new layout of the new serving line," Hill says. "We also have a greater selection of different food items. And, the more attractive the food and the presentation, the more students want to eat here. It's so important that these middle school students eat and learn to eat healthfully, and we believe we're supporting them every day."
Just as the other dining operations built in the district have become prototypes for those that follow, Northwest Jackson IB Middle School also sets new standards for flow and efficiency and will serve as a prototype for future renovations and new builds.
Key Players
Owner: Jackson Public School District in Jackson, Miss.
Executive Director of Facilities: Don McCrackin
Director of Construction: Sandra Robinson
Principal at Northwest Jackson IB Middle School: Kevin Culver and former principal
Dr. Chinelo Evans
Executive Director of Food Services: Mary A. Hill, SNS
Foodservice Manager: Leatricia Robinson
Architect: Burris/Wagnon Architects, P.A., Jackson, Miss.
Interior Designer: Business and Office Konnextions, Jackson, Miss.; Patricia Reese
Foodservice Consultant: Sherman Robinson Inc., Indianapolis; Sherman Robinson, principal, FFCSI
Equipment Dealer: Hotel and Restaurant Supply Co., Jackson, Miss.
Construction: Chris Albritton Construction Co., Laurel, Miss.
Facts of Note
Opened: February 2018
Scope of Project: The renovation of and additions to one half of Northwest Jackson IB Middle School include a cafeteria, gym, auditorium, music rooms, two classrooms and athletic facilities.
School District: 59 schools; 25,500 student enrollment; the child nutrition program serves 37,500 meals (breakfast, lunch and after-school snacks) daily. (From Aug. 7, 2017, to Mar. 31, 2018, the district served 1.7 million breakfasts and 3 million lunches each month.)
Enrollment: 359 students in grades 6 through 8
Size of Project: Wing with new additions and renovations, 52,000 gross sq. ft.; cafeteria, 4,492 sq. ft. for dining and both serving lines; 3,432 sq. ft. for main kitchen. Breakdown of space within the main kitchen area: 2,262 sq. ft. for prime kitchen area; 465 sq. ft. for dry storage; 238 sq. ft. for dishwashing; 91 sq. ft. for receiving; 117 sq. ft. for office; 54 sq. ft for a locker room; 147 sq. ft. for women's and men's restrooms; and 58 sq. ft. for washer/dryer
Seats: 208
Meal Cost: No cost; every student receives a meal at no cost through the Community Eligibility Provision (CEP)
Total Annual Reimbursement to School: $72,279 (Aug. 7, 2017 to Mar. 31, 2018)
Meals Served Daily: 23,920 breakfasts; 48,359 lunches from Aug. 7, 2017 to March 31, 2018
Hours: Breakfast served from 7 a.m. to 7:45 a.m.; lunch served from 10:45 a.m. to 12:45 p.m.; after-school snacks served from 3 p.m. to 3:30 p.m.
Menu Specialties: Pancakes, waffles, hamburgers, pizzas, chicken tetrazzini, spaghetti and meatballs, fish sandwiches, macaroni and cheese, lasagna, cheesy chicken, baked chicken, sandwiches and wraps, and a salad of the day
Staff: 7 full-time equivalents
Total Project Cost: $15.5 million
Equipment Investment: $566,000
Website: www.jackson.k12.ms.us