Rapid population growth in San Antonio's Southwest Independent School District necessitated adding new schools. One of these new schools, Southwest Legacy High School (SLHS), opened its doors in August 2017. It is the first new high school built south of Highway 90 in 40 years and the second high school in the district.
"We designed the school so students can move easily from the inside to the outside spaces," says the project's architect, Carr Hornbuckle, AIA, LEED AP, managing partner at Texas-based Pfluger Architects. "Throughout the school, we selected materials with the district that require low maintenance and are highly durable. We were also asked to locate career programs, such as culinary arts, in highly visible areas to encourage student interest."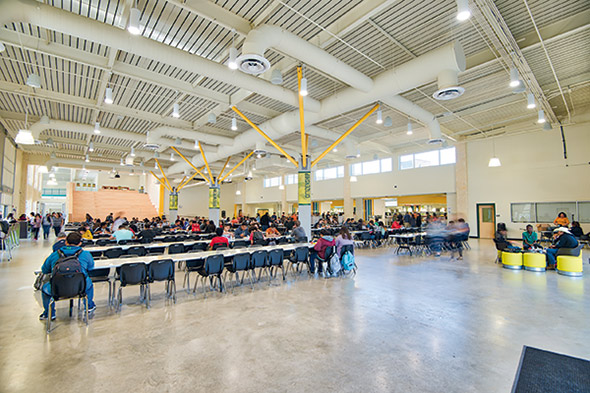 The dining hall's rubbed concrete columns include steel tube bracing at the top. Decking uses exposed trusses. Clerestory windows provide natural daylight throughout the day.
Students can take advantage of amphitheater seating during mealtimes and special events. Regular seating includes 70 rectangular tables, 3 counter-height tables and 10 bar-height tables. Photo courtesy of Pfluger Architects, photo by Chris Wilkins
Currently home to 1,500 students in ninth, tenth and eleventh grades, the school will house 1,800 to 2,000 students when 12th grade students start at the building in August 2018. This campus serves as home to the district's STEM Academy, focusing on the study of science, technology, engineering and math.
"High school is a transitional phase for students as they prepare for college," adds Katie Mahoney, MS, RDN/LDN, the district's assistant child nutrition director. "This dining operation gives them many options for meals and opportunities to engage with each other during meals."
Kitchen, Servery and Dining Spaces
The kitchen features two 60-gallon tilting braising pans and a worktable accessible on all four sides. Photo courtesy of Edward Don & Company, photo by Scott JostSLHS's Spectrum Cafe kitchen, servery and dining spaces bring a sophisticated, contemporary dining approach to the district. "We serve nearly 1,100 students at lunch each day in a short period of time over three 45-minute dining periods," says Winston Gatlin, the district's child nutrition director. "So we need a kitchen and servery that allow our staff to be extremely efficient. We also wanted to provide a more college-like atmosphere in the servery and multilevel dining spaces."
After deliveries arrive at the loading dock, staff store the food in a walk-in cooler, walk-in freezer and dry storage area, all located in the back of the kitchen. Production staff members take the ingredients they need from storage for the day's preparation.
In the cold prep area, staff open canned goods with table-mounted can openers and prepare vegetables using large preparation tables and a vertical cutter mixer as needed. In this area they also mix raw ground beef for menu items such as nachos and homemade lasagna. Other entrees arrive fully cooked.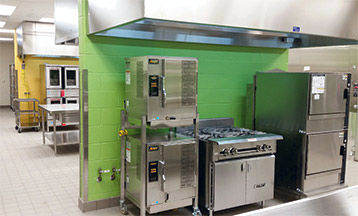 Steamers, a four-burner range and convection ovens support the highly diversified menu. Photo courtesy of Edward Don & Company, photo by Scott JostThe kitchen also contains a 60-quart mixer that staff use to make seasonal desserts and cornbread stuffing and, on occasion, rolls. A four-burner range heats sauces and gravies, though staff usually heat those menu items in the two 40-gallon tilting braising pans. Other equipment here includes 2 large steamers holding 10 hotel pans, a smaller steamer holding 8 pans and 12 convection ovens for heating chicken strips, chicken parmesan, hamburgers, enchiladas, Asian-inspired dishes, breads and rolls.
"Combi ovens are not an option because our water isn't soft enough," Gatlin says.
Further forward in the kitchen and visible to students, a double conveyor oven bakes nearly 50 pizzas a day, each within five minutes.
After they finish preparing menu items, staff place trays and pans in pass-through cabinets where staff on the service side receive them and place them into positions on the serving lines. "Horseshoe-shaped lines with two lines on each side of the U shape contribute to staff efficiency because employees can work in between the serving lines, moving easily between them without having to walk far to pick up menu items for the lines," Gatlin says.
The space currently includes four lines inside and one snack line outside. When the school begins to serve 12th graders, another two lines will begin operation. In the future, as enrollment increases, two more serving lines could be created in the area now utilized for the teacher's dining room, which would bring the total serving line count to nine.
As students walk down a line of their choosing (each line serves a specific menu item such as hamburgers, pizza, salad bar and sandwiches, or traditional fare), they first help themselves to the available beverages: milk, bottled water, 100-percent fruit juices and sports drinks. Next up are hamburgers, chicken nuggets and pizza sitting on flat, heated plates. Students also find other hot entrees such as enchiladas, chicken strips, Asian-inspired dishes and other menu items such as cooked vegetables, sauces and rolls in steam wells. Cold vegetables and fruit sit on frost-tops at the end of the line. A separate salad bar line features nearly 20 ingredients for make-your-own salads. At the end of each line, baked chips and a few desserts such as whole-grain cookies are available for a la carte purchase. The outdoor line offers students the option of purchasing frozen yogurt or 100-percent fruit juice slushies a la carte. Cashier stations sit at the end of each line.
The snack bar serves students who want to eat outside. Photo courtesy of Pfluger Architects, photo by Chris Wilkins
The environment helps drive the popularity of the meal program. "The kitchen is incredibly spacious, and the servery is bright, airy and modern," Gatlin says. In addition, Gatlin, Mahoney and the district's dietitian, Annette Gettinger, RD, continuously solicit student input.
"We survey students often to get their preferences," Mahoney says. "Annette also works closely with students so we can design menus that incorporate what students like and are also nutritious."
Colorful signs, digital monitors and other marketing techniques contribute to student acceptance. "The best way we can make healthy foods attractive is through presentation," Mahoney says. "For instance, rather than present a tray with all orange slices, we'll place apples on the tray also to give more color and different textures."
Seating also contributes to the operation's popularity. The main area features both traditional cafeteria tables, standing tables with branded bar-height chairs, soft seating and outdoor seating options to promote a collegiate-inspired environment. The amphitheater provides seating as well. "The amphitheater is an example of how the school encourages students to use the school's space for more than one function," Hornbuckle says. "They can dine here, and they can also attend events."
Culinary Arts Options
Solid-surface counters in the culinary arts demonstration area call attention to the action and provide a durable, easy-to-clean surface. Photo courtesy of Pfluger Architects, photo by Chris Wilkins
As part of the curriculum, students can opt to study culinary arts. As students walk into the cafeteria, they pass the culinary arts area and can watch through the large storefront windows as students learn their craft.
The culinary arts program contains seven spaces. The demonstration area contains an island preparation and display counter with induction cooktops and 12-quart mixers. The kitchen features a 20-quart floor mixer, double convection oven, proofer, charbroiler, fryer, griddle, food processor, countertop induction burners and boilerless steamers. Coffee and tea makers sit at the beverage counter. The five remaining areas contain equipment supporting supply storage, cold storage, a pantry, laundry room and dishwashing.
"Our goal was to use equipment that students might experience in the industry versus residential equipment," Hornbuckle says.
---
Facts of Note
Southwest Independent School District: 13,971 students; 11 elementary schools, 4 middle schools, 2 high schools
Southwest Legacy High School: 1,500 students enrolled; will grow to between 1,800 and 2,000 students when 12th grade is added in August 2018; 88 percent of students receive free or reduced-price meals
Opened: August 2017
Scope of Project: New school; for child nutrition program, Spectrum Cafe kitchen, servery with 7 serving lines total (6 indoors and 1 outdoors), a dining room and additional seating in an amphitheater. For the culinary arts program, demonstration space and 5 support areas. During the 2016-17 school year, students earned 350 workforce certifications.
Size: Child nutrition program operation, including back-of-the-house kitchen and servery, 6,000 sq. ft.; teacher's dining that will be used for additional serving lines when needed, 1,000 sq. ft.; dining hall, 11,000 sq. ft.; amphitheater, 4,000 sq. ft.; culinary arts space, including the kitchen, demonstration space and 5 support areas, 3,520 sq. ft.
Seats: 400 inside; additional 200 in amphitheater and 80 outside
Daily Meals Served: 580 breakfasts; 1,100 lunches (serving about 75 percent of the student population)
Average Meal Price: $2.55/lunch for paying students; 40 cents for reduced-price meals; breakfast free to all students because 88 percent qualify for free or reduced-price meals
Total Annual Revenue, September 2017 through January 2018: From Texas Department of Agriculture reimbursement, $619,292 for lunch, $91,222 for breakfast,
Hours: Breakfast, 8 a.m. to 9 a.m.; lunch, 11:10 a.m. to 12:06 p.m., 12:11 p.m. to 12:58 p.m., 1:03 p.m. to 1:50 p.m.
Menu Specialties: Pizzas, hamburgers, homemade lasagna, specialty sandwiches, burrito bowl, Asian bowls, enchiladas, salad bar
Staff: 13 full-time equivalents and 1 part-time
Total Project Cost: $71.6 million
Equipment Investment: Main kitchen and dining, $1.094 million; culinary, $244,000
Website: swisd.net
Key Players
Ownership: Southwest Independent School District, San Antonio
Superintendent of Schools: Dr. Lloyd Verstuyft
Principal: Anita Chavera
Assistant Principals: Rodney Ramirez, Manuel Villarreal, Maria White
Child Nutrition Director: Winston Gatlin
Child Nutrition Assistant Director: Katie Mahoney, MS, RDN/LDN
Cafeteria Manager: Jacqueline Fulghum
Cafeteria Assistant Manager: Jessica Lopez-Guerrero
District Dietitian: Annette Gettinger, RDN/LDN
Architect: Pfluger Architects; Carr Hornbuckle, AIA, LEED AP, managing partner, San Antonio
Foodservice Consultant: Robert Simpson, San Antonio
Equipment Dealer: Edward Don & Company; Scott B. Jost, senior project manager, San Angelo, Texas
General Contractor: Joeris General Contractors, San Antonio; Brad James