Cultivating a healing environment for patients, visitors and staff, this café and lounge bring a new dimension to sustainable dining.
Wood and stone elements combine to give the Garden Atrium servery the appearance of a garden shed. The space features a 100-seat restaurant, beautiful garden-related artwork, comfortable lounge seating and a rooftop garden with raised garden beds, fruit trees and herbs. Photographs by Susan Teare Photography, Essex Junction, Vt.In 2003 when The University of Vermont Medical Center (UVMMC) in Burlington constructed an Ambulatory Care Center (ACC) facility, a space was carved out for foodservice. The space remained unoccupied until 2013 when senior leaders identified a need for this space to alleviate overcrowding in other foodservices on campus and to provide families with more space while they wait for loved ones to come out of surgery.
In 2015 UVMMC opened the Garden Atrium in the ACC, located in East Pavilion 3 on the main entry level, as a quiet, beautiful, healing environment for people who are here during a stressful time. The space features a 100-seat restaurant, garden-related artwork, comfortable lounge seating, a double-sided fireplace, books for loan and a rooftop garden with raised garden beds, fruit trees and herbs. Open to all patients, guests and staff, the dining facility offers a restorative place to refuel and relax. It also provides a more comfortable environment for people waiting in the main lobby area for loved ones in surgery.
"On the food side, we enhanced the food to reflect the mission and values we already have," says Diane Imrie, MBA, RD, director of Nutrition Services. The website explains the mission: "At the University of Vermont Medical Center, we understand that nutrition and the environment are linked to the health of our patients and our community. This is reflected in our commitment to serving fresh, locally produced, minimally processed foods and buying from over 70 farmers and food producers throughout the region. We buy local food that is nutritious, that is produced in a way that is good for our environment and that boosts the local economy."
"At Garden Atrium we're serving more than 50 percent organic fruits and vegetables. All dairy, meat and poultry served are locally sourced, and all food is cooked to order," Imrie says. "In addition to featuring products from current suppliers to the Medical Center's sustainable food program, we incorporate products from new Vermont farm partners such as honey, vinegar, sunflower oil and dried fruit. We're also composting and recycling and using china and silverware to help meet the goal of being a 'zero waste' facility."
For Imrie, Garden Atrium is "a dream come true because I've had my eye on this space since planning began for the ACC in 1998. We had the luxury of having all our staff on board before opening for business, so we didn't have to implement an interim foodservice plan. We took staff off-site to a local supplier's farm to expose them to the mission of the operation and local purchasing. It's very important that all of us protect the culture and allow new people to assimilate into the culture so when customers are served they feel it is a healing experience."
Garden Atrium's ceiling features a wood-slat system similar to the ceiling in the adjacent main ACC lobby. It also features carpet in the lounge area, luxury vinyl tile in natural colors, pitched roof elements, heavy timber framing, windows, accent lighting, bakery cases and chalkboard menus.When designing the Garden Atrium, the project team wrestled with two large issues. "The space left available for the project had been substantially reduced from earlier plans," says John Alden, AIA, principal in charge, Scott + Partners Architecture. "The necessary program elements had to be trimmed, reworked, squeezed, reworked again and carefully compressed into the odd-shaped floor plan. We had to shoehorn the kitchen into a small space. This was all done with significant effort from kitchen staff so that the public lobby/lounge space could remain as large and unencumbered by back-of-house elements as possible."
The lobby's design features stone and wood elements, including perimeter columns and beams wrapped in wood, that connect the interior space to the adjacent outdoor garden. Designers selected maple wood veneer paneling with native Vermont harvested cherry wood trim. The fireplace becomes a focal point with seating around a circle created by flooring and a short stone wall behind the fireplace. Stone is quarried from the Lake Champlain basin. The only column remaining in the space is structural, which also serves to hide the fireplace flue. The south side lounge contains timber-framed planters and bench seating to suggest outdoor garden elements. "Given the weather in Vermont, dining outdoors is only available a few months of the year, so we brought the garden motifs, stone benches and fireplace inside," Alden says.
Café tables and seating sit near the servery, which features wood elements that give the appearance of a garden shed. "Lobby and servery countertops contain Corian to mimic fieldstone yet have smoother, softer edges to minimize injury to children using the space," Alden says. Additional seating options include larger, softer lounge furniture. Locally sourced artwork with a farm-to-table theme and educational content were carefully integrated into these spaces and the lounge area. Indoor lighting predominantly includes LED fixtures. The servery contains an extension to accommodate the condiments, trash and recycling.
Storage and Menu Production
The cookline contains combi ovens, hot plates and a kettle, steamer, chargrill range and fast-speed oven. Photographs by John B. Alden, AIALocated one floor down from the third-floor Garden Atrium, the receiving area accepts deliveries five days a week. Baked goods from UVMMC's main kitchen also arrive daily. The dining team places food into a walk-in cooler and supplies into dry storage, both located on this level. The dry storage space also supports UVMMC's retail areas and the main kitchen.
In cold prep on the Garden Atrium level, the team prep ingredients on the day of service or one day before. In addition to food delivered by purveyors, ingredients come in from the rooftop garden two times a week. The menu offers fresh-baked goods and breakfast items including crostini; baked seasonal fruit; butternut challah French toast with maple syrup and seasonal berries; ancient grains; egg bake of the day with the chef's choice of local vegetables and cheese; poached or scrambled organic eggs served with braised pork shoulder, pickled tomatillos and cornbread; and hash with shredded beets, potato and onion.
Team members also prepare ingredients for small plates offered from 11 a.m. until 4 p.m. These include house-made soup; a selection of local artisan meats and cheeses with seasonal accompaniments; a house salad; crostini topped with lemon and thyme mascarpone cheese and blackberries; and carrot fritters with seasonal greens tossed with feta cheese and cranberry vinaigrette.
Seasonal plates, served from 11 a.m. until 4 p.m., include main ingredients and sides of vegetables and salads. For example, grilled cheese features local Vermont cheddar, cream cheese and a blend of local braised greens, onions and mushrooms on a multigrain sourdough bread, which is served with a chef's choice special of the day such as mesclun salad with fresh peaches, toasted pecans, Maplebrook Farm feta, crispy bacon and a basil shallot vinaigrette. Other seasonal plates feature a garden turkey club sandwich, pork sliders, New England fish cakes, a pasta dish, and a daily special created with select items grown exclusively in the rooftop garden.
Team members use a hot table and cold table to prepare and assemble ingredients. On the cookline, which is covered by an energy-efficient variable-speed exhaust hood, equipment supporting menu production includes two high-speed ovens and hot plates, along with a combi oven, small kettle, char-grill, steamer, high-speed oven, four-burner range, ice cream maker and blast chiller. "We don't need a lot of equipment, but we had to have the right equipment to produce this type of menu," Imrie says.
Servery, Sustainable Practices and Wish List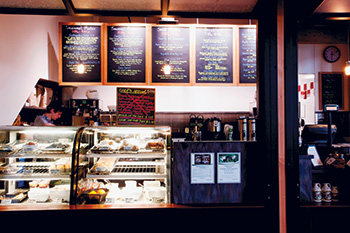 Chalkboard menus serve as a backdrop for the robust beverage display and retail counter. Photography by John Alden, AIA, Scott + Partners ArchitectureWhen customers enter the servery, two touch-screen kiosks greet them just outside the main door. Software leads kiosk users through the menu and menu specials and offers information about the history of the dining department and ingredients.
Customers can place orders at the servery line too. Chalkboard menus hang just above the servery in front of the entrance. After stepping into the servery, customers see bakery cabinets, display cases with house-made yogurt parfaits and house-made ice cream, and menu boards. They place orders with one of two team members who key information into a point-of-sale system that generates a ticket in the kitchen so team members there can fulfill the orders. Customers pay for their orders on the spot. Near the ordering counter, all customers pick up beverages, which include house-brewed coffee and tea, apple cider, fresh orange juice and sweetened green and black tea drinks.
If customers order food that requires preparation or assembly, they receive devices that alert them when their orders are ready. Customers who order to-go meals proceed to their tables. Team members know where customers sit through information given by a GPS device. The operation uses real china, silverware and high-end paper napkins. Team members clear tables.
Sustainable practices take priority in Imrie's operations. Energy Star–rated equipment is specified when available. Alden reports that the Garden Atrium project is on target for LEED Gold certification.
"Lighting systems offer cost-effective energy-savings potential, and lighting fixtures and/or controls meet Lighting Power Density energy code requirements by a minimum of 10 percent with a goal of at least 15 percent reduction," Alden says. "Lighting controls include daylight controls for at least 50 percent of the connected lighting load and/or occupancy sensors for at least 75 percent of connected lighting load."
Materials also contribute to environmental and sustainability goals. These include low-VOC materials and Vermont wood as well as other locally sourced materials.
For trash, compost and recycling stations, containers sit on trolley bases in a solid-surface and stainless steel cabinet.
"Recently we negotiated with a farm partner who wasn't able to supply winter greens, so we arranged a pre-buy so that the farmer could put up a bio-mass heated greenhouse. They now pay us back in produce," Imrie says. "We did something similar with a chicken producer as well. We paid ahead so they can pay for all of their chickens for a season. They will pay us back in cut poultry. What's exciting is to find ways in my role to serve the community and help farmers build infrastructure. This is a model for others to follow."
Recent initiatives include hosting cooking and nutrition at the Family Medicine annual retreat and the expansion of the Health Care Share program that offers free farm shares and food education to 100 patients at three primary area sites and development of a statewide curriculum.
Imrie also engages in many aspects of the Vermont Farm to Plate network. "We're in active discussions with state and national legislative teams to positively influence food and healthcare across the country," she says.
UVMMC has also been invited to be involved in a two-year teaching kitchen collaborative with Harvard's School of Public Health and the Culinary Institute of America. The goal is to teach patients to cook and develop a body of evidence of best practices. "We've been offering cooking classes for four years," Imrie says. "We lost the space for our culinary classes, but we are discussing the opportunity to use a local food bank's space, which aligns with our mission to address hunger."
Imrie says she "loves watching the customer experience in Garden Atrium. We've had such positive feedback from customers. They feel it is an island of healing. I want all of my spaces to feel like this all of the time."
Key Players
Ownership: The University of Vermont Medical Center, Burlington
Vice President of Hospital Services: Dawn LeBaron
UVMMC Project Manager: David Hillman, Facilities Planning, with Leo Gaudreau, Facilities Planning
Director of Nutrition Services: Diane Imrie, MBA, RD
Executive Chef: Richard Jarmusz
Dining Services Manager: Daria Holcomb
Garden Atrium Supervisor: Tanya McDonald
Team Participants: Nutrition Services Management team, including supervisors and managers, and Garden Atrium team members, including significant stakeholders from many UVMMC departments during planning
Architect and Equipment Consultant: Scott + Partners Architecture, Essex Junction, Vt.; John Alden, AIA, principal in charge
Interior Design: Scott + Partners Architecture, Essex Junction, Vt.; artwork coordinated by UVMMC and Burlington City Arts (BCA)
MEP Consultant: L.N. Consulting Engineers, Winooski, Vt.; Paul Lekstutis, P.E., partner in charge
LEED Consultant: Linda Samter, LEED-AP, Shelburne, Vt.
Equipment Dealer: Kittredge Foodservice and
Supplies Inc. (Williston, Vt. Office); George Barrows, project manager
Construction Manager: J.A. Morrissey Inc., Williston, Vt.; Jeanne Morrissey, owner; Annie Geoff, project manager; Andrew Seaver, superintendent
Facts of Note
Opened: September 2015
UVMMC Size and Service: UVM Medical Center is a 447-bed tertiary-care regional referral center providing advanced care to approximately 1 million residents in Vermont and northern New York. With partners at the University of Vermont College of Medicine and the College of Nursing and Health Sciences, UVMMC is Vermont's academic medical center. It also serves as a community hospital for approximately 150,000 residents in Chittenden and Grand Isle counties. UVMMC is a member of the University of Vermont Health Network, a 4-hospital system.
Annual Sales Volume: $7 million. Patient services are only 15 percent of the volume.
Annual Budget: $13 million, including all in-patient, clinical and community programs.
Annual Catering Sales: $320,000
Meals Served Per Day: 7,500 plus
Average Patient Meals Per Day: 1,000
Average Retail Meals Per Day: 7,000
Staff: Overall foodservice operation has147 FTEs; Garden Atrium has a staff of 11 FTEs, including a supervisor.
Scope of Garden Atrium Project: Empty space in East Pavilion 3 built out to include the back-of-house kitchen, servery, dining room and the lounge space
Size: 5,000 sq. ft.
Seats: 100
Daily Transactions: 400
Average Check: $5.75
Total Annual Sales: $750,000 projected
Hours: 7:00 a.m. to 4 p.m. Monday through Friday. The dining room and lounge areas are open until 9 p.m., though at 4 p.m. the servery closes and is hidden behind several large garage doors.
Menu Specialties: A whole-plate concept with sides such as vegetables and salads; house-made ice cream
Total Project Cost: $2.6 million (including furnishings and equipment)
Equipment Investment: $350,000 (budgeted)