Dining has become a defining feature at what is set to transition into the West Coast's largest community of life science companies and research institutions.
Photo by Aubrie PickSituated in South San Francisco, Kilroy Oyster Point is a waterfront office campus project in the midst of transforming 50 acres of bayfront property into a 4-million-square-foot mixed-use development. In addition to the life sciences campus, the project includes a park and recreation space, a connection to the San Francisco Bay Trail (walking and cycling path), and a marina.
One highlight of the first phase of this ongoing five-phased project is The Anecdote, a two-story, full-service restaurant with a mezzanine bar operating from one of three lab/office towers connected by a common lobby. The restaurant, which faces an outdoor plaza to the rest of the campus, opened in April 2022.
Kilroy Realty contracted with Bon Appétit Management Company to run the restaurant. The design team includes Seattle-based SkB Architects and foodservice consultants NGAssociates, based in El Cerrito, Calif.
"The campus sits on a mile of bay coastline, which inspired the design to lean into the coastal references and the natural beauty," says Bianca Doerschlag, designer, Kilroy Realty. Phase 1 received LEED Gold certification.
"The Anecdote project's inspiration came from the nearby water and the huge volume of the space at nearly 30 feet high," says Shannon Gaffney, partner, SkB Architects, Seattle. "It is a light-filled and light-spirited atmosphere where literal and abstract materials and shapes hark back to water vessels, docks, the fish industry and seafaring craft."
Interior design elements support the theme of water. Hundreds of feet of rope above the bar and wrapped around a large column, lighting vessels, and wire containers nod to the fishing industry. Light sculptures look like they are floating. Other design features include light, bleached woods and concrete associated with the utility of piers and docks. The mezzanine serves as a crow's nest high above the restaurant with views of the bay.
The two-story interior floods the space with natural light, complemented by lighting vessels that evoke fishing nets. Additional elements that contribute to the coastal ambience include the patterned concrete floor, textured ceramic tiles, varied seating styles in the main dining room and outdoor patio, and counter seating at the exhibition kitchen and mezzanine bar. The designers opted for a glazed treatment on windows.
The menu spans two dayparts — breakfast and lunch — and is intended to attract the same customers throughout the day. The light menu at the bar extends meal service until early evening hours. "This is a nuanced genre of an emerging F&B category that is very interesting," Gaffney says, noting the mash-up of a morning to night eatery, workspace, meeting space and social gathering venue. "These places need to serve more than one purpose even when the food offering is fantastic. We want them to linger longer and feel like it is both a sit-down, deliberate culinary experience but also a pop-in nosh, hangout, meet, socialize kind of place as well. In other words, we wanted it to feel like it had a few personalities and didn't stay in one genre."
The L-shaped exhibition kitchen contributes to staff efficiency. Buoy-style fixtures help light the space. Photo by Nahum Goldberg
Floor Plan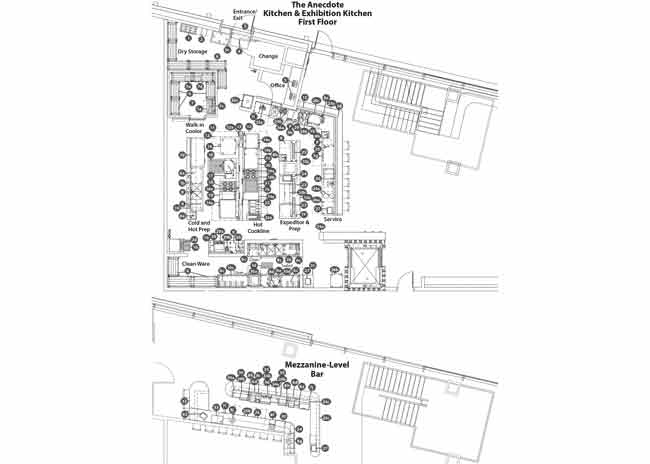 Download the floor plan and equipment key, here.
Kitchen Production
"Our mission was to create a culinary platform to enhance the campus and support the culinary staff," says Nahum Goldberg, FCSI, LEED AP ID+C, project executive, NGAssociates. "We placed low walls throughout the kitchen to create transparency. This allows staff communication in the back of the house, gives guests great visibility of the operation and lets in natural light."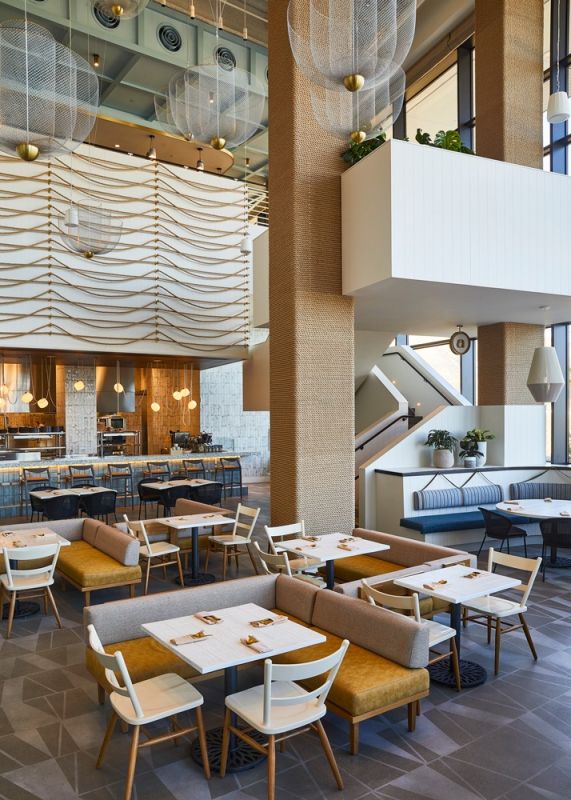 Coastal design elements include rope wrapping on a large column. Wire containers and light sculptures nod to the fishing industry. Photo by Aubrie PickIn addition to providing sightlines from front to back, designers also had to work around structural columns and opted to integrate them into the chef's expediting area. "Also, the ceiling is high, so we created an extended enclosure to match the hoods up to the finished ceiling," says Russell Rubinstein, CFSP, project manager, NGAssociates.
The design team paid particular attention to circulation and transparency in back-of-the-house areas from delivery to storage, preparation to cooking, and finishing to waiter pickup and service to guests. "The project includes a full-service kitchen built for transparency for the staff and guests," Goldberg says. "This works within a relatively small space, and it was beneficial to be able to collaborate throughout the design process with the Bon Appétit team."
Deliveries arrive at a loading dock on the ground level. Team members bring the food and other items through the entrance/exit door, which has an air curtain mounted above, and transport the items to dry storage and a walk-in cooler that also contains keg storage and the remote beer system for the mezzanine bar.
In the cold prep area, staff cut vegetables and other mise en place ingredients. On a long table, team members roll out flatbread made by hand. "When not preparing flatbread, team members use the table for breaking down meat and fish before moving them to the hot line," says Garret Wortiska, district manager, BAMCO.
Team members use the cold prep area's hot line mainly for large-quantity preparation for catering but also for supporting exposition kitchen prep. It contains a tilt skillet for preparing stocks and soups and braising meats, a range for making sauces and soups, a convection oven for roasting and baking, and a combi oven for cooking proteins such as short ribs and Moroccan braised chicken.
The cookline is supported by a stainless-steel utility cabinet system that encloses electrical, electronic and mechanical components. "It is functionally and visually practical, and it also simplifies change-out of cooking equipment for future menu changes," Goldberg says.
The hood here and the one in the front expo area use demand-control ventilation. "This reduces ventilation costs for the building," Rubinstein says. "It activates fans for hoods based on the amount of smoke and heat emitted. When these are low, less heated or cooled air is taken out of the building."
Other energy-saving pieces include Energy Star-rated equipment when available and low-flow prerinse faucets. The kitchen designers also emphasized ergonomics by installing seamless floors that minimize slipping and are easily cleaned.
Production Further Forward
Adjacent to the cold prep hot line sits another hot line that is more visible to customers. It includes a flattop griddle, which team members use to prepare proteins such as scrambled cage-free eggs and plant-based sausage for sandwiches. The flattop also cooks tacos with salmon, sweet potato and slow-roasted short rib. The line also contains a range, which staff use to sear proteins, make sauces and reductions, and poach eggs. With this line's charbroiler, team members cook salmon, and beef and plant-based burgers. The line also includes fryers for cooking empanadas, yucca
fries, herbed steak fries and crispy Brussels sprouts.
"One of the most popular sandwiches is the fried chicken with a sweet chili sauce," Wortiska notes. At the end of the line, staff use another combi oven to finish cooking proteins to reach the desired temperature, melt cheese, toast bread and heat food during service.
Fryers, a charbroiler, a range, a flattop griddle and a refrigerated rail support exhibition-style production. Photo by Nahum GoldbergThe front line contains overhead shelves and heat lamps. There is also space here for the expediter to efficiently manage the timely flow of orders and ensure each plate looks perfect before servers bring them customers.
Team members prepare a variety of salads and dressings at one side of the front prep/service line with the support of a refrigerated prep table. The menu includes at least one soup each day. "One key feature is an L-shaped counter that is part of the front prep/service line, so serving staff have a dedicated area where they can step in to make and serve desserts and salads and not have to cross paths with the other culinary team members," Goldberg says.
The other side of the counter includes beverage equipment like coffee brewers and grinders, an espresso machine and chilled water dispensers. An undercounter refrigerator holds milk and condiments for coffee drinks. A nearby ceiling-mounted utensil rack gives culinary staff easy access to necessary items throughout production and service.
During production, customers can see activity throughout the kitchen (aside from the dishwashing area). Six customers can sit at a counter and interact with culinary staff and watch the culinary action up close. "The service counter is a little higher than the other workspaces so guests don't see all the food prep details," Rubinstein says.
On the back line sits a wine dispenser. "Having a draft wine system on the ground floor is great for both guests and service staff," Wortiska says. "It allows us to provide elevated offerings for lunch and limit the number of trips to the bar upstairs. A lot was accomplished in the design of a relatively small footprint. And we have enough space not only for restaurant production, but for catering as well. Each station is covered by a staff member, but job tasks can be consolidated when necessary."
The ice machine sits near the dishwash area. "This area is designed with a clear circulation path so there is no contamination of the soiled dishes to the clean dishes," Goldberg says. The dish room contains a 3-compartment sink and scrapping station where staff scrape green waste into a basket that is easily removed and taken to a central waste transfer point.
"A ventless, upright dish machine condenses steam, which in turn preheats the incoming water and conserves energy usage," Rubinstein says. "The undercounter high-temperature dish machine provides a great solution typically dedicated for delicate glassware but also serving as a backup when the dish room is busy."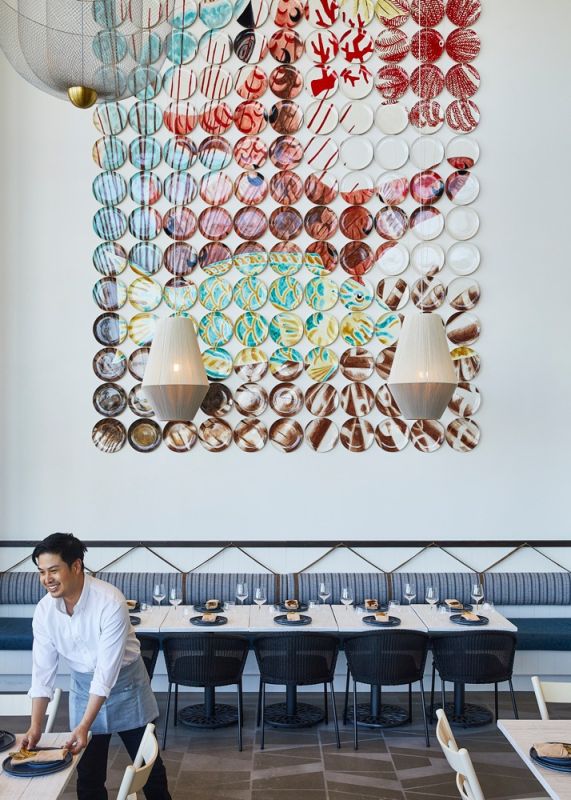 The dining area features a custom art installation created from 200 hand-painted ceramic plates that depict an abstract illustration of a Pacific coral reef. Photo by Nahum Goldberg
The Mezzanine Bar
A staircase connects the bar with the restaurant downstairs. "The strategic positioning of the stairs along the window wall, rather than front and center, keeps the mezzanine integral to the overall space and also adds a bit of discovery," Gaffney says. "The upstairs mezzanine, while it is a bar, is also a place for private events and private dining that is unconnected to the lower floor."
The mezzanine bar contains two bartender stations where team members pour wine, beer and specialty cocktails. "The wine system upstairs is designed to cool and dispense higher end bottled wines by the glass," Wortiska says. "It allows guests to enjoy the freshest wine with every glass."
"The beer tap sits down low so it doesn't block customers' view of the bar or display screens," Goldberg adds. Decorative storage for glasses, bottles and liquor adds to the bar's aesthetic appeal. "There's adequate 48-inch aisle space for staff to move efficiently."
In addition to beverages, customers can also order bar snacks. Team members prepare menu items and bring them upstairs for service. The bar menu includes grass-fed sliders, fried chicken sliders, flatbreads, wings, shrimp, spinach and artichoke dip, fried artichoke hearts, empanadas, crispy Brussels sprouts, herbed steak fries and yucca fries.
From its inception, The Anecdote has attracted employees working in the new office buildings. The restaurant and mezzanine bar contribute to creating a new model for business and industry foodservice. Additional restaurants will be constructed during the remaining phases of the Kilroy Oyster Point project, and the success of The Anecdote will likely be an influencer in future concept decisions.
About the Project
Size: 5,700 sq. ft.
Seats:
Main dining room: 84 seats with 6 barstools
Patio: 44 seats
Mezzanine bar: 38, including 10 barstools
The Alcove, private dining: 16 seats
Average check: Breakfast, $18; lunch, $30
Daily transactions/covers: 55
Hours:
The Anecdote: 7:30 a.m. until 2:30 p.m., Monday through Friday
Mezzanine bar: 3 p.m. until 7 p.m., Tuesdays and Thursdays
Menu specialties: bowls, sandwiches, quesadillas, lobster mac, short rib pappardelle, Thai steamed PEI mussels, Caribbean salmon tacos, flank steak tacos, grilled rainbow cauliflower, roasted sweet potato tacos, salads, sandwiches, and burgers
Staff: 4 salaried managers; 7 hourly employees
Phase 1 project cost: $550 million
Convection ovens, combi ovens, a tilt skillet and a range support larger-quantity production and catering. Photo by Nahum Goldberg
Key Players
Owner: Kilroy Realty Corporation: Jonas Vass, project lead; Nate Marshall, project manager; Brian Lewis, retail curation; Douglas Giesey, design lead (former); Grace Hwang, designer (former); Bianca Doerchlag, designer
Foodservice operator: Bon Appétit Management Company, Redwood Shores, Calif.: Robbie Lewis, culinary director; Enrique Sanchez, mixologist/bar consultant; Alison Harper, regional director; Garret Wortiska, district manager; Alexandra Shier, general manager; Ilya Yakubov, executive chef; Yoisa Rosales, floor manager; Robert January, sous chef
Architect: DGA, San Francisco
Interior design architects: SkB Architects, Seattle: Shannon Gaffney, partner; Clint Zehner, associate principal; Sam Shiminski, designer
Art curation: DPA Fine Art, Malibu, Calif.: Deanna Postil Krawczyk
Foodservice consultants: NGAssociates, El Cerrito, Calif.: Nahum Goldberg, FCSI, LEED AP ID+C, project executive; Russell Rubinstein, CFSP, project manager; Lily Gin, assistant project manager
General contractor: Hathaway Dinwiddie Construction Company, San Francisco: Daniel Richards
Equipment dealer: East Bay Restaurant Supplies: Michael Joseph; Brian Rodriguez; Jordan Blakeley