Since its inception in 1966, MidAmerica Nazarene University has had a dining area but never a student center. In 2016, this private university in Olathe, Kan., changed the course of its history and created a heart of the campus.
To help make its vision come to fruition, it engaged PGAV Architects, Westwood, Kan.; along with Pioneer College Caterers Inc., Olathe; and Rippe Associates, Minneapolis.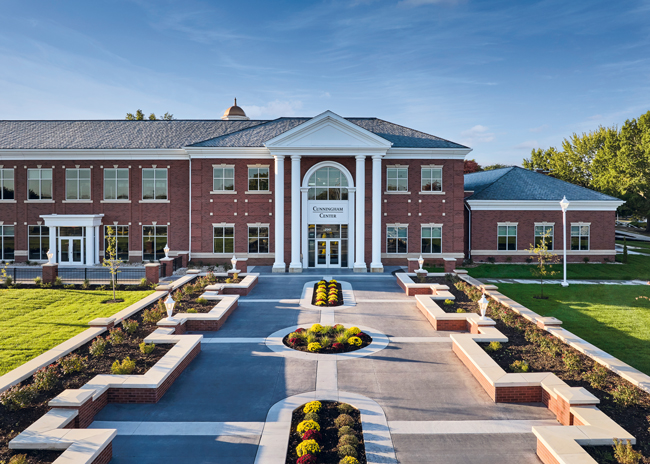 Photos courtesy of MidAmerica Nazarene University"The major goal of Cunningham Center was to provide a student-centered facility, including study space and collaboration rooms as well as recreation and social space, to foster relationships and collaboration between students and also with faculty," says Dr. David J. Spittal, university president. "It is a gathering place with flex dining spaces to accommodate both resident and commuter students. It is a place to learn and grow together."
Despite a strong desire to create a new center, the project faced some significant challenges. For example, the university experienced challenging financial times and wasn't taking out a construction loan for the building. To fund the project, the school initiated a capital campaign. As a result of the campaign reaching its goals, MidAmerica Nazarene University began designing the new facility in August 2019.
"For a small school, this type of project is a life-changing experience for the campus community," says Eric Goodrich, principal, Rippe Associates. "I immediately thought of 'The Wizard of Oz,' not only because Dorothy is from Kansas, but also because the Tin Man sang, 'If I Only Had a Heart.' Despite the financial challenges, Cunningham Center became the heart of campus."
The project opened as scheduled in March 2022, despite the potential changes of working during the pandemic period. "We didn't have opening delays because the equipment was procured early so we didn't encounter supply chain delays during the construction process," says Jon Spence, CEFP, associate vice president for facilities operations, MidAmerica Nazarene University.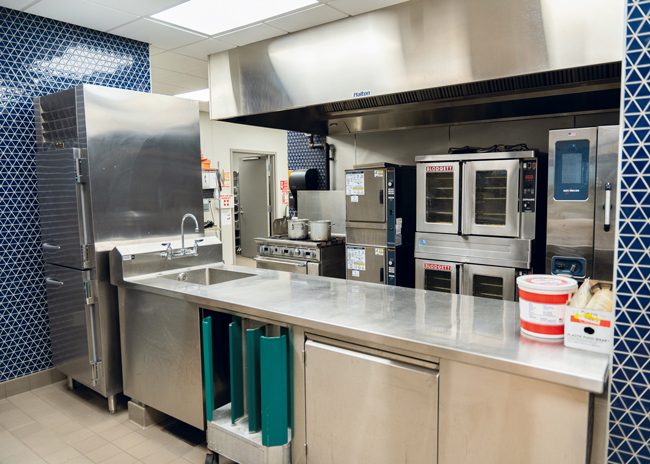 The catering hot food production area contains a 6-burner range, steamers, convection ovens and combis.
About the Project
Opened: March 21, 2022
Scope of project: A 50,000-square-foot student center that houses the only dining center on campus. The center also contains a coffee shop, campus store, student lounge, two conference rooms and a sun lounge.
Equipment investment: $1.6 million
Website: mnu.edu
Servery: 3,500 sq. ft.
Dining area: 4,400 sq. ft.
Conference room: 2,300 sq. ft.
Back of the house: 4,250 sq. ft.
Pete's Place: 425 sq. ft.
Seats: 345 in main dining room; 56 in private dining rooms; 30 in Pete's Place
Daily transactions/covers: 1,000-plus. The 19-meal plan provides one scan for breakfast and two meal scans for the remainder of the day. Each dining hall scan permits all-you-care-to-eat dining or one hot takeout meal in exchange for a dining hall meal. Customers may also take any of the 19 meals from the Pete's Place Exchange Meal Menu in lieu of eating in the dining hall.
Dining Hall Hours:
Monday through Friday: breakfast, 7 a.m. until 10:30 a.m.; lunch, 11 a.m. until 5 p.m.; dinner, 5 p.m. until 10:30 p.m.
Saturday: Lunch, 11 a.m. until 1 p.m.; dinner, 5 p.m. until 6 p.m.
Sunday: Continental breakfast, 8:15 a.m. until 9:15 a.m.; lunch, 11:30 a.m. until 1:30 p.m.; dinner, 5 p.m. until 10:30 p.m.
Pete's Place Hours:
Monday through Friday: 7 a.m. until 10:30 p.m.
Saturday: closed
Sunday: 6 p.m. until 10:30 p.m.
Menu concepts and menu specialties: Residential dining includes To Order, Entrees; Bakery and Desserts; Gluten/Allergen Friendly; Grill; Pizza and Pasta; Salad/Deli/Soup; and Pete's Place retail coffee shop
Staff: 14 full-time equivalents; 50 student employees
Total project cost: $20 million
Inside the Cunningham Center
The 50,000-square-foot Cunningham Center resides on the same side of campus as the former 22,000-square-foot building, which was torn down and became a parking facility. The new building contains a conference facility for campus meetings and events, offices for the admissions team, student development spaces for residential life and counseling services, and Pioneer Store, a retail store that sells clothing and merchandise and is named after the university's mascot.
The building also holds the dining center. The university enrolls 1,050 traditional undergraduates, including 600 who live on campus in 9 residential halls and eat in the dining hall daily, and 450-plus graduate students.
As guests walk into Cunningham Center's atrium and toward the rotunda, known as the campus living room, they become awash in natural light and can see the open green space of the campus mall. "The design team wanted the dining room to be a visible space with views to the beautifully landscaped main entrance and bookstore and to the sloping hillside and the rest of campus on the opposite side of the dining room," Goodrich adds.
The dining area is also open and bright, a sharp contrast to the old dining hall that was in poor condition, closed in and had almost no natural light. "The dining center is truly the gathering place on campus and the place to see and be seen," Goodrich says. "The interior serving and dining spaces have very few full-height visual barriers, so customers' focus can be on food and fellowship."
Staff cut pizzas to offer at Pete's Place after the dining hall closes.
Flow and Back-of-the-House Production
Food arrives at the loading dock at the back door on the ground level. "There is a very logical flow from the time products enter through the receiving doors," Goodrich says. "The location of the back-of-the-house kitchen, specifically the receiving area, was based on access to the main road and the topography of the building site. The kitchen followed a logical flow from receiving into storage, into production and finally into serving and dining."
Staff take deliveries through a set of double doors and down a double-loaded corridor that is wide enough for pallet traffic. On the left side, dry storage has space to hold utility carts loaded with food for front-of-the-house stations as well as high-density shelving that maximizes capacity. Chemical storage, soda, CO2 and laundry storage sit to the right.
Staff continue down the corridor to deliver products to a main walk-in cooler, large enough to store dairy, proteins, produce and prepped utility carts. Staff also take products to a large walk-in freezer and a walk-in refrigerator specifically designated for use by the catering team, as well as to a walk-in refrigerator and small walk-in freezer, which holds prepped pizza dough and prepped vegetables and doubles as a glass-door display refrigerator for Pete's Place.
"Cold production is large enough for two to three people to work at counters with sinks and with the other equipment," Goodrich says. In the cold prep area, staff prepare mise en place, using an equipment package that includes a slicer, a buffalo chopper and a 60-quart mixer for preparing pizza dough, bread, cakes, bakery items and salad dressings. They use a 40-gallon tilt skillet to make chili, braise ground beef and cook stews and soups, and a 6-burner range for sauces and small batches of gluten-free pasta. They boil large quantities of pasta in a 40-gallon tilting steam kettle. Finished food flows to the open-kitchen serving concepts and into warming cabinets as well as a pass-through combination heated and refrigerated cabinet.
"The campus does a significant amount of catering, so having a dedicated catering production space with its own cold storage space was essential," Goodrich says. Knowing the culinary team would use the large subdividable conference room, which is adjacent to the catering area, the design team installed finishes in a large storage room so the catering team could use it for plating and a staging area during large events. During events, chair and table storage space creates a pass-through to the kitchen.
Also in the back of the house, the dish room's design supports efficiency. A scrapping area leads to an 86-inch dish machine with a pot and pan mode and an area for silverware sorting, dish storage, and pot and pan drying. The dish room keeps a connection to the production area in the back of the house, where staff process pots and pans. It also connects to a conveyor for soiled dish return. "The old dining center had a loud accumulator that the university's president despised," Goodrich says. "With a mesh belt, soiled dish return and our office standard for a sight and sound deadening tunnel, there is no noise or views into the dish room from the dining area, and the conveyor is very quiet." Like other parts of the dining center, the dish room gets a healthy dose of natural light.
Students can select from a wide range of cuisines as they make their way through the servery.
Front-of-the-House Open Servery
"We wanted to showcase the culinary program's high level of quality that Pioneer College Caterers already had in place in the outdated dining building," Goodrich says. "We wanted to create a very flexible space where different menus can be easily served out of any concept, and the dining team can keep students engaged with new cuisines and experiment with authentic ethnic options to promote cultural diversity while expanding the palate of their guests."
Designers selected curved counters to create a natural flow through the serving areas. "Each concept is separated to allow for line queuing, and the space is adequate to handle the peak lunch crowd," Goodrich says. "We worked with the interiors team at PGAV to pair curved counters with curved soffits, which both provided light and created a color contrast to the ceiling tiles. Blue ceramic wall tiles, wood and clean laminates give students a bright and inviting space."
Simple, flexible seating includes a variety of booths, bar-height seating, round and easily configurable tables, all of which allow students to dine and recharge in a variety of spaces.
The open front-of-the-house servery is user-friendly for both customers who want freshly prepared food with a lot of menu variety, and staff. "I was admittedly worried about an open kitchen," says Lloyd Harris, Pioneer College Caterers' director of foodservice for the university. "For several cooks, English is a second language, and they were concerned about interacting with students. But we have a big international population, and the cooks can speak some of those languages and easily interact. They enjoy the interaction very much."
"The open kitchen builds relationships," adds Steven Richmond, director of corporate and culinary programs, Pioneer College Caterers. "Staff get to know students and what they like. They can accommodate their special requests for any type of menu items, including their dietary needs. And they can ask them how they're doing on exams."
This continual communication traces its roots to the dining center's planning stages. In order to fulfill the team's commitment to elevate the dining experience, the design team gathered and continues to gather input from students serving on student life and student government committees. "We serve students from across the globe and had to create a space that feels like a home away from home," Richmond says.
In addition to ongoing communication, from-scratch preparation also pleases Harris. "We like to prep everything we can and only as needed so we have very little waste," he says.
Project designers created spaces that minimize the number of steps staff take from storage spaces to prep and production areas. The open kitchen concept allows the chef to easily monitor all stations during service and send staff to busy stations to reduce service times. "With concepts paired together, there is a natural ability to be able to share staff between them, reducing the amount of required labor," Goodrich says.
The main serving area is a trayless all-you-care-to-eat resident dining operation. Customers also can order ahead and pick up their meal in a hot cabinet near the cashiers. All stations have pass-through plate shelves, and menu items are either served or self-serve by means of hot/cold switchable wells, heated glass shelves, and a carving station, or are made-to-order with induction ranges. Desserts and bakery items are displayed on a tiered quartz display, and students have options for both soft-serve and hard-packed ice cream.
A salad bar greets customers entering the dining hall.
The To Order station contains a 6-burner saute range with a refrigerated base and rail for staff to prepare made-to-order items such as burritos, tacos and quesadillas. Customers choose among ingredients including adobo marinated chicken; pork, beef or vegetarian carnitas; cilantro rice; and homemade salsas. The menu varies, including the addition of a ramen bar and breakfast omelets on Tuesdays and Thursdays, for example.
The Entrees station features two protein choices, two vegetables, a starch and a vegetarian option. These reside in reversible hot/cold pans. Staff prepare menu items in a hot production area in the main kitchen using a double-stacked convection oven to bake lasagna and casseroles and slow-cook pork overnight, a combi oven with a smoker attachment and a six-foot-high rotisserie oven with eight spigots. Staff carve meats in front of customers.
"Homestyle cooking is king in Kansas," Goodrich says. "Through an efficient electric rotisserie oven and a combi oven with smoking attachment, we knew the center-of-the-plate options for the To Order station could be both endless and authentic. Equipment selection was all about value and multifunctionality. While we had to right-size our space and couldn't keep our stand-alone smoker, the campus was happy with all the flexibility a combi oven could offer. There was a strategic reuse of existing equipment to maintain the budget, but quality and performance were always our top priorities with every piece of equipment specified."
The To Order and Entrees stations back up to the open kitchen, with adequate heated and pass-through cabinets to resupply serving lines while limiting steps.
The Bakery and Desserts station attracts customers who enjoy watching staff working behind a vertical glass partition as they make cookies, cakes, pies, brownies, fruit crisps and cobblers, and breads. "The excellent bakery and dessert program has been a hallmark of the university's foodservice," Goodrich says.
The bakers work with a 60-quart mixer, a 20-quart mixer, a countertop mixer and first-generation convection ovens out front. "The glass-door rotating rack oven with a proofer beneath improved both efficiency and product visibility," Goodrich adds. A pastry table holds sweet treats.
The beverage station connects to the condiment station and features juice, coffee, tea, soda, fountain drinks, milk, cereal and two waffle makers for students to make their own waffles.
Also on this side of the servery, customers find the Allergen Friendly station. "This station is far enough away from other stations to avoid contamination," Harris says. Customers serve themselves gluten-free waffles, along with breads and cereals. The station also offers soy and almond milks. "Customers visiting other stations can request gluten-free tortillas, wraps, bread, pasta and pizza if they're willing to wait for us to bring these to them," Harris says. This area also acts as a screen wall for the dish drop area.
On the other side of the server, customers find Grill. Here, staff use a large chrome flattop griddle and a charbroiler, both on refrigerated equipment stands, to cook burgers, hot dogs and links. A refrigerated sandwich prep table provides a space for holding ingredients and finishing sandwiches. Switchable hot/cold wells hold sides. Thursdays also feature spicy chicken, a favorite on campus for many years. Giant baskets hold wrapped sandwiches and burgers. Students also help themselves to fries cooked fresh in a four-section fryer, presented quickly after cooking.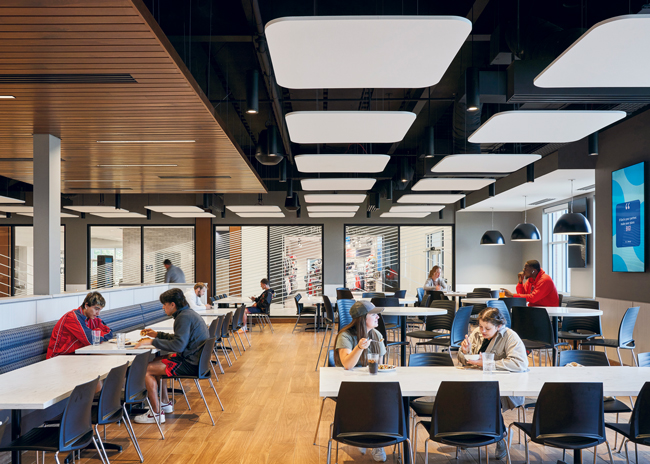 Different sized tables offer students dining options.Pizza and Pasta allows customers to see dough that staff make in the back-of-the-house drop from a double roller. They can also watch as team members stretch out the dough on a sheeter and top it with sauces from the back-of-the-house hot production area. These sauces reside in switchable hot/cold wells. Staff cook pizzas in a ventless, high-speed conveyor oven. "Cooking takes only three and a half minutes," Harris says.
Staff place four varieties of pizza slices on shelves for students to help themselves. Customers can also order pasta with their choice of sauces from this station. This station and Grill back up to a walk-in refrigerator and freezer to limit the steps needed to resupply each day.
After hours, Pete's Place — a coffee shop that also resides inside the student center but separate from the dining hall — offers menu items prepared at Grill and Pizza and Pasta. "Hot food is passed through a window to the coffee shop from 7 p.m. to 10:30 p.m.," Harris says. "Students can use their meal plan to purchase food and beverages here."
In the middle of the servery resides Salad/Deli/Soup, an island station with undercounter cold storage and a warmer for soups and hot proteins for the salad bar. At the salad bar, students help themselves to greens, fresh vegetables, salad toppings and dressings. The deli portion features made-to-order sandwiches and wraps with choices of roasted meats, toppings and spreads on fresh-baked bread. Two panini grills heat the sandwiches and wraps. Soup wells offer two choices daily.
For grab-and-go salads, sandwiches and snacks as well as smoothies, bottled beverages, brewed coffee from beans provided by a local coffee roaster, and tea, customers frequent Pete's Place from 7 a.m. until 10:30 p.m. Monday through Friday and 6 p.m. to 10:30 p.m. on Sunday. "The campus desired a compact retail location that could offer much more than coffee," Goodrich says. Pete's Place backs up to both Grill and Pizza and Pasta, so customers can order menu items from these stations when the dining area is closed. Comfortable seating outside Pete's Place encourages customers to relax as long as they wish. Equipment includes coffee roasting equipment, refrigeration, glass cases holding bottled beverages, a front counter displaying refrigerated menu items, a blender and a warmer.
Pete's Place stays open during the day and after dining room hours.
Energy and Water-Saving Features and Budget Scrutiny
"We did all we could to reduce utility usage," Goodrich says. "Electricity costs were at a five-year low when the project began in 2019 (at $.07 per kWh) and rose to an all-time high in 2022 (at .125 per kWh)." Many equipment items, including the dish machine, reach-in refrigeration units, warmers, convection ovens and fryers, are Energy-Star rated. The operation also uses all low-volume, demand-controlled ventilation hoods, a racked refrigeration system to maximize energy consumption using environmentally friendly refrigerant, and low-flow faucets.
Because the $20 million needed for the project was raised from donors and alumni, the design team closely scrutinized every budget line item. "We achieved this by going into the project with a value-engineering mindset from day one," Goodrich says. "We evaluated every piece of existing equipment that could potentially be reused, prioritized every piece of new equipment desired to support the program, and got hard numbers from fabricators to ensure that our cost estimates would be within 1% of bids."
"This was truly a team approach, where foodservice, interiors, mechanical, and civil worked together to find creative solutions together to right-size spaces, find alternative materials that wouldn't sacrifice durability or aesthetic from the building, and challenge us to keep the budget in mind with every design decision we made," Goodrich adds.
Having a new heart of the campus has changed the campus environment. "Our experience has verified that we have met the goal to create a space to learn and grow together," Goodrich says.
Floor Plan
Download the floor plan equipment key here.
Key Players
Owner: MidAmerica Nazarene University
President: Dr. David J. Spittal
Associate vice president for facilities operations: Jon Spence, CEFP
Contract foodservice operations: Pioneer College Caterers Inc., Olathe, Kan.
Director of corporate and culinary programs: Steven Richmond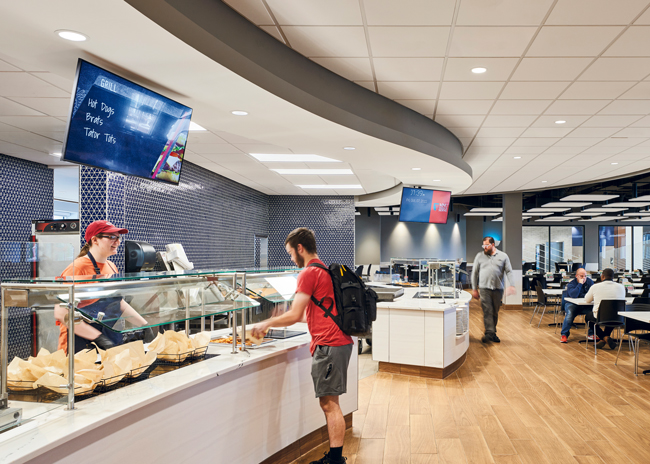 The Grill station features menu items such as hot dogs, brats and potatoes.
Director of Foodservice, MNU dining: Lloyd Harris
Chef, MNU dining: Dathan Brubaker
Catering service manager, MNU dining: Abby Conaghan
Architect: PGAV Architects, Westwood, Kan.; Chris Davis, vice president, AIA, LEED AP
Interior design: PGAV Architects
Foodservice consultants: Rippe Associates, Minneapolis: Eric Goodrich, principal; Terry Pellegrino, principal emeritus; Ryan Braudt, senior manager to the Rippe Associates team
Equipment dealer: TriMark Hockenbergs, Lenexa, Kan.: Bill Lattimer
Construction: A.L. Huber General Contractors, Overland Park, Kan.: Keith Dorrian, vice president; Haley Jones, project manager
Owner's representative: Radford Management, Overland Park, Kan.: Robert Radford, president