Tattersall Distillery's co-owners Jon Kreidler and Dan Oskey wanted to expand their distillation production capabilities. They also wanted to build a place for customers to come for a meal and drinks, see entertainment, host a wedding and other events, and learn about the distilling process.
The original production facility in Minneapolis offered food from trucks and was landlocked, so there was no way to add foodservice and entertainment venues. The co-owners took an enormous leap into another major business venture and opened Tattersall Distillery in River Falls, Wis., on the other side of the St. Croix River that divides Wisconsin and Minnesota. It's just shy of an hour's drive from Tattersall's Minneapolis distillery/tasting room/event venue.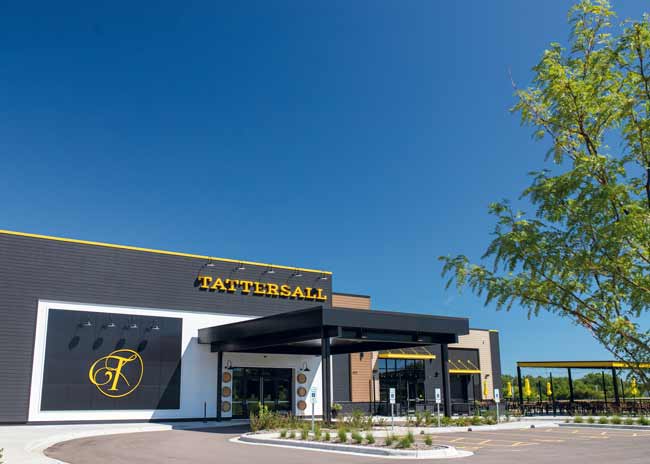 Photo by Jack Zeigler"We wanted a facility that showcases our production and hosts multiple dining and experiential events at the same time," says Kreidler, who also carries the title of chief officer. The River Falls location allows Tattersall to produce up to 200,000 gallons of spirits with room for growth while maintaining production and its cocktail room in Minneapolis.
The new River Falls facility is an adaptive reuse of an existing 75,000-square-foot retail department store. The transformed facility includes a retail market with a tasting/classroom bar, a cocktail bar and restaurant with a kitchen and patio bar, a catering/events kitchen, an outdoor amphitheater, a great hall/ballroom, a great hall pre-function area with two bars and a room for 400 people just outside of it and inside the amphitheater, a club room, a wedding suite, a collaboration room, a boardroom, a classroom, a barrel room and a distillery. Seating is available in the retail market, and also at the tasting bar, the cocktail bar and restaurant, the patio bar, and throughout the venue. The venue also contains outdoor games, shaded lounge areas and fire pits, along with educational opportunities to learn about the distillery.
The architects and interior designers wanted to keep the industrial aesthetic while bringing in the feeling of the adjacent local forest, river and public lands. They installed ample bars throughout the facility to ensure quick service inside and outside. Brand-supporting posters highlight the Tattersall backstory, the emphasis on sustainability and the overall distillation process.
"We worked closely with the hospitality team to organize and visually enhance the facility in a way that is conducive for maximizing the guest experience for events, enjoyment of food and drinks, and allowing for an individualized self-guided or staff-led group tour of the facility," says Rick Palm, CFSP, a member of the contract design team for Boelter, Minneapolis.
One of the main challenges Palm's team faced was building code restrictions for a distilling facility that makes and stores distilled spirits on-site. "This limited our design opportunities to maximize the guests' visibility into the distillery," Palm says. "We worked to strategically position the distillery to provide key moments of transparency from the 50-occupant private event space and the classroom bar in the retail area. The rest of the distilling process was then able to be on full display and incorporated into the self-guided tour of the distillery."
A main challenge for the architects was how to take an old commercial building and transform it into a space that feels old and yet has a lot of character. "The goal was to achieve a rickhouse feel, which is an old structure used for aging spirits that dates back hundreds of years," says Aaron Johnson, project manager, River Valley Architects, Denver. "Making new look old is no easy task, but it was the driving force behind setting the tone within the Tattersall space." The designers used aged barnwood throughout the spaces along with materials like stacked stone, aged metal and brick to create the sense that the building has been around for ages.
Another main focus behind the interior design of Tattersall was to create a building that could withstand the tests of time. "A lot of effort went into making sure that the space looked great but was also able to hold up to being inundated with hundreds of people regularly," Johnson says. "We used a lot of really durable materials throughout all the spaces to make sure that it remains a destination that people want to be at for many years to come."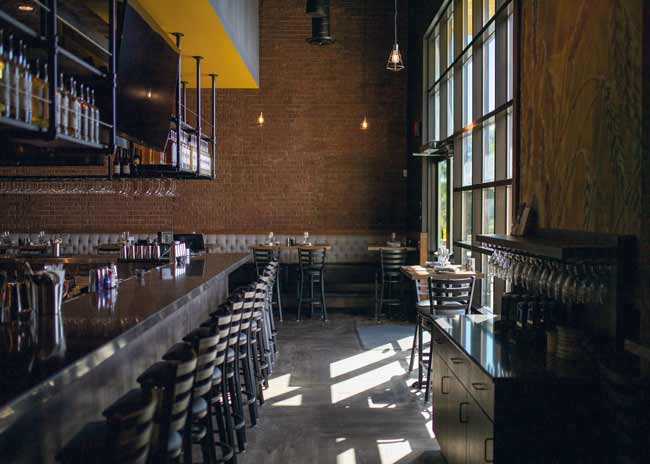 Guests dine in the restaurant and see the Tattersall liquor at the bar. High ceilings offer a spacious ambience. Photo courtesy of RVA
Distilling and aging spirits is the main driver behind the new Tattersall Distillery. "There's no point in creating a great distillery without providing great spaces for people to enjoy the product," Johnson says. A lot of thought was put into how each of the spaces could be used in many different ways, starting with a ballroom area that could host wedding events inside and out, musical performances, or be divided up for craft shows or smaller local events.
The space also includes large and small meeting spaces and private event dining spaces. "There were a multitude of spaces created of various sizes, but there were also things added like operable partitions, which takes one open room and can divide it into two to four separate spaces as well," Johnson says. All these spaces flow together to seamlessly coordinate pre-functions, main events and after-parties. All of the spaces can be used in tandem to be flexible with whatever needs come up.
Throughout the entire facility, visible reminders describe and celebrate the quality and commitment that go into making Tattersall Distillery's products. Guests may take guided and unguided tours through the facility and can sit in a classroom setting to learn how to properly appreciate what they're being served. They can take home kits and other retail products.
Tattersall Distillery Overview
Download the Floor Plan Equipment Key here.
Front-of-the-House Features
The front-of-the-house spaces feature warm wood and brick textures and moody lighting throughout. "There is an intentional mix of simple industrial charm next to glitzy crystal chandeliers to sprinkle in just enough of the unexpected," Johnson says. Stamped tin ceilings provide old-world charm alongside tufted fabrics and leather cushions, barn doors and barrels. Imagery in black, white and gold colors provided by Tattersall's creative team calls attention to the brand throughout the entire facility.
Visible throughout most of the facility, an exposed and painted underside of the roof structure saves on material costs. The ceiling isn't finished, just painted, giving it a more industrial feel and eliminating the ceiling tiles. Specifically placed ceiling clouds produce the desired ambience and make the space feel cozier. A faux-brick product and a manufactured barnwood contribute to the building's industrial and rustic aesthetic.
With operating budget containment and sustainable operations always at the forefront of Tattersall Distillery, it employs a water recycling system that reduces overall water consumption throughout the distilling process. Solar panels that cover the entire roof help limit the energy consumption of the facility.
In addition, Tattersall upcycles the spent grain, which goes back to farms for cattle feed, hot water exchanges harness the heat produced in the distillery and broilers use high-efficient plumbing.
Back-of-the-House Production
"The back-of-the-house spaces are where the magic happens," says Johnson. "There are sprawling spaces with lots of action going on, from the hustle and bustle of the kitchen and event functions to the occasionally quiet spaces where spirits are made and aged and botanicals are stored and processed. The back of house is also celebrated with plenty of windows and access points where guests can come by and truly see and enjoy how everything they're consuming comes to fruition."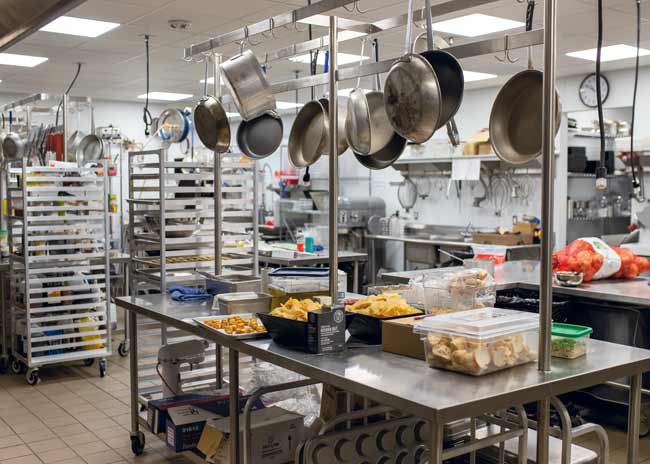 Back-of-the-house utility racks, transport carts, tables, convection ovens and other hotline equipment help staff to work efficiently. Photo by Jack ZeiglerFood arrives at a loading dock with two shipping and receiving areas, one for the distillery and one for food and beverage. The food and beverage entrance sits just a few steps from the alleyway leading into the catering kitchen.
"We had to have two kitchens, the catering kitchen for large-quantity production to serve up to 400 to 500 guests, which is near the ballroom, and the restaurant kitchen. We needed windows between the experiences of the distillery, bottling, retail and the restaurant," says Keith Reardon, vice president of venues, Morrissey Hospitality, the contract foodservice provider at Tattersall Distillery.
Storage near the catering kitchen includes two walk-in coolers, a walk-in freezer and dry storage. The cold prep area contains worktables with sinks, prep sinks for washing produce and a separate sink for cleaning seafood. The area also contains a food slicer, a food processor, 20-quart and 60-quart planetary mixers, and a hand mixer to support staff as they prepare mise en place for hot menu items as well as salads and sandwiches.
The hot prep area contains two fryers with an oil reclamation system, a double-stack combi oven, two double-deck convection ovens, a 4-foot countertop charbroiler, a 4-foot countertop griddle, a 6-burner range, a 20-gallon kettle and a 12-gallon kettle. With this equipment, staff prepare soups and sauces and stage cooking for all catering menus in this area of the kitchen.
"Staff also prepare menu items such as pork chops served in the restaurant using the sous vide process," Reardon says. "More sous vide will be done in the future as the need for such menu items increases."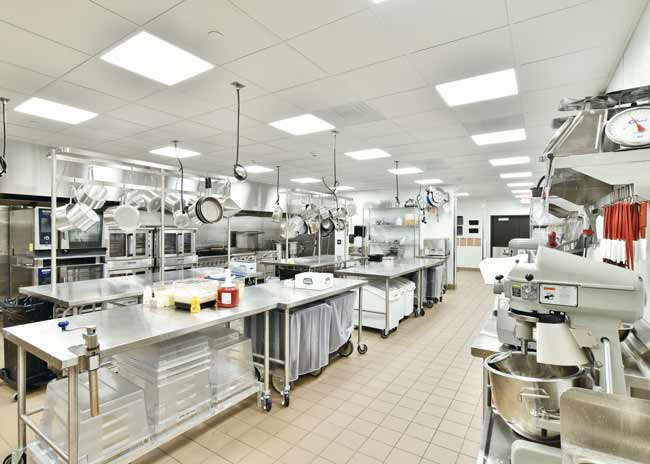 The main production and banquet kitchen supports the restaurant and catering.
Also in this kitchen, a blast chiller allows staff to quickly reduce the temperature of hot food for several catering menu items. A catering pantry contains coffee and tea brewers and beverage dispensers, in addition to a walk-in cooler, a keg cooler, ice machines and hot holding cabinets for large catering functions.
This kitchen also contains a conveyor-type dish machine, a disposer, low-temperature hot holding cabinets and hot holding banquet carts for transporting menu items to the two smaller catering support kitchens. Staff plate and assemble food for delivery to guests in these kitchens.
Staff transport food on carts from the catering kitchen to the restaurant kitchen, which contains a walk-in cooler and a walk-in freezer. In addition to prep counters and refrigerated sandwich/salad prep rails for keeping ingredients cool, the prep lines contain reach-in refrigerators and freezers.
Staff working the hot line use the countertop broiler for making burgers, filets and rib-eye steaks; the countertop steamer for vegetables, potatoes and fish; and the convection oven for heating appetizers and finishing and holding steaks and fish. Staff prepare sandwiches and trout on the flat griddle and melt cheese on menu items in the salamander broiler overhead. They saute a wide selection of appetizers and pasta entrees on the 6-burner range and cook calamari and fries in the fryer.
The pizza prep area includes an induction cooker, a dough roller and a dough dolly, as well as a brick pizza oven. Thin-crust artisan pizza varieties include margherita, sausage and smoked mushroom; four meat, pancetta and blackberry; and the Calabrian with red sauce, fresh mozzarella, Calabrian sausage, spicy peppers and shallots.
The dishwash area contains clean and soiled dish tables, in addition to a high-temp, single-rack dish machine.
The bars contain several drainboards and sinks for several staff members to work efficiently and quickly. The large bar contains a draft beer tower and soda system, as well as ice bins and undercounter refrigerators. A mixology system allows staff to assemble specialty drinks using herbs and botanicals. Cocktails include favorites such as Blue Crush with gin, blueberry, crème de fleur, lemon juice and barrel-aged honey simple syrup; Northside with aquavit, lime juice, simple syrup, mint leaves and habanero bitters; and rye whiskey, crème de fleur, lemon juice and barrel-aged honey.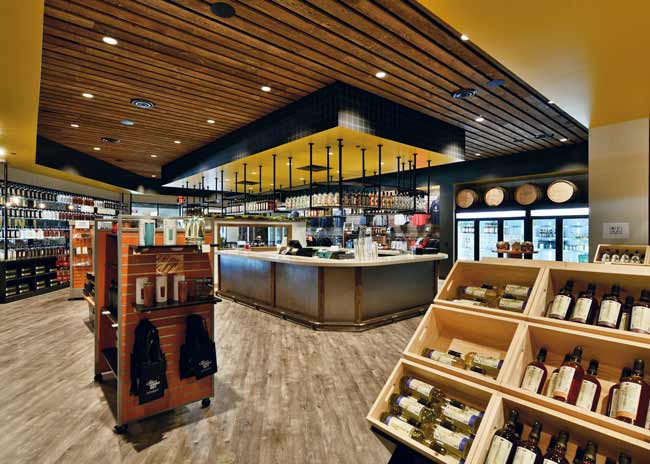 A tasting bar complements the retail liquor and merchandise displays in the retail market. Photo courtesy of RVA
Tattersall Distillery distills 32 unique spirits on-site. It sources all grains from local farmers, who Kreidler and Oskey have been working with for the past seven years. The staff source all fruit regionally, maple syrup and honey locally as well. They also age ingredients. Milling, fermenting, aging and bottling is handled on-site as well as distilling. "We have the capacity to distill nearly 200,000 gallons of spirits annually," Kreidler says. "We can continue to grow with this expansion." Nearly 1,500 barrels are stored on-site for whiskey aging.
The distillery contains two mash cookers, one holding 1,000 gallons and the other 500 gallons, a spent grain surge tank and separator, and a spirits tank. The distillery also includes a 27-foot, 250-gallon vodka column still; two 250-gallon hybrid pot stills; and two 500-gallon wash (pot) stills. "Everything is made on these five stills, with most spirits utilizing multiple stills during production," Kreidler says.
As Tattersall Distillery ages, the team discovers which experiences guests enjoy when they come to visit.
"It was rewarding to see the final outcome from a shopping center with old gondola shelving and eyeglass cases to what it is now," says Palm of the project, which included incorporating "every type of food and beverage equipment discipline." He credits the working relationship between Boelter and Morrissey Hospitality with the project running smoothly.
About the Project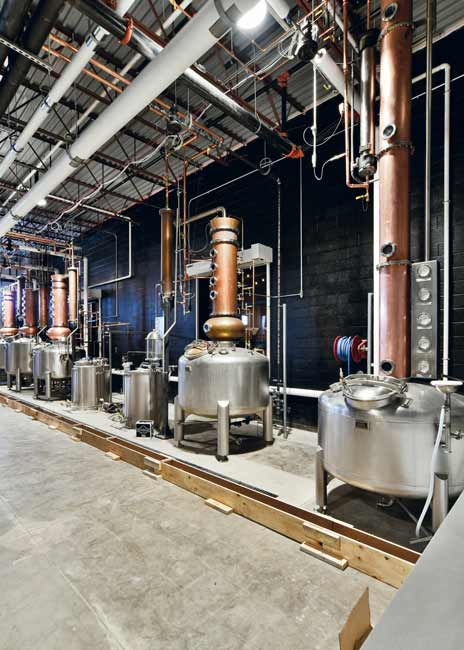 The distillery produces more than 32 unique spirits. Photo by Jack Zeigler
Opened: Dec. 1, 2021
Scope of project: Design and build-out of 35,000 square feet of hospitality space to complement the brand and products of the Tattersall Distillery
Foodservice equipment investment: $1.7 million, including $1.3 million for commercial kitchen equipment and $456,000 for furniture
Website: tattersalldistilling.com/river-falls
Facility overview: The hospitality space includes a cocktail bar and eatery, a retail store with a tasting bar, multiple event spaces, a patio and an outdoor amphitheater.
Size: 75,000 sq. ft. including:
Retail market: 3,029 sq. ft.
Cocktail bar and restaurant (includes kitchen and patio bar): 4,727 sq. ft.
Patio: 6,570 sq. ft.
Great Hall Ballroom: 5,425 sq. ft.
Amphitheater with two event bars: 5,700 sq. ft.
Great hall pre-function with two event bars: 2,727 sq. ft.
Club room: 540 sq. ft.
Wedding suite: 560 sq. ft.
Collaboration room: 172 sq. ft.
Boardroom: 840 sq. ft.
Classroom: 840 sq. ft.
Barrel Room: 1,965 sq. ft.
Catering kitchen: 2,516 sq. ft.
Catering holding space (3 pantries): 1,250 sq. ft.
Catering storage for furniture, chairs and equipment: 1,150 sq. ft.
Distillery: 33,723 sq. ft.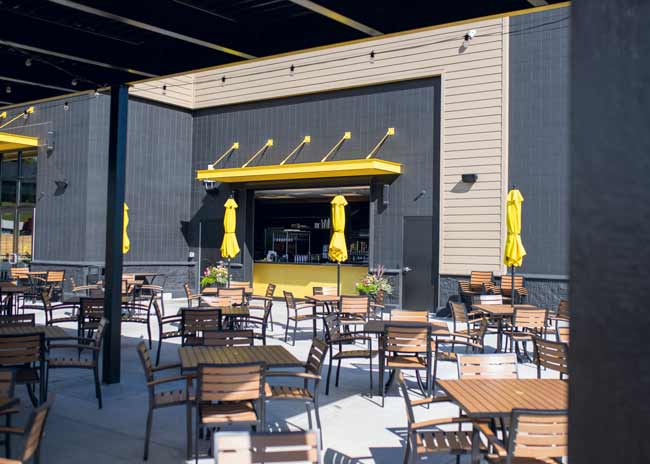 Dining options include the outdoor seating area. Photo by Jack Zeigler
Seats:
Retail market tasting bar: 20 seats
Cocktail bar and restaurant (includes patio bar): 159 seats
Patio: 208 seats
Great Hall: 420 seats
Amphitheater: 360 to 420 seats (pending setup)
Collaboration room: 8 seats
Boardroom: 16 seats
Classroom: 29 seats
Barrel Room: 90 seats
Average check: $31.23
Daily transactions/covers: Restaurant, 2,000 per week; other events, varies
Hours:
Wednesday through Thursday: 4 p.m. until 9 p.m.
Friday: 4 p.m. until 10 p.m.
Saturday: 11 a.m. until 10 p.m.
Sunday: 11 a.m. until 8 p.m.
Market hours:
Wednesday through Friday: 2 p.m. until 9 p.m.
Saturday: 11 a.m. until 9 p.m.
Sunday: 11 a.m. until 8 p.m.
Saturday and Sunday brunch: 11 a.m. until 4 p.m.
Menu concepts and menu specialties: Modern American cuisine and an innovative cocktail program featuring all Tattersall spirits
Staff: 100 to 175 (in summer)