Michael Buckley, president and chef-owner of Michael Timothy's Dining Group, opened his first restaurant in downtown Nashua, N.H., in 1995. Now, more than 27 years later, he owns and operates multiple concepts and seven total locations. The latest is the third location of Surf Seafood, this one in Woburn, Mass.
Buckley's creative vision led the design goals for this restaurant, along with input from his son, Ian, and a project team. "In addition to serving great food, the restaurant needed to offer a distinctive, enjoyable visual experience for guests to want to return," says Eric Brown, AIA, LEED AP, principal in charge, Prellwitz Chilinski Associates (PCA), Cambridge, Mass. "We kept this as our guiding principle."
The Buckleys take pride in featuring a broad seafood-centric menu that will appeal to a variety of customers. The menu ranges from raw seafood, sushi, and traditional Northeast baked and fried seafood platters to more globally inspired dishes such as miso-marinated salmon and Tuscan shrimp and pasta. "We deliver this in a comfortable but elegant setting that is an appropriate place to host a company outing or bring your family after the beach," Michael Buckley says.
Photos by Nathan Moreau Photography LLC
The moment guests enter the restaurant, they see the words "Raw Bar and Sushi." Michael Buckley refers to it as "fun, playful and sexy." The goal was to build out a restaurant with a very comfortable, open and airy upscale ambience with the large showpiece area featuring a raw bar and sushi.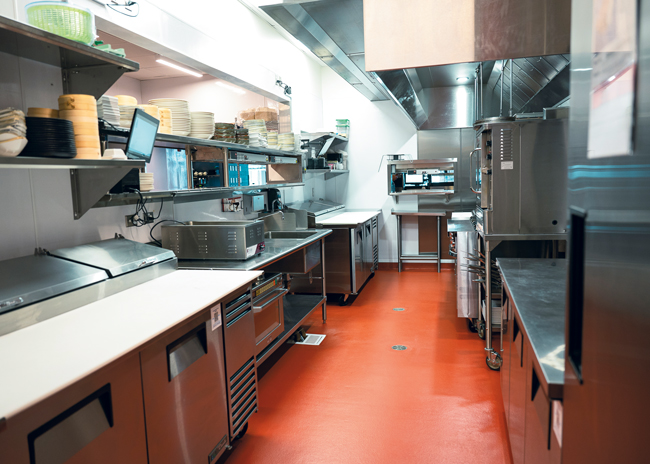 Refrigerated rails and shelving contribute to team members' efficiency. An exhibition kitchen near the Raw Bar and Sushi station supports production of the sophisticated yet casual menu. Another key element — an oversize, 30-seat island-style full-service island bar with a large glazed overhead garage door — connects to the 20-seat, 2,000-square-foot covered outdoor patio area. Inside, glass panel walls break up the main dining room while giving it an open ambiance where guests can select from a variety of seating types including booths, more traditional chairs and tables, and intimate areas. High-top seating lines the interior and exterior bars.
The interior space features wood-look luxury vinyl tile flooring, reclaimed wood plank paneling at the sushi bar and metal mesh panels over the bar to evoke lobster traps. "The restaurant incorporates a seafood and ocean feeling without being literal," says Tracy Dupont, NCIDQ, IIDA, LEED AP, senior associate, director of interior design, PCA.
Glossy blue tile with wavy texture serves as a representation of water. A variety of other design elements also contribute to the natural and oceanside vibe, including sand-colored terrazzo tile and tabletops, breezy sheer white curtains, and woven rattan light fixtures. Large murals and signs painted on the reclaimed wood paneling accent the space marking for the raw bar and sushi station. Wall graphics by local artist Mark Grundig feature simple, eye-catching white murals of fish. Other artwork by the owner's relatives and local artists add color and intrigue to the interior.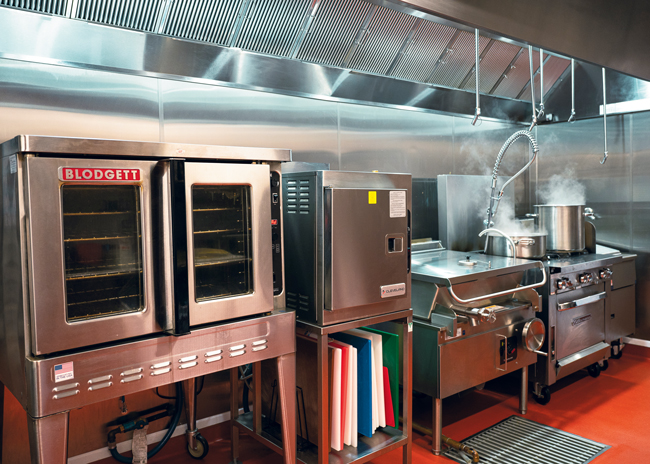 A combi oven, a steamer, a tilt skillet and a range support menu production. Photo by Nate Moreau
Floor Plan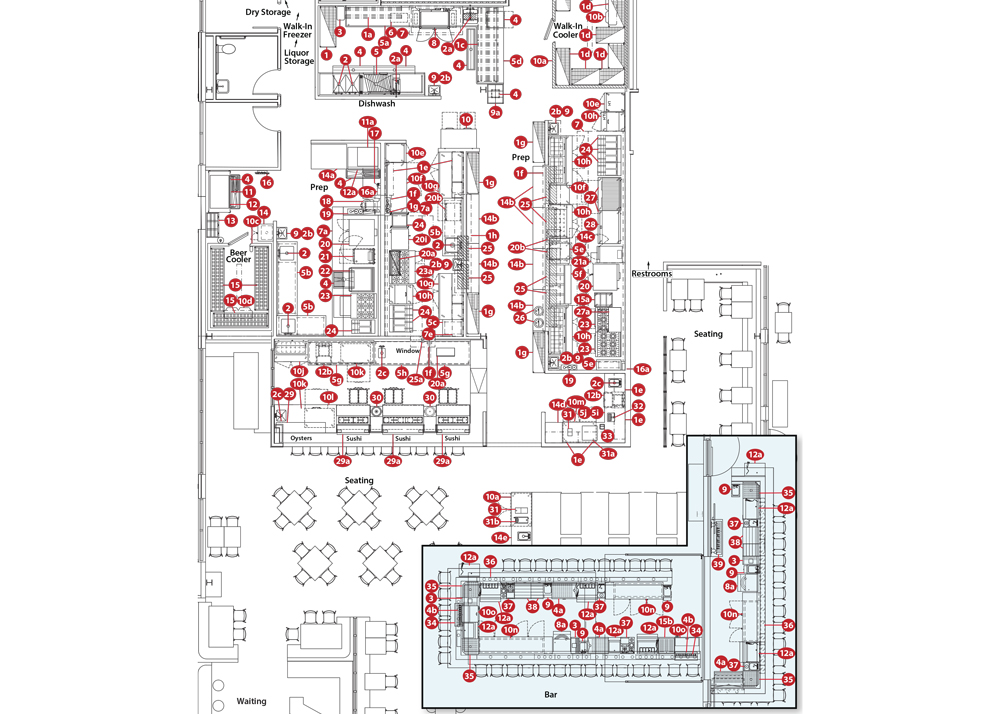 Download the floor plan equipment key here.
Efficiency a Top Priority
"There were months of thought and countless hours of drawing and redrawing by Michael to design the kitchen for maximum efficiency," says foodservice equipment consultant Joe Christie, TriMark United East, Mansfield, Mass.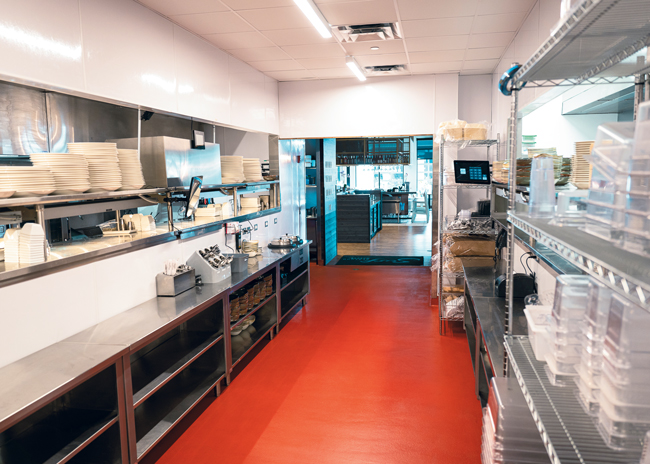 Dishes, serviceware and containers sit in an easy-to-access space for menu order assembly. "I feel we're doing something other restaurants aren't focusing on," Michael Buckley says. "We're food centric. A lot of people do food but are more bar centric and offer food because they must. Our reputation is as restaurateurs. I'm a chef-owner, and we're successful because we offer the whole package in very efficient kitchens."
Food deliveries arrive at a loading dock. "We are a high-volume scratch kitchen that receives deliveries from all of the main broadliners and seafood vendors five or six days a week," Michael Buckley says. "We try to keep on hand only what we will need for a 48-hour service period."
Team members take deliveries into a 20-foot-by-18-foot walk-in cooler for raw ingredients and pre-prepped menu items, a walk-in freezer that mainly stores king crab and french fries, and a dry storage room. These pieces of equipment sit as close to the rear-loading zone as possible to allow for a clear flow of products into the prep kitchen.
"We receive fish daily, wash or rinse it, and place it into a fish file," says Ian Buckley. "The file, which we use to store oysters, mussels, clams and lobsters, is self-draining and has perforated drawers so we can ice down the fish and keep it refrigerated at the proper, safe temperature."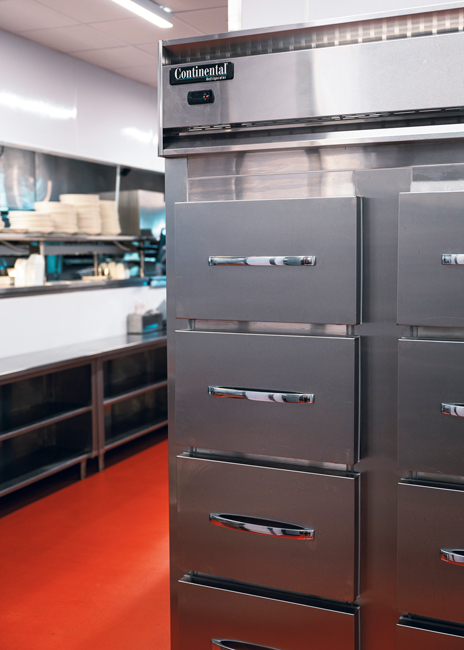 A fish file's perforated drawers allow staff to ice down the fish and keep it refrigerated at the proper, safe temperature. Photos by Nate MoreauThe back of the house also contains a chef's office, an employee restroom, an employee breakroom and a liquor storage room. "We commit a lot of space and money to our back-of-the-house operations to ensure we can execute consistently at a high level," Michael Buckley says. "We service over 300 seats in a scratch kitchen environment, which takes considerable space. When designing this restaurant, the kitchen was laid out and designed first, and the dining room was built around it. Three-quarters of our shell was floor-to-ceiling windows, which gave us a natural configuration for what should end up being the back of the house."
The prep area supports the main production lines. "We're open seven days a week, so it's hard to prepare everything at the main stations," Michael Buckley says. This area contains a sushi processing freezer, a 60-quart mixer, a convection oven and a convection steamer. The tilt skillet can cook up to 25 gallons of chowder and other soups. A six-burner range heats sauces, demiglaces and dressings, while fryers cook crabcakes. Staff prepare mise en place and bread crabcakes on two stainless-steel tables with sinks.
The back of the house also contains a 2,200-pound ice machine and a walk-in keg room, which contains beer coolers with a remote draft system connected underground to insulated and refrigerated lines. The lines take the beer, kept at 34 degrees F to 36 degrees F, to the front-of-the-house bar.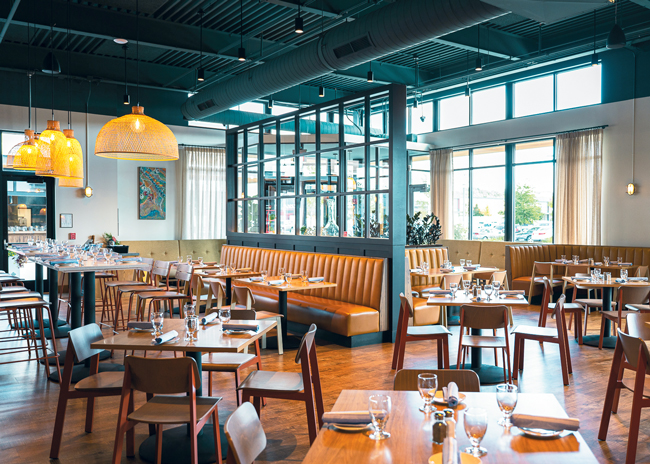 Various seating and table configurations offer guests myriad dining options. Artwork brightens the space.
Front-of-the-House Production
The raw bar and sushi station has its own prep area. A custom-made counter designed by Michael Buckley and Christie was manufactured off-site and assembled on-premises. "We have a very gracious space here," Michael Buckley says. Across the aisle, team members use stainless-steel tables and shelving to organize ingredients and support production.
Another precise temperature fish file stands in the sushi and raw bar area for all live shellfish, including oysters, clams, mussels and lobsters. Four to six team members work at this line.
Michael Buckley insists that having separate lines improves productivity and quality. "We have very specific equipment so everyone has everything they need for volume preparation," he says. "We separated the kitchen into main lines, one for appetizers with nearby areas for preparing salads and desserts, and the other for entrees. The whole thought process of the lines is that everyone has space and no one is tripping over anyone else. This keeps everything efficient. Entree staff only work in entrees. They don't have to stop and do salads, then shift gears and get back on track to make entrees. All the appetizer person does is appetizers. All the salad person does is salads. So they don't have any interruptions. They just read their computer screen and keep on going."
The saute/appetizer line contains a six-burner range, a refrigerated rail, a convection steamer, and fryers for sushi toppings, tempura, calamari, bacon for the tomato and bacon salad, Brussels sprouts for the Caesar salad, and breaded seafood. Team members pass fried items through a heated window to the raw bar and sushi station. Team members also prepare salads and desserts in this area. Three upright refrigerators also hold ingredients within easy reach. "This kitchen is built for speed," Michael Buckley says.
The covered patio contains a 15-foot garage door that a motorized pulley shuts and opens to the inside bar.
The 30-foot line on the other side is designated only for entrees. The entree line contains three oversize six-basket fryers for menu items on seafood platters and a six-burner range, double-stacked convection steamers and a convection oven for making Portuguese seafood stew and ramen bowls with salmon and pork belly. Staff use the oversize flattop griddle to cook shrimp burgers and bacon burgers and the oversize chargrill to prepare filets for surf and turf selections. They also use a convection pressureless double steamer to make 1¼-pound buttered lobsters. Culinary staff uses two side-by-side six-burner ranges for sauces and an overhead salamander.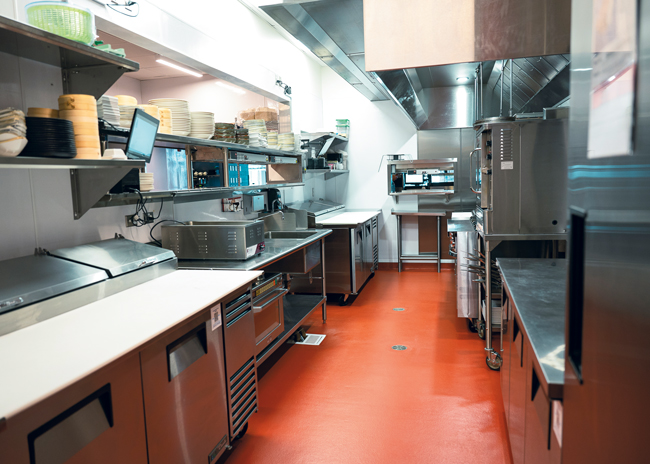 Refrigerated rails and shelving contribute to team members' efficiency. Refrigerated rails across an aisle from the hot production equipment hold ingredients for each similar group of entrees. The executive chef stands in the middle and orchestrates everything from computer screens, ensuring everything that is supposed to be going to the tables is ready.
The restaurant presents menu items in different vessels and configurations, from custom-manufactured double-handle stainless-steel pots and lids for Portuguese seafood stew to a full line of Churchill plates and bowls for entrees like lobster Kristina or roasted haddock with lobster mashed potatoes and a Nantucket pan sauce.
The dishwashing area contains a three-bay high-speed washer and a conveyor-style dishwasher for regular plateware. A glass washer sits in the front of the dish station. "A separate washer for glasses ensures they are streak-free," Ian Buckley says.
Because keeping dishwashing staff is so challenging, Michael Buckley says, the dishwashing area contains a conveyor belt dishwasher and a high-speed soak sink that is like a giant jet whirlpool bath for pot washing. "This saves on wear and tear of the dishwashers," he says. "The only time you see them scrubbing in the adjacent sink is if something got burnt on a pan."
The Buckleys and project design team took the approach of spending as much money up front as necessary to build what they consider to be the most efficient kitchen and bar possible. "We know that consistency is the key to success, and if we set ourselves up to be able to execute at a high level all the time, we will build a reputation for quality in this new market and it will lead to financial success in the long run," Michael Buckley says. "We are working towards establishing greatness in our brand as we grow. We strive to be able to provide the same quality having 10 restaurants in our portfolio as we did when we had only one to focus on."
A mixed-media triptych wave graphic by Elizabeth Whelton and fish murals by Mark Grundig create the nautical ambience.
About the Project
Opened: August 10, 2022
Scope of project: Ground-up front of the house and back of the house, with indoor and outdoor seating
Total project cost: $5.5 million
Equipment investment: $1 million
Website: surfseafood.com
Size: 8,100 sq. ft, including 4,100 sq. ft. in the back of the house, 4,000 sq. ft. in the front of the house, and 2,200-sq.-ft. covered patio
Seats: 330 total, including indoor and outdoor and private dining rooms
Average check: $120
Total annual sales: $7.5 million, estimated
Daily transactions/covers: 500 to 600
Hours: 11 a.m. until 9 p.m., Sunday through Thursday; 11 a.m. until 10 p.m., Friday and Saturday
Menu specialties: Globally inspired seafood menu with raw bar and sushi
Staff: 120 employees
Key Players
Owner: Michael Timothy's Dining Group: Michael Buckley, president and chef, and Sarah Buckley, co-owner
Vice president, Michael Timothy's Dining Group: Ian Buckley
Director of operations: John Dunn
Director of culinary operations: Chris Cowen
Corporate executive chef: Charlie Cicero
General manager: Cheryl Flaherty
Executive chef: Jose Davila
Architect and interior design: Prellwitz Chilinski Associates (PCA), Cambridge, Mass.: Eric Brown, AIA, LEED AP, principal in charge; Tracy Dupont, NCIDQ, IIDA, LEED AP, senior associate, director of interior design; Jillian D'Amato, NCIDQ, IIDA, lead interior designer; Krista Osipovitch, interior designer; Kevin Nastasia, job captain; Jim Covseno, construction administrator
Foodservice equipment consultant: TriMark United East, Mansfield, Mass.: Joe Christie, senior vice president
MEP engineer: BER Engineering, Easton, Mass.: Richmond Fitts, PE, project manager
Construction manager: Cafco Construction, Boston: Matthew Tripp, project executive; Jim Fagan, project manager
Eric Brown, AIA, LEED AP, principal in charge, PCA. Brown started with the firm 25 years ago. He has broad design and management experience working with restaurant operators including Legal Sea Foods and institutions' dining facilities at Harvard, MIT, Brandeis University, Babson College and Northeastern University.
Ian Buckley, vice president, Michael Timothy's Dining Group. Buckley grew up in the family business and worked almost every job in the front and back of the house before going to college. After graduating, he came back to the family business and held multiple management positions before taking on his current role in 2018.
Michael Buckley, president and chef-owner, Michael Timothy's Dining Group. After nearly 20 years working as a chef, Buckley and his wife, Sarah, opened their first restaurant in 1995, a chef-owned bistro named Michael Timothy's. They built a reputation for quality food and service that helped them grow the group to include concepts such as Surf and Buckley's Great Steaks.
Joe Christie, senior vice president, TriMark United East, Mansfield, Mass. Christie joined the firm in 1989. His career track included supply salesperson, regional sales manager, vice president of sales, senior vice president of sales and marketing, and his current role, senior vice president of contract sales, which he began in 2021. He has been designing, specifying and selling full projects since 1996.
Tracy Dupont, NCIDQ, IIDA, LEED AP, senior associate, director of interior design, PCA. During her 20 years of experience, Dupont's projects have included higher education student centers, dining facilities and multifamily housing.