UNC REX Healthcare in Raleigh, N.C., expanded its reach into Holly Springs, N.C., on the grounds of what was an existing UNC REX healthcare clinic located 20 miles from UNC REX's main hospital in Raleigh. This community hospital, REX Holly Springs Hospital, serves as a prototype for future UNC REX Healthcare community hospitals.
"At first we pictured the new hospital as a boutique facility with many fancy features and much different than the main hospital," says Ryan Conklin, CEC, director and executive chef, Culinary & Nutritional Services, UNC REX Healthcare. "As we continued planning, we decided that we have a solid program with high-level culinary at UNC REX and we don't need to reinvent the wheel. So this became a baby, mini REX. We were much smarter about it, and I'm glad we were."
Photo courtesy of Perkins&WillWith this smaller operation, Conklin expects the foodservice to become a testing site for patient and retail foodservice menu concepts that may be appropriate for the larger facility in Raleigh. "Because Holly Springs Hospital is in a suburban setting, staff and visitors have many restaurants, supermarkets and other dining options, so the foodservice menu concepts must be competitive," he says. A mobile ordering app was recently installed by Collin Jennings, food service manager, Food & Nutrition Services, REX Holly Springs Hospital, and Conklin envisions the facility offering "a huge value" with curbside pickup for people working at medical office buildings and surrounding clinics.
"The REX Healthcare team was looking for high efficiency with a focus on the patients, staff and visitors experience," says Connie Dickson, RD, FCSI, principal, Rippe Associates, Minneapolis. "They were also looking for an innovative hospital and foodservice design to maximize staffing efficiencies, while delivering a high level of care for the next 50 years."
One feature Conklin likes is the fact that the design allows for future growth. "Most kitchens don't have enough room for current and future storage," he says. "The Rippe team looked at not only what we need now but gave us room to expand. Having this kind of space is very rare in healthcare."
The team incorporated all relevant energy-efficient practices. "They adopted not only energy-efficient practices that are good for the facility, but the design also balances functionality with efficiency," says Jessica Dengel, senior project manager, Rippe Associates. Many stations can share staff during slow times, with back-of-the-house hot production next to the tray assembly and the front-of-the-house grill combined with the deli. The coffee shop was designed for future after-hours operations with a sliding door off the back side of the coffee counter that can open for counter service, and the retail space can still be closed off by a security gate.
Floor Plan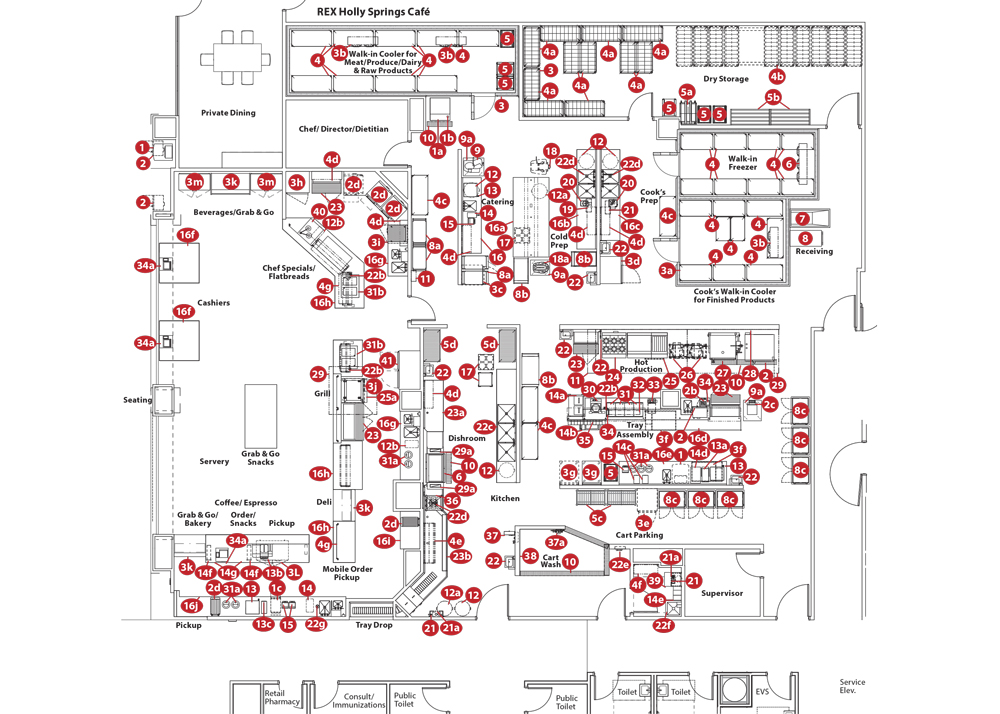 Download the Floor Plan Equipment Key
About the Project
UNC Holly Springs Hospital: 50 beds
Opened: Nov. 1, 2021
Scope of project: Back-of-the-house kitchen for room service, front-of-the-house retail operations and catering, and front-of-the-house retail foodservice
Website: rexhealth.com
Size: Kitchen, 4,200 sq. ft.; servery, 1,800 sq. ft.
Seats: 60 and 12 in private dining/conference room
Average check: $6.19
Total annual sales: $400,000 estimated
Total budget: $1.5 million estimated, including labor and $386,000 for food
Daily transactions/covers: 175
Hours: Room service, 6:45 a.m. until 6:45 p.m.; Cafe, 7 a.m. until 7 p.m.; Grab-and-go after 3 p.m.; seating open 24/7
Staff: 16 employees
Total project cost for hospital: $170 million
Equipment investment: $925,000
The back-of-the-house hot cookline, with the combis at right, was designed to be compact and efficient. One cook works the entire back-of-the-house cookline with (left to right) a six-burner range, a chargrill and flattop combination, two 12-gallon kettles, a tilt skillet and stacked combi ovens. Photo by Collin Jennings
Back-of-the-House Production and Room Service
Food arrives on a ground-floor loading dock. Staff transport deliveries to the second floor via an elevator and place them into a walk-in cooler for raw meat and proteins, produce and dairy, a walk-in freezer and dry storage.
In the ambient prep area, staff prepare mise en place using an automatic slicer, food processor, high-speed food processor, stick mixers and blenders. "We use a sous vide machine mostly for patient menu items such as a grill-marked bistro steak," says Jennings. "Sous vide helps us get the right temperature and consistency for some proteins, like steak, salmon and turkey."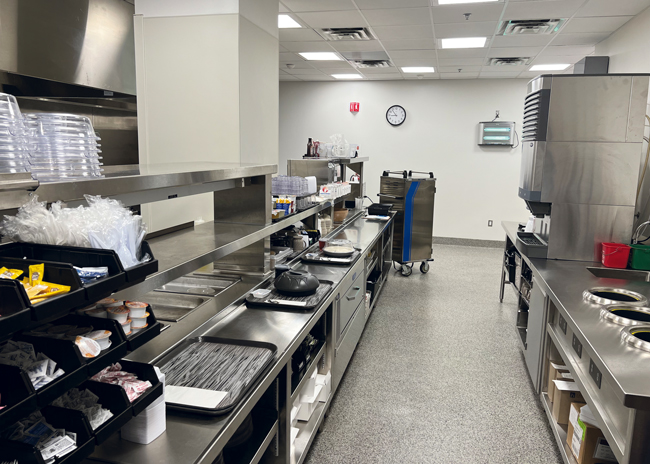 Two staff members work the trayline that moves from left to right. The tray cart sits at the end of the line. On the opposite side is the ice/water maker and dispenser and induction soup warmers. Photo by Collin JenningsStaff also use a 20-quart mixer for making cheesecake batter and sweet dough for cinnamon rolls. They roll out dough for the front-of-the-house flatbreads. A blast chiller supports preparation by cooling proteins used for menu items such as salad, paninis and flatbreads. "We also make cheesecake in-house and place it into the blast chiller to quickly cool down before then putting it into the freezer," Jennings says. He's an enthusiastic supporter of using a blast chiller in Holly Springs and at the main REX Healthcare hospital where he previously worked. "We purchased a blast chiller when UNC REX's main kitchen was renovated five years ago," he says. "It has been a game changer for our department because we can bulk-prep sauces and other menu items, place them in the chiller and know they'll be cooled quickly to transfer them to the cook's walk-in that holds prepared menu items."
In the hot prep area, which serves the patient line and supports the retail concepts in the front of the house, staff use a double-stacked combi oven with a smoker to make cookies, smoked butt ends, lemon pepper flounder fillet, poached salmon previously grilled on the chargrill and pecan-crusted chicken seared on the flattop.
They use a 40-gallon tilt skillet to make sauces and braise proteins and two 12-quart steam-jacketed kettles for making soups and sauces. They make burgers, pork medallions, chicken breasts and vegetables on the chargrill and menu items such as scrambled eggs, omelets, breakfast wraps, pancakes, hash browns and French toast on the flattop. Staff use a six-burner range for sauteing, preparing macaroni and cheese, and making grits and oatmeal.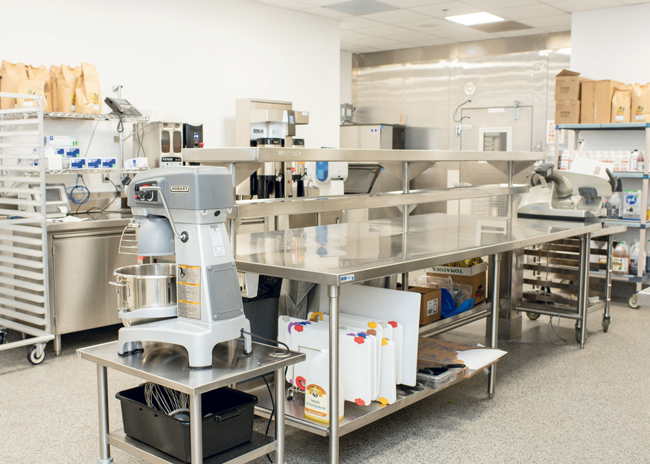 A 20-quart mixer anchors a back-of-the-house prep area. Photo by Jaime Lackey PhotographyThe patient tray assembly area resides across from the hot cooking line. At least three people work the trayline, a cook plus two room service attendants. Staff receive printed patient tray tickets from a call center that receives menu item requests called in by a patient, nurse or family member from 7 a.m. until 6 p.m. The goal is to deliver the trays in one hour, with the last delivery taking place by 7 p.m. Cooks produce and place hot menu items from heated wells on a hot plate warmed by a heated base and cover it with a dome-shaped cover. Attendants place cold items from a display refrigerator and a display freezer, plus condiments and serviceware on the trays. An expediter checks the trays for accuracy and places them into the delivery cart. "This is a very efficient trayline," Jennings says. "We run a tight ship without a lot of fluff. If we ever have double the beds, we'll have to reevaluate staffing."
Four doors located off the main corridor that enter into the foodservice department prevent cross-traffic within the department and cross-contamination between clean and soiled carts. One door is dedicated for receiving. An attendant takes patient tray carts to the three patient floors and delivers trays to patients. Later, the same attendant picks up dirty trays from the room and places them in dirty dish carts on each floor. When the carts are more than half full, attendants bring them down to the second floor where the trays are scraped.
Carts are then washed in the cart wash and parked in dedicated cart parking. "An additional door was added next to the janitor's closet for clean carts that go directly back up the elevators and are parked on the patient floors for soiled tray collection," Dengel says.
The dish room sits behind the retail front-of-the-house servery. It connects to a tray drop-off conveyor from the dining room. Currently only disposables are used for the cafe. "When the pandemic started, we used compostables and biodegradable products," Jennings says. "But due to cost and viability we had to transition to polystyrene. We may use china in the future."
In the front of the house, designers tucked the tray drop in the back of the dining area. "There isn't a lot of room for a tray drop, but we didn't want to close the door on going back to china service someday," Dengel says.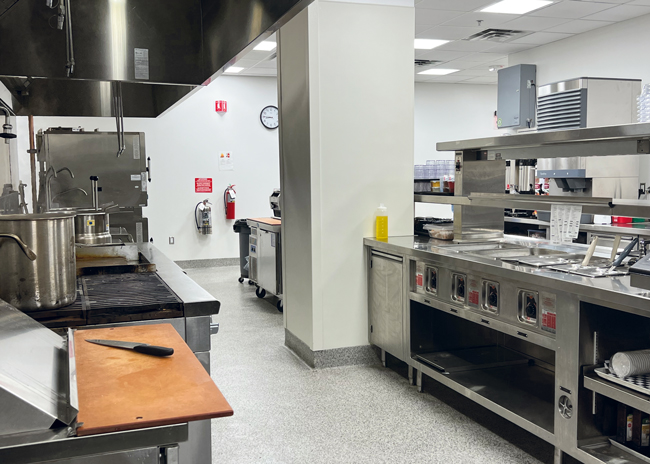 Shown here are the make station, charbroiler and flattop combination, 12-gallon kettles, tilt skillet and combi ovens. At right is the tray make-up station with four hot wells, a heated plate window and ticket rail. A toaster sits at the far left end. Photo by Collin Jennings
Front-of-the-House Cafe Operation
Customers see menu boards above service stations so they can decide what to order. Staff prepares customers' orders. "This cafeteria wasn't designed to be self-serve, though we may offer this in the future," Jennings says. "The pandemic changed how people look at receiving their food, and we're not sure if they will want to go to self-serve."
A staff member prepares eggs on the flattop griddle. Photos by Jaime Lackey PhotographyThe grill features breakfast and lunch menu items. Staff prepare the menu items on a 60-inch refrigerated make station and use hot/cold cabinets that hold ingredients. They use a plancha to cook scrambled eggs, omelets and other egg dishes, pancakes, turkey and pork sausage, corned beef hash, burgers, grilled chicken for sandwiches, beef and chicken for Philly sandwiches, and hot dogs.
A hot well next to the grill features chef's specials of the day such as jerk pork chops with mango salsa, rice and peas; beef fajita rice bowls; steak kabobs; and pork cutlet Parmesan with orzo pilaf, roasted broccoli and garlic knots. The grill cook serves these to customers.
The flatbread and panini station contains a two-insert hot/cold well that holds hot proteins and cold salads and sides, a 48-inch induction top and a 36-inch refrigerated make station. A culinary staff member carves proteins at a stand. "We display flatbreads and paninis in a pan that sits on top of the induction top to entice customers to order from this station," Jennings says.
Four high-speed, ventless, countertop convection ovens heat the flatbreads and paninis. "We had planned to put in a very modern stone-hearth pizza oven," says Conklin, "but as we looked for savings, we decided not to install a hood and go with ventless. Of course, we would like a beautiful, tiled pizza oven as a showpiece, but we can heat at up to 700 degrees F and use quarter-size sheet pans, so we are getting the quality we need with our ventless ovens and we're very proud of what we're doing."
At the coffee bar, which is open until 7 p.m., cashiers use an automated coffee machine to make lattes, cappuccinos, hot chocolates and other drinks. The machine also dispenses flavorings. "It's nice to be able to give the bistro experience without the need for a barista," Jennings says.
Customers also can pick up beverages, as well as grab-and-go sandwiches and salads, from two display-door refrigerators and an air-screen display case. An island near the cash registers offers grab-and-go snacks. An additional grab-and-go/bakery case sits at the coffee/espresso station.
The equipment arrangement gives staff ample space to move but is compact enough to minimize the distance they must travel to fill orders. Photo by Jaime Lackey Photography
Efficiency and Lessons Learned
To get the most from its labor pool, this operation took a fresh look at training staff. "Staff members must be cross-trained so they can work various stations," Jennings says. "In an operation of this size, we have downtimes, so staff who usually work in the front of the house will help at the trayline or back-of-the-house prep. Most employees like this because it gives them different tasks during the day."
Like many operators, Conklin and Jennings have learned many lessons since the outbreak of COVID-19 in 2020.
"We've realized, for example, that we don't have to take so long to process changes," Conklin says. "We can make changes very quickly if we want to."
Conklin and Jennings also recognize how much more attention must be paid to recognizing employees for their hard work and respecting their work-related needs. "We thought we were doing this but realize we can do so much more every day," Conklin says.
He gives an example of how making a change to be flexible with staff's work preferences helps retail staff members, a change he never would have done in the past. He realized he was being too rigid with workplace rules. "I used to be insistent that employees could not play music in the kitchen," he says. "I thought it created an unprofessional and less-than-productive environment. I found out that employees were playing music on weekends when I wasn't around, and they were happier and efficient. I gave in and allow it."
Conklin and Jennings also have come to appreciate not needing to reinvent the wheel with designing new community hospitals and taking advantage of the positive menu and operational programs already in place at the main hospital. REX Holly Springs Hospital will be a testing ground for this realization.
Grab-and-go sandwiches help customers get in and out of the cafe quickly.
Key Players
Owners: UNC REX Healthcare, Raleigh, N.C.
Associate vice president of operations, UNC REX Healthcare: Megan Lumley
Director of business operations, Food and Nutrition, UNC REX Healthcare: Paul Berens
Director and executive chef, Culinary & Nutritional Services, UNC REX Healthcare: Ryan Conklin, CEC
Director of operations, REX Holly Springs Hospital: Melissa Parker
Foodservice manager, Food & Nutrition Services, REX Holly Springs Hospital: Collin Jennings
Architect: Perkins&Will, Durham, Raleigh-Durham, N.C: Tim McAuliffe, technical director
Interior design: Perkins&Will: Arsalan Abbasi, LEED AP BD+C
Foodservice consultant: Rippe Associates, Minneapolis: Connie Dickson, FCSI, principal; Jessica Dengel, senior project manager; Joy Enge, senior equipment specialist
The cafe's menu boards help customers make choices before approaching the serving counters. Photo courtesy of Perkins&Will
Arsalan Abbasi, LEED AP BD+C, interior designer, Perkins&Will. Abbasi joined the firm in 2015. Previously he was an architectural intern at BAM Architecture Studio in Raleigh-Durham, N.C.
Ryan Conklin, CEC, director and executive chef, Culinary & Nutritional Services, UNC REX Healthcare. Before taking on his current position, Conklin came to UNC REX Healthcare in 2008 as a retail manager and executive chef. Previously he was retail manager of the medical center at UNC Healthcare at Chapel Hill.
Jessica Dengel, senior project manager, Rippe Associates. Dengel joined the firm in 2004. Her project experience spans several industries: healthcare, senior living, education, corporate and gaming. She is responsible for working in building information modeling and handles ongoing coordination throughout construction and final inspection.
Connie Dickson, RD, FCSI, principal, Rippe Associates. Dickson joined the firm in 2006, working primarily in healthcare, senior living and corporate markets. A registered dietitian, Dickson also has a culinary degree and has worked in fine dining and food manufacturing.
Joy Enge, RD, senior equipment specialist, Rippe Associates. Enge joined the firm in 1999. She is responsible for cost estimates, equipment selection and research, and specification writing. Other projects include Duke Hospital in Raleigh, N.C., Exact Sciences in Madison, Wis., and the University of Chicago Medical Center.
Collin Jennings, food service manager, Food & Nutrition Services, REX Holly Springs Hospital. Before taking this position in 2021, Jennings joined the main REX campus in 2012 as a cook and was promoted to sous chef. Previously he worked in food and beverage at Pinehurst Resort Country Club, south of Raleigh, N.C.
Tim McAuliffe, technical director, Perkins&Will. McAuliffe joined the firm in 2018 as senior project architect and became technical director in January 2020. Previously he held positions at HOK, Little Diversified Architectural Consulting, Lord Aeck Sargent and KlingStubbins, all in Raleigh-Durham.