The need for horse racing and gambling venue Delaware Park to evolve the hospitality side of its environment, along with the growing popularity of microbreweries, led to the development of 1937 Brewing Company.
Photos by Joe del Tufo, Moonloop PhotographyThe goal of the new brewery, pub-style restaurant and full-service bar, employee dining room and kitchen is to infuse more life into Delaware Park. Situated south of Wilmington and the Delaware Memorial Bridge, the 1937 facility's name refers to the year the racetrack opened.
"Attracting a large, younger crowd to our sports betting activities was a primary driver to opening a new operation," says Bill Fasy, Delaware Park's president and member of its board of directors. "Our events during the past four years have had a craft beer theme, which went over very well and attracted a younger, more affluent crowd."
In addition to attracting a younger clientele, additional project goals included supplementing the large quantity of regular annual beer sales with a craft variety to add seasonality to the operations. "We are very close in proximity to I-95 in the Northeast corridor, which has large seasonal traffic patterns," Fasy says.
"Adding an old-time concept, brewing beer, to a classic thoroughbred racing establishment was a natural blending of two classic venues," adds design consultant John Egnor, president, JME Hospitality, The Woodlands, Texas. "The time was right."
The design project began in the fall before the COVID-19 pandemic. The original opening date was scheduled for spring 2020 but was delayed until June 2021 in great part because supply chain issues delayed deliveries of equipment.
The 1937 Brewing Company sits in the heart of Delaware Park's indoor facility. For the renovation, part of the dining room was the former high roller pit that was relocated. Part of the brewery bar area was Hops Bar, which sat next to the casino stage and entertainment venue now named Stage 37. The employee dining room was relocated to allow for the brewhouse to be placed in its current location. Guests at 1937 sit adjacent to casino gaming including slots, live table games and poker. Large TV screens throughout the brewery allow guests to place professional and college sports bets and watch the games from every area.
The renovation of the mixed-use space created an in-house, 15-barrel craft brewhouse featuring a 7-barrel, 2-vessel electric brewhouse with a 15-barrel hot liquor tank. Guests in the restaurant have an upfront view of the entire brewing process through large picture windows. A full-service bar offers cocktails and handcrafted beers on tap. Stage 37 sits just steps away from the restaurant and bar.
The project also features an entire renovation of a six-decade-old kitchen and an employee dining room, offering staff members a place to refresh and renew. The main kitchen hadn't been renovated since the early 60s and was in serious need of an overhaul. It serves the restaurant and bar and employee dining room, as well as Del Cap Restaurant in the racetrack and a partially covered outdoor Grandstand, a concession stand that provides the best views of seasonal racing action.
As one might expect in an 80-year-old building, construction challenges included clearance issues for wood grandstand ramps as part of meeting the most current building and fire codes along with deteriorating drainage piping that had to be replaced. "The space was in the middle of the grandstand on the ground level, so exhaust ducts needed to traverse the building to the existing roof," Egnor says. "The brewing vessels barely fit into the existing space and special rigging was utilized to work them into position. Mike Barrett, head of the construction for the track, was instrumental in working through all the challenges the project presented."
Despite the challenges, a striking renovation took place. Architects and interior designers R2Architects and R2Interiors of Voorhees, N.J., drew inspiration for the 1937 Brewing Company from the rich heritage and style of traditional and legendary English and Irish pubs. Following classic food and beverage eateries, this new space blends a classic pub with a contemporary microbrewery. The design features mosaic floor patterns, ornate carved woodwork and pressed tin ceilings. "The style is very welcoming, and the spaces are people-friendly in scale, which makes them popular with guests," says John Ruiz, principal of design, R2Architects. This new space also features rich wood tones, decorative moldings, pattern floor layouts, a mix of brick accents, and jewel tones with large viewing windows and openings.
Sitting at the entrance of the two-level restaurant, an impressive horseshoe black granite bar with 14 seats features 10 draught taps for craft brews. Alternating color tiles appear to be waxed and distressed as one finds at a pub. A large-screen television flanked by bronze horse statues on each side calls attention to the decade when the racetrack opened. The television here and those throughout the restaurant allow guests easy viewing of horse track races and other sports events from every seat. A custom chalkboard fashioned after a tote board lists the day's in-house brewed craft beers.
At the two-level restaurant dining room, on the lower level, hand-forged wrought iron railing runs around the perimeter. Four brick stairs above on the upper level, which was formerly a high-limit gaming area, banquet-style seats overlook the bar and Stage 37. The menu features many small bites, as well as a few entrees. "The restaurant gave us an opportunity to add a contrasting approach to our traditional menu offerings of second-to-none crabcakes, steaks, prime rib and award-winning crab bisque soup at affordable prices to complement other offerings of cheesesteaks, pizza, hot dogs and hamburgers in our picnic grove and Del Cap Restaurant," Fasy says.
The kitchen's equipment lineup allows staff members to move easily between stations.
Kitchen Deliveries
The kitchen's directional design flow provides for the culinary staff's ease of use. The layout was designed to drive efficiency. "From the freight elevator delivering fresh food to the kitchen daily, to the silent running walk-in coolers and freezer, the kitchen is set up for high volume and organization," Fasy says.
The food is prepped and organized in multiple refrigerators and freezers within an arm's length to the line cook to ensure consistent fast cooking. Plates are dropped off at the large dish room service window where they pass directly through to the dishwash area. Clean dishes exit and are stored back on the service shelves for the next guest.
"With this layout and equipment, it is possible to get maximum production out of a small staff without sacrificing quality or consistency," Fasy says. "When the work environment is more efficient, the staff is able to raise the production efficiency while reducing stress."
Food arrives on the ground floor commissary level that sits below the renovated space. A receiving team checks in deliveries and makes sure they match the purchase orders. The commissary team places food into storage, including four walk-in coolers for dairy, produce, beer and fresh seafood and fresh meats. A walk-in freezer holds french fries and other menu items. Each morning, commissary team members use a service elevator to deliver menu items to various storage units — a walk-in cooler, a beverage cooler, a walk-in freezer and dry goods area — and workstations on the first floor above the ground level.
After staff prepare food they move it to shelves under the heat lamps to keep it hot before service.The high food production side of the kitchen includes two prep tables and sinks as well as a two-sided chef's table that sits in the center of the production kitchen. Staff perform some dicing and slicing tasks and use a large tilt skillet to prepare soups and sauces, though they requisition most of the mise en place, including additional soups, sauces, sliced meats and vegetables and menu items such as crab cakes from a central kitchen that serves all Delaware Park's foodservices. Other cooking equipment at this station includes a double convection oven, a 60-gallon kettle, a four-burner range with a convection oven beneath, a convection steamer and a fryer.
"We have duplicates of some pieces of equipment at the front cookline because this kitchen serves the brewery restaurant, Race Track restaurant and employee dining room," says Karilyn McClelland, vice president, food and beverage. "So, if the staff becomes overwhelmed on one line they have backup."
"A lot of thought went into the layout of this area of the kitchen," Fasy says. A self-measuring and warming water meter dispenses precise amounts of water into the floor mixer. An adjacent large wood bench-top table allows staff to portion house-made pizza dough or house-made pretzel dough with ease. Staff proof dough in the walk-in cooler. They bake pies, stromboli and stuffed breads in a triple-decker pizza oven. The pizza prep area primarily supports the employee dining room and Del Cap Restaurant.
The main a la carte cookline in the front of the kitchen includes fast-recover deep fat fryers for french fries, chicken wings, chicken tenders, onion rings and signature Belgian pretzel bites that staff first cook in a combi oven. "Flash frying the pretzels gives them a crispy exterior while leaving the inside moist and tender," Fasy says. "Pretzels are served with a little beer mustard, our beer cheese or as a dessert with cinnamon and sugar and a cream cheese dipping sauce."
Also on the line, a convection oven bakes a half chicken and finishes spareribs. Staff use the electric flattop griddle to ensure consistent cooking of crabcakes, corn grilled cheese and grilled sandwiches from edge to edge. "This is a piece of equipment that all the team members really love and has a wide variety of applications throughout the menu," Fasy says.
In addition, staff use a charbroiler to cook hamburgers, a double-drawer broiler for steaks, a salamander for French onion soup. Two refrigerated rails keep ingredients within reach.
On the front service line, a bain marie and freezer sit on each end banking hot steam table wells and hand sinks.
Throughout the project's development and execution, the design team considered sustainability and energy savings. The new kitchen was brought up to all new code requirements and energy standards. "Water usage was addressed with all reduced-flow faucets, reduced usage dishware, water meters for dough production and processed water for cooling refrigeration equipment replacing the domestic water-cooled equipment," Egnor says. "Hoods and exhaust fans with exhaust volume control reduce the power consumption and makeup air volumes. The racetrack was already collecting food waste and utilizing it in its composting program."
The employee dining area gives staff an airy, relaxing environment to dine. Service equipment sits at left.
The Full-Service Bar and Employee Dining Room
The full-service bar, featuring a draft beer system, contains glass rinsers and a measured-pour liquor dispensing system used throughout the casino. Staff serve beer in different glassware to call attention to the variety available.
Along with ordering beverages, guests can order the same food as is served at the restaurant. They can eat and drink at the bar or order beverages to go and take them into the casino.
The employee dining room offers staff members a place to refresh and renew. These employees help themselves to menu items displayed on a buffet line and salad bar or they can order sandwiches and salads from employees who prepare these items. "We offer a daily special every day, as well," McClelland says. A grab-and-go display case at the end of the line contains sandwiches, salads and desserts for staff members who are on a short break from work.
Brewmasters barbecued chicken meal includes a signature derby bourbon barbecue sauce served with chipotle corn bread and coleslaw.Staffing here as at most hospitality venues presents service challenges. Since the pandemic started, McClelland says, several staff members retired or found careers that aren't in the public eye. "It is very hard to recruit new talent," she says. "We move people around from the different restaurants and shift restaurant operating hours. We only seat as many people as we can serve well. We will expand the menu and service hours as we become more fully staffed."
Though 1937 Brewing Company had a slow start due to the pandemic, Fasy says all the park's operations are still financially focused on achieving operating margin goals. "With the long-term reduction of the cost of buying beers to brewing in-house, we will roll out craft beer in our 100,000-plus square foot casino and racetrack as beverage lines are run throughout the physical plant." Fasy and his team expect the brewery, restaurant and bar will attract the old-timers and younger crowd looking for an entertaining experience time and time again.
1937 Brewing Company's Floorplan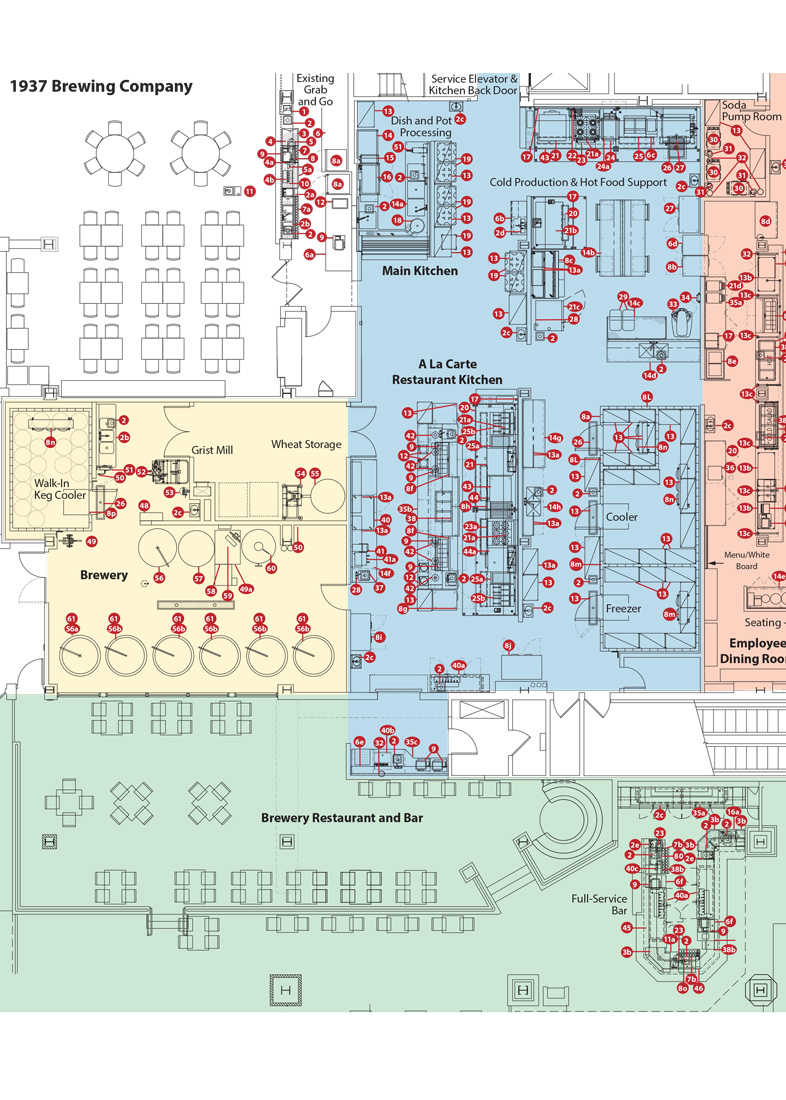 Click here for the 1937 Brewing Company Floorplan and Key
About the Project:
Opened: June 2021
Scope of project: Development of 1937 Brewing Company restaurant and bar, brewery, main kitchen and employee dining room
Equipment investment: $750,000 for kitchen, $250,000 for brewery
Website: delawarepark.com
Size: 1937 Brewing Company restaurant and bar, 6,300 sq. ft.; brewery, 1,300 sq. ft.; main kitchen, 3,000 sq. ft.; employee dining room, 2,200 sq. ft.
Seats: Restaurant, 110 seats; bar, 14 seats
Average check: $19.75
Total annual sales: $1.2 million projected
Daily transactions/covers: 166 estimated
Hours (until fully staffed): 12 to 8 p.m., bar until 10 p.m., Wednesday and Thursday; 12 p.m. until 9 p.m., bar until midnight, Friday and Saturday
Menu concepts and menu specialties: Modern American gastropub food with a European influence, including barbecue chicken, macaroni and cheese, fish and chips and street tacos. Hand-crafted beers on tap in the full-service bar.
Staff: 10 to 12
Total project cost, estimated: $2 million for kitchen; $1.9 million for brewery
Key Players:
Owner: Rickman Family
President: Bill Fasy, CPA
Senior vice president and chief financial officer: Kevin DeLucia
Vice president, food and beverage: Karilyn McClelland
Executive chef: Joshua Keating
Brewmaster: Brad Adelson
Architect: R2Architects LLC, Voorhees, N.J.: John Ruiz, principal of design; David Rudzenski, principal, quality control
Interior design: R2Architects LLC: Susan Corso, senior interior designer
Foodservice design consultant: JME Hospitality, The Woodlands, Texas: John Egnor, principal; Mark Stone, project manager
MAS consultant: Sam Pollock, president, Food and Beverage Consulting Solutions, Las Vegas
Equipment dealer: TriMark Adams-Burch, Landover, MD: Carmelo Scorpo, director of equipment sales
Construction: Delaware Park in-house staff
Brad Adelson, brewmaster, Delaware Park. Before taking on this position in 2021, Adelson worked as brewmaster at Pennsylvania-based Victory Brewing Co. and Michigan Founders Brewing Co.
Susan Corso, senior interior designer, R2Architects. Corso brings 20 years of experience to her position. Other projects include Bally's Wild Wild West for Caesar's Entertainment and Churchill Downs racetrack.
John Egnor, president, JME Hospitality. Egnor began working in hospitality design more than 45 years ago. In addition to The Woodlands, Texas, office, JME Hospitality also maintains offices in Columbus, Ohio; New York; and New Jersey, and performs work in in the virtual realm internationally.
Bill Fasy, president, Delaware Park. Before taking on his current position in 2006, Fasy started at this location in 1996 as general manager and chief operating officer. Previous workplaces include Casino at Ocean Downs & Affiliates and American Gaming & Entertainment Ltd. Inc.
Kevin DeLucia, senior vice president and CFO, Delaware Park. DeLucia came to this company in 1994 and has held positions as accountant and vice president of finance.
Karilyn McClelland, vice president, food and beverage, Delaware Park. McClelland joined this company in 2012 as director of food and beverage. She has held her current position for nearly three years. Previously she worked at various continuing care retirement communities, including as director of food and beverage at Forwood Manor in Wilmington.
Joshua Keating, executive chef, Delaware Park. Keating arrived at this company in 2004. Previously he held positions at White Clay Creek Country Club and Hotel Dupont both in Wilmington and Bottos Italian Line restaurant in Swedesboro, N.J.
David Rudzenski, principal, quality control, R2Architects. He and John Ruiz created this company. Rudzenski previously owned David Rudzenski Architects.
John Ruiz, principal of design, R2Architects. Ruiz took on this position in 2007. Other projects include projects at Caesars Entertainment in Atlantic City, N.J., and Churchill Downs Inc., in Kentucky.