Guests entering the Orange County Convention Center's renovated West Building receive visual clues that something out of the ordinary is taking place.
The Westwood Lobby greets convention-goers with aeroponic growing towers and propagation tables. Culinary staff incorporate the produce, herbs and flowers into menu items. Photography by Emily GalvinThey immediately see the aeroponic gardens, dubbed The Center-to-Table Gardens. The OCCC-owned gardens are run by Centerplate, a Sodexo company, and managed by an aeroponic vendor in Orlando, Fla. Occupying 2,000 square feet, the garden space contains 81 aeroponic growing towers with 3,564 ports for plants. With the towers and the 2 propagation tables, up to 7,000 plants, including lettuces, other vegetables, herbs and edible flowers, grow at one time.
"The towers provide an opportunity to educate our guests about the aeroponic farming method for the future," says Molly Crouch, OCCC's director of sustainability/asset management.
The gardens' purpose is also to educate visitors to the convention center on the practices of responsible food sourcing. Centerplate staff use the fresh produce harvested directly from these gardens in items served in the West Building's newly renovated eateries, dubbed Key Lime Café, Blue Sky Café, Citrus Café and a soon-to-be-named cafe dubbed for the moment as as E/F Café. Ingredients served in items for catered events could also come from the gardens. "The design and equipment purchases feature a more dynamic and inviting atmosphere and style of service, in sharp contrast to the traditional cafeteria-styled food courts," says Crystal Mudd, the OCCC capital planning manager.
The link to the gardens continues in Citrus Café, where guests find two aeroponic growing towers and growing walls positioned on the back wall of Harvest, a concept within the cafe. Guests watch culinary staff take fresh produce from the towers and walls and use these ingredients in menu items.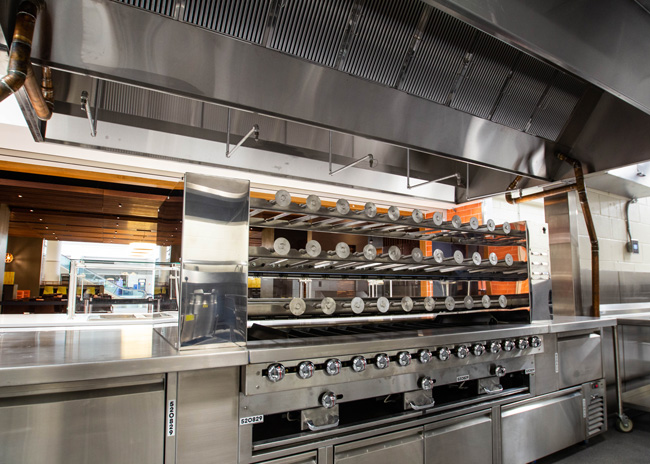 A Latin grill at Citrus Café provides different cooking operations. The spits on tier one and two rotate, while the spits on tier three are stabilized. A chargrill underneath holds spits and can alleviate pressure during peak cooking periods. Temperature knobs allow staff to monitor heat in 14 zones.
When conventioneers approach the renovated cafes, they find bright, colorful environments. "Our architectural partners C.T. Hsu + Associates, P.A., Orlando, Fla., designed a beautiful wood trellis that creates the sense you are truly in another place entirely," says Jennifer Ramski, NCIDQ, IIDA, principal, Ramski & Company, an interior design firm in Orlando. Ramski's firm designed and specified multiple modes of seating, gathering and working areas to offer respite and social space to busy conventioneers.
Prior to this renovation, only minor modifications had been made to the OCCC during the past 30 years. One approach designers took to minimize disruption to the convention center, keep the budget in line and update the appearance, was to specify a flooring that could be installed over the existing terrazzo floors. "We chose a luxury vinyl tile flooring but convincing the facility that a new product would perform to their expectations took effort and research," Ramski says.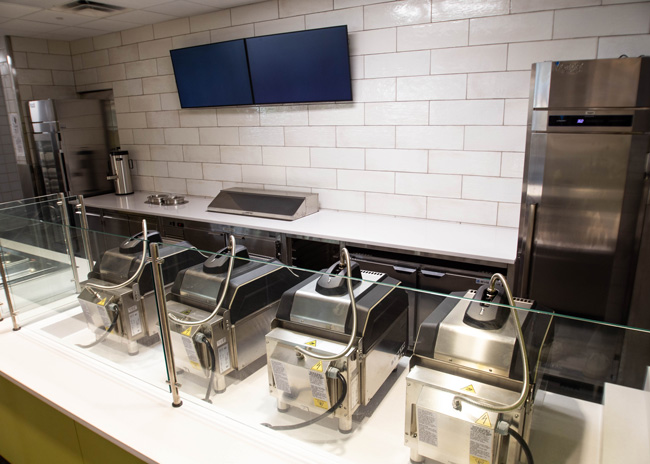 Panini presses at Citrus Café recess into the counter for ergonomic support for staff's arms.As conventioneers approach serving areas, they see digital menu boards displaying the daily menu at each concept. The menu boards' positioning helps minimize queue lines because customers can decide what they want to eat before stepping up to the counter to place an order. "Equipment placement allows customers to move right to left or left to right, so they don't collide while placing orders or while paying, picking up orders and leaving," says Tom Galvin, FCSI, president, Galvin Design Group in Winter Garden, Fla. "This also minimizes the time customers stand in line."
Unlike many convention center food courts, the menus aren't fixed. "This way, we can customize the food offerings for the needs and demographics of each show that comes here," says Peter Minervini, general manager, Centerplate.
The equipment package allows the culinary team, under the direction of Centerplate's executive chef James Katurakes, also known as Chef K, to mix and match different pieces at each cafe so these individual operations can provide customized food offerings. In addition to a long list of menu concepts, customers may also order menu ingredients that complement other sustainable practices at the OCCC. For example, menu items incorporate many local Central Florida ingredients including grass-fed beef from a ranch only 105 miles north of the OCCC.
No matter which menu items they select, customers at Key Lime Café, Blue Sky Café and Citrus Café can get a glimpse of both the back- and front-of-the-house preparation that occurs. At the E/F Café the entire kitchen and serving areas are on display. Customers at all cafes also can select grab-and-go menu items.
Photo by Chad Baumer
Food Deliveries, Storage and Production
When food, beverages and dry goods arrive at the West Building warehouse, a purchasing team verifies the orders' accuracy. The warehouse team sorts the items for retail concessions, culinary and banquet catering departments. Staff members deliver food, beverages and dry goods to designated areas.
Staff take food items that need culinary preparation to a main kitchen on the West Building's fourth floor. They deliver prepared cold menu items to the cafes the day before scheduled service and deliver hot food items in temperature-controlled hot boxes on the day of service.
"Each cafe's kitchen has the equipment for culinary staff to store and prepare at least a day's food for whichever concept is featured," Galvin says. "On really busy days, however, the main kitchen is a necessary support."
Each cafe contains reach-in, pass-through, roll-in, worktop and undercounter refrigerators as well as reach-in and walk-in freezers for the cold food. There is also enough space for the hot boxes for at least one day's service. They also have pizza prep tables and sandwich prep tables.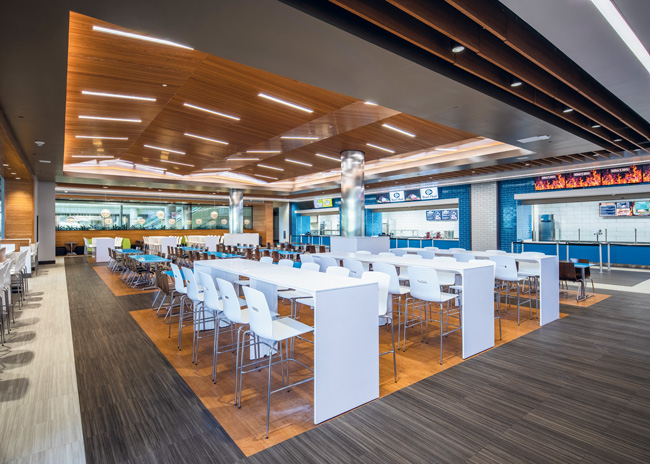 Luxury vinyl tile was installed over the existing terrazzo floors in Blue Sky Café. Multiple modes of seating, gathering and working areas offer respite and social space for busy conventioneers. Photo by Chad Baumer
Cafe Highlights
Despite the ever-changing menu options, the new cafes contain mostly similar equipment with a few exceptions.
At Key Lime Café, built-in heat lamps and lights in the pass-through arch above the counter allow guests to see pizzas that staff place on heated glass under the arch. At right, heated glass can also serve as a frost top.In addition to refrigeration, in Key Lime Café and Blue Sky Café, at the end of one side of the L-shaped serving counter, a beverage area contains a beverage counter with two soda dispensing systems, two ice and beverage dispensers, and two ice cubers. This area also features an espresso/cappuccino machine and a coffee brewer. This busy area opens early in the day and remains open until convention attendees leave.
An upright glass-door refrigerated display case holds prepackaged salads and sandwiches, and beverages. Cashiers can easily reach menu items and pass them to customers. "The glass-front refrigerators behind each POS location allow customers to see fresh food and available beverages that staff can easily reach as needed," Galvin says.
Making as much flexibility for the culinary team as possible, Galvin arranged for front and back counters to contain 120/208 volt, three-phase electrical power to lower the amp draw so multiple appliances can be plugged in as necessary for the various menu items offered.
As customers move along the serving line, they may find the Italian area branded La Mia Famiglia if that is one of the concepts selected for operation that day. Chefs dress prerolled dough with toppings held in a refrigerated prep table and undercounter refrigerators. They cook pizza in an impinger-style deck oven for approximately five minutes. Culinary staff then cut and plate the pizza for immediate service to guests.
A cut-and-box table sits behind a counter, holding a pan chiller and two hot food display cases. Two vertical refrigerators support this area. Customers pick up pizza slices from a pass shelf or receive their order boxed.
An induction plancha heats tortilla shells for the Tortilla Junction concept, which staff top with ingredients held in wells that can switch from hot to cold to frozen. "The wells also help conserve energy because they are only kept at the temperature needed for any type of menu item," Galvin says.
In addition to stand-up and undercounter refrigerators, this section also contains a countertop hot food display case, a pan chiller, a nacho chip warmer and a pass-through cabinet.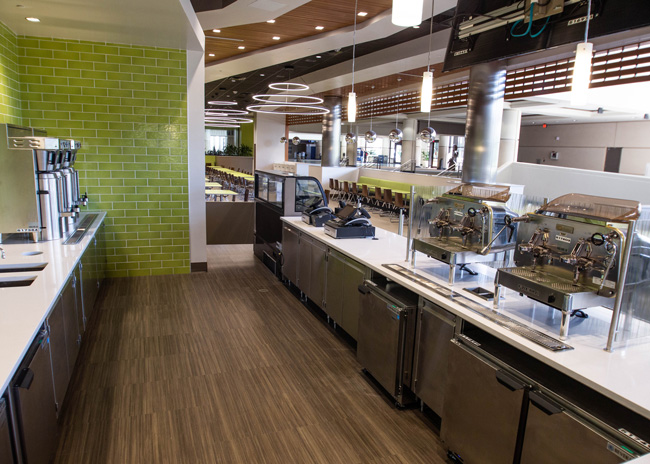 Behind the POS at Key Lime Café stand a chip warmer and a display refrigerator. To the left sit a tortilla warmer and induction warmer. Front and back counters contain electrical load centers that allow for equipment to be easily added and taken away.
An adjacent station — sometimes branded OC Spice if the convention host selects this concept — at the Blue Sky Café features a cookline that allows staff to assemble a burger or sandwich from start to finish. Preparation begins when staff place fresh hamburger buns in a toaster, then place them into a service boat and slide them up to the chargrill station. Here, staff cook hamburger patties and place them on one side of a toasted bun (if requested). If a guest requests any additional hot toppings, such as sauteed mushrooms or onions, culinary staff pull these items from a countertop bain-marie that keeps the items warm before placing them on the burger patties. Once topped, the burger moves to the cold condiment prep station, where staff add lettuce, tomato, onion and pickles as requested.
Blue Sky Café displays its espresso machines to the left of the POS area and coffee behind the POS."At this point, the burger boat is briefly placed in the large pass-through window for the front service staff to finish it up directly in front of the guest with additional specialty sauces if requested," says Katurakes. "This design allows the guest to see the kitchen production brigade at work through the large opening in the wall separating the front- and back-of-house areas."
This cafe's equipment package also includes a toaster, a fryer, a combi oven and a high-speed sandwich press that warms bread or paninis on both sides. One display refrigerator holds salads and another one holds beverages. Hot wells hold everything from french fries to burgers as needed during a busy traffic period.
Blue Sky Café contains a coffee station and spaces for staff to produce menu items for concepts including La Mia Famiglia and OC Spice. If The Carvery is selected as an operating concept for the day, customers will see two manual meat slicers on the front service line. "This provides guests the unique experience of getting their sandwich meats carved and prepared especially for them," Katurakes says. "Guests receive a fresh, hand-carved sandwich prepared at the time of their order versus opening a cooler and heating a sandwich that was made hours or sometimes a day in advance."
Citrus Café holds induction equipment for staff to produce menu items for the La Mia Famiglia, OC Spice, Panini Soups & Salads, and Barilla concepts. Induction equipment here and at each cafe employ electromagnetic heating elements in an on-demand heating approach. Placing pans directly on the induction burner reduces cooking time.
This cafe also contains a combi oven, a charbroiler, a range and a fryer. A Brazilian grill serves as a showpiece with rotating spits on two tiers and stabilized spits on a third tier. "On heavy traffic days, staff put spits on a chargrill to provide one extra tier for cooking," Galvin says. "The temperature knobs can be adjusted so there are 14 different cooking zones to allow cooking several different types of foods simultaneously."
E/F Café also features menu items from many concepts. This cafe contains an open kitchen so customers can watch food preparation and cooking.
At the back counter at Citrus Café, electrical equipment can be plugged in or taken out beneath the display counter. Equipment can be placed on glass or heated shelves above.
Efficiencies for Productivity and Labor Savings
"The opportunity to maximize culinary production efficiencies at the convention center first requires an overall understanding of the client's expectations and the operational knowledge of how our team can best meet and exceed those expectations," Katurakes says.
The chef and the culinary team first review the foodservice numbers from a past show, which allows them to forecast and plan more efficiently. Second, they consider how much food they will need to order and produce to meet this goal. "When our team is able to get the most accurate information on expected attendance numbers and overall show demographics, we are better able to order and prepare the appropriate amount of product without over- or under-ordering," Katurakes says.
Katurakes adds that the most challenging aspects of efficiency are related to labor forecasting and the team's constantly changing production schedules. Essential elements such as minimizing transaction times, reviewing point-of-sale reports and executing speed-scratch cooking techniques allow the team to make in-show adjustments as needed to improve efficiency as the show ramps up or slows down. "Following best practices that have been developed and reengineered post-show are keys to continued improvements in efficiency," he says.
Soon after the food courts opened at the end of 2019, convention attendees expressed their delight at having so many choices of menu items served in bright, inviting environments. OCCC and Centerplate will continue to tweak the menus to find the ideal offerings for customers who have high expectations for variety, quality and speed of service. The design project features equipment that allows maximum menu flexibility and subsequently long-term guest satisfaction. It also provides the hosts with a strong return on investment.
Floorplan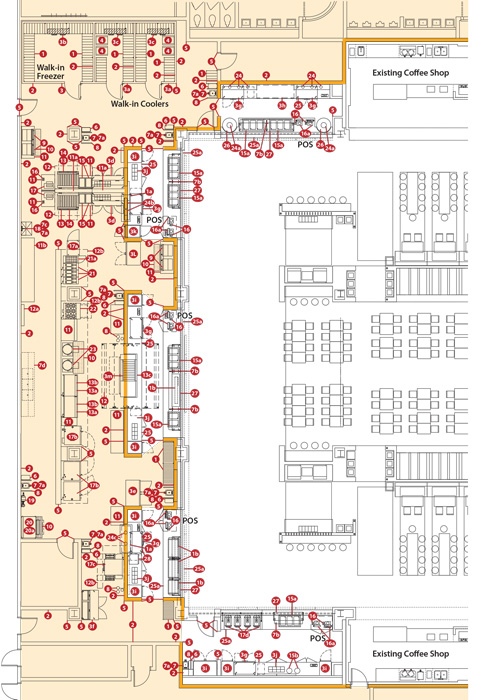 1. Shelving
1a. Pass shelf
1b. Heated shelf food warmer
2. Wall cladding
3. Walk-in freezer
3a. Walk-in cooler
3b. Freezer coil
3c. Cooler coil
3d. Sandwich/salad preparation refrigerator
3e. Reach-in freezer
3f. Pizza preparation refrigerator
3g. Reach-in undercounter refrigerator
3h. Four-door display refrigerator
3i. Reach-in refrigerator
3j. Pan chiller
3k. Pass-through refrigerator
3l. Roll-through refrigerator
3m. Refrigerated base, self-contained
4. Production racks
5. Corner guards
6. Trash container
7. Hand sink
7a. Service faucet
7b. Fill faucet
7c. Can/mop sink
7d. Three-compartment sink
8. Ballords
9. Coffee brewer
10. Trough drain
11. Table
11a. Filler section
11b. Prep table
12. Hood
12a. Hood control
12b. Hood and fire system
13. 14-inch charbroiler
13a. Countertop griddle
13b. Equipment stand
13c. 72-inch Latin grill
14. Equipment stand, refrigerated base
15. Hot wells
15a. Hot/cold food
15b. Soup wells
16. Printer
16a. POS/cash
17. Conveyor toaster oven
17a. Cook/hold oven cabinet
17b. Combi oven
17c. Pizza oven
17d. Microwave/convection oven
18. Chemical/soap cabinet
19. Water filtration system
20. Ice bin
20a. Ice maker
21. Fryer and fry basket
21a. Dump station
22. Six open-burner range
23. Kettles
24. Grow lamps
24a. Grow light
24b. Heat lamp
24c. Light kit
25. Back counter
25a. Counter
26. Mobile grow tower
27. Food shield with heat lamp
28. Countertop hot food display case
E/F Café features an open kitchen and serving area.
About the Project
Opened: Key Lime Café and Blue Sky Café reopened post-renovation in December 2019. Citrus Café opened in July 2021 (the seating area was part of a previous project); E/F Café (name TBD) also opened in July 2021.
Scope of project: A complete renovation of the front-of-the-house servery and back-of the-house space for Key Lime Café and Blue Sky Café. Both cafes received new coffee bars. The cafes' makeovers included preparation and serving areas, seating where applicable and menu displays. The Citrus Café renovation included the front-of-the-house servery and the back of the house. E/F Café's (name TBD) renovation featured a front-of-the-house servery with an open kitchen.
Equipment investment: $1.6 million
Website: occc.net
Orange County Convention Center (OCCC) and Centerplate: The OCCC spans 7.1 million square feet and hosts nearly 200 events, conventions and trade shows annually. The OCCC partners with Centerplate as its exclusive food and beverage foodservice provider. The campus divides into two buildings: the 3-million-square-foot North-South Building and the 4-million-square-foot West Building. OCCC began operating at its full capacity in July and will host The NAFEM Show this month.
West building food court area: 26,182 sq. ft.
In Citrus Café, equipment (seen here from left) includes a double-stacked combi oven, two flattop griddles, two tilting kettles and a six-burner range. The equipment lineup also includes three fryers, a dump station and a conventional oven.Key Lime Café
BOH: 2,630 sq. ft.
Servery: 1,624 sq. ft.
Seating: 5,789 sq. ft.
Seats: 166
Blue Sky Café
BOH: 1,936 sq. ft.
Servery: 1,574 sq. ft.
Seating: 6,155 sq. ft.
Seats: 185
Citrus Café
BOH: 2,641 sq. ft.
Servery: 1,520 sq. ft.
Seats: 177
E/F Café (Name TBD):
BOH: 1,522 sq. ft.
Servery: 791 sq. ft.
Seats: 162
Average check: $10 to $15
Hours: The hours of each cafe vary with each conference but are usually open for the duration of a show's exhibit hall hours.
Menu concepts* available to convention hosts
Aroma Pasta & Salad
Arroz Con Pollo
Barrilla
Boar's Head Deli
Break Time Café
Café New Orleans
Carvery*
Center Garden
Chloe's Soft Serve Fruit
Create-A-Bowl
The Crepe Factory
Croissant Studio
Cubano Café
Dippin' Dots
Dumpling House
Euro Dog
Ezra' BBQ
Florida Citrus Grill
Florida Fresh Market
Häagen-Dazs Ice Cream
Habana Grill
Haru Poké
Haru Sushi
Harvest
Hill of Beans
Inka House
Island Time Caribbean
La Mia Famiglia*
Lil the Lil' Rover
Lil' Orbits Donuts & Coffee
Mint Indian
Nacho Loco Cart
OC Spice Grill*
Panini Soup & Salads*
Papa John's Pizza
Power Up
Pretzel & Lemonade
Quik Chix
Rotisserie Chicken
Sandwich Zone
The Smoke House
Starbucks Coffee
Steakhouse Burgers
Southern Charm
Taco Twist*
Taste of Asia*
Taste of the Mediterranean
Taste of Philadelphia
Tortilla Junction*
Waffle Bell

*a popular concept choice among convention hosts
Staff: Varies for each show and based on demand
Total project cost: $13 million
Key Players
Orange County Convention Center
Project manager: Vicki Weaver
Capital planning manager: Crystal Mudd
Centerplate
Ambassador: Harry Amadeo
General manager: Peter Minervini
Executive chef: James Katurakes, aka Chef K
Director of sustainability/asset management: Molly Crouch
Architect: C.T. Hsu + Associates, P.A., Orlando, Fla.: Tim McNicholas, AIA, partner and design principal, and Harry Sempeles, senior project manager
Interior design: Ramski & Company, Orlando, Fla.: Jennifer Ramski, NCIDQ, IIDA, principal
Foodservice consultant: Galvin Design Group Inc., Winter Garden, Fla.: Tom Galvin, FCSI, president
Equipment dealers: Key Lime Café and Blue Sky Café, Clark Foodservice, Sarasota, Fla. Citrus Café, 7 Gens LLC, Irving, N.Y. E/F Café, Clark Foodservice and H Mack, Pittsburgh
Molly Crouch, director of sustainability/asset management, Centerplate. Crouch joined Centerplate in 2008. She was previously with Universal Orlando for 10 years.
Tom Galvin, FCSI, president, Galvin Design Group Inc. Galvin has worked on more than 1,200 projects worldwide, including Cask & Larder OIA, Whiskey Cake in Tampa, Fla., Smokey Bones restaurants and Seasons 52 in Orlando, Fla.
James Katurakes, aka Chef K, executive chef, Centerplate. Katurakes joined Centerplate 26 years ago. His job takes him to different convention centers, including Las Vegas Convention Center and Music City Center in Nashville, Tenn.
Peter Minervini, general manager, Centerplate. Minervini joined OCCC in April 2013. Previously he was general manager for Centerplate at the Woodruff Arts Center in Atlanta and held other positions at The Ellis Hotel and Georgia World Congress Center, both in Atlanta.
Crystal Mudd, capital planning manager, OCCC. Responsible for the development and implementation of the OCCC's capital improvement projects, Mudd has 14 years of experience in the construction and project management industry, with a portfolio that includes CIP and renovation projects within active environments such as Epcot Center, Orlando International Airport and the OCCC.
Jennifer Ramski, NCIDQ, IIDA, principal, Ramski & Company. Previously working with both architecture and interior design firms in her early career, Ramski founded this firm in 1989. Currently the studio is involved in hospitality, entertainment, aviation, civic, corporate, education and healthcare projects.
Harry Sempeles, senior project manager, C.T. Hsu + Associates, P.A. Sempeles joined the firm as an intern architect from 2001 to 2004 and rejoined the firm in 2015. Other projects include the Inverness Depot Pavilion, Orlando City Soccer Stadium and Seminole High School/Career Vocational Education Building.
Vicki Weaver, project manager, OCCC. Weaver has 30 years of construction and project management experience. Her first job with OCCC was as a project manager in 2013 working for Cost Management Inc. on capital projects. In 2015, she was hired on by OCCC as a full-time project manager with capital improvement projects.