A retirement community in Oregon elevates the traditional independent senior living experience.
With their new project at Lake Oswego in Oregon, the owners of The Springs Living wanted to enrich the lives of their senior residents and enhance the educational components of their many program offerings. They believed that one of the best ways to elevate the traditional independent living experience typically found in senior living was to create a dining experience that significantly enhances resident satisfaction and participation outcomes.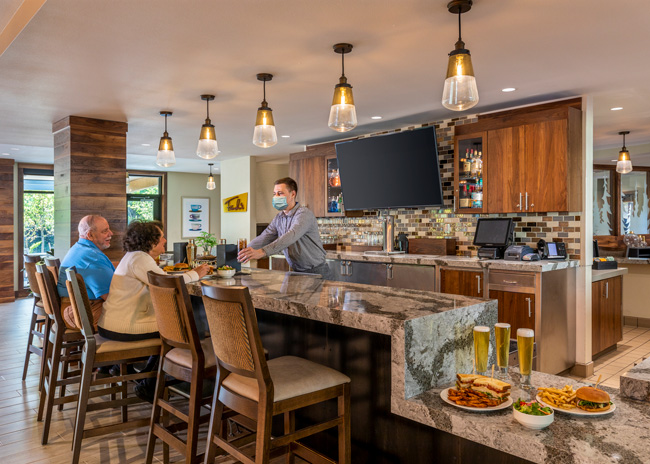 Photos by Zachary Fletcher, The Springs Living
The Springs at Lake Oswego features Pacific Ridge, a fine-dining venue with exhibition-style cooking; a glass-encased private dining room for a chef's table experience and temperature-controlled glass wine wall; Fancho's Pub; Lillian's espresso and tea bar; and a rooftop grill and bar area for special occasions, football tailgate parties, casual social gatherings and wine-tasting events. The main kitchen supports the majority of foodservice operations. Dining operations also include support kitchens for residents in assisted living and memory care.
"This facility is intended to be part of an active community, offering senior residents lifestyle choices," says Sam Currie, culinary director for The Springs Living. "It is designed to be flexible to meet menu and dietary demands. The dining operations allow us to showcase our food values and kitchen principles that we call Art of Delicious."
The project team's goals included collaboratively designing a unique interactive dining facility and incorporating sustainable design elements that offer a valuable return on investment while maintaining high-quality standards. The team met these goals while staying on time and on budget.
All aspects of the foodservice operations allow staff and residents to interact. "The foodservice operator can operate out of one or multiple locations as needed," says Ray Soucie, FCSI, LEED AP, senior project manager, Webb Foodservice Design in Portland, Ore. "Each kitchen contains unique equipment that is not reliant on the other, so operators have flexibility in the type and quantity of menu offerings, which is particularly helpful during the COVID-19 crisis."
The dining configuration splits to offer a choice of Fancho's Pub, at left, or Lillian's, an espresso and tea bar, at right.
Architecturally, connections to the outdoors represent a key design feature throughout the senior living community. "Using a double ring configuration, the building creates two interior courtyards and a rooftop terrace," says Ray Yancey, director, LRS Architects, Portland, Ore. Each of these areas connects directly to dining venues that correspond to the various levels of care within the community. The south-facing dining rooms invite the outdoors in and connect directly to covered landscaped plazas with amenities like a fire pit, radiant heaters, a movie screen and water features.
The interior design pulls the outside into the dining spaces with a warm and inviting palette of materials such as natural walnut trim and stone accents. "These biophilia attributes are reinforced with rich patterns and color hues reminiscent of Northwest landscapes," Yancey says.
One challenge facing the architects was the site's building height limitation, which restricted the floor-to-floor height. This created issues with ceiling heights in dining spaces and with kitchen ventilation. "Strategic use of double-height spaces in the dining room along with prime solar orientation of these spaces and extensive use of glazing mitigated these ceiling heights by maximizing daytime lighting into these areas," Yancey says. "To address the kitchen hood venting, careful attention was used in positioning vertical shafts, while creative hood design was used to mitigate this condition."
The design team combined five exhaust hoods and duct shafts into one. The team members specified a demand-control system that eliminated the need for multiple duct shafts and fans. The ducts had to rise up four stories in shafts that competed with valuable residential living space. "The net result was a savings in energy consumption, reduced construction costs, reduced noise, increased living space and an environmental payback," Soucie says.
In addition, designers specified remote refrigeration for both back-of-the-house walk-ins and front-of-the-house undercounter refrigeration. "This provided extra, valuable cold storage space under the cooking suite and various prep stations," Soucie says. "It also reduced heat and noise in the work space and contributed toward a quieter display kitchen."
"The use of central refrigeration, the remote nature of the exhaust hoods from the roofs and the open kitchen to the dining space was a challenge for the HVAC design," adds Chris Shelby, director of design for The Springs Living. "Using central refrigeration managed the heat gain in the space by not having so many individual heat-producing devices. The remote nature of the exhaust hoods precipitated increased fan sizes and shafts through the building's four stories."
Coordinating exhaust systems and refrigeration systems while using different manufacturers presented the design team with a challenge. "All engineering data and routing requirements needed to be addressed earlier than normal in the design process and committed to by all disciplines," Soucie says. "A change in one manufacturer's specs could create a domino effect in utility shaft requirements. We needed to ensure adequate space remained available in the limited utility shaft space. The design team communication had to stay at the top of our game."
The scullery equipment sits away from the floor to expedite cleaning. Photo courtesy of Ray Soucie
Back-of-the-House Food Preparation
Kitchen designers were given a clean slate to design the space. "We had an idea of the footprint, but the building itself was unique in its design with angled walls and different levels," Soucie says.
"We had to think out of the box for placement of stations," Soucie says. "We designed the flow from deliveries through serving with a circular flow pattern to avoid cross-contamination."
The receiving/delivery area and production kitchen all use traditional flow and alignment outcomes. However, the space is rather unique in its trapezoidal shape so the design elements in the production kitchen incorporate a single room space, which includes all of the cooking and prep stations, the dish room and scullery areas. "We intentionally kept the throughput of waste against one wall and though the scullery to prevent cross-contamination as waste is recycled," Soucie says.
Food deliveries arrive at the main loading dock servicing the entire building. The kitchen off the main loading dock contains four areas: dry storage, chemical and paper storage, refrigeration with two walk-in coolers (one for meat and dairy, the other for produce), and a walk-in freezer.
"Storage is ample enough for us to update menus monthly to reflect seasonality of produce and other menu ingredients and give chefs creative freedom with menu development," Currie says. "For instance, in December, the culinary team cooked seared scallops with sweet potatoes and roasted mushroom mousse. Storage also allows us to regularly offer the residents — many of whom are at least 80 years old — their favorite comfort foods such as pot roast, pasta, and fish and chips."
Currie and the culinary staff realize the importance of menu variety. "For many residents, dining is one of — if not the — main highlight of their day," Currie says. "It must be a positive experience day in and day out to receive high-quality, tasty food and interact with staff and with each other."
Staff work in the back-of-the-house pantry using prep sinks, food processors and slicers to prepare salads, sandwiches and mise en place for hot food. "Using an automated produce wash station allows us to buy strawberries, lettuce and other produce directly from farms," Currie says. "The sink has a gentle cleaning motion, and we can add a produce wash solution. This is similar to the type of machine you'd find in a produce house but smaller."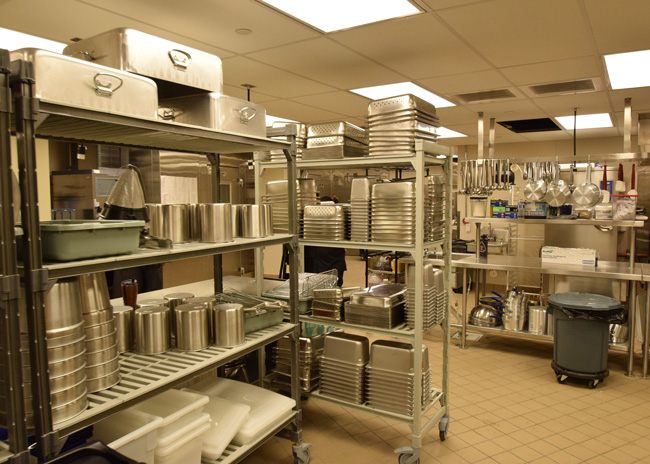 Top: Mobile drying racks allow staff to keep the kitchen organized and clean at all times. Photo courtesy of Ray Soucie
One of Currie's and the staff's favorite pieces of equipment, the blast chiller, allows them to preserve fruits and vegetables when the produce is at its peak ripeness and serve them year-round rather than buying these products in winter months from warmer weather locales such as Mexico and South America. For example, in October, staff purchased cauliflower from a local farmer who had excess product, froze it in the blast chiller, then moved it into containers and into another freezer. Later the chef roasted the cauliflower in the pizza oven and served it au gratin for dinner. Staff also freeze stocks in the blast chiller.
Staff in the cold prep area use a blender, immersion blender, food processors and automatic slicers to prepare nearly all menu items from scratch. In addition to mise en place for hot entrees, staff in the cold section prepare ingredients for soups, Mediterranean and other themed bowls, salads and build-your-own sandwiches.
The back-of-the-house kitchen includes a low-temperature cooker/blast chiller, a combi oven, a tilting skillet and a six-burner range. Photo courtesy of Ray SoucieThe hot food line sits adjacent to the cold prep area. The line contains a 30-gallon tilt skillet, a six-burner spider-top range for making sauces and small batches of ingredients, and 2 combi ovens that allow staff to steam, fry, roast, bake and smoke menu items. "The combis and blast chiller are the two most valuable pieces we've placed in the equipment package here," Currie says. "The combis and the tilt skillet are our workhorses. Together with all of the equipment, we can perform every cooking function."
"The space is very well thought out," Currie says. "There's not a lot of walking and distance to be covered."
The back of the house also contains a bakery production area with a combi oven that is close enough to the front of the house for residents and visitors in the dining room to take in the scents of fresh-baked bread, muffins and cookies. Though hidden from sight from the dining room, residents and visitors can see it when they walk up toward the exhibition area.
Sitting nearby, an upright glass-back display refrigerator holds produce and charcuterie that staff use to prepare cold sides, salads and sandwiches. "We intentionally designed a glass back and inserted it through a wall," Soucie says. The refrigerator sits at the end of a residential hallway that leads to the dining room. "It is intended as a wayfinding beacon that accentuates fresh greens and produce. It is intended to celebrate food."
Adds Currie, "This display tells residents and guests that everything we use in the kitchen is fresh and seasonal."
A countertop circular grill sits at one end of the cooking suite in the exhibition kitchen. The deck oven at right contains a sliding-glass door that moves up and down and allows views of the flames. The baking area sits in the back.
Front-of-the-House Exhibition Area
A chef adds finishing touches to menu items. To the right of this display kitchen, the wraparound counter drops down so residents with walkers can get close enough to see food preparation. Culinary staff also hold cooking lessons here.Back-of-the-house staff take other ingredients in carts to upright, countertop and undercounter refrigerators at the production station. This area contains a kitchen suite with a built-in hand-washing station, bain-marie, a saute station with a flattop griddle, a fryer and a radiant broiler. The suite also holds a countertop, a circular flattop grill with undercounter freezer and refrigerated drawers.
"The front of the suite doesn't contain shelving, so it is very open, clean and uncluttered," Currie says. The back of the suite contains open storage shelving out of guests' view. "We can do fun exhibition cooking of grilled Alaskan salmon, Dungeness crabcakes, burgers, fries and breakfast sandwiches," he adds. Nearby drop-in, low-energy-consumption hot wells hold sauces and sides.
A combi oven on the line allows staff to bake menu items such as chicken potpies, lasagna and casseroles, as well as finish cooking chicken breasts and steak. Staff prepare these items in the back of the house and retherm them in the oven. "Retherming it here is quicker than cooking from a raw or cold state. We are still cooking everything from scratch so we can maintain the flavor and overall quality of the menu items," Currie says.
Culinary staff prepare many menu items in the back of the house, which allows them to control food safety and outcomes, such as maintaining consistent flavors. "Having the right equipment in the back of the house allows us to staff the back with highly skilled culinarians and staff the front with team members who can more simply finish menu items and assemble plates," Currie says.
The exhibition kitchen also features a pizza area. Staff use a countertop mixer to prepare dough they top with sauce, vegetables and proteins. They bake pies as well as calzones and flatbreads in a deck oven with a glass display door that opens to reveal flames, which can be seen from afar.
Other attractive visual elements at the exhibition station, such as brass heat lamps and soft lighting, eliminate an institutional-style ambience. "The area has a clean look so residents and visitors in the dining room see something beautiful," Currie says.
Upon completing food preparation, staff members deliver menu items to residents seated at tables. Prior to this step, staff use computer tablets to take orders and transmit the requests to the kitchen staff.
Another dining option, a glass-encased private dining room for a chef's table experience, sits adjacent to the exhibition kitchen and features a temperature-controlled glass wine wall with an extensive wine library. "Our residents may also store their personal wine collections with us for easy access to their favorite wines," Currie says.
Fancho's Pub and Lillian's
A full-service pub, Fancho's Pub, allows residents and guests to dine in a casual environment and share wines, beer and full liquor/cocktail service. The restaurant, which offers breakfast, lunch and dinner, also offers grab-and-go takeout service. This area contains a coffee brewer; an espresso machine; a grinder; a blender for smoothies, blended cocktails and mocktails; and an underbar ice bin. To prepare and finish menu items, staff use a rapid-cook oven. Residents often come here to watch television, read their newspapers and socialize.
Named after The Springs Living founder Fee Stubblefield's grandfather, Fancho's menu features items staff prepare in the main kitchen and finish in a support kitchen. Residents can order from the Fancho's menu or the main dining room menu. The main dining room menu options are available from 11:30 a.m. until 8 p.m.
Staff serve residents and guests menu items prepared in the exhibition kitchen, including omelets, burgers, beef hot dogs, pulled pork sliders, gnocchi gorgonzola, Baja fish tacos, chicken wings and three-cheese pizza. Residents also can order salads, build-your-own deli sandwiches and soup. Staff use a rapid-cook oven to warm cookies, pastries, breakfast sandwiches, cobblers and pie.
Lillian's, named after Stubblefield's grandmother, features espresso and a tea bar with loose-leaf and tea purses, which are fabric or cloth bags that hold loose-leaf tea. A bakery display, which changes depending on the daypart, features breakfast pastries in the morning, cookies and bars at midday, and fancier desserts and chocolates in the evening.
A oversized chess set sits on the rooftop area. Photo by Zachary Fletcher
Assisted Living and Memory Care Finishing Kitchens
The main kitchen staff produce menu items for the two assisted living floors with capacity of 117 residents and deliver the items in carts to a full kitchen. Staff in assisted living assemble menu items and also use a flattop griddle, a six-open-burner range, a combi oven and a radiant broiler to cook breakfast to order as well as hot and cold sandwiches, salads and comfort-style entrees for lunch and dinner. Residents may dine in a full-service dining room with guest seating available for everyday use. Staff take meals to residents' rooms upon request.
Residents in the memory care area, which has a 24-person capacity, dine together. Staff use a four-open burner range with a griddle and conventional oven beneath to prepare breakfast items and other menu items such as grilled sandwiches and cookies. "The food scents encourage people to get up and activated in the morning," Currie says. Residents also receive a selection of entrees prepared in the main kitchen, as well as salads, soups, fresh fruit and snacks.
The dining area also contains a small ice cream and smoothie bar. "Residents here like to snack a lot and eat small portions of food," Currie says.
The Future
Since the COVID-19 pandemic began, residents can visit with each other and staff while wearing masks and social distancing. No families or visitors are allowed yet. "We don't want to lose people to loneliness and isolation," Currie says. "So, we've spread out tables in the dining areas and implement practices to keep them safe. We're still offering celebrations and theme dinners for residents. Food is so important to residents, and we're doing everything we can to create positive experiences at each meal."
About the Project
Opened: January 2020
Scope of Project: This new-build project includes a fine-dining venue with exhibition-style cooking for independent living residents and guests, a lounge, and an espresso and tea bar. A new main kitchen supports the offerings, in addition to two separate support kitchens on the second floor for assisted living and memory care residents. A rooftop terrace provides outdoor dining areas.
Website: thespringsliving.com
The Springs Living: owner and operator of 18 senior communities in Oregon and Montana
The Springs at Lake Oswego: 216 apartments. The breakdown includes 75 independent living units, 117 assisted living units and 24 memory care units.
Size:
Pacific Ridge: 4,010 sq. ft., which includes the exhibition kitchen; an additional 326 sq. ft. for the chef's table and wine wall
Main kitchen: 3,735 sq. ft.
Fancho's Pub: 1,600 sq. ft.
Lillian's: 830 sq. ft.
Assisted living support kitchen: 1,060 sq. ft.
Memory care support kitchen: 403 sq. ft.
Rooftop terrace: 20,000 sq. ft., which includes 2,000 sq. ft. for outdoor dining areas
Seats: 120 in the main dining room; 45 in Fancho's Pub
Average check: Residents purchase meal plans as part of their rent agreements. Guest check average for breakfast, $8; lunch, $10; dinner, $16
Annualized food spend: $1.2 million, which includes meals, special events and holiday celebrations
Weekly transactions: At full occupancy, approximately 6,000 resident and guest meals per week, in addition to 200 to 300 staff meals
Hours: Pacific Ridge, 11 a.m. to 8 p.m.; Fancho's Pub, 7 a.m. to 8 p.m., with the pub menu served from 11:30 a.m. 8 p.m.; Lillian's, 7 a.m. to 8 p.m.
Menu specialties: Pacific Northwest cuisine featuring local and sustainable foods
Staff: 45 employees
Total project cost: Approximately $71.4 million
Equipment investment: Approximately $1.3 million
Key Players
Owner: The Springs Living, McMinnville, Ore.
Founder and CEO: Fee Stubblefield
Chief operating officer: Brenda Connelly
Chief people officer: Lisa Maynard
Chief financial officer: Molly Vaughan
Culinary director: Sam Currie
Executive chef: Rod Sanders
Director of design: Chris Shelby
Architect of record: LRS Architects, Portland, Ore.: Ray Yancey, director
Design architect: Myhre Group Architects, Portland, Ore.
Interior design: Myhre Group Architects; LRS Architects: Lisa Warnock, director
Foodservice consultant: Webb Foodservice Design, Anaheim, Calif.: Ray Soucie, FCSI, LEED AP, Portland, Ore.
Equipment dealer: Smith and Greene, a division of Edward Don & Co., Portland, Ore.
Construction: Todd Construction Inc., Tigard, Ore.
Sam Currie, culinary management, The Springs Living. Currie joined The Springs Living in May 2015. He has worked for 30 years in restaurant management, operations management and consulting, including in foodservice contract management for 17 years with colleges and universities, business and industry, and museums and concessions.
Rod Sanders, executive chef, The Springs at Lake Oswego. Rod Sanders joined this company in October 2019 as executive chef. During his 40 years of experience, Sanders has worked for Leisure Care and Brookdale Senior Living, two Hilton properties and several restaurants.
Chris Shelby, director of design, The Springs Living. Shelby worked with architectural firms including RAR Architects, Concentric Architecture and Myhre Group Architects before coming to The Springs Living in 2008. He has a long history of senior housing experience, as well as project work that includes multifamily, large retail, sacral and custom homes.
Ray Soucie, FCSI, LEED AP, senior project manager, Webb Foodservice Design. After 26 years as principal of RSA Inc. in Portland, Ore., Soucie joined Webb Foodservice Design in 2016. He works in higher education, K-12, healthcare, hospitality, business and industry, and specialty markets. His passion is designing sustainably toward a path to net zero.
Lisa Warnock, director, LRS Architects. During her more than 20 years of professional experience, Warnock was a principal with Myhre Group Architects in Portland, Ore., before joining LRS in 2017. She works on senior living, multifamily and mixed-use projects.
Ray Yancey, director, LRS Architects. Yancey has more than 30 years of professional experience. He joined LRS in May 2019. During his 30 years of experience, Yancey previously was a principal with Myhre Group Architects in Portland, Ore. He works on senior living, religious and mixed-use projects.
Green Features
A large rooftop terrace contributes to reducing the heat island effect and rainwater runoff for the project.
During peak garden season, culinary staff hope to use at least 15% to 25% locally sourced produce. They also buy from Northwest-based
dairies and meat and poultry companies.
Compartmentalized cooking options prevent the need for all kitchens to operate at all times.
Water-saving elements include waste disposal elimination, an ice maker that uses 15% less energy and 40% less water, low-flow faucets and
dry-only heat wells.
Electrical components that contribute to energy savings include demand-control ventilation, which reduces the HVAC demand to heat incoming air; combined remote rack refrigeration with scroll compressors and environmentally safe refrigerants; low-wattage heat wells and heat lamps; induction soup wells; and all-LED lighting for foodservice and cold storage.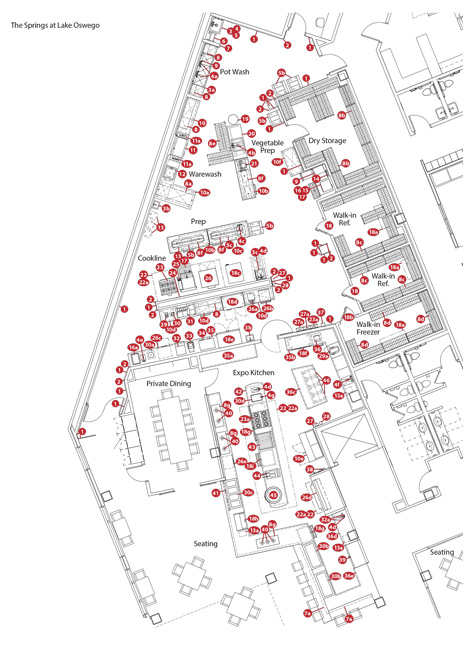 Floorplan Equipment Key
1. Bumper rail
2. Corner guard
3. Janitor's mop sink
3a. 3-compartment sink
3b. Pedestal hand sink w/faucet
3e. Hand sink w/soap & towel dispensers
4. Janitor's sink faucet w/vacuum breaker
4a. Splash-mounted, high-flow utensil sink faucets
4b. Prerinse assembly faucet
4c. Deck-mounted prep faucet
4d. Deck-mounted, 4-inch hand sink faucet
4e. Deck-mounted pantry faucet
4f. Prep sink faucet, splash-mount
4g. Hot well fill faucet
5. Janitor's mop rack
5a. Utensil rack
5b. Roll-in rack
5c. Ceiling-mounted utensil rack
6. Wall-mounted central spray system
7. Wall caps
7a. 28-inch die wall
8. Wall shelf
8a. Rack overshelf
8b. Dry storage shelving units
8c. Refrigerator storage shelving
8d. Frozen shelving units
8e. Mobile shelving unit
8f. Overshelf
8g. Drop-in heated stone shelf
9. Busing cart
10. Clean dish table
10a. Soiled dish table
10b. Island worktable
10c. Island worktable w/prep sink
10d. Worktable
10e. Pizza prep table
10f. Mobile worktable
11. Dish machine w/internal booster energy
11a. Vent cowl
12. Scrap collector
13. Trash receptacle w/dolly
13a. Counter trash receptacle
14. Water filtration system
15. Ice maker
16. Ice bin w/transport cart
16a. Ice bin
17. Floor trough
18. Walk-in refrigerator
18a. Evaporator coil
18b. Walk-in freezer
18c. Reach-in blast chiller/shock freezer
18d. Work top refrigerator
18e 2-door reach-in refrigerator
18f. 2-door undercounter refrigerator
18g. Refrigerated base w/drawers
18h. Mug chiller
18i. Freezer base w/drawers
19. Vegetable dryer
20. Produce washer
21. Flood slicer
22. Exhaust hood
22a. Hood trim & closure panels
23. 6-burner open range w/base
23a. 4-burner open range
24. Wall flashing
25. 30-gal. tilting skillet
26. Double convection oven
26a. Conveyor toaster
26b. Convection oven
26c. Drawer warmer
26d. Hearth deck oven
26e. Heated drawers
27. Fire pull box
27a. Fire protection system
28. Class K fire extinguisher
29. Drink mixer
29a. 20-qt. mixer
30. Heated washer well
30a. Induction soup well
30b. Drop-in cold units
30c. Drop-in hot/cold units, 4-pans
30d. Drop-in hot well
31. Ice cream dipping cabinet
32. Beverage dispenser
32a. Soap & towel dispenser
33. Iced tea brewer
34. Coffee maker
35. Work counter w/utility sink
35a. Work counter
35b. Work counter w/prep sink
35c. Island baker's counter
35d. Service counter w/hand sink
35e. Service counter w/bar counter
36. Digital portion control scale
37. Demand control ventilation
38. Pizza tool set
39. 2-door refrigerated display case
40. Drop-down heat lamp
41. Food shield
42. Cooking suite (handwashing station, bain-marie, saute station, radiant broiler, refrigerated undercounter drawers, waffle station, flattop griddle)
43. Radiant broiler
44. Fryer
45. Circular grill w/undercounter freezer drawers
46. Mobile ingredient bin