An all-you-care-to-eat dining commons and a retail cafe offer students myriad new menu and seating options.
For the first 86 years of its existence, beginning in the 1930s, the University of Saint Joseph (USJ) in Hartford, Conn., operated as a private university for women. Facing declining enrollment, USJ became a fully coeducational school beginning with the 2018-19 academic year and added a NCAA Division III men's basketball program and more. McGovern Hall was built in the 1950s. "This expansion necessitated a gut-renovation of the mid-century McGovern Hall to enhance the facility and meet current and future students' needs for dining, social interaction and campus events," says Chad Floyd, FAIA, principal at Centerbrook Architects & Planners in Centerbrook, Conn.
The renovation of the first floor of McGovern Hall's McGovern Dining Commons featured minimal changes to the kitchen. Before the new servery opened, kitchen staff prepared most food for the servery. Now, kitchen staff prepare some ingredients and menu items for the servery and all menu items for catering. What stands out to guests, of course, is the new all-you-care-to-eat servery with seven stations designed as microrestaurants, two beverage stations and moveable doors to close off the space from the common area that hosts special events. In addition to updated seating areas, the space also features a new coffee shop and retail offering, Jay's Nest. The project also renovated the building's campus store, meeting spaces and second-floor offices.
Since this was the only dining operation on campus, a temporary solution was necessary for the months when McGovern Dining Commons was under construction. "A temporary dining commons was built on campus and removed when McGovern Hall opened," says Kenneth Bedini, the university's vice president for Student Affairs.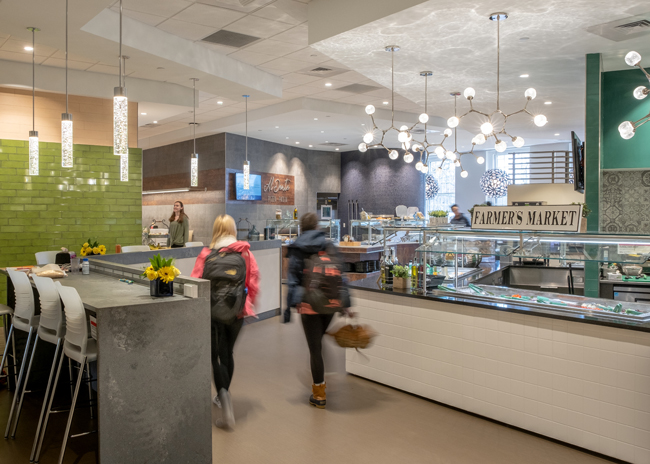 Natural and incandescent lighting brighten the dining space.
Back-of-the-House Production
New equipment includes a combi oven, a tilt skillet, a three-compartment sink and a prep sink. The project team also reconfigured dry storage, installed a new walk-in freezer and overhauled the dish room.
"The previous dry and freezer storage areas were insufficiently sized for the facility, and as a result dry storage was spread out throughout the facility," says Nona Golledge, principal at Bakergroup, a Grand Rapids, Mich.-based foodservice consulting firm. The redesign focused on consolidating and increasing storage adjacent to the kitchen and receiving area. The former mechanical room was relocated, providing an opportunity to add 100 square feet of freezer space and 125 square feet of dry storage. Dining management offices were also consolidated in the redesign to facilitate coordination and communication.
Food deliveries arrive at a loading dock at the back of the building. Staff transport items to four walk-in coolers as well as an older freezer, a new walk-in freezer and two dry storage areas.
Staff in the back of the house prepare mise en place and perform light preparation such as chopping and dicing vegetables. They also cook roasts, stews, soups and baked goods using a steam-jacketed kettle, a flattop griddle, a chargrill, two fryers and a convection oven.
"This is a standard prep kitchen with designated cold and hot prep areas," says David Hebert, Sodexo's general manager of USJ Dining Services.
The dish room required an update and a slight expansion to improve the flow of soiled and clean items. "The dish room flow wasn't working, especially from the drop-off window," Golledge says. "This created an eyesore to the dining room and a bottleneck of soiled dishes during peak times." The dish room also needed a new configuration of the scrapping area. A newly added carousel dish accumulator replaces the soiled dish drop-off window. The previous dishmachine remains intact.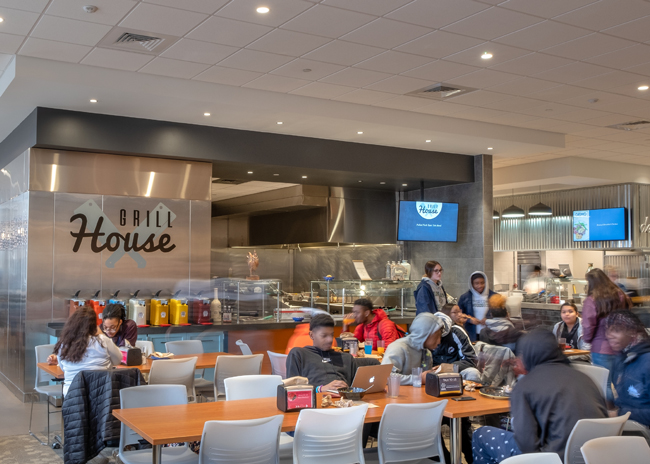 A range of seating options place diners close to or farther away from food preparation and windows.
Front-of-the-House Servery and Dining Areas
The McGovern Hall renovation completely overhauled the building's first floor. "Since McGovern is a multiuse facility on campus for all-you-are-to-eat dining, retail foodservice, seating, event space, student programming and so forth, it was important the design include spaces that can be easily transformed from a dining room to an event space, for example," Golledge says.
To create this ease of transformation for staff, most tables and booths sit on casters. Curtains surround the central dining room area to create a more private event space when closed and a more inviting social space when open. Moveable doors can create three distinct spaces, when necessary, for student programming or campus events.
The facility's three dining areas allow staff to use each for campus events and programs or to entertain students while they dine. During meal times, guests can access the all-you-care-to-eat program and choose to sit in one of the three dining areas. The lounge area near the entrance serves as a main hangout throughout all dayparts, and staff can use this for casual programming. The main dining area surrounds most of the food concepts and features programming for smaller groups of students. The transitional dining area, which can accommodate student dining and programming support for larger groups or private events, sits between the main dining area and the entry lounge dining area.
The design allows for all three dining rooms to be open at the same time, Golledge says. If an event is taking place in the middle space in the evening, the entry lounge dining area is available to students for socializing and studying. Meanwhile, Jay's Nest, the retail market and grill, stays open late to satisfy students' food and beverage needs.
"The overall servery had some tight space constraints with venues in fairly close proximity to one another, so making sure there was a balance between venue identity and character and overall cohesiveness in design was key to making this space a great dining destination," says Kaiti Oppenhuizen, associate IIDA, interior designer and consultant at Bakergroup.
Each of the seven microrestaurants has a distinct character and offers myriad menu items. "The new servery is stunningly beautiful and built to be contemporary well into the future," Herbert says. "We wanted students and other customers to see much of the food preparation. We have all necessary equipment at each station, including prep coolers, a walk-in refrigerator and other refrigerators that hold ingredients and menu items that staff bring from the kitchen for each meal period. We don't have to go to the back of the house to get anything during meal periods."
Al Dente, open for lunch and dinner, features a gas-fired hearth pizza oven. Flames greet customers as they enter the dining area. Staff bring dough balls from the kitchen to the front-of-the-house prep area so staff here can roll out the dough and add sauce. "Staff make personal, thin-crust, 10-inch pizzas," Hebert says. "We were selling slices, but since COVID, we don't want people sharing and needed to get customers in and out more quickly, so the personal pizzas are better." This station also offers herb-seasoned breadsticks, lasagna and other pasta dishes such as spaghetti and sauce that staff assemble in the back of the house and cook in the hearth oven.
Classics & Co, which operates for dinner only, features homestyle meals displayed in hot and cold serving wells. Staff in the kitchen prepare most of these menu items such as roasted vegetables, steamed corn, ginger miso tofu, macaroni and cheese, meatloaf, fried chicken and sage-roasted turkey breast. Staff working in the front carve roast beef and other proteins as students watch.
Stack offers made-to-order deli sandwiches with a variety of proteins and breads. Pita sandwiches can include a variety of fillings such as spicy Korean tofu. Staff warm sandwiches in a high-speed convection oven. This foodservice concept also serves salads, soups and sides.
Plant Forward features made-to-order vegetables, proteins including beans, tofu and chicken, as well as salads, soups, fruit and granola. Prior to COVID-19, Plant Forward contained a salad bar called Farmer's Market; that has since changed, and the station now prepares made-to-order salads. At breakfast, customers find oatmeal, cereal, yogurt and fruit in this area.
Grill House contains a flattop griddle, two fryers, a refrigerated make table, a toaster, a high-speed microwave/convection oven, two prep coolers and a walk-in cooler. The morning offering includes breakfast items such as made-to-order omelets, scrambled eggs, pancakes, egg and cheese on a kaiser roll, home-fried potatoes, vanilla Belgian waffles, ham steak and French toast. For lunch, staff use the equipment to prepare burgers, hot dogs, grilled cheese sandwiches, herb-grilled chicken breast sandwiches, fried chicken sandwiches, steak and cheese grinders and french fries.
Simple Servings, a signature Sodexo-branded station, offers allergen-free menu items for lunch and dinner. None of the menu items contain milk, eggs, wheat, soy, shellfish, peanuts, tree nuts or gluten. This area contains a reach-in cooler, a reach-in freezer, a make table and a dishwasher. Staff use a two-burner range, two convection ovens, two steamers and a fryer to prepare three to four menu items with proteins each day such as Cajun chicken breast with peach chutney and top round London broil. They also prepare three to four side dishes such as garlic-roasted green beans, corn, tomato and basil salad, yellow rice with black beans, oven-roasted Greek potatoes and roasted carrots.
Demo Daily gives chefs an opportunity to show off their talents for lunch and dinner service. They use a four-burner range, a make table with refrigerated drawers beneath, a rice cooker and hot/cold holding wells to prepare stir-fries, lo mein noodle dishes, pho and ramen.
At Desserts, customers find chocolate chip cookies, tres leches cake and blondie bars. Soft-serve machines dispense ice cream.
Two beverage stations each offer coffee drinks, assorted juices, ice teas, milk, soy milk, lactose-free milk and soft drinks. This operates with the same self-serve format as it did pre-COVID-19.
After selecting their meals, customers find seating at traditional low-top and high-top tables, booths and banquettes, and lounge areas. An outdoor dining terrace faces a tree-lined quadrangle originally designed by renowned landscape architectural firm the Olmsted Brothers. Students have direct access to the terrace from the dining lounge. "The overall space is tight, and the team was able to insert pockets of seating," Oppenhuizen says. "However, we had to be sure to maintain clearance for circulation around all the venues."
Jay's Nest, a retail operation, features brand-name coffee and tea drinks, as well as prepared snacks and meals. Jay's Nest also contains refrigeration to hold ingredients throughout service periods as well as a pot sink and an undercounter dishmachine. Staff prepare menu items using a refrigerated prep table, a griddle, a charbroiler with a refrigerated base beneath and a fryer. A convection microwave heats sandwiches. The area also contains soup wells and a vertical toaster for heating bread. Staff use blenders to make smoothies and coffee and tea brewers to prepare the popular beverages. An ice machine and bins as well as upright display cases for grab-and-go menu items complete the equipment package.
Since its opening, customers have offered rave reviews about the new McGovern Hall. "This operation was built with the ability to expand," Hebert says. "So, if we get an influx of residential students, this facility will be able to accommodate them. It was very thoughtful of the school to think long term."
The entrance to McGovern Dining Commons showcases the daily menu.
About the Project
Size: 27,000 sq. ft.
Seats: 325 including an outdoor dining terrace
For the fall semester: Dining services are fully open under the state's directives for restaurants. Per the state's COVID-19 mandates, Sodexo reduced the Dining Commons to 50% of its capacity, eliminated self-service food options, reorganized seating to increase social distancing, installed safety shields to be able to keep all stations open and trained staff on new food serving and cleaning protocols.
Average check: $11 in McGovern Dining Commons; $7.85 in Jay's Nest
Daily transactions/students: 590 in McGovern Dining Commons; 65 in Jay's Nest
Hours:

Jay's Nest: 8 a.m. to 11 p.m., Monday through Friday; 5 p.m. to 11 p.m., Saturday and Sunday
McGovern Dining Commons: 7:30 a.m. to 1:30 p.m. and 4:30 p.m. to 8 p.m., Monday through Friday; 10 a.m. to 1:30 p.m. and 4:30 p.m. to 7 p.m., Saturday and Sunday

All-you-care-to-eat concepts: Classics & Co (homestyle entrees); Desserts; Stack (deli made-to-order sandwiches and side dishes); Plant Forward (vegan and vegetarian menu items); Grill House (grilled menu items); Al Dente (pizza and pasta), Simple Servings (allergen-free menu items); Demo Daily (made-to-order chefs' creations)
Jay's Nest offerings: Branded coffee and tea, smoothies, snacks and meals
Staff: 35 employees
Total project budget: $11 million
Equipment investment: $1.4 million
Opened: January 2020; closed due to COVID-19 from March 17 until August 29
Scope of project: Complete renovation of the first floor of the building, including a campus store; offices; meeting spaces; an events space; a new retail operation called Jay's Nest; renovation of the front-of-the-house dining hall servery with seven microrestaurants, including two beverage stations and moveable doors to close off the servery from common space used for catering/special events; seating; kitchen equipment enhancement and dish room remodel; and dining area remodel
Total annual sales, projected: $1.7 million
Customers find grilled menu items, snacks, to-go sandwiches and salads, and coffee and tea drinks at Jay's Nest.
Key Players
Owner: University of Saint Joseph, West Hartford, Conn.
President: Dr. Rhona Free
Vice president for Student Affairs: Kenneth M. Bedini, interim vice president for Student Affairs
Director of facilities: Andy Levesque
District manager, Sodexo: Mike Ward, General manager of Dining
Services, Sodexo: David Hebert
Director of operations, Sodexo: Melanie DeJesus
Executive chef, Sodexo: Jeffrey Scarpa
Architect: Centerbrook Architects & Planners, Centerbrook, Conn.: Chad Floyd, FAIA, principal; Charles Mueller, AIA, senior director and project manager
Interior design: Centerbook Architects & Planners in Centerbrook Conn. and Bakergroup, Grand Rapids, Mich.: Lindsay Grab, NCIDQ, LEED Green Associate, interior designer; Casey Szcesniak, interior designer; and Kaiti Oppenhuizen, interior designer
Equipment dealer: Johnson-Lancaster and Associates Inc., Clearwater, Fla.
Foodservice consultants: Bakergroup: Mona Milius, vice president and senior principal, and senior designer for this project; Nona Golledge, operations principal, and principal-in-charge for this project
Equipment dealer: Johnson-Lancaster and Associates Inc., Clearwater, Fla.
Construction: FIP Construction, Farmington, Conn.: William Hardy, president
About the Key Players
Kenneth Bedini, vice president for Student Affairs, University of Saint Joseph. Bedini joined USJ in 2017. In addition to his current position, during his 43-year career in higher education, Bedini was vice president of Student Affairs at Eastern Connecticut State University. He also served the National Association for Campus Activities for 10 years, culminating as the chairperson of its board of directors in 1992. He was also a consultant for High Impact Training, helping colleges and universities with organizational analysis, planning and assessment.
Chad Floyd, FAIA, principal, Centerbrook Architects & Planners. During his 44 years with the firm, Floyd has designed projects around the country for academia, the arts and civic institutions.
Nona Golledge, operations principal, Bakergroup. Prior to joining Bakergroup in 2016, Golledge was director of KU Dining Services at University of Kansas. Other projects include the new West Campus Dining Center at Texas A&M and the new Student Innovation Center at Iowa State University.
Lindsay Grab, NCIDQ, LEED Green Associate, interior designer, Bakergroup. Before joining Bakergroup in December 2014, Grab was an interior designer at Charter House Innovations.
David Hebert, general manager of Dining Services, Sodexo. Hebert joined Sodexo in 2001. A previous position includes director of dining at Nichols College in Massachusetts.
Mona Milius, vice president and senior principal, Bakergroup. Milius joined Bakergroup in 2007. Previously she was director of dining services at the University of Northern Iowa. Other projects include Illinois Street residence dining renovation at the University of Illinois; the new North Dining Center at Ball State University; The Foundry renovation at Colorado State University; and New Williams Village at the University of Colorado Boulder.
Charles Mueller, AIA, senior director and project manager, Centerbrook Architects & Planners. Mueller joined the firm in 1984. His experience spans 35 years designing academic and cultural buildings.
Kaiti Oppenhuizen, interior designer, Bakergroup. Oppenhuizen started with the firm in May 2011.
Casey Szcesniak, interior designer, Bakergroup. Prior to joining the firm in July 2013, Szcesniak was an interior designer at Charter House Innovations.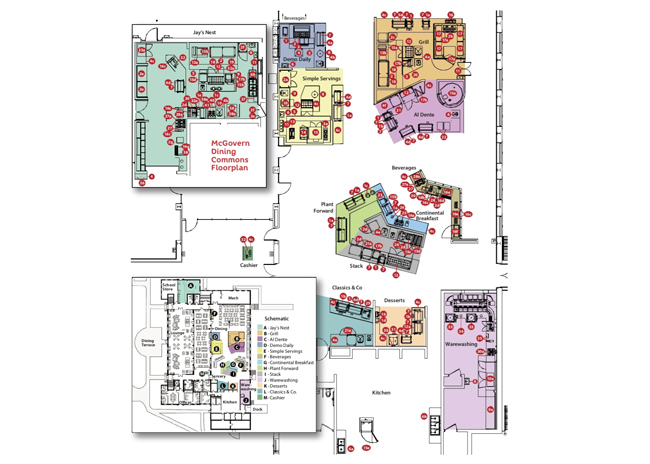 Floorplan Equipment Key
1. Hot well
1a. Cold well
1b. Hot/cold well
1c. Soup well
1d. Heated condiments well
1e. Dipperwell
2. Refrigerated base
2a. Reach-in refrigerator/freezer
2b. Walk-in refrigerator evaporator
2c. Undercounter freezer
2d. Undercounter refrigerator
2e. Reach-in refrigerator
2f. Reach-in freezer
2g. Countertop refrigerator
3. Range with cold rail
3a. Range
4. Mobile work counter
4a. Hot/cold counter
4b. Counter w/sink
4c. Counter
4d. Heated counter
4e. Counter w/sink & hand sink
4f. Counter w/hand sink
5. Ventilation hood
6. Hand sink
6a. Prep sink
6b. Pot sink
7. Food shield
8. Rice cooker
9. Worktable w/sink
9a. Clean dish table
10. Undercounter dishmachine
10a. Dishmachine
11. Fire suppression system
12. Refrigerated prep table
12a. Frost top
13. Fryer
13a. Fryer dump station
13b. Fryer bank
14. Steamer
15. Double convection oven
15a. Gas-fired hearth oven
15b. Toaster
15c. Panini press
15d. Convection microwave oven
15e. Combi oven
16. Condiment dispenser
16a. Waffle batter dispenser
16b. Infused water dispenser
16c. Cup dispenser
16d. Juice dispenser
16e. Soy drink dispenser
16f. Milk dispenser
16g. Soda dispenser
17. Storage rack
17a. Dunnage rack
17b. Undercounter mobile tray rack
18. Griddle
19. Charbroiler
20. Vertical toaster
21. Undercounter mobile hot cabinet
21a. Mobile hot cabinet
22. Cutting board
23. Bread and bagel display
23a. Bakery display case
24. Syrup warmer
25. Waffle baker
26. Slicer
27. Airpot
27a. Airpot stand
28. Tea brewer
28a. Coffee brewer
29. Carving station
30. Filler faucet
30a. Prerinse faucet
31. Soft-serve machine
32. POS terminal
32a. Printer
33. Scrap collector
34. Accumulator
35. Hose reel and controls
36. Order screen
37. Overshelf
38. Ice machine
39a. Ice bin
40. Blender
41. Blender pitchers