MetroHealth Main Campus Medical Center, Cleveland
A creative renovation project provides a three-year, temporary training ground to improve patient and customer satisfaction before moving into a new hospital.
MetroHealth broke ground in April 2019 for a new 11-story hospital and reimagined campus in Cleveland. The goal for the hospital and the 25 acres of green space around it is to catalyze the revitalization of MetroHealth's west side neighborhood. The MetroHealth Transformation Project is a complete re-envisioning of how the company provides healthcare to the northeastern Ohio region. Construction is expected to be complete in 2022 with care for patients beginning in early 2023.
While waiting for the new facility to be complete, MetroHealth System administrators faced a conundrum in 2019: What to do about the existing patient and retail foodservices during the remaining three years until the new facility opened.
A comprehensive customer survey conducted in late 2018 confirmed what administrators already knew: Guests were not satisfied with the food or service. The patient services' retherm equipment was at the end of its life and failing, so it could not meet the hospital's needs for three more years. The existing retail serving area was undersized and had awkward circulation patterns as well as limited stations and equipment for made-to-order menu items.
MetroHealth administrators agreed to invest generously in an ambitious renovation of the existing patient tray service and retail dining as a stop-gap solution until moving into the new hospital.
For patient service, the decision was made to convert to an entirely on-demand room service model, which allows patients to order food any time of day and receive made-to-order meals. "This approach allowed us to meet other project goals, such as matching equipment and cooking methods to future requirements at the new hospital, which will also have on-demand patient service," says Connie Dickson, FCSI, principal, Rippe Associates, Minneapolis.
The enormous magnitude of initiating an on-demand service model was not lost on Patricia McClain, MBA, RD, LD, director of Nutrition and Dining Services. "We are grateful for the administrative support to implement this service model at the existing hospital before moving into a new facility," she says. "Though some staff members were already familiar with a hybrid model for MetroHealth System's maternity patients and two of MetroHealth's two small community hospitals, all culinary staff needed to be given the opportunity to master customer-forward culinary service before moving into a new facility."
Additional project goals included minimizing costs for equipment and construction, respecting the fragile infrastructure for exhaust, electrical and plumbing, and minimizing disruption during construction.
The project also included revisions and renovations to MetroHealth Cafeteria to improve the quality of food and customer service. "The cafe was a series of food stations that were not clearly distinguishable from one another and in need of an update," says Robert Donaldson, RA, NCARB, LEED AP B+C, Fitwel Ambassador, architect and project manager, Moody Nolan Inc. "By clearly defining foodservice areas, customers can quickly find what they want intuitively and be more satisfied with their purchases."
The project team of MetroHealth, Moody Nolan and Rippe Associates faced many challenges. "We solved these through our collaboration and with great team chemistry," Donaldson says. "The project had an aggressive schedule, conservative budget and could not impact the daily operations of one of the nationally ranked public hospitals."
The project team worked with the project's construction manager, Whiting-Turner Contracting Co., during the design process to fast-track procurement of foodservice equipment and develop construction phasing plans to keep the project on schedule and minimize impact to the hospital. The team considered a wide range of options, from finishes to equipment, to keep the project on budget.
Room service cooking equipment supports made-to-order menu items. Photo courtesy of Rippe Associates
Ground-Floor Renovation for Patient Meal Service
"For the kitchen space, we utilized the existing footprint," Donaldson says. "We utilized spaces that were previously used for the scheduled meal service, such as coolers and staging, to create an efficient kitchen layout for the made-to-order service."
The ground-floor room service project took place in two phases. Phase one, the primary phase, began with a project kick-off in September 2019. Construction staff closed the entire space encompassing what became room service, including the room service cookline, the cold line and holding areas. "We rerouted cart traffic and moved the small amount of cooking that had been done on that end of the hood down to the unaffected end," McClain says. The construction activities lasted until early November when the project team moved into the foodservice equipment receiving and install phases.
The ground-floor second phase removed the basic infrastructure of the old retherm units. "We were able to ready the area in November but had to wait for our actual conversion to room service to demo those units," says McClain.
During each phase of the ground-floor kitchen and upper-level retail cafe renovations, the project team concurrently worked with the MetroHealth Information Services team to plan all information technology needs to coordinate the purchase and installation of digital menu boards, digital display boards to help staff assemble and deliver meals and the IT needs to convert the diet office to a room service call center. "Denise Lemin, clinical nutrition manager for MetroHealth, was instrumental in coordinating the diet office conversion effort," McClain says.
Staff working both tray assembly lines have easy access to the beverage dispensers. The design team purchased stainless-steel tables and reconfigured them so trays can slide along without a conveyor belt.
Patient Meal Preparation and Delivery Processes
After food arrives at the loading dock in the basement, staff transport pallets to two walk-in coolers, two walk-in freezers and dry storage.
Room service cold prep of mise en place, salads and desserts takes place in the former trayline area, a chilled room equipped with worktables and prep sinks. Staff portion raw proteins and vegetables into souffle dishes and store them in a walk-through cooler until they are needed on the trayline. Staff also cut proteins, vegetables and grains that will serve as ingredients for chef's special features on the room service menu. Staff cook these items in a combi or convection oven and also chill them in the walk-through cooler until they are needed on the trayline.
Another kitchen area features cook-chill equipment. Here, staff cook menu items for room service and the retail cafe such as proteins, soups, sauces, mashed potatoes, red potatoes and macaroni and cheese in two 80-gallon steam kettles. Staff vacuum package the food in one-gallon plastic bags, and date and label them with the names of ingredients. After removing the oxygen, the staff use two tumbler/chillers to cool the bagged food and then place them in a walk-in cooler. The bags can remain in the cooler for up to 21 days.
"We don't use this type of cooking as much as we did before the renovation, because our layout and system of on-demand room service is so different," McClain says.
Tray assembly mimics the T-line designed for the new hospital using modular worktables and serving counters to minimize cost and to prepare the staff to work competently in the future facility. Two mirrored sides of the line function simultaneously. "The patient tray assembly work center flow was determined by the location of the existing exhaust hood, which was underutilized in the old configuration," Dickson says. "The cooking equipment could not exceed the capacity of the existing hood. Cooking equipment was carefully selected to match the menu and minimize exhaust demand."
Becky Luton, server, Leyka Rivera, retail supervisor, and Luis Santiago, cook, prepare Grill station for service. Photo by Dennis CriderThe tray assembly's proximity to the patient elevators helps keep delivery times short. To order their meals, patients contact the call center in the kitchen. The call center generates a ticket that prints out in the tray assembly area. After reading the printed ticket, tray assemblers call out hot food orders to the four or five cooks who work the hot line that supports room service. This line contains two identical equipment lineups, each with a hand sink, an undercounter refrigerator, a high-speed oven, a refrigerated prep table, a microwave oven and a six-burner range with a conventional oven beneath. "We also have a chrome flattop griddle on the line, which is a phenomenal nonstick flattop and is advantageous for doing omelets, fried and poached eggs, breakfast sandwiches, chicken sandwiches, hamburgers, French toast and stir-fries," says Stephen McGowan, campus executive chef.
A combi oven sits at the far right side of the hot line equipment and supports room service as well as retail menu items. Staff use the combi oven for poaching chicken, and cooking meatloaf, hot cereals, scrambled eggs, breakfast meats such as bacon and sausage, and pasta dishes. Recently, McGowan added a smoker tube for preparing ribs and chicken served at MetroHealth Cafeteria's Action Station.
Plating and support equipment sit four feet from and parallel to the hot line. Support equipment includes two four-well hot food counters, a conveyor toaster, a heated plate dispenser, an induction base activator and a refrigerated prep table. A double-door reach-in refrigerator and another reach-in refrigerator sit nearby.
After placing hot plates heated by the induction base activator, assemblers place domed lids on them, slide the trays along the worktable to the next assemblers, who reach into a freezer to take out ice cream and sorbets and into one of two air-screen refrigerators to take out side dishes such as salads and fruit, desserts and cold beverages. At the end of the line sit juice and coffee dispensers. After trays pass inspection by a room service expediter, they are placed into tray delivery carts that staff take to patients in their rooms. Carts have a 10-minute timer, and before the 10 minutes are up, staff take them out the door to the designated delivery zone on the patient floors. Software tracks the tray from printing of the ticket to delivery and pickup at bedside once patients finish their meals. Trays arrive at patient rooms within 45 minutes of when patients place their orders.
"The tray delivery carts purchased for this project will be retrofitted to make them compatible with the tugs planned for tray delivery in the new hospital," Dickson says. Tray assembly equipment planned for the new hospital was purchased early for this project and will be relocated to the new hospital when it opens. This equipment included tray delivery and soiled tray carts, rapid-speed ovens, reach-in refrigerators, freezers, air-curtain refrigerators, starter stations, sandwich stations and worktables used to configure the T-line.
A software program assigns the double-door service carts to specific delivery zones. Software allows tray and cart tracking, which staff can watch on the digital screens. Patients receive meals within 45 minutes of ordering. Photos by Patricia McClain
MetroHealth Cafeteria Renovation
"We wanted the cafe to be open, inviting and feature concepts that our customers told us they wanted when they took our survey," McGowan says. "Just like with the patient service, we wanted the cafe to feature freshly made menu items and allow customers to customize their meals."
Phasing on this floor was more complicated because culinary staff continued to serve retail customers throughout the project. The first phase, in September, involved the dining area makeover. The design team replaced the floor with vinyl and carpet squares and relocated the ice/water dispenser to the dining area. The team also demolished a partially abandoned dishroom area to make room for relocating cashier stations and to allow enough egress for customer flow to the exit.
Shades of blue were selected at service areas to emphasize those spaces against the neutral luxury vinyl tile color. MetroHealth encouraged the design team to use its branding colors and to create a bright, welcoming space that did not appear corporate. The curvilinear forms and patterns encourage movement through the space, with the dining areas being a destination. "We used luxury vinyl floor tile for the main cafe space due to its economy, long-term performance and the ability to be cut to mimic the outline of the curvilinear ceiling above," Donaldson says.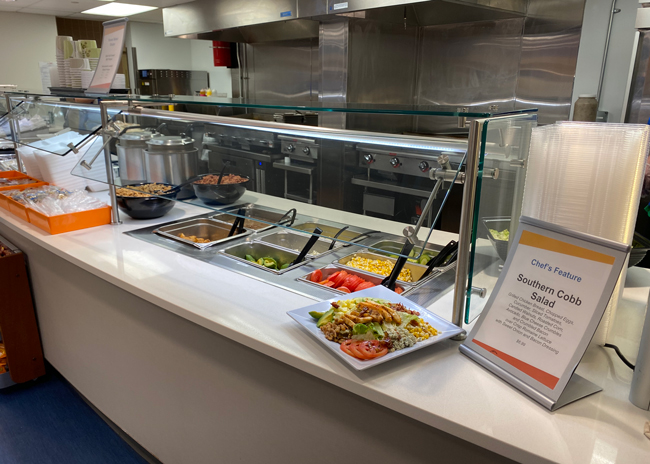 Themed menu items cooked at Chef's Feature offer customers a choice of global cuisines. Photo by Patricia McClainDesigners also selected various colors of paint in the space because wall tile was not feasible. "Vertical column wraps were in two shades of blue from MetroHealth's branding with a couple of orange accents from MetroHealth's secondary brand colors," Donaldson says. "The paint, flooring and lighting all combined to make the interior space more inviting to staff and visitors."
The second part of phase one closed off most of the servery, leaving single-line access to customer food options. Dining staff served a temporary limited menu during this time. This phase also involved demolishing the old serving island, installing a new Fresh Food Bar and building the new menu platform called Action Station. "Toward the end of this phase, we closed the main entrance to install flooring, lighting and new glass sliders," McClain says. "We converted to two-way traffic at the exit and worked closely with our facilities compliance supervisor during all phases."
The third part of phase one, spanning from the end of October to early November, allowed culinary staff to open the new Fresh Food Bar for salads and soup, while the Action Station build continued. "At the end of phase one, culinary staff had access to Action Station and Fresh Food Bar, which allowed the contractors to close down the other half of the servery for its work to be done," McClain says.
"Based on what we knew about our history and intended use for the updated stations, we wanted the new Action Station away from the cooking on the other side of the servery for traffic flow as well," McClain says.
Action Station contains a six-burner range facing customers flanked by three convertible hot/cold wells on each side. Designers wanted this area to give culinary staff as much menu flexibility as possible. Across an aisle sits an undercounter warmer, undercounter coolers and a prep sink. This area contains a new exhaust hood.
Made-to-order omelets provide a main attraction at breakfast. Popular menu items include chargrilled chicken breast, lamb or beef gyros with shredded lettuce, diced tomato, diced red onion and tzatziki sauce wrapped in a naan flatbread; customized burritos and bowls; and a variety of mix-and-match tacos. Culinary staff also feature global-themed meals such as a popular Asia-themed menu with teriyaki flank steak, garlic shrimp, egg rolls and fried rice.
Action Station also features neighborhood guest restaurants as a way to support local businesses and MetroHealth's vision of a healthy community.
"Personally, I really enjoy boasting about how great the food is in Cleveland in terms of quality and diversity," Donaldson says. "For the new MetroHealth cafe, we have an area dedicated for neighborhood restaurants in the area to come in and serve in the hospital. The pop-up counter highlights the great food we have in Cleveland without a visitor needing to leave the hospital. MetroHealth cycles through the restaurants so there may be burritos one day and sushi the next."
Fresh Food Bar features a double-sided serving counter to increase customer circulation. This platform, with cold wells and a set of convertible hot/cold wells, holds salad ingredients, fruit and homemade soups. Since the coronavirus pandemic began, the bar holds nearly 40 to-go menu options including bowl meals and a large assortment of composed salads. Culinary staff at Action Station offer tossed salads.
"We nestled the expanded fresh food bar between structural columns, which have inside cubbies for to-go container storage," McClain says. "This new configuration allowed for access from both sides, which contributed to improved traffic flow and a more open feel compared to the former configuration. The new line used every linear foot of space versus dead space in the old setup."
Phase two, from early November to early December, involved installing cabinetry, lighting and flooring to establish the fountain area, merchandisers for a much-enhanced grab-and-go station and building the new coffee and bakery island with coffee-making equipment and display cases for muffins, bagels with homemade cream cheese and fresh in-house baked cookies. This area also supports the local economy via a partnership with a community donut shop.
New placement of the refrigerated beverage units and air-screen display units give customers easy access. Photo by Patricia McClainFountain soda and air-screen display cases for grab and go sit along the path from food platforms to cashier stations.
The second phase also encroached into the cashier area, so one cashier station was moved to a new permanent location and a makeshift cashier station was installed. Eventually the cashier stations were all relocated and reoriented to expand sales floor and traffic flow.
"We chose to move the cashier/POS stations to improve flow and make better use of space," McClain says. "The amount of square footage that was beyond the point of sale and thus unusable was not good. We also wanted the open merchandisers along the back to allow customers who wanted to bypass all other activity a clear line to beverage and grab and go, then out the door."
The second part of phase two involved demo and work on the right side of the servery to install new millwork and equipment for Grill and Chef's Feature. "More cooking activity was moved to the front of house to showcase culinary talent and give customers more options," Dickson says. "The old configuration had only one cook-to-order option at a grill station with limited equipment." The existing hoods remained in place here and ventless cooking equipment was used to expand capacity.
Grill contains five convertible wells facing customers. "Switchable hot/cold wells through the servery help support menu flexibility," Dickson says. Grill also contains a heated chute for self-service chicken tenders and french fries, a six-foot griddle, a deli cold rail and a ventless high-speed oven. "The high-speed oven has super high output and makes crispy chicken wings in 15 minutes," McGowan says.
"This piece of equipment allows us to stay fryer-free but still offer chicken fingers and fries in appropriate batch sizes," McClain says.
Menu items made at Grill include hamburgers and cheeseburgers, vegan burgers, chicken breast burgers, portobello bruschetta sandwiches, quesadillas and Memphis bourbon barbecue pulled pork sandwiches. Grill also features menu items prepared by guest chefs at local restaurants.
"Since COVID, all food presented on the heated chutes is now packaged in paper bags to prevent contamination," McGowan says. Pre-COVID-19, menu items such as french fries were presented in open boat-like containers.
At Chef's Feature, customers sample the daily chef's specials. For example, McGowen recently featured citrus-and-herb-marinated half chicken with sweet barbecue sauce, scalloped potatoes and roasted corn on the cob. Specials prepared on the chrome grill include a Reuben sandwich and quesadillas.
Adjacent to Chef's Feature, customers order slices of pizza. Staff in the ground-floor kitchen prepare 16-inch cheese, pepperoni and weekly specialty combination pies and deliver them upstairs to staff who bake them in a conveyor oven in the cafe's kitchen. Pre-COVID-19, customers helped themselves to slices, but now staff serve the slices to customers in single-serve pizza boxes.
In addition to all the changes, designers also shifted self-serve beverages beyond the food platforms. "We're still offering self-serve beverages because we have low-touch equipment and a scheduled sanitizing regimen," McClain says.
From the beginning of the renovation, the design team expected sustainable practices to show positive results. "By converting to room service, we knew we would see food savings that would be greater than our traditional trayline," says McClain. "We were also designing a labor-neutral staffing model that encompassed all functional areas of the department. Our partner with room service, DM&A, enabled us to convert in a short time frame."
In the cafeteria, average checks were expected to increase in response to the new menu offerings and a new online ordering platform. "In the first months of COVID-19, the hospital saw significant volume decline, but we are now seeing a trend toward prior customer counts," McClain says. "The average check has improved."
No doubt patients appreciate on-demand room service and cafeteria customers appreciate the expanded menu choices and enhanced ambience. All this contributes to boosting morale during these trying times.
Action Station features grab-and-go sandwiches and salads. Photo by Patricia McClain
---
About the Project
MetroHealth: A staff of 7,800 provide care at 4 hospitals, 4 emergency departments and more than 20 health centers and 40 additional sites throughout Northeast Ohio.
MetroHealth Main Campus Medical Center: Staffed for 450 beds; 3 retail operations (MetroHealth Cafeteria, Towers Café and Plaza Café). Only MetroHealth Cafeteria and Plaza Café are operating, due to COVID-19. The main kitchen also prepares food for off-site patient units for an adjacent skilled nursing facility and an on-site high school, Lincoln-West School of Science and Health (for 80 students). Other locations: Two community hospitals in Parma and Cleveland Heights provide room service from on-site kitchens; and a 50-bed rehab hospital converted from retherm to a spoken menu with fresh food prepared on-site.
New MetroHealth hospital: Construction of the new 11-floor hospital and reimagined main campus began in April 2019 and is scheduled for completion in 2022.
Size of kitchen and cafeteria: 68,000 sq. ft., including renovated portion of kitchen, 4,000 sq. ft.; renovated servery, 2,900 sq. ft.; dining room, 4,435 sq. ft.
Cafeteria seats: 160
Average check: $6
Room service patient trays served daily: 775
Daily transactions/covers: Pre-COVID-19, 1,700; peak retail transactions, 900 at lunch
Hours: Room service, 6:30 a.m. to 6:30 p.m.; MetroHealth Cafeteria, 6:30 a.m. to 7 p.m. weekdays; 7 a.m. to 7 p.m., weekends
Menu concepts: Grill; Chef's Feature; Action Station; Fresh Food Bar; Grab & Go; Beverages; Coffee & Bakery
Staff: 150 Dining Services employees
Total project cost: Slightly less than $2.35 million
Equipment investment: $875,000
Website: metrohealth.org
Key Players:
Key Owner: MetroHealth System, Cleveland
Director of facilities construction/facilities management: Thomas Moenich
Project manager, Infrastructure/Information Services: Paula DeDionisio
Director of nutrition and dining services: Patricia McClain, MBA, RD, LD
Campus executive chef: Stephen McGowan
Retail manager: Judy Merz
Clinical nutrition manager: Denise Lemin
Architect: Moody Nolan Inc., Cleveland: Robert Donaldson, RA, NCARB, LEED AP B+C, Fitwel Ambassador, architect and project manager
Interior design: Moody Nolan: Columbus, Ohio, office
Foodservice consultants: Rippe Associates, Minneapolis: Connie Dickson, FCSI, principal; Jessica Dengel, senior project manager
Room service consultants/retail menu: DM&A, Chula Vista, Calif.: Matthew Miller, CEO; Steve McKenna, Della Dunbar, Shawn Bucher
Equipment dealer: TriMark USA, Cleveland: Michael Barle, director of design; Michelle Macan, project administrator
Construction: The Whiting-Turner Contracting Co., Cleveland: Marvin C. Echols, project manager
Project manager: Signet Real Estate Group, Akron, Ohio: Brenden Shea, vice president of project management
Jessica Dengel, Senior Project Manager, Rippe Associates. Dengel joined the firm in 2004. Her project experience spans several industries including healthcare, senior living, education, corporate and gaming. She is responsible for working in BIM and handles ongoing coordination throughout construction and final inspection.
Connie Dickson, FCSI, Principal, Rippe Associates. Dickson joined the firm in 2006, working primarily in the healthcare, senior living, and corporate markets. Her career path includes becoming a registered dietitian, earning a culinary degree and working in fine dining and food manufacturing. Dickson managed foodservice operations with Sodexo for 14 years initially as a culinary support manager in healthcare and then as a general manager in corporate accounts.
Robert Donaldson, RA, NCARB, LEED AP B+C, Fitwel Ambassador, architect and project manager, Moody Nolan Inc. Donaldson joined this firm in June 2017. He focuses on meeting the needs of clients and their project while coordinating all aspects of a project with the project team. Outside of the studio he works with local organizations to repurpose vacant buildings for community restabilization and improvement of multimodal corridors.
Patricia McClain, MBA, RD, LD, director of Nutrition and Dining Services, MetroHealth. McClain joined MetroHealth five years ago. Previously she held director positions at the Carilion Clinic in Roanoke, Va., and Robinson Memorial Hospital (now known as University Hospitals Portage Medical Center) in Ravenna, Ohio. This is McClain's second conversion of a hospital foodservice's patient tray service to room service.
Stephen McGowan, MBA, campus executive chef, MetroHealth. Before arriving at MetroHealth five years ago, McGowan worked for Sodexo at Eaton Corporation in Cleveland and for AVI at facilities including Altman Health System in Canton, Ohio; Mercy Health System in Youngstown, Ohio; Cleveland Clinic Health System in Cleveland; and Mount Carmel Health System in Columbus, Ohio.
Floorplan:
Floorplan Equipment Key
1. Merchandise shelving
1a. Shelving pots/pans
1b. Floor shelving
1c. Protector shelf system
1d. Wall shelf
2. Refrigerated display case
3. Ice dispenser w/soda heads
3a. Ice & water dispensers
3b. Juice dispenser
4. Ice maker
4a. Ice maker/dispenser
4b. Ice bin
5. Water filtration system
6. Soda system
6a. Soda system carbonator
7. Cashier stations
8. Spray rinse
9. Dish sink
9a. Hand sink
9b. Prep sink
10. Prep table
10a. Refrigerated prep table
10b. Refrigerated prep table w/overshelf
11. Warmer
11a. Undercounter warming cabinet
11b. Display warmer
11c. Mobile warming cabinet
12. Coffee brewers
13. Online order processing
14. Time clock
15. Baked goods & coffee station
15a. Action Station
15b. Fresh Food Bar station
15c. Grill station
15d. Chef's Feature station
16. Trash container
17. Microwave oven
17a. Impinger oven
17b. Multicook oven
17c. High-speed oven
17d. 2-section combi oven
18. Toaster
18a. Conveyor toaster
19. Fire protection system
20. 2-section undercounter refrigerator
20a. Refrigeration
20b. Refrigerated base
20c. 1-section reach-in freezer
20d. Walk-in cooler
20e. Walk-in freezer
20f. 1-section reach-in refrigerator
20g. 1-section undercounter refrigerator
20h. Mobile air screen refrigerator
21. Work counter w/sink
21a. Serving counter w/hand sink
21b. Serving counter
21c. 4-well hot food counter
22. 3-well hot/cold pan
22a. Soup well
22b. 3-well drop-in cold pan
22c. 2-well hot/cold pan
23. 6-burner range w/cabinet base
23a. Range w/oven
24. Exhaust hood
25. To-go containers
26. POS keyboard
26. Printer
27. Grill
27a. Grill w/refrigerated base
28. Charbroiler w/stand
29. Dishroom
30. Patient tray delivery cart
30a. Dome cart
31. Heated plate dispenser
32. Tray dispenser
33. Starter station
34. Base/dome rack
35. Mobile equipment stand
36. Base heater