Peterson Dining Hall at Camp Southern Ground
"We can unleash a remedy of love into the world by investing in children with our resources so they can overcome limitations." This belief, conveyed by multiplatinum Grammy Award-winning music artist Zac Brown, explains the passion Brown brought to founding Camp Southern Ground (CSG) in Fayetteville, Ga.
Brown donated 400 acres of beautiful farmland to fulfill his vision for CSG, a nonprofit, state-of-the-art facility that extends beyond the typical camp experience. He continues to support the camp with financial donations; the camp also receives funding through corporate and private donations.
Inclusive Philosophy
"We're building [CSG] from the ground up as an inclusive camp," says Mike Dobbs, president and CEO of Camp Southern Ground. CSG provides 8-week-long camp experiences during June and July to challenge, educate and inspire campers ranging in age from 7 to 17. Many campers have neurobehavioral challenges such as autism, dyslexia, Asperger's syndrome, Tourette's syndrome, Down syndrome or another disability. Camp participants also include underserved youth from financially challenged families and children from military families — those with parents serving active duty, kids who have lost a parent or had a parent disabled during active duty or lost a parent due to suicide post deployment. CSG's mission is to "provide extraordinary experiences for individuals to recognize and magnify the unique gifts within themselves and others to profoundly impact the world."
Camp Southern Ground founder Zac Brown meets with camp counselors.
The camp served 600 kids last summer. CSG also offers intermittent week-long camp programs for veterans after summer camps end, including a transition program for those shifting from active duty in the military to life after service and those struggling with post-traumatic stress. The camp also hosts corporate meetings and events.
Peterson Dining Hall was the first major build-out on campus. The 19,500-square-foot, 2-story building includes a full-service kitchen, a pharmacy and a large dining area. The facility supports all meals during summer camp season and veteran programs, plus any catered events.
Natural light streams in from floor-to-ceiling windows in the dining room.
A 33,000-square-foot, trilevel residential lodge houses camp participants and counselors. The property also includes a 12,800-square-foot pavilion space that can accommodate table seating for 150 people and a 12-seat round, suspended boardroom — basically a treehouse for meetings. The dining hall, however, remains the primary hub.
"Peterson Dining Hall is the heart of camp, like the kitchen is the heart of home," says Chris Sciarrone, architect, Perkins & Will, Atlanta studio. "Zac told us that he wanted an iconic building unlike any other as the centerpiece of camp — a building that signals to the kids upon arrival that they are in a unique and special place transcending everyday experiences."
The designers of Peterson Dining Hall followed a 100-year-building design, which features locally sourced or fabricated materials such as a natural zinc exoskeleton with a boulder waterfall feature. The interior ceiling includes sustainably harvested sapele mahogany wood donated by a guitar company. A 26-foot-high brick fireplace provides a focal point in the dining room, with large windows bringing in abundant natural light.
Food Production and Service
"The dining hall is an extension of our Programs of Purpose: Nutrition, in which professionals came together to identify what the foodservice here needed to be," says Collins Woods, executive chef. "[Campers] understand where their food is coming from and the nutritional value it contains."
Among the intriguing components of CSG is its connection with Two Doves Farm, an organic farm that sits adjacent to the camp. Two Doves Farm also directs the 12-acre USDA-certified organic farm on the CSG campus. One full-time CSG employee works on the campus farm; additional farm staff include one part-time and two seasonal employees. The farm offers campers an opportunity to connect with the food that they eat at camp as much of what lands on their plates comes from the CSG farm. "Campers go to the farm to learn how their food is grown and harvested, and they wash the vegetables needed for the day," Dobbs says. "There's nothing more enjoyable than seeing a kid pull up a carrot for the first time. The counselors then lead a culinary class in the shade pavilion where they make dishes such as salsa and zucchini muffins."
"And then they get to eat the fruits and vegetables grown on the farm, which helps them understand the whole growing process," Woods says.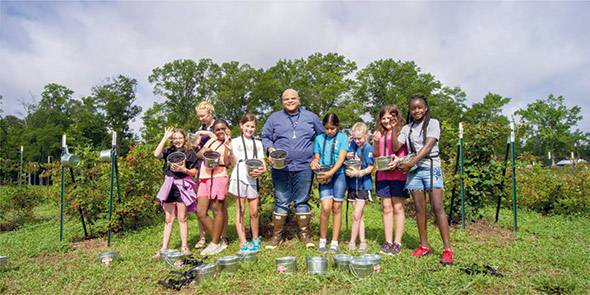 Executive chef Collins Woods helps create farm-to-plate connections for campers.
The dining operation staff prepare three meals and two snacks daily, as well meals for catered events. Menu items differ for the summer camp and veteran programs, with kid-oriented meals kept more simple and adult menus a bit more elaborate. "But all the food is organic and healthy," Woods says.
After food deliveries arrive at a loading dock, staff store them in a walk-in cooler for meat and dairy, another walk-in cooler for vegetables and a walk-in freezer and dry storage.
Before production begins, staff bring produce items to cold prep for washing and preparation using a full cadre of knives, a food processor and a meat slicer. "The sink was specified to wash and clean fruits and vegetables picked from the organic farm," says James Camacho, FCSI, CSI, CDT, president of Camacho in Norcross, Ga.
The camp groups the children into what it calls tribes. The members of the tribe eat and sleep together. Along those lines, CSG serves summer camp meals family style. "So, for salads, for example, we'll cut up lettuce and vegetables from the garden, make dressings from scratch and store all these in bowls with eight portions in refrigerators until service time," Woods says. "We keep food ready for service on our specially designed dumbwaiter carts in either a warmer or cooler so they are ready for service."
The bakery contains a floor mixer, a microwave oven and a mobile warming cabinet. Culinary staff bake menu items in the nearby combi and convection ovens in the hot prep area.
The kitchen's culinary staff prepares all meals for Camp Southern Ground guests.
For preparing desserts such as berry trifles, culinary staff bake the cake the day before service and the next day cut the cake into pieces, mix the cake pieces with fresh berries from the garden and top the dessert with whipped cream. Staff place the items in a walk-in cooler or refrigerator until service. The culinary staff also produce cornbread, caramelized peach upside-down cake and purple sweet potato ice cream with toasted coconut.
At the hot prep island, staff prepare menu ingredients using a tilt skillet, steam kettle, double-stacked combi ovens and double-stacked convection ovens. Equipment on the opposite side includes a steamer, a grill, a griddle, a six-top range and a double wok range, which support production of Asian-style meals. "We have an expo table to keep food such as ground beef and taco shells hot," Woods says. "We bowl up ingredients here for service."
Staff use a double wok to support Asian-style cooking.
"A blast chiller was specified to be used for preserving and preparing food, while maintaining nutrition, color and flavor," says Anja Kuechenmeister, FCSI, senior associate, marketing director of business development at Camacho. "This piece of equipment works in coordination with preparing food in bulk, freezing and then retherming food for service."
Dining Room and Family-Style Service
"One of the design challenges was how to coordinate serving food from the lower-level kitchen to the upper-level dining room via six dumbwaiters," Camacho says.
The solution came in the form of 12 partially enclosed, mobile stainless-steel carts that fit 4 standard-sized dish racks, which contain a meal for each table (48 tables seating 360 campers). "The cart is open on two sides, allowing the dish rack to be inserted or removed from either side," Camacho says. "A handle on the front and back allow a child or young adult to be able to push or pull the cart from the dumbwaiter to their table and then back to the dish room once the meal is completed." The top of the cart carries loaves of bread.
In the dining room, at each meal, groups of six to eight kids and a counselor share a table and a family style meal. Counselors use this time to develop teamwork and leadership skills among campers, who switch roles daily so that everyone gets a chance to lead. Two campers act as leaders for each meal. Their role includes setting the table, picking up their table's food off the mobile cart, and then gathering beverages from the beverage station. Once the leaders set the food in the center of the table, the kids pass the large platters and bowls around the table.
At the end of each meal, the leaders for that meal will clear the table by bringing the dishes back to the dish room and helping sort food waste from plates, glassware and utensils. "A grinder and centrifuge grinds up the food and paper waste that is turned into a compost that can be used for the garden and farm next door," Kuechenmeister says. "Through this process, the campers learn that their food doesn't need to go to a dump but can be repurposed into compost to grow new food."
Sustainable Features
The project earned LEED certification. In addition to the natural zinc building envelope, a geothermal system heats and cools the building. The loop ties into the water loop for the mechanical systems and regulates the domestic water temperature via a heat exchanger and also interfaces with the cooking systems for the walk-in coolers. This contributes not only to the building's sustainability but also the building's quiet environment.
"The kitchen and the project as a whole was designed with energy efficiency in mind, adhering to LEED criteria wherever possible," Camacho says. "This included designing and specifying equipment in the kitchen that would reduce labor and energy, encourage recycling and allow the chef to create and prepare meals that represent cultures from all over the world."
Camacho and Kuechenmeister specified Energy Star-rated equipment where applicable, plumbing fixtures with low-flow water spray nozzles and faucets and equipment based upon the respective cooking styles and techniques with local authorized service and maintenance facilities nearby.
A water- and energy-saving dishwasher also contributes to a sustainable operation.
The operation steers clear of as many disposable products as possible, instead opting for glass and melamine beverage containers and dishes, bone china and stainless-steel flatware.
Bring Camp Food Home
When campers return home, the kids bring recipes and ideas for eating nutritious foods with them. Most kids return to CSG for another camp experience and others may return as counselors when they age out as campers. Regardless of whether they return, Dobbs says, "We bring kids in and show them a different way of the world. The camp sparks a feeling of wanting to work hard and do things in life. For example, they remember what they experienced and how they felt after they finished the ropes course or walked across a wire.
"This is a safe environment where they build up a feeling of self-confidence and a desire to try something new and different," Dobbs continues. "We survey the kids and parents after they leave. One question is, 'Did your child try something new?' And 96.7 percent respond with a 'Yes.' Another question is, 'Did your child make a new friend?' They respond by telling us the kids learn that differences aren't good or bad. They see that everyone has a special talent or gift, which they identify about others and within themselves."
The camp team anticipates substantial growth during coming years. CSG will eventually include at least one more lodge, a campus center/multipurpose building, an aquatics center, an art building, a music building, a chapel, more trails and a technology center. The intent is to add those components as fundraising dollars become available.
Dobbs projects the camp will grow to 250 campers per week, which will total 2,000 each summer. The kitchen and dining room can accommodate the growth. No doubt Zac Brown's vision to "unleash a remedy of love into the world" continues to become a living reality.
---
About the Project
Opened: June 2018 for summer camp season
Seats: 450 indoors
Scope of project: A dining hall, kitchen and lower-level storage
Total size: 19,500 sq. ft.
Foodservice: 3,947 sq. ft., including 3,274 sq. ft. on lower level and 673 sq. ft. on upper level
Foodservice hours: 8:15 a.m., breakfast; 12 p.m. or later, lunch; 5:30 p.m., dinner
Camp duration: June and July for summer campers, plus 20 weeks dedicated to veteran programs during months when summer camp is not operating
Menu specialties: Arcadian harvest salad with roasted sweet potatoes, venison enchiladas, cotija pattypan squash, creole spaghetti squash with sausage
Staff: 22 employees, including 4 full-time equivalents and 3 part-time staff members year-round
Equipment investment: $795,000
Website: www.campsouthernground.org
Key Players
Founder and Chairman: Zac Brown, Zac Brown Band
President and CEO: Mike Dobbs
Executive chef: Collins Woods
Foodservice director: Jonathan Walker
Chef de cuisine: Chris Hudson
Sous chef: Cherita Cunningham
Banquet captains: Hannah Matthers, Julia Clark and Isaiah Harris
Architect: Perkins & Will, Atlanta studio: Chris Sciarrone, architect, and Jared Serwer, AIA, NOMA, LEED AP BD+C, senior project designer, senior associate
Foodservice design and consultant: Camacho, Norcross, Ga.: James Camacho, FCSI, CSI, CDT, president; Anja Kuechenmeister, FCSI, senior associate, marketing director of business development; Bhagita Rowe, specification writer; Alan Clay, quality assurance review
Equipment dealer: Atlanta Fixture, a division of Edward Don & Co., Atlanta; Willie Stroud, sales engineer
Engineers: Uzun + Case, Atlanta, and Integral Group, Atlanta
Construction: DPR, Redwood City, Calif., and Washington, D.C., and Structor Group, Atlanta
Contributors: Financial donations come from corporations and individuals
Meet the Players
Zac Brown, founder and chairman, Camp Southern Ground. Brown, a three-time Grammy Award-winning multiplatinum singer, songwriter and leader of Zac Brown Band, performs country and pop music. The band contributed at least $1 per concert ticket from recent tours to help fund CSG operations.
James Camacho, FCSI, CSI, CDT, president, Camacho. Joining his father's firm 40 years ago, Camacho became president of Camacho in 1991. He oversees all projects from conception to startup. Other projects include the Navy Federal Credit Union in Pensacola, Fla., and NCR Headquarters Building, Atlanta.
Mike Dobbs, President and CEO, Camp Southern Ground. Dobbs took this CSG position in February 2016. He has a broad background in marketing, sales, development real estate, architecture, construction, operations and general management. He has held board positions working with nonprofits such as Metro Atlanta YMCA, Zoo Atlanta, Skyland Trail and Young Life.
Anja Kuechenmeister, FCSI, senior associate, marketing director, Camacho. Kuechenmeister joined the firm in 2008. Her work includes roles as project coordinator, quality control manager and now the marketing director of business development. She has experience with schools, hospitality, corrections, laundry, continuing care retirement communities and community/civic projects.
Chris Sciarrone, architect, Perkins + Will. Joining the architectural firm in 2004, Sciarrone has been working as an architect since 1993.
Jared Serwer, AIA, NOMA, LEED AP BD+C, senior project designer, senior associate, Perkins + Will. Serwer joined this firm in September 2011.
Collins Woods, executive chef, Camp Southern Ground. Woods joined the camp two years ago after working as the private chef for Zac Brown's family. He graduated from Johnson & Wale's Charlotte, N.C., campus and earned raw vegan certification from The Graff Academy of Raw Food Education in Roswell, Ga.
Floorplan
1. Pan rack cart
1a. Utility cart
2. Roll-in heated cabinet
2a. Roll-in refrigerated cabinet
2b. Mobile warming cabinet
3. Hand sink
3a. Mop sink
3b. Eye wash
3c. Remote station
3d. Produce sink
3e. High-powered soak sink
4. Central spray system
5. Hose reel assembly
6. Walk-in shelving
6a. Dry storage shelving
6b. Drop-in heated shelf
6c. Two-tier wall shelf
6d. Wall-mounted shelf
6e. Storage shelving
6f. Silver sorting table
6g. Beverage table w/sink
7. Walk-in meat cooler
7a. Walk-in vegetable cooler
7b. Walk-in freezer
7c. Evaporator
7d. Reach-in refrigerator
7e. Reach-in blast chiller/shock freezer
7f. Mobile refrigerated equipment stand
8. Dunnage rack
8a. Can rack
9. Floor trough
10. Ice bin
10a. Ice maker
11. Worktable w/sink
11a. Worktable
11b. Food staging table
11c. Meat prep table w/2 sinks
11d. Mobile worktable
11e. Baker's table
11f. Soiled dish table
12. Trash bin
13. Meat slicer
14. 2-section steamer
15. Charbroiler
16. Grill
17. Mobile 6-burner range w/convection oven
17a. Wok range
18. Salamander
19. Tilt skillet
20. Tilting kettle
20a. Equipment stand
21. Water filtration system
22. Roll-in combi oven
22a. Convection oven
22b. Microwave oven
23. Food processor
24. Food mixer
24a. Mobile equipment stand
24b. Floor mixer
25. Mobile ingredient bin
26. Dish dolly
27. Tea dispenser
28. Iced tea brewer
28a. Coffee maker
29. Conveyor dishwasher
30. S/s duct
31. Slow-speed grinder
32. Exhaust hood
33. Heat lamp