The Florence, San Diego, Ca.
The Florence features a unique dining opportunity in northeastern San Diego. Kilroy Realty Corp. owns the three-building Kilroy Sabre Springs business campus that houses The Florence, which sits in a highly saturated residential area. Kilroy partnered with Legal Restaurants Group (LRG) to develop the restaurant in the hopes of enticing commercial building tenants to remain on site during meal periods and to serve neighboring residents and the surrounding community.
Replacing a cafeteria that served building tenants exclusively, The Florence includes a new front-of-the-house kitchen that merges with an existing back-of-the-house kitchen, in addition to a redesigned dining area, a new bar and a cafe. The project team also created an outdoor atrium that provides a seamless transition from the interior to the exterior space, which staff can subdivide into eight areas for private events. The atrium also features a boathouse pergola and a firepit lounge.
"Most of the projects that we conceptualize and build out have a specific backstory that ties in to their aesthetic design and food and beverage programming," says Keoni Barcarse, a design/construction partner at LRG. "We do our best to create cohesive concepts that tie in the existing space, location and population demographics. What stands paramount to any project that we undertake is the overall guest experience. The experience doesn't just come from food, hospitality and design, but also the background story of the how and why the restaurant came to be."
Inspiration for The Florence came from local heroine Florence Chadwick, a 1950s long-distance swimming legend whose family has a rooted history in the Sabre Springs area. She was the first woman to swim the English Channel both ways. "We wanted to bring a coastal-influenced environment inland," Barcarse says.
"A swim-themed, beach-style decor suggests seaside living and invites casual and formal dine-in experiences."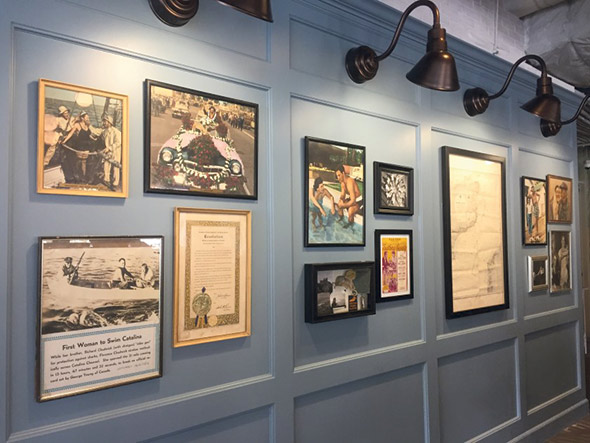 Adjacent to the lounge is the picture wall, which features original framed photos of Chadwick's travels, celebrity photos and even framed shadow boxes of items used on her world record swim of the English Channel.
When designing the restaurant, Barcarse and Angela Ryan, director, interior architecture and design at Ware Malcomb in San Diego, insisted that a coastal design aesthetic theme required abundant natural light. "Interiors should never feel dim or cramped but rather, light, open and airy," Barcarse says. "You want to feel as though there are no boundaries between indoors and outdoors, so large windows that surround the property on two sides, glass doors and skylights are key. Window treatments are also minimal so as not to detract from the natural light."
In order to create a relaxed and easy vibe, a coastal design usually incorporates many natural elements. The designers combined Cape Cod-like interiors with more rustic and weathered accents as a timeless feature. "For example, the lounge seating at the restaurant's entry has very defined, clean, hard edges," Barcarse says. "However, we utilized old barnwood materials with very pronounced imperfections, reminiscent of damaged driftwoods, to counter the somewhat contemporary influence of the sofa designs."
Seating offers guests a view of an open landscape.
When guests enter The Florence, they check in at a reception desk and enter a lounge. In the lounge, a grouping of four table/seating arrangements emulates intimate living room spaces. Here, guests can opt for a predinner drink or a more casual dining experience.
The collage picture wall in the restaurant's entrance displays a collection of original photos of Chadwick, much like a wall of family photos in a home. It showcases Chadwick with a plethora of iconic figures, shadow boxes of her swim memorabilia and a poster for Bathing Beauties, a film in which she made an appearance. "I knew from the very beginning when conceptualizing this restaurant that the collage wall was going to be a focal point and a means for our guests to relate to Florence Chadwick," Barcarse says. "This wall was designed and located in such a way where not only guests inside the restaurant can view the wall, but also walk-by guests outdoors can easily view the wall while adding a little activation right outside the restaurant."
The lounge activates the restaurant's entry. Guests can opt for a predinner drink here or a casual dining experience.
The interior restaurant space features three dining areas: a lounge, a cafe and a bar. Each area can accommodate small groups. Both the bar and lounge areas are more suited for reception-style functions while the cafe aligns better with dinner events. Each area has its own design aesthetic, which lends to the style of event hosted there. Building tenants can order catered luncheon service to their office spaces. The dining staff also provides catered services for private functions in the atrium's one large or eight subdivided event spaces.
"As part of the design, we wanted a layout that has multiuse capabilities that not only provided for daily dining but also for special event use," Barcarse says. "Staying true to the overall concept, two large areas were designed to complement Florence's coastal aesthetics."
A popular exterior dining space is the boathouse, a semi-shaded pergola structure for regular dining or private engagements.
Meal Service, Kitchens and Prep Space
The Florence serves three dayparts — brunch (breakfast alone wasn't attracting enough customers, so meal service now incorporates breakfast and lunch menu items at brunch), happy hour and dinner. Staff tailor food and drink items for each meal period. "Menus feature European flavors Chadwick enjoyed during her training in Morocco, Spain, France and England," Barcarse says. The Florence also offers grab-and-go menu items and catered meals for small office gatherings and large-scale events.
The operation contains an existing back-of-the-house kitchen that remains largely untouched since its installation in 2009, as well as a redesigned front line.
The prep cookline in the back-of-the-house kitchen enables culinary staff to prepare menu items for meal service and catered events.Both the back-of-the-house kitchen and the front line contain their own prep space and operate independently of each other. Together they span more than 60 linear feet of counter space for prep and staging. Staff use the back-of-the-house space to prepare menu items for the front line and catered events. They also cook items for catered events here. "The two kitchens make it possible for the staff to serve both daily meals and catered events, which is difficult for restaurants without the proper space," says Joe Lax, lead foodservice designer for The Florence and director of design at San Diego-based Food Service Design Group (FSDG). FSDG is a division of San Diego Restaurant Supply (SDRS).
After food arrives at a loading area, staff deliver it to designated areas: dry storage; a walk-in cooler designated for produce, sauces, condiments, fruits, herbs, flowers, juices and prepped doughs and pastries; or another walk-in cooler for fresh and prepped meats, fish and poultry, stocks, charcuterie, deli meats and dairy products, including butter and cheeses. They also place food in walk-in freezer. Culinary staff pick up food from storage and bring it to their stations.
The back-of-the-house kitchen preps menu items for use in the front-of-the-house kitchen and for catered functions. This kitchen also contains a butchery and cookline for catered functions. "We were blessed to have an existing back-of-the-house kitchen with a footprint large enough to accommodate our food program concept," Barcarse says. "Many restaurants aren't afforded the capability of having a size that is versatile enough to serve daily meal operations and catering to special events simultaneously."
Executive chef Ricardo Heredia agrees, adding that the large kitchen spaces enable staff creativity and productivity.
In the butchery, Heredia says he and his sous chefs focus on the butchery of whole chickens, pigs and fish. "That allows us to present the best and freshest products possible for our guests," he says. "The fewer hands that touch proteins the better and we can control how the proteins are cut by doing this ourselves. Also, I can reduce the costs of menu items by doing the prep work ourselves and using the entire product. For example, we use the bones to make stock and chicken skin to make a rice porridge with ginger and turmeric."
The Florence purchases as many locally sourced vegetables, proteins and other ingredients as possible. The culinary staff brines some proteins and poaches others, such as fish, in chicken fat to preserve these items for as long as a month.
On the cookline, culinary staff use a 60-gallon tilt skillet to cook potatoes, large batches of pasta and ingredients such as garbanzo beans. They use a steam kettle to make stocks and sauces. They prepare dumplings and rice on a six-burner range and keep various menu items warm in a conventional oven beneath the range.
Several menu items incorporate flavors Chadwick tasted while traveling to Morocco, Spain, France and England.
On the opposite side of the prep area, staff use a double-stacked convection oven to braise and roast beef shanks and other proteins as well as vegetables and pot pies. "We inherited convection ovens and we're happy using these," Heredia says. "If it isn't broke, don't fix it."
In the mornings, Heredia says the baking department dominates the convection ovens. The bakery staff use pastry cutters, rolling pins, molds for cakes and pies and a speed rack to hold finished products and for proofing. The bakery produces breads, pastries, cakes and pies.
One of Heredia's favorite pieces of equipment is the immersion circulator, which he and the culinary staff use to sous vide menu items such as carrots that are later charred. Staff also use the immersion circulator for one of the restaurant's signature items, The Florence Egg, a soft-cooked egg yolk topped with lemon juice, maple syrup and a savory sea salt whipped cream.
"I don't like the circulators for meat, but I very much like to use them for more delicate items," Heredia says. "A little change in temperature of a water bath can change the texture of the food being cooked and being able to control the temperature is a good thing."
Staff also use a dehydrator to dry fruit such as apple skins, rose petals that are served with tea at the coffee counter and seaweed ash. One dish benefitting from the dehydrator is "dirty potatoes." Heredia cooks them in what he calls sea water. "This is my interpretation of the flavor of ocean water using various types of algae, salts and seaweeds as a base for many of our sauces, vinaigrettes and brines," he says. "The potatoes are finished over smoke and tossed with goat cheese, seaweed ash and dehydrated huitlacoche. The texture is amazing because the potatoes cooked with this method are like mashed potatoes held together by the potato skin only."
Front Kitchen and Dining Spaces
The front-of-the-house kitchen contains a pantry, cookline, expo, server station and refrigerators and dry storage areas. "We use the military-designated term 'brigade system,' where staff members work at stations and have specific duties," Heredia says. "The chef is the commander and the sous chefs are the generals. And believe me, sometimes cooking does feel like a battle."
The front cookline contains a plancha, fryers, an eight-burner range with two standard ovens beneath and a charbroiler.
A cold prep area contains prep sinks for cleaning lettuce and other vegetables. Salad and dessert prep take place at a station next to the saute station.
Staff at the saute station use a six-burner range to prepare vegetables, sear steaks, cook halibut and hold sauces. Conventional ovens beneath the range hold hot appetizers. Staff also use the ovens to dry dates for making devils on horseback and to heat rolls and finish breads.
Staff prepare french fries, onion rings and fried chicken in fryers. One fryer registers 325 degrees F and the other 350 degrees F, which enables staff to cook at a lower temperature and finish at higher temperature.
A plancha station holds two flattops, one slightly larger than the other. Staff sear everything from salmon and burgers, potatoes, bacon and grilled cheese sandwiches on the hot side of the planchas and move them to the cooler side so they don't burn. "At dinner, a rectangular, Japanese charcoal grill sits on top of the plancha so we can fire proteins such as pork chops," Heredia says.
Staff also use a panini grill and steam table to finish and hold menu items. Large cook-and-hold ovens sit nearby for use during catered events. "We use these boxes for holding menu items and also controlled slow cooking," Heredia says.
Cold and hot menu items come together at a window where Heredia and another expediter check the plates for garnish and ensure they are ready for service. Dedicated food runners deliver food to guests.
A dessert station containing a reach-in refrigerator and reach-in freezer sits off the hot line and holds a soft-serve ice cream dispenser for meal preparation. Staff share this area with the cocktail bar staff, who juice fruits in the space.
Designing for efficiency required the design team to consider gives and takes. "We wanted employees to have a central dining area where they can sit down together, have a meal, relax and we can meet to discuss menus and other issues," Heredia says. "We didn't want to give that up for more seating or prep space."
Sustainability and Energy-Saving Features
"Collectively, sustainability is a big matter for all parties involved on the project," Barcarse says. "We have all adopted sustainability practices in one form or another through past and ongoing projects." The Florence uses predominantly energy-efficient LED lighting, a flexible and energy resourceful variable refrigerant flow heating and cooling package. Restroom fixtures use water when necessary and in short-run intervals. "Interior materials include reclaimed/rehabilitated pine and cottonwood to achieve the distressed and weathered appearance that we had envisioned," Barcarse says. In addition, the project features fresh-cut milled wood to match the select reclaimed custom millwork.
In its first year, The Florence's intriguing themed concept, striking decor and eclectic menus are attracting more customers than the project planners anticipated. They continue to test the waters to determine how to please tenants, residents and local community members.
About the Project:
Opened: March 2019
Seats: Interior, 200; exterior, 400
Average check (excludes special event/catering sales): Lunch, $17.50; dinner, $31.53
Daily transactions/covers (excludes special event/catering sales): Lunch, 112; dinner, 165
Scope of project: The redesign and reconceptualization of a previous foodservice operation into a full-service restaurant, cocktail bar and cafe. The project also includes a new atrium space.
Size: 10,000 sq. ft., including 2,400 sq. ft. for kitchen and front line
Brunch: 10 a.m. to 2 p.m., Mon. through Fri.; 9 a.m. to 2 p.m., Sat. and Sun.
Happy hour: 3 p.m. to 6 p.m., Mon. through Fri.; 2 p.m. to 5 p.m. Sat.
Dinner: 5 p.m. to 9 p.m., Mon. through Sat.
Menu specialties: Broken rice porridge, Dixie's grilled cheese and tomato bisque; half roasted brick chicken, grilled pork chop and Cortez halibut meuniére.
Staff: 30-plus
Website: www.legalrestaurants.com
Key Players
Owner: Legal Restaurants Group (LRG)
CEO, LRG partner: Antonio Friscia
Chief Operating Officer, LRG partner: Nick Sanderson
Design/construction, LRG partner: Keoni Barcarse
Culinary operations, LRG partner: Prissana "Fern" Tran
General manager: Jeremy Zahn
Executive chef: Ricardo Heredia
Architect: Ware Malcomb, San Diego: Angela Ryan, NCIDQ, CID, IIDA, EDAC, director of interior architecture and design; Adam Nichol, CID, LEED green associate, senior job captain; and Ana Moreno, job captain designer
Interior design: LRG: Keoni D. Barcarse; Ware Malcomb: design support team
Landscape architects: GroundLevel Landscape Architecture, San Diego
Foodservice designers: Food Service Design Group, San Diego, a division within San Diego Restaurant Supply: Josh Egan, vice president; Joe Lax, CFSP, director of design and lead foodservice designer for The Florence; Melinda Lam, lead foodservice project manager for The Florence; Keith Leo, senior project manager; Clara Rodriguez, project manager
Equipment dealer: San Diego Restaurant Supply, San Diego
Construction: DCT Diversified Construction Technologies, San Diego
Keoni D. Barcarse, design/construction, LRG partner. Keoni is a 27-year food and beverage veteran as both an operator and designer with hospitality and restaurant groups. He is the creative force behind LRG's individual restaurant concepts.
Josh Egan, vice president, San Diego Restaurant Supply. Egan oversees SDRS and FSDG. He worked for a local rep group before joining SDRS in 2005. He brings 20 years of experience to his current position.
Ricardo Heredia, executive chef. Heredia joined The Florence team in December 2018. Previously he consulted with a company to open a taco shop in Tokyo, worked at China Poblano in the Cosmopolitan Hotel in Las Vegas and was a founding partner of Alchemy Restaurant in San Diego.
Joe Lax, CFSP, director of design and lead foodservice designer for The Florence, Food Service Design Group. Lax joined FSDG in 2017. During his 20-year career in the hospitality business, he also worked for Best Restaurant Equipment and Design, WD Partners and Brinker International.
Angela Ryan, NCIDQ, CID, IIDA, EDAC, director, interior architecture and design, Ware Malcomb. Bringing 13 years of experience to the Ware Malcomb team, Ryan works on projects for business and industry, healthcare, science and technology, education and hospitality.
1. Mobile worktable w/undershelf and lockable casters
1a. Refrigerated sandwich prep table
1b. Worktable w/drop-in hand sink, faucet, 6-inch splash guard
1c. S/s worktable w/backsplash, 6-inch legs and undershelf
1d. Three-well hot food table
1e. Clean dish table
1f. S/s worktable w/hand sink
1g. Double-width s/s worktable w/die wall
2. Panini press
2a. Double-stack convection oven
3. Remote fire pull
3a. Remote-mounted fire suppression system
3b. Fire suppression station
3c. Wall-mounted fire extinguisher
4. Wall-mounted hand sink w/6-inch splash guards, faucet, built-in soap and towel dispenser
4a. Drop-in dump sink and faucet
4b. Drop-in hand sink
w/splash guards and faucet, soap and paper towel dispenser
4c. Three-compartment sink
4d. Scrap sink and quick drain
4e. Hand sink
4f. Prep sink
4g. Double prep sink
4h. Wall-mounted hand sink
4i. Floor-mounted mop sink
4j. Underbar hand sink w/faucet, side splashes, soap and paper towel dispenser
5. Coffee brewer and dispenser
5a. Iced tea brewer and dispensers
5b. Espresso machine and water filter
5c. Coffee grinder
6. Drop-in ice bin
7. Beverage counter w/drop-in hand sink, faucet, splash guard, soap and paper towel dispenser
7a. S/s pickup counter
8. Dry storage shelving
8a. S/s double-tier pass-thru shelf
8b. Wall shelf and pot rack
8c. 3-foot wall shelf
8d. Wire shelving
8e. S/s shelf
8f. Double shelf, side wall cap
9. Heat lamp
10. Trash container
10a. Trash station
11. Refrigerated prep station w/casters and doors
12. Worktop freezer w/casters
12a. Refrigerated equipment base w/casters
12b. Reach-in refrigerator
12c. Walk-in cooler
12d. Walk-in freezer
12e. Undercounter refrigerator w/casters
12f. Keg cooler w/casters, eight-draft beer dispenser tower and drip trough
12g. Back bar refrigerator w/casters
13. Fill faucet
13a. Deck-mounted faucet
13b. Mop sink faucet
14. Exhaust hood 2/lights
14a. Hood trim
14b. Back shelf-type grease exhaust hood
14c. Steam hood
14d. Exhaust fan for exhaust hood
14e. Make-up air system for exhaust hoods
15. Countertop 48-inch charbroiler
16. Countertop 36-inch griddle
17. Fryer battery w/filter
17a. Fryer dump station w/warmer
18. Wall flashing
19. Splash guard
20. Eight-open burner range
21. Heated cabinet
22. Employee lockers
23. Prerinse sprayer and swivel faucet
23a. Prerinse sprayer
24. High-temp warewasher w/rise booster
24a. Undercounter dishmachine
25. Rack
26. Double-stack convection steamer
27. Tilt skillet
28. Steam-jacket kettle
29. Floor trough drain
29a. Underbar drainboard
30. Six-burner heavy duty range
31. S/s wall panels
32. Gas connections, quick disconnect
33. Floor mixer
34. Utility chase
35. Food slicer
36. Cutter/mixer, slicer
37. Ice machine and bin
37a. Filter system for ice maker
38. Air curtain
39. Mop hangers
40. Bag-n-box w/carbonator pump
41. Water heater
42. POS system
43. Drop-in ice bin
44. Cocktail station w/cold plate, ice bin, bottle holder, liquor speed rail and soda gun holder
45. Underbar liquor display
46. Blender/dump station 2/faucet and blender shelf