Dining Commons at Mount Holyoke College
When students, faculty, staff and visitors walk into the new Dining Commons at Mount Holyoke College they see a 2-door, 6-feet-high herb cultivator with a dozen herbs from locally sourced seeds growing in 12 different climate zones. Every so often, a chef opens the doors and clips herbs for that day's menu items.
The cultivator may seem like a small detail, but it plays a big role in showcasing how the Dining Commons lives up to its mission of promoting health, wellness and sustainability via a variety of cuisines.
Photo courtesy of Bergmeyer; photo by Joanna Chattman, Chattman Photography
"We had to get approval for the cultivator by the plumbing board of Massachusetts," says Rich Perna, executive director of Dining Services. "It was worth going through all the steps to bring it in because guests see immediately our commitment to our purpose."
The cultivator works in conjunction with a servery space featuring nine food-themed platforms. In this space, a four-foot by four-foot chalkboard lists local suppliers and signage. It also provides nutritional information about menu items.
Dining Commons' kitchen, servery and 1,000-seat dining spaces sit in the new commons area branded Blanchard Community Center. It's a 35,000-square-foot addition to Blanchard Campus Center, which houses student-life functions. "A 2014 master plan called for a new heart for the campus," says Matt Hyatt, AIA, IIDA, LEED AP BD+C, principal, Bergmeyer Associates Inc. in Boston. "Our collaboration with Mount Holyoke began as a feasibility study to centralize their six residential dining facilities across campus to create that new heart at Blanchard."
Natural lighting and outside views of campus in Beacon room in Dining Commons contribute to the inviting ambience. Photo courtesy of Bergmeyer; photo by Joanna Chattman, Chattman Photography
"For many reasons, including operational inefficiencies, costs and maintenance, the college and the design team investigated options for a centralized dining facility," adds Kerri Ingraham, principal, Ricca Design Studios, Greenwood Village, Colo. "However, the residential house dining halls were a cherished experience within the Mount Holyoke College community, so the idea of one large dining hall posed a significant cultural and operational shift on campus. After further analysis and many discussions later, Mount Holyoke and the design team agreed to move forward with a single, centralized servery and dining hall."
This project also included the simultaneous renovation of Blanchard's retail area, which resulted in Grab n' Go and Cochary Pub & Kitchen. A nearby multipurpose space hosts student performances and social gatherings. Together, these establishments provide foodservice options for the 2,300 students from 78 countries that attend Mount Holyoke College (MHC), an inclusive women's college.
Consolidating the campus' six small dining facilities allowed the dining program to shift to accept unlimited meal plan swipes by customers and offer extended late night hours.
In order to design a contemporary facility in the center of a campus rooted in tradition, the project team found inspiration in historic dining rooms and kitchens, blending those with modern, natural materials and residential cues. The nine platforms are dispersed within a landscape of different seating types and configurations, including intimate dining spaces that have long defined the MHC experience for many generations of students. "The new addition takes full advantage of the site's views of Lower Lake and across the campus greens, as well as internal views of the fresh food preparation in the open kitchens," Hyatt says.
A fireplace contributes to the comfortable environment while offering views through to the other part of Dining Commons.
Project Goals and Focus
Movements of culinary staff become part of the guests' experience. "Aside from the major transition to centralized dining, there was a large focus on preparing small-batch meals from scratch in a just-in-time fashion," Ingraham says. "As a result, we created a large open kitchen that is highly visible to guests and emphasizes food transparency. While the open kitchen supports many of the serving platforms, the team also wanted to create opportunities for made-to-order platforms where guests are able to interact with chefs and customize their meals." Some of these dedicated platforms not only increase menu variety but also address the campus community's cultural dietary needs, including kosher and halal food options.
Chef manager Tom Ritter prepares ingredients at the cooking suite in Classics platform. Photo courtesy of Bergmeyer; photo by Joanna Chattman, Chattman Photography
Providing flexible hours, as well as diverse, extensive and authentic menu options also became a major focus of the project. "With students from 78 countries, dining preferences and needs are extremely individual and the menu items must be authentic," Perna says. But the operation must also be flexible to evolve over time. Because menus rotate, food trends change and operations vary, designers called for mobile cookline equipment with quick disconnects that can easily move from platform to platform as needed.
Back-of-the-House Storage and Preparation
After deliveries arrive at a loading dock, staff move them to three walk-in coolers, a walk-in freezer and dry storage. Many of these deliveries come to Dining Commons from a campus warehouse, from which staff distribute dry, refrigerated and frozen food, plus nonfood products to a central production kitchen and central bakery. The central production kitchen and bakery reside together in a building within a five-minute drive from Dining Commons. Staff at Dining Commons bring food to each foodservice prep area and platform. A software program determines the amount of food for each prep area and platform. The program also forecasts and purchases food and other products.
Two countertop mixers support back-of-the-house production. Photo courtesy of Bergmeyer; photo by Joanna Chattman, Chattman Photography
The Dining Commons' back of the house also contains six reach-in refrigerators and four reach-in freezers. A large ice machine sits near the pot wash area and dishroom, which contains a conveyor dishwasher.
The back-of-the-house cold prep area contains a blast chiller, food processor and two mixers. Staff use a 60-quart mixer and 20-quart mixer for making whipped cream and pancake batter. "Some of the mise en place is prepared in the food commissary that was installed during this transition," Perna says.
The back-of-the-house kitchen includes a hot prep area with a steamer for cooking vegetables and hard-boiled eggs. It also houses four combi ovens for cooking bacon, pork butts, briskets, fish and large batches of rice. Staff also use two convection ovens for baking potatoes, bacon and quiche; a flattop griddle to cook pancakes and hot dogs; and a six-burner range to cook soups, sauces and to saute ingredients for menu items staff members assemble at front-of-the-house platforms. Six fryers cook chicken, pacora (a northern Indian and Pakistani appetizer), coconut chicken and fries.
Front-of-the-House Platforms
Each self-contained platform features a distinctive design and service style. Each includes sinks, countertop prep tables and reach-in and/or undercounter refrigerators and freezers, many of which feature drawers. Each platform also features many options for vegetarians and students with food allergies. Customers can go online and discover which stations offer foods with or without the major allergens. Students also can find ingredients and nutritional content by visiting 1 of 17 tablets in the dining area. Each platform also includes nutritional labels.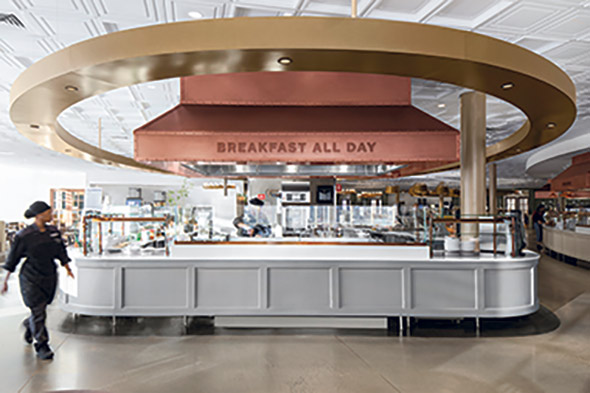 "Among the many great features of this operation, chefs and cooks have opportunities to express their passion for culinary arts and create special menu items," says Peter Haas, executive chef. "Chefs request special ingredients and we purchase them. Each semester, we also feature special holiday meals as well as a week in which authentic street food is featured at each station."
Students also express their opinions about the cuisine. "We respond quickly to students' comments posted on the website and shared in small focus groups. We incorporate many requests into the menus as soon as we can," Haas says.
The platform branded Classics, which offers half of its menu items gluten-free, features a rotating American-themed lineup. Staff prepare items on a cooking suite and rear-line combi oven, steamer and tilt skillet. This equipment supports staff production of a variety of menu offerings, including salmon, baked catfish with chimichurri sauce, pork carnitas and roasted carrot ginger coconut soup.
Classics features comfort foods that culinary staff prepare at a cooking suite. Photo courtesy of Ricca Design Studio; photo by John Jurgens, John Jurgens Photography
"Hot and cold wells holding the food are two-sided so we can run duplicate lines or separate depending on the menu," Haas says. Hot plates hold casseroles and plated menu items. The station also contains two soup wells.
Depending on the menu, each day staff plug in one piece of equipment — a ventless conveyor oven, flattop, induction cooker, range with an integrated refrigerated base, charbroiler or carving station — and use it for preparing the daily menu items. At day's end, staff disconnect the equipment and return it to a storage closet so other staff at Grill and Global platforms can access it when necessary. "In the future we'll buy a tandoori oven as a plug-and-play," Haas says.
The Grill features hamburgers and hot dogs but "does not function just as a regular college grill," Haas says. The menu features composed salads, grilled chicken, sandwiches, steamed and grilled vegetables, several grains, Vietnamese beef wraps, buffalo tofu wraps and falafel. Six fryers cook chips, fish, fries and chicken fingers. Breakfast dishes include pancakes, eggs, sausages, bacon and French toast.
A large hearth oven serves as the focal point at Global, which features an international-themed menu. In addition to cooking pizza, staff use the oven for baking flatbreads, casseroles, chicken, meat and fish proteins and vegetables. "The chef is very creative here," Haas says. "In addition to the menu items cooked in the hearth oven, he makes chili and onion soup in crocks and covers them with melted cheese. Most menu items are plated by the staff and served to customers."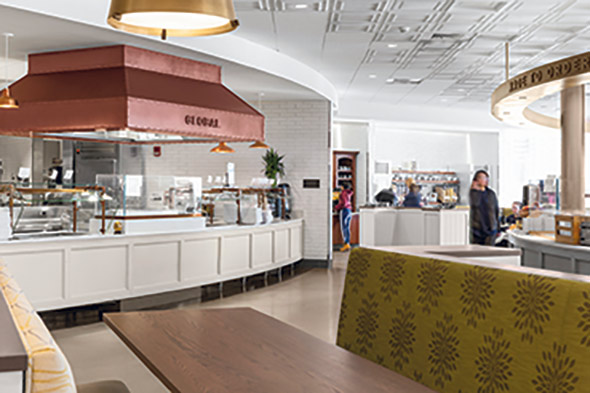 Global features an international-themed menu. Photos courtesy of Ricca Design Studio; photos by John Jurgens, John Jurgens Photography
Global also contains a rotisserie oven that roasts chicken, lamb, peppers, pineapple, red peppers and garlic. Staff also make fresh pasta in a machine and mix this ingredient with customers' choices of sauces and vegetables.
Breakfast All Day, Deli and Sushi form a large circular island platform with undercounter refrigeration in the center. "Perhaps the biggest consideration when designing island platforms that are not adjacent to the kitchen or support areas is ensuring that those platforms can sustain themselves through an entire meal period," Ingraham says. "Adequate dry and refrigerated storage at island platforms is key in avoiding peak-period restocking deliveries from the back-of-house." The design team also included warewashing equipment at this island platform so soiled ware handling and clean ware access are self-contained within the platform and staff do not have to transport them back and forth from the dishroom.
A large hearth oven serves as the focal point at Global.Breakfast All Day offers made-to-order omelets that staff prepare on a six-burner range. "We opted for an open-burner range instead of a flattop griddle in order to deliver light and fluffy omelet creations straight out of the pan," Ingraham says. Staff use a combi oven that holds half-size pans for bread puddings, casseroles and hard-boiled eggs. A refrigerated rail for mise en place sits above the burners. Cold wells hold ingredients for omelets. Waffle irons and a rotary toaster sit at the platform's edge so customers can make their own waffles, toast and sandwiches.
Deli features three ventless panini grills and a ventless, rapid-cook oven for staff to make customized sandwiches. The adjacent sushi station contains a rice sheeter as well as a refrigerated makeup station.
Wok gives customers the opportunity to select their ingredients from refrigerated rails, place them into a bowl and hand them to cooks who prepare the food on gas ranges that accommodate five small woks. Three large woks sit across an aisle where cooks prepare vegetables, dumplings and broths, which stay warm in induction units until customers pick them up.
At Baraka, a halal platform, staff use a four-burner range, steamer and a flattop griddle to prepare menu items such as Indian dal and white rice. Staff serve food from hot and cold wells and use a convection oven to bake Naan bread. "This platform was going to be an allergen station," Perna says. "Halal meat was going to be offered two days per week. We decided to change this platform into a halal station just two weeks before we opened. We decided that we could handle food allergens throughout the entire facility. Making this decision created a more inclusive environment for everyone."
At Baraka, a halal platform, staff use a four-burner range, steamer and a flattop griddle to prepare menu items such as Indian dal and white rice.
L'Chaim, a self-contained kosher platform, operates with its own chef and is under the supervision of a mashgiach. Staff use a grill, griddle, four-burner range, two combi ovens, slicer and food processor to prepare entrees, sides, salads and desserts. The platform contains a pot washing sink, refrigerators and dry storage. Serviceware includes disposable and compostable items. "We celebrated Passover in our new Dining Commons this year, which we couldn't do in the past," Perna says.
At L'Chaim, a self-contained kosher platform, staff use a grill, griddle, four-burner range, two combi ovens, a slicer and food processor to prepare entrees, sides, salads and desserts. Photos courtesy of Ricca Design Studio; photo by John Jurgens, John Jurgens
Harvest platform, which offers a salad bar, desserts and juice bar, features a center area with undercounter refrigerated drawers, reach-in refrigerators, induction cooktops, blenders and a juicer. "Making fresh juice contributes to less food waste," Perna says. "We can use dented fruits and vegetables and stems on kale and other vegetables, which we couldn't use elsewhere."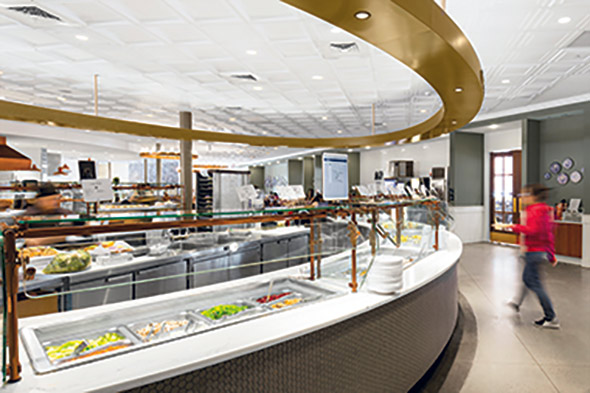 Harvest platform, which offers a salad bar, desserts and juice bar, features a center area with undercounter refrigerated drawers, reach-in refrigerators, induction cooktops, blenders and a juicer.
Three beverage stations offer fair trade coffee, tea, soda, juice and flavor-infused waters. Two stations offer locally sourced ice cream and sorbets with multiple condiment pumps. One station is nut-free. A cereal bar adjacent to one beverage station near Breakfast All day contains 20 dispensers.
Two More
The convenient Grab n' Go offers hot and cold menu items, such as sandwiches, salads, soup and a yogurt bar. Sandwiches are made in the central production kitchen while soups and hot menu items are made in the Dining Commons kitchen. The area contains two glass-door refrigerated merchandisers, hot display shelves, a cold well, a hot well, a soup well, a countertop freezer for ice cream and a countertop refrigerator for beverages. A soda machine dispenses carbonated beverages. This area also holds a small ice machine. Grab n' Go's prep area includes a pair of two-door freezers, a walk-in refrigerator and a single-load dishwasher. An adjacent storeroom holds ingredients and supplies.
Cochary Pub & Kitchen serves house-made menu items with many locally sourced ingredients. Staff cook menu items on a charbroiler, a flattop griddle and two fryers. Mount Holyoke's famous Chef Jeff cookies, as well as pastries and desserts prepared by pastry chef Heather Minnich and the MHC pastry team, round out the menu. Customers can also purchase wine, tap beer, nitro coffee, espresso, regular certified organic and fair-trade coffee drinks and tea.
Cochary Pub & Kitchen offers students, faculty and visitors a retail option in the Community Center. Photos courtesy of Ricca Design Studio; photos by John Jurgens, John Jurgens Photography
Dining Commons staff made a significant commitment to serving healthy menu items that are locally grown, responsibly harvested and certified humane. MHC places an emphasis on sourcing items from local purveyors. "We're certified as a green restaurant by the Green Restaurant Association and purchase 20 percent of our ingredients to meet the certification requirements," Perna says. "We had until 2020 to meet these requirements but met them in the spring of 2019. Our end goal is to meet the Kendall Foundation vision for New England colleges to purchase 50 percent locally sourced food by 2060. We hope to achieve that goal much sooner." Perna hopes to freeze food during peak growing season so it can be used throughout the year.
In addition, most of the beer and wine Cochary Pub & Kitchen serves comes from Massachusetts-based producers that utilize many locally grown ingredients and take many steps toward increasing the sustainability of their operations through recycling, composting and using renewable energy. Two of the breweries are certified organic.
Throughout the design process, the design team focused on sustainability and green practices. Dining Commons meets LEED Silver certification standards but did not pursue certification and instead invested the certification fees in a solar hot water system that meets all of the facility's hot water needs. The project features energy-efficient systems, including waste stream management, and a rain garden to capture and manage storm water.
"The Mount Holyoke Dining team is very forward-thinking and highly attuned to managing both pre-consumer waste and post-consumer waste," Ingraham says. "Unlike the rest of the dining facility, which is designed around a sequential flow of product, designing for a food waste stream is a reverse-engineering process. The most significant element is understanding the end game. Where will the food waste go and what are the options?"
For MHC, food waste was either headed to a farm or turned into compost for use as a soil amendment around campus. "We understood that daily pickups were not an option, and large areas dedicated to refrigerated holding or outdoor composting were not feasible either," Ingraham says. "It was critical that the volume of the food waste was minimized, and that it could be stored in an untempered space without causing odor or pest concerns. At the end of the day, the best fit was a slow-speed grinder piped to a remote water press and food waste dehydrators. It was also a great story to tell on a campus that values sustainability."
Other contributors to a green operation include demand control ventilation with automatic dampers that allow for independent modulation of exhaust air flow at each hood, a remote refrigeration rack system, alternative refrigerants for reduced GWP and a waste oil recovery system for use as biofuel. Ventless equipment includes three panini grills, two rapid-speed ovens, three induction burners and a combi oven that fits half sheetpans. The dishroom also uses a gray water recirculating system and a dish machine with heat recovery and water-conserving features, low-flow faucets.
"The highly anticipated opening of the Dining Commons has been extremely well-received, and is successful not only operationally, but has also created a new campus epicenter that the entire Mount Holyoke community can share and enjoy, including students, faculty, staff, and alumnae," Perna says.
MHC may be relatively small in student enrollment but is huge in its commitment to a contemporary dining program. This serves as an example of how to design a customized foodservice with all the bells and whistles for a highly diversified student population.
Facts of Note
Opened: Jan. 17, 2018
Seats: 1,000 in commons; 55 in pub
Average check: For those not on a plan, breakfast, $9; brunch/lunch, $12; dinner, $14; late night, $10; anytime a la carte coffee, $1.50
Total annual sales: $15 million
Daily transactions/covers: Dining Commons, 6,000; retail, 600+
Scope of Project: New construction for Dining Commons within Blanchard Community Center, including a kitchen, servery with nine food platforms and a kitchen. The project also included renovations of existing retail operations that are now Cochary Pub & Kitchen and Grab n' Go.
Size: 83,360 sq. ft.
Hours: 7:15 a.m. to 4 p.m. and 5 p.m. to midnight during the academic year
Platform Menus:
Classics Half the items here are gluten-free. A rotating menu focusing on American cuisine
Grill Burgers, chicken, grilled vegetables and composed salads Global Focuses on food from around the world representing the 78 countries that make up the student population
Breakfast All Day Omelets and eggs to order
Harvest Salad bar, juice bar and desserts
Wok Stir-fry items
Deli Sandwiches and a sushi station
Baraka Halal with Indian dal, rice and Naan bread
L'Chaim Kosher items with beef tagine and lemon pepper breaded cod
Staff: 125 full-time; 320 students
Total project cost: $39.7 million, including Dining Commons within the Blanchard Community Center, as well as seating outside Cochary Pub & Kitchen. Additional renovations outside the foodservice scope of work included the Lobby Lounge, student life hub, Unity Center, recreation space, Great Room and the Weissman Student Commons.
Equipment investment: $4.15 million
Website: mtholyoke.edu/dining
Key Players
Owner: Mount Holyoke College
Executive director of dining services: Rich Perna
Associate director of dining services: Mark Garner
Executive chef: Peter Haas
Menu coordinator: Kathryn Gay
Associate director of purchasing: Frederick Kroll
Architect: Bergmeyer Associates Inc., Boston; Matt Hyatt, AIA, IIDA, LEED AP BD+C, principal; Darryl Filippi AIA, LEED AP, principal; Rachel Lanzafame, AIA, LEED AP BD+C, associate; Krista Easterly, IIDA, LEED AP ID+C WELL AP, associate
Interior design: Bergmeyer Associates Inc., Boston
Foodservice consultants: Ricca Design Studios, Greenwood Village, Colo.; Lenny Condenzio, FCSI; CEO; Kerri Ingraham, principal; and Greg Boguniewicz, project director
Equipment dealer: Kittredge Foodservice Equipment & Supplies, Agawan, Mass.
Construction: Shawmut Design & Construction, Boston
About the Players
Greg Boguniewicz, director, Ricca Design Studios. When joining Ricca Design Studios in 2015, Boguniewicz started as a project manager and is now director.
Leonard Condenzio, FCSI, CEO, Ricca Design Studios. Condenzio brings 45 years of experience in all facets of dining services. He is involved in ideation, planning, concept and schematic design, and oversees the design process.
Krista Easterly, IIDA LEED AP ID+C WELL AP, associate, Bergmeyer. Since joining the firm eight years ago, Easterly focuses on higher education projects including student centers, dining halls and residence halls.
Darryl Filippi, AIA LEED AP, principal, Bergmeyer. Filippi joined the firm in 1996. He focuses on both new construction and adaptive reuse for higher education projects, including dining halls for UMass Amherst and UMass Lowell.
Mark Garner, associate director, MHC. Garner has worked at MHC for 25 years. He was promoted to this position two and a half years ago after overseeing the Blanchard retail location.
Peter Hass, executive chef of Dining Services, MHC. Haas joined MHC 21 years ago as a cook and worked as a chef manager and unit manager before his promotion to executive chef in July 2017.
Matthew Hyatt, AIA, IIDA, LEED AP BD+C, principal, Bergmeyer. Hyatt joined the firm 25 years ago and has spent the past decade working on student centers and dining halls on college campuses.
Kerry Ingraham, principal, Ricca Design Studios. Before joining Ricca Design Studios in 2014, she worked for a foodservice design/build company.
Rich Perna, executive director of Dining Services, MHC. Perna arrived at the college in August 2017. Previously he worked for Chartwells/Compass group for 15 years.
Rachel Lanzafame, AIA LEED AP BD+C, associate, Bergmeyer. Since joining the firm 12 years ago, Lanzafame's projects range from quick service restaurants to large university dining halls including those at Harvard Medical School, UMass Amherst and Boston College.
---
Mount Holyoke Floorplan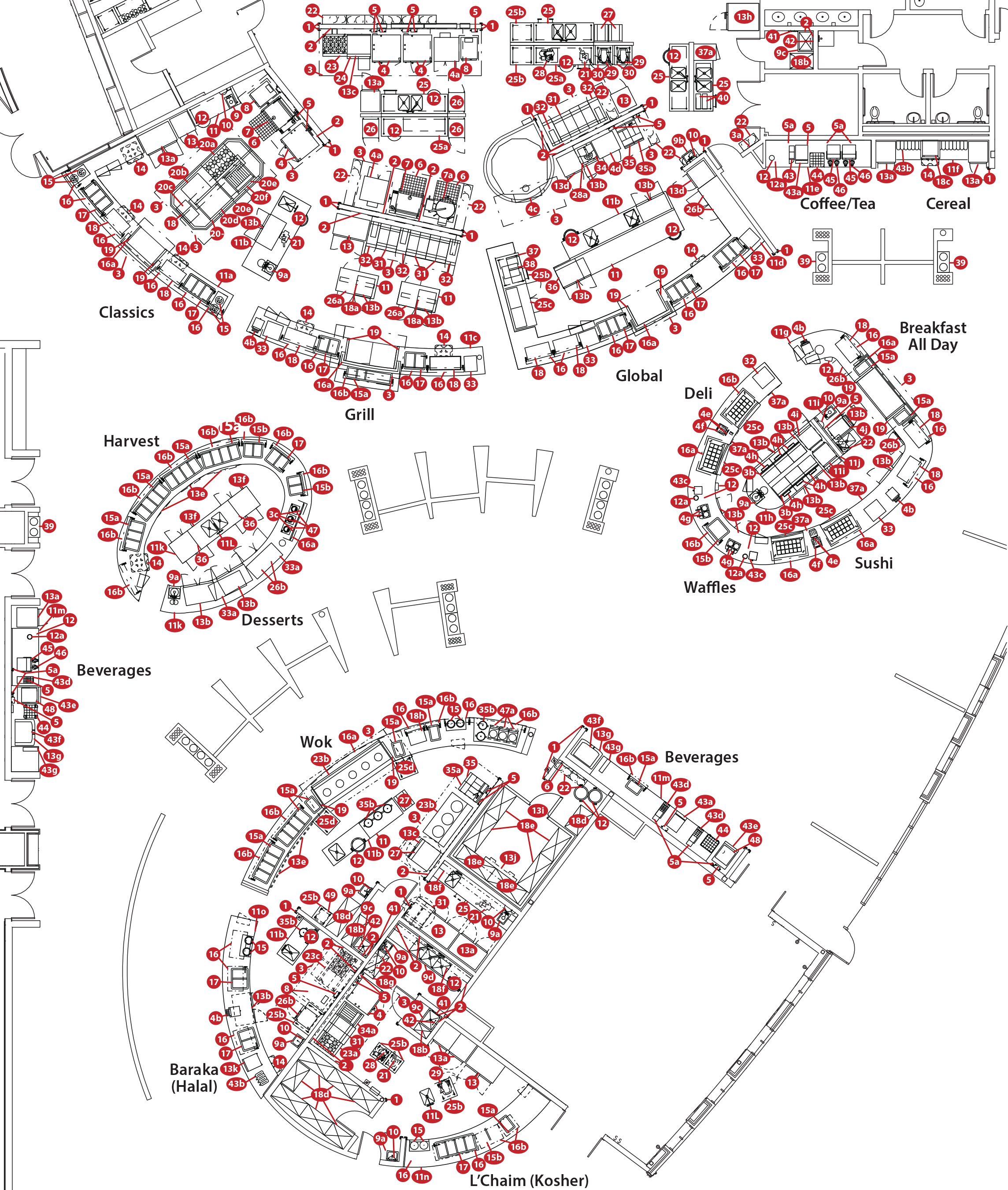 1. Corner guard
2. Wall flashing
3. Exhaust hood
3a. Hood control panel
3b. Ventilation exhaust system
3c. Ventless exhaust system
4. Combi ovens
4a. Double convection oven
4b. Conveyor toaster
4c. Hearth oven
4d. Vertical rotisserie
4e. Toaster
4f. Toaster stand
4g. Waffle maker
4h. Panini press
4i. Microwave convection oven
4J. Ventless combi oven
5. Water filter assembly
5a. Filter/filtration system
6. Floor trough
7. Tilting skillet/braising pan
7a. Tilting kettles with pantry faucet
8. Convection steamer
9. Drop-in hand sink
9a. Drop-in sink
9b. Hand sink
9c. Mop sink
9d. Pot sink
10. Soap and towel dispenser
11. Work counter
11a. Classics counter
11b. Work counter w/sink
11c. Grill counter
11d. Global/pasta counter
11e. Coffee counter
11f. Cereal counter
11g. Breakfast/deli counter
11h. Waffle/deli counter
11i. Back counter
11j. Back counter w/sink
11k. Harvest counter
11l. Prep counter w/sinks
11m. Beverage counter
11n. Kosher counter
11o. Halal counter
12. Trash receptacle
12a. Trash chute
13. Reach-in freezer
13a. Reach-in refrigerator
13b. Undercounter refrigerator
13c. Refrigerated base
13d. Roll-in refrigerator
13e. Refrigerated base w/drawers
13f. Pass-thru refrigerated base
13g. Ice cream/frozen yogurt freezer
13h. Blast chiller
13i. Walk-in cooler
13j. Cooler evaporator
13k. Countertop refrigerator
14. Dish dolly
15. Soup well
15a. Cold food well
15b. Drop-in cold well
16. Food shield w/warmer and light
16a. Vertical food shield
16b. Food shield w/lights
17. Hot/cold drop-in unit w/pantry faucet
18. Drop-in heated shelf
18a. Overshelf w/heat lamps
18b. Detergent storage shelving
18c. Bowl shelving
18d. Dry storage shelving
18e. Cooler storage shelving
18f. Wall shelf w/pot hooks
18g. Pot and pan shelving
18h. Drop-in hot/cold shelf
19. Capture jet bar
20. Island cooking suite
20a. 8-burner range w/convection oven
20b. French-top range
20c. Oven shelf
20d. Chrome-plated griddle
20e. Refrigerated base
20f. Charbroiler
21. Food processor
22. Fire suppression system
23. 5-burner range w/convection oven
23a. Modular 4-burner range
23b. Wok range
23c. Range/griddle/oven
24. Chrome-plated griddle
25. Prep table w/sinks
25a. Pass-through undercounter holding cabinet
25b. Mobile work table
25c. Sandwich prep table
25d. Mobile spice table
26. Mobile heated cabinet
26a. Pass-through undercounter holding cabinet
26b. Undercounter holding cabinet
27. Pan rack cart
28. Slicer
28a. Kebab slicer
29. Food mixer
30. Equipment stand
31. Fryer battery
32. Dump station
33. Bread display
33a. Glass display
34. Vertical broiler
34a. Charbroiler
35. Pasta cooker
35a. Pasta rinse station
35b. Rice cooker
36. Cutting board
37. Pan rack slide
37a. Undercounter bread rack slides
38. Dough press
39. Plate/silverware dispenser
40. Skewer holder
41. 3-pole mop holder
42. Faucet
43. Hot chocolate dispenser
43a. Juice dispenser
43b. Cereal dispenser
43c. Waffle batter dispenser
43d. Flavored water dispenser
43e. Soda/ice dispenser
43f. Ice cream/frozen yogurt dispenser
43g. Cone dispenser
44. Glass rack
45. Coffee brewer
46. Airpots
47. Induction cooker
47a. Countertop induction wok
48. Ice maker
49. Rice sheet maker