Students and foodservice staff at Edna Rowe Elementary School in Dallas started the new 2018–19 school year with a renovated kitchen, servery and dining room. "The entire foodservice operation is more efficient for the staff, who prepare and serve food to more students through the new serving lines with greater ease and in less time than they did before the renovation," says Michael Rosenberger, executive director of Food and Child Nutrition services at the Dallas Independent School District (ISD).
The changes are one element of a complete school renovation as part of a district-wide program that prioritizes renovation dollars to school buildings and foodservice operations most in need. After 52 years in operation, Edna Rowe needed a refresh.
"To properly shepherd bond funding, the Dallas ISD board and design team endeavored to completely renovate this elementary school campus while preserving the structures of the existing permanent buildings," says Tony Nielsen, project manager/associate at RGM Architects LLC, Dallas.
The building received aesthetic and watertight improvements, including a completely new roof and drainage system, HVAC system, low-emissivity glass for exterior windows and storefront door glazing. The architects also added new stone masonry veneer in place of the old stucco surfaces. "Students and staff no longer occupy aging and uncomfortable classrooms and gathering spaces," Nielsen says. "They now enjoy a fresh, new learning environment with bright finishes, balanced air and proper lighting."
Finishes were replaced on nearly every interior surface, including walls, floors and ceilings. New built-in cabinetry provides additional work surfaces, supply storage and student cubbies in the classrooms. All spaces now provide technology upgrades for students and staff as well. "The overall efficiency and cleanliness of the school's greatly improved environment provides inspiration and motivation for the students, staff and community," Nielsen says.
Additional Dining Room Space
The project designers expanded the size of the dining room (from approximately 860 square feet to 2,677 square feet) by converting two classrooms into dining room space. "This created adequate space for students to walk with their food and safely arrive at their seats," says Jose Rojas, project manager/principal, at RGM Architects. "It also handles more students so the school can reduce the number of lunch shifts if they want."
In the dining area, the architects specified vinyl composition tile flooring in a neutral palette patterned with the school's colors. New windows replaced old, single-pane windows, providing energy efficiency.
In the dining area, the architects specified vinyl composition tile flooring in a neutral palette patterned with the school's colors. "It's easy to clean and maintain, and it provides a sense of school pride among students and staff to see their school's colors on display," says Rojas.
New windows replaced old, single-pane windows, providing energy efficiency. "This is a must in Texas due to severe temperature fluctuations from hot to cold. In addition, new acoustical ceiling tile helps with noise attenuation," Rojas says.
Foodservice Improvements
Changes in Edna Rowe's foodservice represent the first major alterations to the dining operation since the school opened in 1966, though minor changes were made eight years ago.
"The challenge we faced was working with an existing facility with limited square footage," says foodservice design consultant Trey Rieper, FCSI, project manager at Houston-based Foodservice Design Professionals. "We moved one wall so we gained 200 square feet. The infrastructure had to stay pretty much the same though we increased electrical capabilities and added floor drains for some equipment. Communication with the architects and knowing how health codes have changed were crucial."
The kitchen merged with the servery to support a serving line conceived by Rosenberger that enhances staff efficiency and decreases the amount of time students spend on the service line.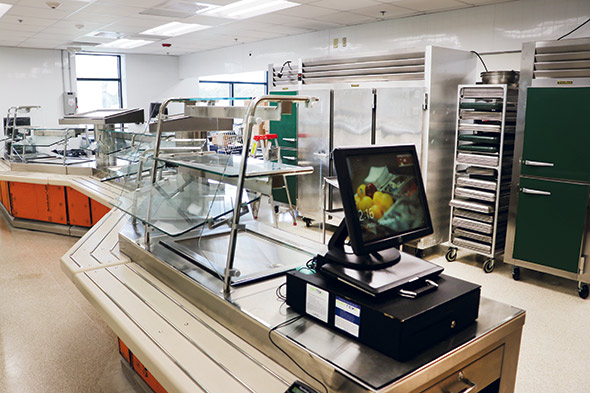 Students take hot entrees from the wells and move left and right to take cold items.
Food arrives at a loading dock with a ramp that leads into the school. A central kitchen and warehouse support production at Edna Rowe, as well as at schools in the district. The central kitchen provides schools with daily deliveries of sandwiches, salads, a smoothie mixture and meals for the after-school supper program. Other suppliers deliver produce, milk and prebaked items.
Staff take deliveries down a corridor to the walk-in cooler and walk-in freezer. "We redid these so the compressors have a lower amp draw and are more air-tight, which makes them more efficient and brings them up to health codes," Rieper says. Staff place nonrefrigerated food items into an enlarged dry storage area.
Students can see much of the production process due to the open-kitchen design, which was something that Rosenberger felt strongly about including. "The staff's work is visible, which contributes to students' seeing that their food is freshly prepared," he says. "We design our menus to feature contemporary food that kids like, and we want them to understand what goes into the preparation."
The serving line configuration with the hot wells in the middle expedite service.
Staff prepare pasta, hamburger meat and Spanish rice in a 30-gallon tilt braising pan. A double-stacked convection steam oven heats vegetables. "Each is an independent unit, so if one goes down the other keeps working," Rosenberger says.
A split-door, continuously humidified convection oven cooks myriad menu items including chicken, vegetables and breads. "Since the moisture level is adjustable, we can cook with dry heat, a certain percentage of moisture/humidity, or 100 percent humidity," Rosenberger says. "Cooking with moisture/humidity speeds cooking time compared to dry heat by approximately 20 percent and decreases the loss of product weight."
High-powered convection ovens and steamers support meal production.
Staff use a food processor and 20-quart countertop mixer to prepare gravies and mashed potatoes.
For students requiring special diets, staff cook meals using a double induction cooktop. "The induction cooktop also provides a high degree of safety compared to a gas range since it cooks without open flames or heated cooking elements," Rosenberger says.
A hot water dispenser provides an unlimited supply of boiling water for staff to make gelatins and instant mashed potatoes. "It's much safer for staff to put water directly into a bowl from a dispenser than carrying a pot of boiling water from a range to work station," Rosenberger says.
In the pot-washing area, designers replaced a three-compartment sink with a high-energy, powered soak sink to save labor. The kitchen does not contain a dishmachine because the operation uses compostable dishes, plates and flatware.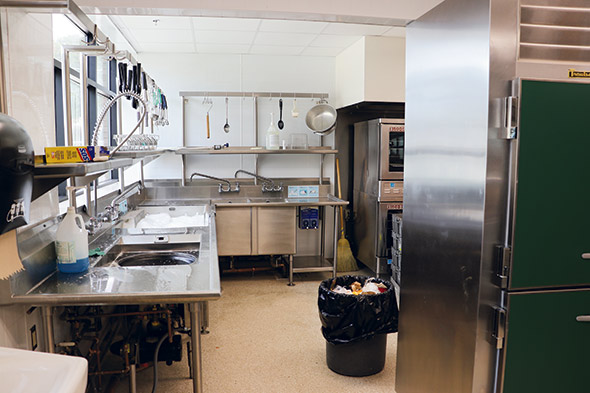 A high-powered soak sink cleans pots and pans.
"The existing terrazzo flooring in the kitchen was redone, so it is easier to care for and maintain," Rojas says. "New fiberglass reinforced panels with the feel of real tile allows the surface to be cleaned with ease and to eliminate the typical issue of wall tile grout needing to be resealed over the years."
The Serving Line
The kitchen area and servery comprise a combination space with a serving line that snakes through the space to allow more students in at the same time. This enables staff to serve students faster than a standard, linear line would.
The Edna Rowe renovation is the first in the district to incorporate this specific serving line design. "We are shaking up the traditional shape of the serving line to expedite service and reduce food loss," Rosenberger says.
"At a typical linear serving line, servers run out of food during meal periods and must walk to a nearby heated cabinet or to another server's station to find more food," Rosenberger says. "Maybe the food is available there, and maybe it hasn't yet been replenished. So kids must wait until the server finds the food, opens the pans the food is sitting in and places them in the serving line. This may take five minutes, which slows down the line considerably. If this happens several times, that's many minutes, and the delays cause trouble throughout the entire meal service. Delays are equally as long if servers must locate food to accommodate students' requests for menu items that meet their special dietary needs."
At the new line, students and other customers enter from one of two centrally located entrance doors. They pick up milk or juice sitting in two containers. A menu monitor mounted above the serving line enables students to see food choices and make decisions about what to eat.
Students move forward and find themselves in the middle of the line, where five hot wells hold hot entrees, such as pizza and chicken tenders. "The wells aren't huge, so food turns over quickly and we're serving hotter, fresher food," Rosenberger says. Other menu items include a Dallas bowl, which consists of chicken, gravy, mashed potatoes, corn and cheese; chicken and waffles; stir-fries; and oven-roasted turkey legs.
Students take hot entrees from the wells and move left and right to take cold items.
After the hot entree area, students move to the right or left where elevated frost tops overhang the respective edges of the hot well. "This design allows us to display our cold entrees, such as Mediterranean- and Southwest-inspired salads and sandwiches, at basically the same place as our hot entrees," Rosenberger says. "Clustering both the hot and cold entrees in one area makes it easier for students to select their entrees first, whether hot or cold."
Under the previous design, the regular-height frost tops were located slightly past the hot wells. "This old design created a situation in which a student would take a hot entree, travel a bit down the serving line, then see a cold sandwich or salad and decide that cold item is really what they want for lunch, causing us to throw away the hot entree," Rosenberger says. Clustering all entrees, hot and cold, in one area eliminates that problem.
"This design also benefits staff, because all entrees can be restocked in one area," Rosenberger says. "Every step that we save our employees from making makes their job easier. It's all about ergonomic design."
Pass-through heated cabinets and a pass-through refrigerator sit directly behind the serving line, enabling easy access to both food and the serving line.
Hot side dishes come next in the lineup; they sit on a heated flat display unit with a food guard and shelf above it. Hot side dishes include menu items such as mashed potatoes and farm-fresh zucchini. "We portion sides so they are easy for students to pick up and continue moving down the line," Rosenberger says.
"This flat display unit allows food to remain at safe, adequate temperatures and ensures students receive a hot meal — not partially warm food," Rojas says.
Another frost top holds snacks, side salads and bottled water. A cashier station sits at the end of the line, and a small cart nearby holds bottled water, granola bars and a few other a la carte menu items. "Very few foods meet our standards for healthy a la carte snacks based upon standards adopted by the Urban School Food Alliance," Rosenberger says. "Some of those standards include no high fructose corn syrup and no artificial colors and flavors."
"The design helps us to delineate job responsibilities," Rosenberger says. For example, cashiers keep cold items stocked and maintain the milk containers, while other employees assume responsibility for hot foods and cold entrees.
Overall, Rosenberger views the new line as a game-changer for Edna Rowe and other Dallas schools that adopt this design. "This is a win-win for students and staff because lines don't back up and staff can stay on schedule," Rosenberger says.
---
Facts of Note
Dallas Independent School District: 222 schools; 155,000 students enrolled
Edna Rowe Elementary School: 459 students enrolled in 2017–18 school year
Opened: September 2018
Scope of Project: Serving line, kitchen, storage and dining room
Size: Kitchen, 860 sq. ft, including 270 sq. ft. for serving area; dining area, 2,677 sq. ft., which was expanded by 620 sq. ft., creating adequate space for students to walk safely to their seats with their food
Meals Served in 2017–18 School Year: Approximately 42,000 breakfasts, 73,000 lunches
Average Daily Participation (ADP): breakfast – 48 percent before the renovation and 92 percent after; lunch – held steady at 83 percent before and after the renovation
Average Check: As a Community Eligibility Provision (CEP) school, all students receive breakfast and lunch at no cost.
Hours: Breakfast in the classroom, 7:45 a.m.; lunch, 10 a.m. – 1 p.m.
Menu Specialties: Dallas bowl with chicken, gravy, mashed potatoes, corn and cheese; pizza; stir-fries; chicken tenders; chicken and waffles; oven-roasted turkey legs; cold entrees such as salads and sandwiches
Staff: 6 employees, including 1 kitchen supervisor, 1 technician and 4 assistants
Total Project Cost: To be determined (building still under construction)
Equipment Investment: $286,000
Website: www.dallasisd.org
Key Players
Owner: Dallas Independent School District (ISD)
Executive Director, Food and Child Nutrition Services: Michael Rosenberger
Architect: RGM Architects LLC, Dallas: Ralph Martinez, owner and architect in charge; Jose Rojas, project manager/principal; and Tony Nielsen, project manager/associate
Interior Design: RGM Architects and Dallas ISD
Foodservice Consultant: Foodservice Design Professionals, Houston: Trey Rieper, FCSI, project manager
Equipment Dealer: Supreme Fixture Company, Little Rock, Ark.
Meet the Players
Ralph Martinez, founder and owner, RGM Architects LLC. Martinez started the architectural design firm 45 years ago. Projects include renovated facilities for cities and school districts, such as City of Dallas, Ft. Worth Independent School District and Dallas Independent School District. Other projects include American Airlines in Mexico and Central America.
Tony Nielsen, project manager/associate, RGM Architects LLC. Nielsen joined the firm in 2016 with project experience for towns near Dallas and Houston. He was the manager of park development for the City of McKinney in Texas, serving as manager of in-house design and construction projects for the Parks and Recreation Department.
Trey Rieper, FCSI, project manager, Foodservice Design Professionals. Rieper joined the consultancy in 2016. Previously, he spent six years at Refrigeration Design Technologies in Waxahachie, Texas. He also once owned a bakery and deli and spent 13 years as a firefighter and paramedic. Other projects include Texas schools.
Jose Rojas, project manager/principal, RGM Architects LLC. With more than 20 years of experience in commercial and institutional facilities, Rojas joined RGM Architects in December 2015. Projects include Wilmer-Hutchins High School and Stadium and Dallas elementary schools.
Michael Rosenberger, executive director, Food and Child Nutrition Services, DISD. Rosenberger joined the district in December 2016. Prior to this he spent 16 years as director of foodservice for nearby Irving Independent School District.
---
Equipment Key
1. Drop-front milk cooler
2. Cash register
3. Frost top
3a. Elevated frost top
4. Hot top
5. Serving counter
6. Five hot wells
7. Hand sink
8. Pass-thru heated cabinet, one-drawer
9. Video monitoring system
10. Graphics package for promotional and
nutritional signs and graphics
11. Pass-thru refrigerator
11a. Freezer
11b. Cooler
11c. Refrigerator coil
12. Undercounter ice maker
13. Scrap collector
14. High-powered soak sink
15. Worktable w/double bar utility rack
16. Food processor
17. 20-qt. mixer w/stand
18. Exhaust hood
19. Convection oven
19a. Hydro-convection oven
20. 30-gal. tilting braising pan
21. Convection steamer
22. Hot water dispenser
23. Steam tilting kettle
24. Air screen
25. Fish-eye peep holes for receiving door
26. Lockers
27. Stacked washer/dryer