Featuring high-level integration of scientific research and patient care in a rehabilitation hospital, the 17-month-old Shirley Ryan AbilityLab in Chicago strives to inspire and promote healing. The $550 million, 27-story rehabilitation center comprises 1.2 million square feet, including 800,000 square feet devoted to clinical care and research.
Shirley Ryan AbilityLab is the new branded name of the Rehabilitation Institute of Chicago (RIC), founded in 1954 and renowned for its care for patients with severe, complex conditions. The new 242-bed Chicago hospital has 60 more beds than the previous RIC facility and has the potential to expand to 350. It provides around-the-clock patient care. The name change shifts the focus from disability to ability and from the process of rehabilitation to the outcome.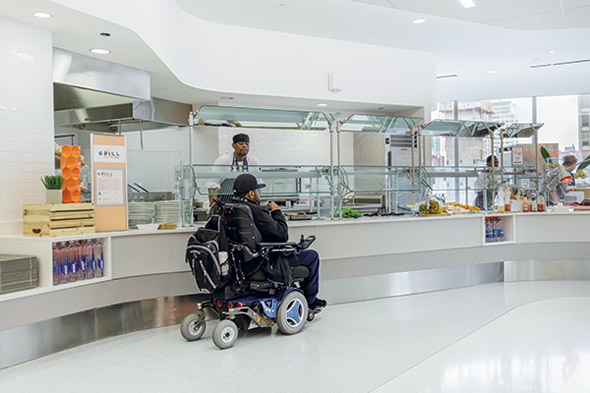 Within this environment that promotes healing and integrates scientific research, interdisciplinary teams of clinicians, scientists, innovators and technologists work together in five applied research and therapeutic spaces called labs. Here, they discover new clinical approaches to rehabilitation and applying — or translating — research in real time. Patients can see each other and their activity. This approach helps patients gain more function, achieve better outcomes, and enjoy greater ability and independence.
As an extension of AbilityLab's emphasis on ability and healing over disability, the hospital's design serves as inspiration to patients and staff. Upon entering on the ground floor, patients, visitors and staff take elevators to the building's sky lobby on level 10. Level 9 contains mechanical space, and the floors below hold parking spaces.
Foodservice primarily resides on the 12th floor and includes a production kitchen that produces patient meals using a hybrid pod and room service methodology. "The 12th floor foodservice location provides amazing views to Lake Michigan because the design team worked hard to ensure unobstructed views," says Connie Dickson, FCSI, design principal, Rippe Associates, Minneapolis. "In most kitchens, we strive for good internal sightlines by locating tall equipment to the exterior walls. In this project, we pulled high equipment inboard and located lower work counters along the exterior. Exterior window walls required the design team to develop special construction details for fabricated work counters with sinks to ensure that the heating system would protect plumbing along exterior walls from cold winter temperatures."
Kitchen equipment includes convection ovens, a four-burner range, charbroilers, boilerless steamers, a tilting fry pan and kettles.
A retail serving area features multiple food concept stations and a dining room. The 10th-floor lobby level consists of a small catering pantry, which services the 10th-floor conference spaces, and Argo Tea, a licensed cafe. Argo Tea Inc.'s Mark Cuellar, AIA, VP of design, experience and store development, designed the Argo Tea space.
"Patient and retail foodservice provide a means to bring people together, provide respite and enhance healing," says Katie Hartoin, RD, LDN, director, Food and Nutrition Services, Morrison Healthcare, which serves as the center's foodservice provider.
The foodservice location on the 12th floor includes high windows allowing in natural light to help boost morale for customers and staff. "Everyone feels this is part of a new era in healthcare dining and production," says Armando Serrano, Morrison Healthcare chef.
Production Flow
Deliveries arrive on the ground floor. Staff transport the food items to the 12th-floor kitchen in service elevators. Storage includes four walk-in coolers and a walk-in freezer for patient foodservice production, plus another walk-in cooler and walk-in freezer for catering and cafe production. In addition, a blast chiller allows staff to quickly reduce the temperature and increase the variety of menu items.
"We organized work centers so food moves logically from ingredients to prep cooking to service to sanitation," Dickson says. "We also right-sized the work centers in the kitchen and cafe servery to include all key equipment needed for the functions served to minimize steps staff must take while working."
For bulk production, staff use a food processor, slicer, two 6-gallon kettles, a 12-gallon kettle, a 25-gallon kettle, a 40-gallon tilting fry pan and a double-stacked convection oven. This equipment supports production of soups, sauces, entrees, catering functions, patient menu items and limited-time menu promotions.
The equipment arrangement minimizes the steps staff must take in the kitchen.
The contrast between the former RIC foodservice and the new operation is significant. "The RIC foodservice had one little kitchen with a two-burner range," says Serrano. "Overall, we have about 300 percent more equipment now." Before the new facility opened, staff attended in-service training sessions to learn how to use the new equipment.
The kitchen was designed for the long-term. "The kitchen was designed to produce additional meals when the facility adds bed capacity in the future," Dickson says. "Equipment that will be needed for the higher meal volume was identified as future equipment, including a two-burner range, a second beverage station, a third patient tray line station and a convection oven for baking. The equipment and utilities were installed during construction. To minimize operational disruptions, one exhaust hood and the ductwork were also installed to meet future needs."
The kitchen's warewashing area contains an agitating, continuous-soak pot and pan sink as well as a flight-type dishmachine that rinses and sanitizes. Carts and trays are also washed nearby. "Trays from patients and retail flow through the dishroom from soiled to clean without cross traffic," Dickson says.
Patient Foodservice
"To keep patient satisfaction high, we use a Morrison Healthcare-developed Patient Experience Team approach to train our staff and set standards," says Laurel Schutter, MBA, regional director for Morrison Healthcare. "A Morrison Healthcare coach and regional managers come to the AbilityLab to work with staff to maximize Hospital Consumer Assessment of Healthcare Providers and Systems (HCAHPS) scores from patients. Morrison Healthcare also developed a partnership with Press Ganey to help understand better what's driving patients' scores."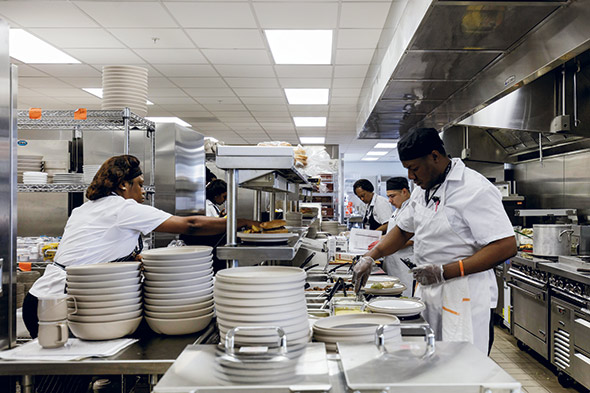 Ample shelving, cold rails and cooking equipment nearby allow staff to plate trays quickly and efficiently.
Patient tray assembly has the flexibility to provide both scheduled meals and room service meals based on patients' needs and schedules. Staff implement Morrison's Positive Impressions program in which dining associates visit patients, take their menu orders and deliver trays. "Because the patient population is in rehab several hours a day, we picked a dining model that is tailored to the needs of the patients," Hartoin says. "We have tightly scheduled and specific meal times because patients have breakfast, go to therapy, come back from therapy, eat and move on to their next therapy. We can deliver room service when necessary during the day and in the evenings, however."
The AbilityLab assigns each catering associate 30 patients. Given that patients stay an average of 17 days, this provides some service continuity. "Associates work 12-hour shifts and come into each patient's room about 6 times a day to take orders and deliver and pick up trays for breakfast, lunch and dinner," Hartoin says. "Because patients are in the facility for so long, it is important for them to feel comfortable with the catering associates."
Catering associates take menu orders with tablets that integrate into the hospital's electronic medical records. They take breakfast orders the afternoon before, lunch orders after breakfast the same day of service and dinner orders in the afternoon the same day of service. After taking orders, catering associates return to the kitchen to print the tallies and tray tickets. The cooks then receive the tallies. Thirty minutes before tray assembly begins, culinary staff begin cooking food in batches. This keeps the food fresher. Cooks use a four-burner range, flattop grill, charbroiler and boilerless steamer to produce hot menu items.
Each patient's order prints out with calories and nutrients, which goes to the tray assemblers. "Patient tray assembly occupies a central position between production and warewashing with easy access to the department exit for tray carts," Dickson says. Tray assembly takes place at two pods that contain hot and cold food wells and racks of condiments, so four assemblers (two at each pod) can assemble trays quickly. Staff cover meal plates with a dome lid and place them in a plate warmer that sits on a heated base. The hot plate, a frozen plate holding cold foods, and beverages from a centrally located station near the pods are placed into insulated carts and taken up to the patients' rooms. On the floors, nourishment rooms contain supplements, snacks and floor stocks.
"Schedules relax in the evening, so we have more flexibility with dinner service," Hartoin says. Patients who are not eating in their rooms dine in the hub, which contains tables and chairs. Often, these patients will dine with a speech therapist who works with them during meals.
"We also have occupational therapy home-like kitchens," Hartoin adds. "We support these kitchens with recipes that patients can learn to prepare so they feel more comfortable cooking when they go to their home environments. Dietitians also provide nutritional information and cooking demonstrations."
In addition, some patients dine in the cafe using patient vouchers that doctors issue as part of their transition from AbilityLab to their homes.
The Retail Cafe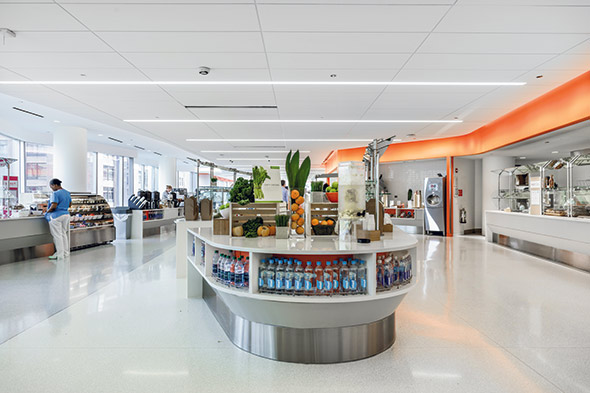 Placement of cashier stations, condiments and beverages expedites traffic flow.
Unlike at typical acute care facilities, AbilityLab patients stay at the facility for extended periods and often continue treatment as outpatients. In addition to staff and visitors, patients often frequent the cafe as part of their rehabilitation. "Rippe Associates team members observed operations at a rehabilitation project in Atlanta to watch customers navigate the retail servery and talk with foodservice staff about optimal equipment and dimensions for their clientele," Dickson says. For example, based on this research, serving counter heights are 32 inches above finished floors instead of the Americans with Disabilities Act-required height of 34 inches.
"We all eat first with our eyes," Dickson says. "The retail servery is a food court concept that uses visual displays of featured menu items to merchandise menu options. Since menu items displayed at serving-counter height are not easily seen by customers in wheelchairs, the design team worked with a manufacturer to develop a unique design feature." That feature is a mirrored plexiglass panel above the protector shelf glass, adjusted to provide a view of menu items for guests in wheelchairs. The manufacturer built and shipped a prototype so that Dickson and the Rippe Associates team could try different settings, look at the impact to customers and servers, and confirm the optimal adjustments for the mirrored panel.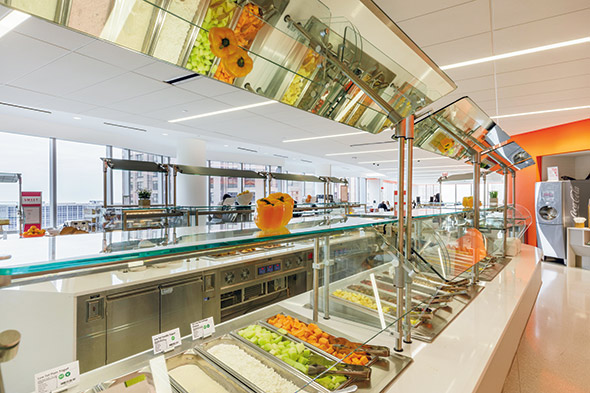 A mirrored plexiglass panel above the protector shelf glass provides a view of menu items for cafe guests in wheelchairs.
The design team also considered how customers in wheelchairs approach counters and reach food. The lower front serving counter angles back to the toe kick to improve the reach from wheelchairs to menu items. "The combination of concave curves and an angled front led to using a plastic laminate on the counter backings to maintain consistent color," Dickson says.
Dickson and the Rippe team also partnered with Gensler, the project's architect, to develop retail counters consistent with the building's interiors. Retail serving counters feature organic shapes and curves. Their location directs the flow of customers from the entrance into the dining room. "The retail area includes a generous circulation factor to account for the high proportion of customers in wheelchairs," Dickson says.
The cafe features seven stations with more than half of the menu preparation visible to customers. Stations include a grill area, comfort food/entrees, pizza, made-to-order sandwiches, a salad bar and a dessert station. An on-the-go station rounds out the offerings.
The grill staff use a refrigerated rail, drop-in cold pans, a flattop grill, a charbroiler, a fryer and a high-speed oven to prepare hamburgers, hot dogs, chicken breasts, veggie burgers, quinoa burgers, black bean burgers and sandwiches. Popular offerings include Italian beef, fried green tomatoes, Philly cheesesteak, quinoa and grilled cheese. "We offer a lot of variety because there's a lot of competition in the downtown area," Serrano says.
The comfort food/entree station staff use induction ranges and a combi oven to prepare meatloaf, beef stroganoff, roasted turkey, pastas, taco salads and bowls, fresh salmon with a honey glaze, barbecue pork ribs, corned beef, flank steak and rotisserie chicken. A carving station sits in between the entree and grill stations.
At the pizza station, customers select several varieties of pies that staff cook in a conveyor oven. "We also offer a make-your-own pizza in which customers give their order to a cook," Serrano says.
Made-to-order sandwiches attract customers to Market St. Deli. Customers select proteins, cheeses, toppings and bread. Cooks toast the sandwiches in a high-speed oven and panini grill. "The original design included a stone hearth oven, but that was eliminated with budget changes," Dickson says.
The deli features made-to-order and to-go sandwiches.
The second most popular station (the grill is the first), the salad bar, features 80 ingredients that rotate seasonally. Premade salads comprise about 10 percent of sales. This station also features two soups daily.
"People are more health conscious and prefer more low-fat and lower-calorie items," Serrano says. "The move to the new facility gave us an opportunity to offer more healthy choices and hopefully have an impact on customers' well-being."
"Being in a healthcare environment, we focus on wellness," Hartoin says. "As a dietitian, I appreciate that we have many ways to serve our customers healthy, well-balanced meals."
For customers with a sweet tooth, the sweets/desserts station features homemade muffins, donuts, almond croissants, brownies, cheesecakes, assorted cookies, designer cakes, ice cream and an assortment of pound cakes.
For customers who want takeout, an on-the-go station offers yogurt parfaits, salads, sushi and desserts presented in an open-air cooler. In addition, one beverage station features hot drinks, while the other features cold drinks.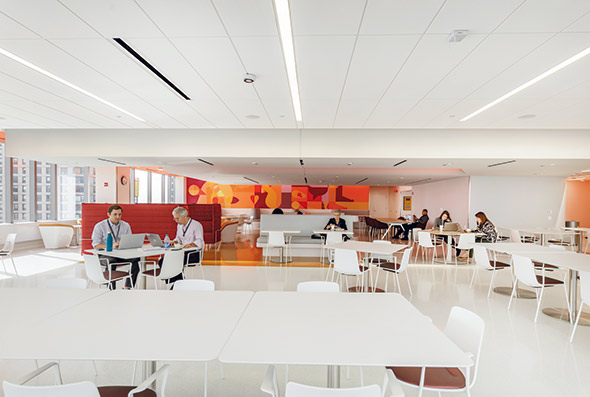 Cafe seating features options for groups and single customers. Natural light streams in through high windows.
Sustainable Features and Encouraging Wellness
Exhaust hoods feature variable demand controls. "The City of Chicago Building Department uses a calculation for exhaust hoods that results in an unusually high volume of exhaust," Dickson says. "We prepared a variance request that explained the basis of design relative to UL 710, and the variance was granted. Lower exhaust rates result in lower volumes of conditioned makeup air and save energy on a daily basis."
The culinary staff follows Morrison Healthcare's sustainable food guidelines and purchases locally sourced and seasonal food whenever possible. "We buy items from farmers that aren't perfect-looking," Serrano says. "We dice it up anyway, so it doesn't matter that there are a few blemishes." Staff also encourage customers to eat healthy by serving whole grain buns unless customers request other varieties and preparing most dishes with olive oil rather than butter.
The average check has increased 10 percent compared with the check average in the previous space, and total annual revenue has grown more than 60 percent over last year in the old space. This does not include the licensed Argo Tea but does include catering and events for outside companies and not-for-profit organizations. Additionally, daily transactions have increased more than 54 percent over last year, and monthly catered events are up 69 percent over last year.
As the food and nutrition team becomes accustomed to its new surroundings, they continue to experiment with menu offerings and encourage customers to eat diets that support their wellness goals. "The proudest part for me is watching the staff," Serrano says. "We were working in a little square, and now that we have all this new space, the staff can expand their skills and create new menu items. They are growing and have more interest in becoming chefs and learning how to prepare food properly."
Facts of Note
AbilityLab: Owns 40 sites in Illinois and Indiana
Shirley Ryan AbilityLab: 242 patient beds with the potential to expand to 350. Multiple research and therapeutic labs specialize in recovery issues surrounding traumas, strokes, sports injuries and more. Morrison Healthcare, part of Compass Group, serves as the foodservice provider.
Opened: March 25, 2017
Scope of Project: A kitchen, servery and dining room on the 12th floor
Size: Shirley Ryan AbilityLab, 1.2 million sq. ft., 27 stories; kitchen, including toilets and lockers, 8,000 sq. ft.; retail, including large storage room, 4,375 sq. ft.; dining, 3,940 sq. ft.; catering pantry, 215 sq. ft.
Seats: 162
Hours: Patient foodservice, 6 a.m. to 8 p.m.; retail cafe, 7 a.m. to 7 p.m., Monday through Friday; 24 hours a day at Argo Tea
Menu Specialties: Grilled selections, global entrees, pizza, made-to-order deli sandwiches, salad bar, sweets and
desserts, and to-go salads and yogurt
Staff: 66 full-time equivalents and 4 FTEs at Argo
Total Project Cost: $550 million
Website: www.sralab.org
Key Players
President and CEO, Shirley Ryan AbilityLab: Joanne C. Smith, MD
Senior Vice President, Chief Administrative Officer, Shirley Ryan AbilityLab: Nancy Paridy
Regional Vice President, Morrison Healthcare: Avi Pinto
Regional Director, Morrison Healthcare: Laurel Schutter, MBA
Director, Food and Nutrition Services, Morrison Healthcare: Katie Hartoin, RD, LDN
Retail Manager, Morrison Healthcare: Elizabeth Barry
Patient Service Manager, Morrison Healthcare: Prescilla Malayter
Clinical Nutrition Manager and Assistant Director, Morrison Healthcare: Sabrina Sitkoski, RD, LDN, CSG
Executive Chef, Morrison Healthcare: Armando Serrano
Architects: HDR and Gensler, both in Chicago. R. Todd Eicken, AIA, senior vice president, HDR; Grant Uhlir, AIA, LEED AP BD+C, managing director, principal, Gensler; Brian Vitale, AIA, LEED AP, creative director, principal, Gensler
Interior Design: HDR and Gensler, both in Chicago. Anne Gibson, IIDA, NCIDQ, LEED AP, design director, principal, GenslerFoodservice
Design Consultants: Rippe Associates, Minneapolis. Connie Dickson, FCSI, design principal; Christine Guyott, RD, FCSI, principal; Amy Fick, senior project manager
Equipment Dealer: Stafford-Smith Inc., Elkhorn, Wis.; Rick Hoagland, regional manager
Construction: Arcardis U.S. Inc., Chicago; Michael Vergamini, PE, LEED AP, senior program manager; and Power Construction, Chicago; Austin Pritchard, project engineer
Meet the Players
Connie Dickson, FCSI, design principal, Rippe Associates. Dickson draws on both culinary and foodservice management experience to develop designs. She specializes in healthcare, senior living, and business and industry projects. She joined Rippe Associates in 2006.
Amy Fick, senior project manager, Rippe Associates. Since 1997, Fick's foodservice project work in higher education, K-12 schools and healthcare includes University of Missouri's Missouri Orthopaedic Institute in Columbia, Mo.; Johnston Community School District in Johnston, Iowa; Bay Area Medical Center in Marinette, Wis.; and Aurora Medical Center in Illinois.

Katie Hartoin, RD, LDN, director of Food and Nutrition Services, Morrison Healthcare. Hartoin's involvement with RIC (now the Shirley Ryan AbilityLab) dates back to 2009. Morrison Healthcare won the bid a year later. Hartoin joined this team in 2011 as assistant director and clinical nutrition manager. She moved into the director's role in 2012.

Laurel Schutter, MBA, regional director of operations, Morrison Healthcare. Schutter joined Morrison Healthcare in November 2009. She was previously the director of food and nutrition at Condell Hospital in Libertyville, Ill.
Armando Serrano, chef, Morrison Healthcare. Serrano has worked with Compass Group for 20 years, 5 of those with Morrison Healthcare. He arrived at RIC 3 years ago. Previously, he worked at Rush Oak Park Hospital, General Growth Properties and St. Xavier University, all outside Chicago.
Shirley Ryan AblilityLab Floorplan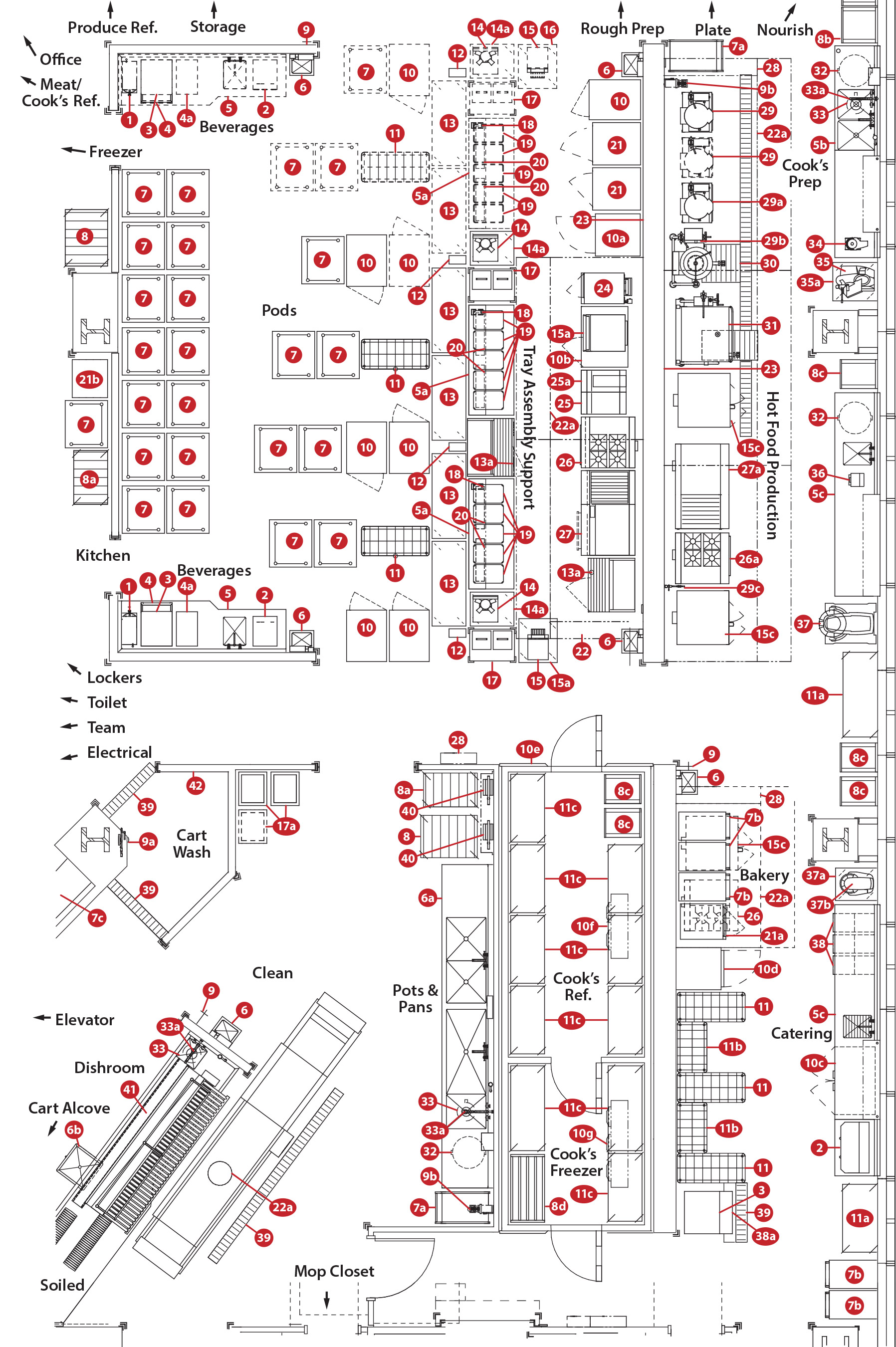 Equipment Key

1. Iced tea brewer
2. Coffee brewer
3. Ice maker
4. Ice dispenser w/soda heads
4a. Juice dispenser
5. Beverage counter w/sink
5a. Hot food counter
5b. Cook's prep counter
5c. Work counter w/sink and overshelf
6. Hand sink
6a. Pot and pan sink w/agitator
6b. Mobile soak sink
7. Patient tray delivery cart
7a. Utility cart
7b. Catering cart
7c. Receiving cart
8. Base rack
8a. Dome rack
8b. Blast-chiller rack
8c. Mobile rack
8d. Dunnage rack
9. Hose bibb
9a. Hose station
9b. Hose reel
10. Mobile air screen refrigerator
10a. Reach-in freezer
10b. Undercounter freezer
10c. Undercounter refrigerator
10d. Reach-in refrigerator
10e. Walk-in refrigerator/
freezer complex
10f. Refrigeration system coil
10g. Freezer system coil
11. Dry storage shelving
11a. Pan storage shelving
11b. Dry storage shelving
w/linen rod
11c. Refrigerator/freezer shelving
12. Power pole
13. Worktable
13a. Refrigerated prep table
14. Base heater
14a. Base-heater stand
15. Conveyor toaster
15a. Accelerated oven
15b. Conveyor pizza oven
15c. Convection oven
16. Mobile equipment stand for conveyor toaster
17. Heated-plate dispenser
17a. Tray dispenser
18. Printer
19. Hot-food well
20. Heat lamp
21. Mobile warming and proofing cabinet
21a. Mobile proofing cabinet
21b. Ice cream cabinet
22. Ventilation demand control system
22a. Exhaust hood
23. Stainless steel wall panel
24. Boilerless steamer
25. Fryer w/filter
25a. Dump station
26. Range w/convection oven
26a. Range w/oven
27. Grill and charbroiler
w/refrigerated base
27a. Grill and charbroiler w/oven
28. Fire protection system
29. 6-gal. kettle w/stand
29a. 12-gal. kettle
29b. 25-gal. kettle
29c. Kettle filler
30. Floor grate and frame
31. 40-gal. tilting fry pan
32. Trash container
33. Disposer
33a. Spray rinse
34. Food processor
35. Slicer
35a. Mobile equipment stand
for slicer
36. Blender
37. 60-qt. mixer
37a. 20-qt. mixer
37b. Mobile equipment stand
for mixer
38. Mobile ingredient bin
38a. Ice bin
39. Trench drain
40. Water filtration system
42. Flight-type dish machine
42. Cart wash wall panel