Three restaurants, a micromarket, a physicians lounge and a kitchen give new life and vitality to this healthcare foodservice operation.
Photography by Jill Ockhardt BlaufussThe first in a series of projects for Sanford Health, the new medical center in Fargo serves as North Dakota's newest and largest medical center and healthcare hub. This 284-bed, 1-million-square-foot facility contains Sanford's signature Collegiate Gothic-style of architecture.
"The traditional style has lasting appeal and a welcoming human scale," says project architect Tim Solohubow, AIA, principal and senior vice president, HKS Inc. "The building footprint provides an efficient layout to save on operating costs and minimize staff steps, reducing fatigue and allowing staff to spend more time on patient care."
Connections to nature throughout the building reinforce the healing environment. Windows frame vistas, soothing music plays, and color schemes and artwork reflect the calm of the surrounding prairie in the region.
In addition to the positive distractions of soothing music and separate family quiet areas, stress reducers minimize the impact of noise, glaring light and clutter. "The healing environment extends into the dining area by creating a dining space with a hospitality ambiance rather than an institutional feel seen elsewhere," Solohubow says. "The space provides comfort to patients, family and staff with plenty of natural light, warm finishes and fabrics, sculptural lights fixtures and a centrally located
stone fireplace."
The dining area provides seating for customers visiting three themed restaurants. The foodservice project also includes a support kitchen for the restaurants; patient room service and catering and a pantry/espresso bar/self-serve micromarket for employees on the concourse level below; and a physicians lounge on the level above the restaurants. The final phase of the project, still ongoing, will add a central kitchen with cook-chill components to support all Sanford Health foodservice operations.
The Project's Beginnings and Challenges
Set on 109 acres, the 1-million-square-foot Sanford Medical Center Fargo contains 11 stories. Inside navigation paths help patients, visitors and staff find their way through the enormous building.The project began with an assessment of Sanford Health's foodservice needs for the greater Fargo area. The Sanford Health project team knew the expansion and growth for the new medical center's growth would require a new kitchen and servery. The question became whether to retain the central production kitchen in the existing Broadway main hospital or move it to the new medical center. "This is when we brought in Ricca Design Studios and Envision Strategies to join the design team and bring their expertise to weigh in on the kitchen placement decision," says Lisa Gibson, Sanford Health's director of Nutrition and Food Service. The team decided to keep the central kitchen in the Broadway hospital and expand its footprint to add cook-chill equipment. These steps allow the kitchen to support not only the Broadway hospital but also the new Fargo medical center and another South University campus hospital that will open in the next two years.
That decision prompted the addition of a smaller support kitchen in the new Fargo medical center, which, Gibson says, allowed the team to concentrate more on the restaurants' front-of-the-house design.
One of the project's challenges was the extra level of precaution necessary to assist with infection control due to the at-risk clientele, says Al Moller, LEED AP, principal of Ricca Design Studios. "Staff must serve customers because self-serve stations are prohibited in order to properly manage infection control. Efficient serving and strict portion control was also critical for tracking and posting proper nutritional information."
Another challenge was — and still is — a tight labor market. "It is extremely difficult to recruit and retain employees because we have an explosion of restaurants in the Fargo area and there are more jobs open than people to fill them," Gibson says.
The scalable nature of the microrestaurant concept helps overcome the tight labor market. "Because the restaurants are all entirely independent from one another, you can easily open and close them to meet demand," Moller says.
Choosing the right retail concepts, specifically those appropriate for a very high-end hospital, posed yet another obstacle. "We wanted to differentiate it and set a new precedent for healthcare foodservice dining," Gibson says.
Food Delivery and Production Support
The open, brightly lit concourse production kitchen provides a supportive environment for staff to work productively.Concourse-level services support the restaurants, patient tray service, catering services, physicians lounge and pantry/micromarket area with espresso and self-service grab-and-go menu items for employees. This level includes a receiving area, storage areas, an ice room and warewashing.
Food deliveries arrive at a central energy plant located approximately the length of two football fields from the new medical center. "We don't have a loading dock next to the new medical center for safety reasons and to
mitigate fumes from delivery vehicles," Gibson says.
At the receiving dock, trucks pull up into one of eight docks. Staff use a motorized pallet jack to pick up the pallets and transport the items through a tunnel into the main hospital. "This is a unique and highly detailed receiving dock and food delivery system," Moller says. "A lot of collaboration was needed to make sure all of the equipment would work effortlessly."
Staff dismantle the food as it arrives and place it into storage on the concourse level, which includes two large, bulk-receiving walk-in coolers; six walk-ins for dairy, meat and vegetables; a walk-in freezer; and dry storage. Separate catering storage allows staff to keep these menu items apart from other foodservice operations.
For cold production, staff use tables to assemble ingredients that have been sliced and prepared from the Broadway facility for room service.
A staff member turns on the range in the concourse production kitchen.Hot food production equipment includes double-stacked combi ovens, a tilt skillet, a 4-burner range, 30- and 50-gallon steam-jacketed kettles and a flattop griddle. Conventional ovens sit beneath the flattop and the range. Staff use transport carts to deliver hot food to the restaurants.
The concourse level also contains a cart-wash room as well as dishwashing and warewashing space. The dish area features a pulper and scrapping table with three stations for room service carts. A conveyor at the scrapping table moves directly to the flight-type dish machine. A potwashing area contains a soaking sink with a bubbling, powerful circulation.
Three doors open into the space, one for room service carts and restaurant carts coming down from upstairs and one in the middle of the kitchen for dirty dishes coming from the kitchen. The third door opens to the space where all clean dishes are put away.
The room service area, where staff prepare more than 1,000 patient trays daily, consists of an L-shaped assembly line. Staff prepare trays according to selections indicated on tickets printed at the line. The tickets contain a list of menu items that originate when patients, family members, nurses or foodservice employees place orders via the call center. A staff member types the order into a computer and transmits the information to the trayline. The room service trayline's equipment package here includes two roll-in refrigerators, along with a microwave oven, refrigerated rail, freezer, mini combi oven, charbroiler, salamander, six-burner range, griddle and a double-stacked, quick-speed oven.
After staff assemble plates of hot food, they place the plates on a warm pellet on a tray. The warmth of the pellet helps keep the food warm. Cold and ambient items, held nearby, then get placed on the tray. Staff place finished trays in transport carts with timers that go off after eight minutes to remind staff to leave the kitchen. Other staff members deliver them to patient galleys on each floor where staff add coffee and other beverages, frozen treats and toast. Food arrives within 45 minutes after orders are placed.
An L-shaped room service tray assembly with orange bins moves efficiently so patients receive trays within 45 minutes after calling in orders."We redesigned the menu and expanded it so patients can select from 50 entrees," Gibson says. "Many menu items appear on the retail menus as well."
The catering area contains a four-burner range, charbroiler, griddle with conventional oven beneath, stacked combi oven and two microwave ovens. "The combi ovens are among my favorite pieces of equipment," says Phillip Edwards, executive chef/culinary manager. "I appreciate the self-cleaning function and smoke option, which makes these incredibly diverse pieces of equipment. We have infinite variations with time, temperature, humidity and fan speeds. We can program the oven so cooks press a color touchscreen and know they'll get the product quality they expect."
Edwards and his culinary team use the combi ovens to smoke ingredients, though their usage is currently limited. "The health department wants detailed HACCP analysis. Hospitals are at the highest risk tier because they have a vulnerable population," he adds. "When we smoke, the health department reviews our detailed application before they approve usage."
The high-speed ovens on the patient room service line and in the restaurants are Edwards' favorites as well. "We're bringing the best of restaurant practices to a hospital operation," he says. "This equipment enables us to use a wide variety of food available because we can cook the menu items from a frozen state to completion in less than four minutes. Though we don't have fryers, we can still offer french fries by baking them in these ovens."
A double roll-through blast chiller helps Edwards chill menu items quickly without compromising food safety. "If anything keeps a chef awake at night it is food safety," Edwards says. "Cold air blows over shallow pans of food in sometimes less than 90 minutes and brings food temperature to less than 40 degrees F. The equipment also logs temperature and time information, giving him an ongoing record."
Edwards feels fortunate that he could research recipes in the kitchen months before it opened. "My two sous chefs and I worked in the space and catered many high-profile events for people who wanted to see the new center," he says.
Restaurants and the Physicians Lounge
Artwork depicting the calm of the region's surrounding prairie contributes to the soothing, healing ambiance of the first-floor dining room. The new medical center's first floor features three distinct microrestaurants — Farmhouse Kitchen, Silver Grille and Fresh Market. All offer made-to-order meals, exhibition cooking and staffed POS stations along with cafe-table seating in each area. A larger, 230-seat dining area supports all three restaurants.
"Our biggest hurdle to implement a microrestaurant concept was to convince decision-makers that a healthcare facility did not need an enormous buffeteria [a buffet and cafeteria]," Moller says. "We had to explain that large serveries lend themselves to higher food costs because stations must be filled with food the entire time they are open. Also, large serveries are hard to open and close. We don't have these problems with three microrestaurants. And as far as we know, this is the only healthcare facility with three microrestaurants in a combined space with glass walls that allow customers to see inside."
Porcelain tile adorns the restaurant walls, with metallic porcelain accents. All countertops feature quartz and solid surface material. The porcelain tile floors contain rectified edges to control tile movement and minimize the width of the grout.
"The selected materials had to be easy to clean and be aesthetically pleasing to support each restaurant's design," says Ana Pinto-Alexander, RID, IIDA, EDAC, principal and director of health group interiors at HKS. "The color palette was intentionally selected to express the personality of each restaurant. Though warm LED lights the space, light fixtures vary in order to accommodate the desired look and feel of the spaces."
The smaller support kitchen and centralized production facility resulted in more space for the servery, Moller adds.
Artwork depicting the calm of the region's surrounding prairie contributes to the soothing, healing ambiance of the first-floor dining room. Each restaurant features several back-of-the-house support features, including cold and ambient storage areas, a disposer and an undercounter dishwasher, in addition to individual beverage stations.
Farmhouse Kitchen features all-day breakfast menus including omelets, potatoes, waffles and other comfort foods such as meatballs and casseroles. This area's equipment package includes a refrigerated prep table, 4-burner range, 48-inch griddle, toaster, hot food wells, crepe and waffle makers and blenders, in addition to coffee and espresso machines.
Silver Grille offers grilled, roasted and smoked proteins along with Southern-style entrees and side dishes. Staff here use a charbroiler, griddle and greaseless fryer. "We use a cook-and-hold oven with a built-in smoker that gives the deep flavors of the smoked meats," Edwards says. "For example, we offer a California tri-tip steak that is prepared with a dry Memphis-style rub before we smoke." Other favorites include barbecue proteins, a smoked turkey breast and thigh roll and bacon-wrapped smoked meatloaf. Staff often carve meats and interact with customers.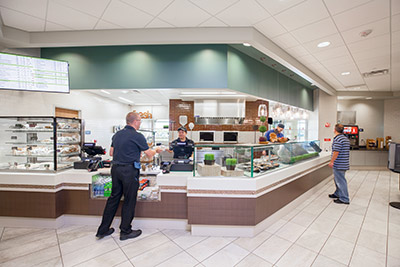 Fresh Market restaurant attracts attention with its tile work, wood panel ceiling, teal green soffit, and diamond patterned, light tile floor and copper accents.Fresh Market offers pizzas and flatbreads, baked in a hearth oven and displayed by the slice on a heated deck. Staff warm sandwiches in a panini press and also serve housemade soups and made-to-order salads. The area contains a refrigerated prep table and other refrigerators for holding salads and sandwich ingredients, as well as an iced tea brewer.
On the third floor, in contrast to the bustling servery, the physicians lounge offers clinicians a place to decompress and quickly grab a bite to eat at a hot/cold buffet and beverage counter.
Efficiency and Energy-Saving Practices
When evaluating operational efficiencies, Edwards says he finds "low-hanging fruit" everywhere. "We always look critically at everything as if we were running a restaurant. We must always evolve in order to survive."
One of the low-hanging fruits is overlapping menu items served in retail operations and patient dining. "For example, I know what sells well in our retail operations and physicians lounge," Edwards says. "Our software tells us which items are compatible with various patient diets. Eventually, all menus will come together. We have talented staff in our kitchen who can whip up anything for anyone to meet their preferences and dietary needs."
Silver Grille features red tile, barn wood and stainless steel tiles on the hood.Sustainability and energy-saving practices include sourcing local meats, vegetables and grains. "We take advantage of our backyard farmers who are part of our community," Edwards says.
One of the most notable sustainable practices is the use of a pulper/extractor waste management system that cuts, grinds and mixes waste into a wet slurry. An extractor presses excess water out, producing a semidry pulp and resulting in an 88 percent reduction in trash volume.
"Because of high standards for regulatory compliance for food safety, we use a probe to test food temperature every two hours," Edwards says. "All the information for hundreds of food items goes into the internet cloud. This has eliminated time and paper waste."
As the new medical center's foodservice evolves, Gibson, Edwards and the culinary staff will continue to tweak operations and menus. Their goal is to erase old stigmas surrounding institutional foodservice and raise customers' expectations of hospital dining. That will indeed establish a new paradigm.
Facts of Note
Sanford Medical Center Fargo: Set on 109 acres, the 1-million-sq.-ft. building contains 11 stories, 284 beds (and room for 96 additional beds); 50 emergency bays, 38 operating rooms, and services including emergency/trauma, pediatrics, pediatric ICU, family birth center, brain and spine surgery, heart surgery, interventional cardiology and general surgery. Sanford Medical Center also includes two other facilities: Broadway and South University.
Opened: July 25, 2017
Scope of Project: Project planning, programming, schematic design through construction oversight. Foodservice project includes three restaurants (Farmhouse Kitchen, Silver Grille and Fresh Market) on first floor; a kitchen with storage, cold and hot prep areas, an ice room and warewashing supporting the restaurants, room service and catering on the concourse level; Pantry espresso bar/self-paying micromarket for employees also on concourse level; physicians lounge on the third level; galleys on five patient floors. Another project phase, a central kitchen renovation adding cook-chill, will open in late 2017 in the Broadway facility. This will support all three locations in Fargo (the new Sanford Medical Center, Broadway, which houses the central kitchen, and South University, which in the next two years will be turned into a free-standing orthopedic hospital and offer in-patient room service and retail operations).
Size: 26,170 sq. ft. total. Level 1: Farmhouse Kitchen, 1,400 sq. ft.; Silver Grille, 1,800 sq. ft.; Fresh Market, 1,270 sq. ft.; dining room, 6,000 sq. ft. Concourse level: kitchen, including storage, warewash, room service and catering kitchen, 10,600 sq. ft.; Sanford Pantry, 1,500 sq. ft. Level 3: physicians lounge, 2,300 sq. ft.; patient floor galleys, 260 sq. ft. each. The central kitchen, the final project phase, is located 7½ miles from the medical center and opens in late 2017.
Seats: 230 seats in the dining room; a total of 20 cafe seats in the 3 restaurants
Average Check: $5.89
Total Annual Sales: $2.4 million projected
Retail Daily Transactions/Covers: 1,500 from employees, patients, patients' families and community members
Room Service Hours: 6:30 a.m. to 8:30 p.m.
Retail Operation Hours: Farmhouse Kitchen, 7 a.m. to 8 p.m.; Fresh Market, 11 a.m. to 7 p.m.; Silver Grille, 11 a.m. to 6 p.m.; Pantry, 6 a.m. to 10 p.m.; the self-paying micromarket opens after 10 p.m.
Kitchen Hours: 4 a.m. to 11 p.m.
Menu Specialties: Farmhouse Kitchen — breakfast all day with comfort foods and lunch and dinner, menu items featuring local ingredients; Silver Grille — smoked, roasted and grilled proteins with side dishes that have a southern flair; Fresh Market — sandwiches, composed salads and Neapolitan-style pizzas; Pantry — espresso and coffee drinks, soups, salads, sandwiches and hot entrees
Staff: 305 employees at all 3 campuses; 115 employees at Medical Center Fargo
Total Project Cost: Medical Center, $494 million; central kitchen, $5.2 million
Equipment Investment: $1.5 million for new medical center; $5.2 million for central kitchen
Key Players
Owner: Sanford Medical
President and CEO: Kelby K. Krabbenhoft
COO and Executive Vice President: Nate White
Executive Director, Facilities & Support Services: Michael Erickson
Director of Nutrition & Food Services: Lisa Gibson
Executive Chef/Culinary Manager: Phillip Edwards
Retail Manager: Matthew Shaske
Dietitian: Diana Orn, RD
Architect: HKS Inc./, Dallas; Tim Solohubow, AIA, principal and senior vice president; and JLG Architects, Fargo, N.D.
Interior Design: HKS Inc, Dallas; Ana Pinto-Alexander, RID, IIDA, EDAC, principal and senior vice president
Foodservice Consultants: Ricca Design Studios, Greenwood Village, Colo.; Al Moller, LEED AP, principal, in conjunction with Envision Strategies for master plan consulting; Lona Homersham, project director
Equipment Dealer: TriMark Hockenbergs, Fargo office
Construction: Mortenson, Minneapolis office, and Nor-Son Inc., Fargo, N.D.
Meet the Players
Phillip Edwards, executive chef and culinary manager for Sanford Medical Center Fargo. Before joining this organization in December 2016, Edwards graduated from culinary school, studied at the Chiang Mai School of Thai Cooking in Thailand, held positions including chef at Concordia College in Moorhead, Minn., banquet chef at D'Amico Catering in Minneapolis, sous chef at McCormick & Schmick's in Chicago, sous chef at Levy Restaurants and Levy Events Catering in Chicago and sous chef at Raytheon Polar Services, National Science Foundation, at McMurdo and South Pole stations in Antarctica.
Lisa Gibson, director, Nutrition and Food Service at Sanford Medical Center. With a great passion for food, Gibson

has worked mostly in the collegiate and healthcare foodservice segments and a few years in a fine dining restaurant. For 14 years, she has led the foodservice department for Sanford Medical Center in Fargo. Prior to this she held several foodservice positions at North Dakota State University, Concordia College and North Dakota State College of Science.

Al Moller, LEED AP, principal, Ricca Design Studios. Bringing more than 33 years of experience in foodservice management, facility design and project management, Moller works on projects in hospitals, senior living facilities, hotels and universities in the U.S. and worldwide.
Ana Pinto-Alexander, RID, IIDA, EDAC, principal and senior vice president, HKS. Pinto-Alexander brings to her current position 30 years of experience in the United States and around the world designing interiors. She is a guest lecturer at Purdue University, a mentor to design students and a group speaker.
Tim Solohubow, AIA, principal and senior vice president, HKS Architects. Before joining the firm in 1988, where he specializes in healthcare facilities in the U.S. and internationally. Solohubow served as the project manager at the 900-square-foot Mercy Hospital Joplin, which replaced the original hospital that was destroyed by a tornado. He was also HKS project manager at the Royal Stoke University Hospital in Trent, England.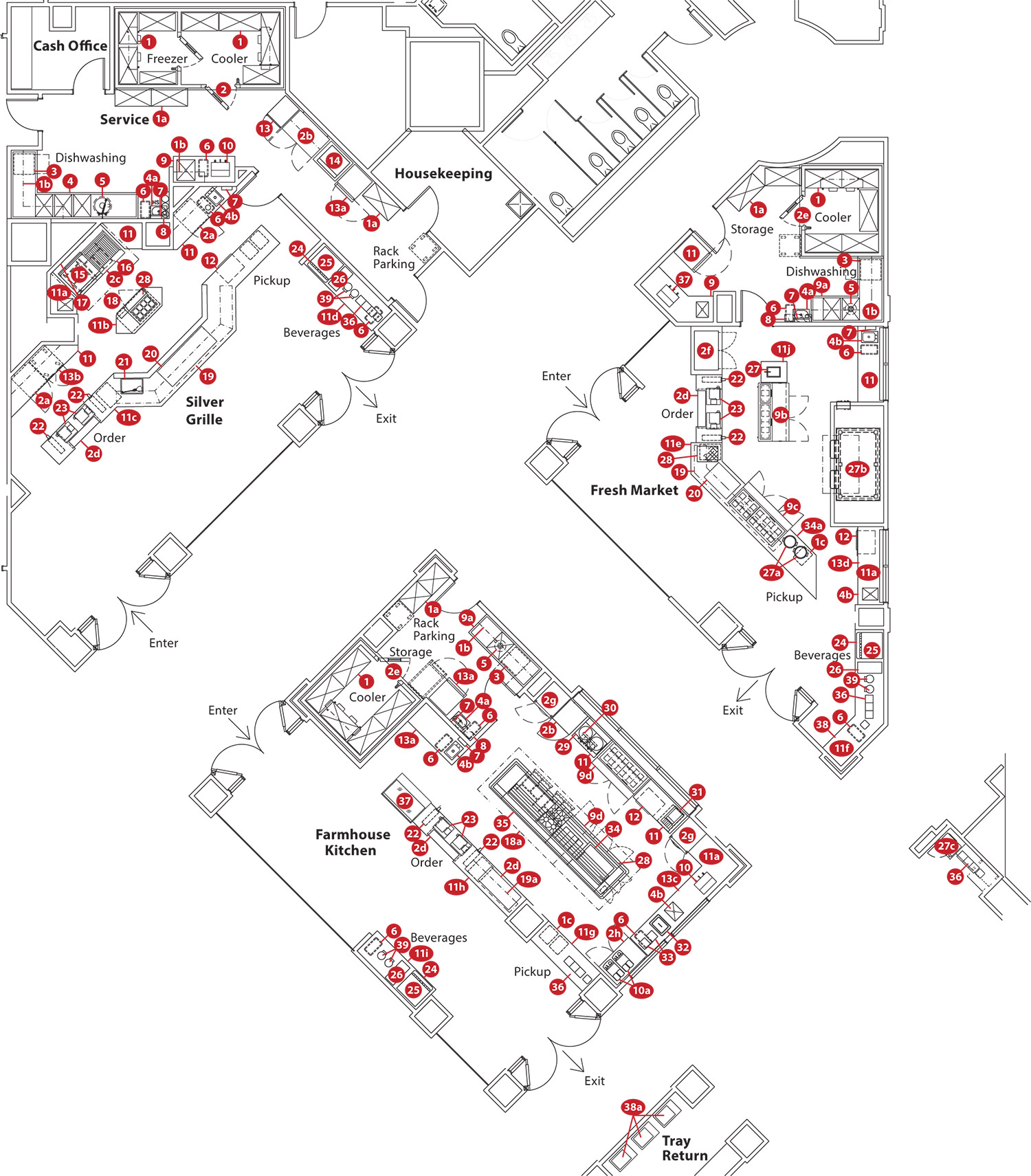 Equipment Key
Equipment Key
1. Walk-in shelving
1a. Plastic shelving unit
1b. Wall shelf
1c. Tray shelf
2. Walk-in cooler/freezer
2a. Undercounter refrigerator
2b. Worktop freezer
2c. Refrigerated drawer base
2d. Undercounter air curtain refrigerator, self-serve
2e. Walk-in cooler
2f. Refrigerated drop-in case
2g. Reach-in, two-section refrigerator
2h. Worktop refrigerator
3. Undercounter dishwasher
4. Three-compartment sink
4a. Hand sink
4b. Drop-in hand sink
5. Disposer
6. Trash receptacle
7. Soap and towel dispenser
8. Fire suppression system
9. Worktable w/sink
9a. Dish table w/sink
9b. Pizza prep table
9c. Refrigerated salad prep table
9d. Refrigerated prep table
10. Coffee brewer
10a. Espresso machine
11. Work counter
11a. Work counter w/sink
11b. Island counter w/refrigerated base
11c. Grille serving counter
11d. Grille beverage counter
11e. Fresh Market serving counter
11f. Fresh Market beverage counter
11g. Bistro food/drink pickup counter
11h. Bistro serving counter
11i. Bistro beverage counter
11j. Island work counter
12. Two-tier warming drawers
13. Cook-and-hold cabinet
13a. Mobile heated cabinet
13b. Undercounter heated cabinet
13c. Cabinet base
13d. Open cabinet base w/shelves
14. Double-stacked greaseless fryer w/stand
15. Modular griddle
16. Charbroiler, modular
17. Wall flashing
18. Exhaust hood
18a. Island exhaust hood
19. Glass shield w/shelf, lights and warmers
19a. Glass shield w/shelf and lights
20. Heated deck
21. Carving station
22. Cup dispenser
23. POS station
24. Soda/ice dispenser, countertop
25. Ice maker w/filter
26. Iced tea brewer/dispenser
27. Panini warmer
27a. Rethermalizer food warmer
27b. Hearth oven w/exhaust hood
27c. Microwave
28. Cutting board
29. Crepe maker
30. Waffle maker
31. Conveyor toaster
32. Drop-in ice bin
33. Blender
34. Hot food wells
35. Single-sided island cooking suite: griddle, plate rail, four refrigerated drawers for eight pans, open-burner range
36. Cutlery and napkin dispensers
37. Dual-temperature display case
38. Trash and tray stackers
38a. Mobile tray stacker
39. Air pots