Gonzaga University's new building contains a kitchen, catering support kitchen, residence hall serveries, and retail operations — all of which transform the student experience.
The John J. Hemmingson Center brings the Gonzaga University community together under one roof in Spokane, Wash. "The $60 million center brings to life Gonzaga University's rich history, educational experiences and serves as a gathering place for the university and greater Spokane community," says Chuck Faulkinberry, director, John J. Hemmingson Center and Auxiliary Services. "The university wanted a building designed for connectivity, to bring the campus community together around the core elements of the Gonzaga experience — academics, student development, faith and global impact."
The 168,000-square-foot John J. Hemmingson Center replaces the former Circulus Omnium Gonzagaorum aka Center of Gonzaga (COG), which had served the Gonzaga community since 1954. The versatile 34,000-square-foot COG contained the university bookstore, main residential dining facilities, main foodservice offices and ancillary food venues and lounges. The COG became antiquated and ill-equipped in size and functions as the student population doubled. After 20 years, it could no longer support current or future needs.
As a result, COG and its adjacent parking lot became the site for the new Hemmingson Center.
"The university saw this project as a game-changing opportunity to retire the old COG and replace it with a modern environment for students to gather, dine, study, build community and exercise their faith all in one central location," adds Paul Kinley, AIA, principal at Opsis Architecture.
Included in the Space
A portion of the ceiling is open to both dining levels. Floating ceiling pendants emphasize the openness in this area. Photograph courtesy of Opsis Architecture; photograph by Christian ColumbresA variety of student organizations now call the Hemmingson Center home. Previously these organizations were scattered throughout the campus at various sites. The Hemmingson Center also includes space for a 190-seat auditorium, a multipurpose and gathering space that can accommodate more than 800 people, study lounges, media and active lounge areas and moveable work spaces.
The Hemmingson Center combines a residential/board dining operation with the traditional student union. It features a production kitchen, all-you-care-to-eat dining area with theme restaurants on two levels and retail foodservice operations. A roof-mounted greenhouse offers a venue for teaching and growing food for dining operations. The building received LEED Gold Certification based on sustainable design, building materials and energy-efficiency features.
"The project was delivered via the design/build process, which required the design team to deliver the project largely as presented during the interview/competition phase," Kinley says. "The key to the Hoffman Construction/Opsis/BWA [Bernardo Wills Architects]/Webb Foodservice Design team was a design that offered flexibility and options for the owner. Two of those options included the provision of shelled, unfinished space at the lower level to allow future kitchen expansion as well as space for expanded programs. As it turned out, the idea of expansion space was so compelling that the university elected to expand into those areas as planned less than a year after final completion."
A limited footprint and height restrictions challenged the design team as they decided how to place functional areas in relation to one another. "If we were to put all of the production, plus most of the dishwashing and dining on one level, little would be left for student services and other vital campus operations," Kinley says. "Hence the distribution of foodservice operations to all four levels of the Hemmingson Center."
Curvilinear platform at 360 Degrees features a Mongolian grill, fryers and rice cookers that support staff production of rotating menu items each week. Lower ceilings and soffits conceal the mechanical equipment. Photo by Steve Whittaker, Whittaker PhotographyTo accomplish this, the main food preparation, production and storage were placed on the basement level. Board dining, retail dining, the market, pub and commercial brand-name dining, along with myriad student services, primarily reside between the first and second floors. Banquet services and the catering kitchen sit on the third floor. Although some campus catering operations still function on various parts of the campus, the main kitchen still provides some additional catering support, while the third-floor catering kitchen supports the daily banquet operations. Dishwashing takes place on the main level and in the basement.
"Positioning the kitchen, dining, seating and catering on multiple levels, the architects, designers and Gonzaga project team used highly flexible spaces to blend dining, learning and socializing experiences," says Ben Pollock, design consultant at Webb Foodservice Design. "The original goal was to have 900 seats, but we were able to design 720 seats in many configurations of traditional tables, community tables and private booths."
The effort paid off in variety for guests. "These spaces provide an abundance of casual, comfortable furniture options to suit the needs of every student by giving them a variety of choices from small and intimate to spacious and active," Kinley says.
Interior designers also gave thoughtful and creative attention to the choice of materials. "Foodservice spaces are cohesive with the architecture and interior design palette set forth by the architect," says Linda Midden, design director, Webb Foodservice Design. "Materials are organic and timeless in nature, creating a palette that is warm, rich, comfortable and inviting, typical of what one might expect in the state of Washington."
In addition, strategic walls accented with tile work to align with the scale of the space provide a backdrop to food platforms while adding texture, sparkle and ambience. Large-scale environmental graphics feature images associated with meaningful Gonzaga themes or familiar images significant to the region. "Large-scale, interactive technology 'walls' encourage exploration and inspire curiosity," Kinley says.
The Basement-Level Kitchen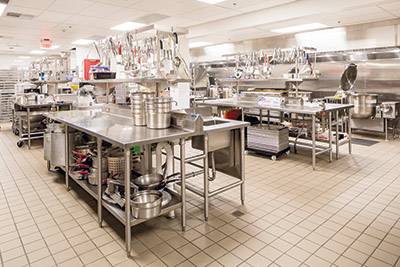 The garde manger's cold prep area contains multiple worktables and small wares so staff can support multiple dining operations simultaneously. The basement level contains an 8,438-square-foot production kitchen. "The placement presented a unique challenge to the construction phasing because all larger pieces of equipment, such as exhaust hoods and walk-in coolers, had to be set in place prior to the construction of the upper levels," Pollock says.
Largely concealed from public view, the loading dock sits one level below a roof deck used for outdoor dining and events. A greenhouse sits adjacent to the roof terrace over the loading dock.
Staff use two freight elevators to transport deliveries on carts and pallets to the basement level. "With foodservice operations on all four levels of the building, efficient use of the elevators near the dock and three other elevators available for public use was critical," Pollock says. Staff place bulk food and supplies into a walk-in cooler, walk-in freezer and walk-in dry storage areas. These storage units contain high-density shelving, which enhances the amount of storage capabilities. Storage unit doors open to the hallway and also open into the kitchen.
"The kitchen's design allows for staff to produce up to 6,000 meals daily, including support for campus catering operations," says Thomas Morisette, executive chef for Sodexo, Gonzaga's foodservice provider. He served on the original foodservice planning team. "I'm most proud of storage facilities. When people visit our campus to tour, I take them through the walk-ins. They are so large that we need small amounts of storage on the other floors."
In the garde manger kitchen, the equipment package includes two 40-gallon tilting kettles, a flattop griddle, two 12-gallon tilting kettles and convection steamers. Photos by Steve Whittaker, Whittaker PhotographyStaff preparing cold food work in a temperature-controlled cold room kept at 41 degrees F. The space contains several worktables for cleaning vegetables, a salad spinner for lettuce and an automatic slicer for cutting meat. A sink with an agitator mode supports staff as they clean lettuce and other vegetables served in Hemmingson Center and other campus dining operations.
Four Kitchen Areas
The prep space also holds a food processor, a 60-quart floor mixer and island prep tables.
The remainder of the kitchen is divided into four areas. The first, a catering prep area, contains two combi ovens, a radiant gas broiler, a flattop griddle, a salamander, a six-burner range with a conventional oven beneath and prep tables.
The second area, the hot line, contains the same type of equipment and two fryers.
The third area supports staff production of soup and garde manger. This area contains a pair of 40-gallon tilting steam kettles, a pair of 12-gallon steam kettles, a convection steamer and a flattop griddle. Staff prepare vegetables on the hot equipment and transport the food to the dining operations, or place the ingredients into a blast chiller and then into a walk-in cooler until it becomes time to deliver these items to other foodservice operations. "The blast chiller is perfect for food storage efficiency and protection of fruits, vegetable and meat," Morisette says. "We can place 20 sheet pans in here." Staff also use this production area to prepare salads.
The fourth area, a bakery, holds a 70-quart spiral dough maker, an island baker's table with a wood top, a holding and proofing cabinet, a double rotating oven with speed racks and a 2-door reach-in refrigerator.
"We made our own smoker out of a proof box," Morisette says. "It's not pretty, but this repurposed piece of the equipment holds 16 sheet pans with meat and vegetables."
"Demand-control ventilation for the exhaust hoods and system in the basement and at the themed platforms assist in the overall mechanical design success," Pollock says.
The multilevel design of the facility means that driving efficiencies into food processing, staging and delivery became even more critical than usual. "Providing mobility and sufficient satellite support were a design necessity," Pollock says.
With dishwashing, for example, the designers installed a vertical accumulator dishwashing system between the first and second floors to handle dirty dishes. First-floor dishwashing cleans some pots and pans, small wares, melamine plates and cups and serviceware. In the basement, a dishwashing area handles pots, pans and serviceware used in production. "In the first-floor dish room, pulping operations contribute to the composting program, not only to the building's greenhouse but to local farmers as well," Faulkinberry says.
Serveries and Retail on the First and Second Levels
Below: Paint colors at World's Fare and other platforms are warm and inviting. Photos by Steve Whittaker, Whittaker PhotographyStaff transport and distribute prepared and fresh food from the basement to the various satellite dining platforms in both the board dining and retail operations. "Because the main kitchen is on the lower level of the building, all platforms and the retail operations have to be adequately equipped to be self-sustaining during peak meal times," Pollock says.
"Satellite exhibition cooking platforms were strategically distributed throughout the different levels of the dining facility to draw students into the center of the dining activity," Faulkinberry says.
"Creating individualized and unique dining microenvironments was key to pulling students to all dining areas, especially at the second level, which brought challenges in creating platform identity. We had limited back wall space to feature an enticing backdrop to the program as well as limited soffit and ceiling options. We provided hood features where we could create a special pop of color to capture the essence of varied food choices."
All platforms contain cold and dry storage space, work counters and sinks, which support staff as they move around the production spaces. "All the service counters are custom-designed to seamlessly surround foodservice equipment," Midden says. "The various shapes and materials on the counters naturally grew from the floor plan, with careful consideration to queuing and circulation while creating interesting shapes."
Selected materials — stainless steel, quartz stone tops and organic counter facades — contain durability, functionality and sustainability. "Each food platform, with its individual location, is designed uniquely to tell a dynamic story about the different food offerings," Midden says.
Food Platforms
The most popular restaurant platform on the first level is Spike's. Staff use a six-burner range and a three-burner range, a griddle and a countertop radiant broiler for made-to-order omelets and other hot breakfast items. A double-stacked convection oven cooks meat while three fryers produce french fries. At lunch and dinner, this platform features American comfort foods such as burgers and fries, meatloaf, chicken pot pies and regional items such as Cajun and Tex-Mex dishes.
The platform 360 Degrees features a Mongolian grill, fryers and rice cookers that support staff production of rotating menu items each week. From week to week the platform features Mongolian meats, beef, chicken, seafood, a fajita bar, pho menu items, super foods such as quinoa and couscous and nutrient-rich foods such as beans, kale, lean proteins and vegetables.
The mesh drapery, in gold and silver, defines the circular design at 360 Degrees on the first dining level, while adding a transparent layer effect at the exposed hoods.
Zagriculture offers an all-vegan menu featuring sustainable, seasonal foods as well as produce from the greenhouse. This platform's equipment package includes a combination range, cooler and refrigerator, a griddle and several hot and cold wells. In the morning, the platform offers oatmeal and a fruit bar and, at lunch, vegan entrees and a vegan salad bar. "We're using all fresh ingredients," Morisette says. The vegetarian-centered and allergy-free menu options include seasonal produce from the rooftop hydroponic greenhouse.
Zagriculture's equipment package includes a combination range, cooler and refrigerator, a griddle and several hot and cold wells. Daily Bread serves as a bakery and deli featuring equipment including conveyor toasters, double convection ovens and a proofer. In the morning, the platform showcases house-baked goods, pastries, cinnamon rolls and muffins. At lunch and dinner, the platform features made-to-order sandwiches on house-made bread and scratch-made soups. A carvery features meats carved by staff. Customers also come to the station for desserts and popular manufacturer-made frozen cookies.
Retail operations on the first level include Starbucks, Marketplace and Einstein Bros. Bagels. The Starbucks equipment package includes beverage-making equipment and display cases. Marketplace contains many display cases featuring soups, sandwiches, salads and sushi, all using local, fresh and seasonal ingredients. This area also includes gluten-free, dairy-free, organic and GMO-free products along with convenience items such as candy, gum and chips. Einstein Bros. Bagels includes coffee- and tea-making equipment, a double convection oven, a rapid-cook oven, a countertop warmer and display cases.
On the second floor, Mediterranean Coast features a prep area where staff cut presheeted pizza dough, dress it with sauce and bake it in a large hearth oven. The platform offers authentic Roman-style pizza and traditional flatbread pizza. "Because of the volume of pizzas sold, we prepare one half before service time and finish the other half during service," Morisette says. This platform also contains a quick-speed oven that bakes gluten-free pizza. A separate refrigerator holds gluten-free crusts. Other ingredients are held in a cold well. Customers visiting this station also find other dishes inspired by the cultures surrounding the Mediterranean Sea. A hummus and crudité bar will be available in the near future.
As its name implies, World's Fare features a globally inspired food theme. A rotisserie bakes meats such as whole chickens and legs of lamb that staff carve to order. Staff use induction cooktops, a countertop radiant broiler, countertop griddle and a four-burner open range to prepare menu items such as citrus-glazed salmon, Thai curry and authentic ramen noodle dishes. This station also features the Simple Servings platform, menus that are 100 percent vegan and free of the eight most common food allergens — milk, eggs, fish, crustacean shellfish, tree nuts, peanuts, wheat and soy.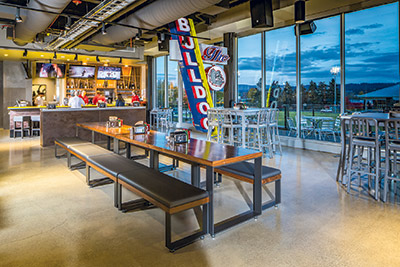 The Bulldog divides into three distinct areas — a bar, pub and restaurant — within one space. Photos by Steve Whittaker, Whittaker PhotographyThe two main beverage counters, central at each dining level, serve as a visual and sound-dampening screen to the dish drop area. "The horizontal reclaimed wood slat design element vertically and horizontally allows for the beverage stations to be easily identifiable, while providing an exit experience with visibility to the dining area," Midden says. Large-scale wall tiles with stainless steel reveals on both levels of the dish drop walls frame the opening into the dish room, adding a welcome visual touch to the exit experience.
The Bulldog, named after the Spokane landmark of the same name, attracts customers looking for a full sit-down menu of chicken wings and jalapeno poppers and other appetizers, salads, burgers, sandwiches and entrees, quick-service takeout and local wines and draft beers.
A backlit bar top adds a pop of color to the bar area with a wooden wine display at the back wall and full-height glass windows allow customers to watch athletic events on the adjacent outdoor field.
Throughout the servery areas on both floors, seating options create the microenvironments. Stairs provide access to menu items on both upper and lower levels. "The environments meet numerous needs and growing demands of current and future students," Midden says. "There are quiet spaces, intimate places, booth seating, banquette seating, bar-height counter seating, bench-style community tables for larger group settings and a large variety of table top options."
Organic, natural, reclaimed wood elements in a rich, natural walnut finish appear throughout both dining spaces in booth framing, beverage areas, community tables, trim, counter faces and so on. The mesh curtain design in 360 Degrees reappears on the second level of dining to help define the seating area in between food platforms.
Sustainable and Energy-Saving Features
Several key factors in addition to the greenhouse and control ventilation system contribute to the Hemmingson Center's LEED Gold certification. To further enhance building efficiencies, a glycol refrigeration system reduces toxic refrigerant use and maximizes cooling efficiencies. Energy Star-rated equipment and low-flow water devices also contribute to the overall equipment design. The project also includes space and equipment for composting food waste, completing the entire on-site food cycle.
Energy-efficient, dimmable lighting was used throughout both dining levels. Decorative, dimmable LED pendants help define spaces while creating layers of light, all the way to full-height glass, to provide comfort and ambience, taking the natural lighting available during the day into consideration.
"The university's program statement for the competition asked for a large, five-bay underground service dock for foodservice, trash and recycling, and to support event deliveries for the ballroom — a community asset and source of revenue," Faulkinberry says. "The team saved the university over $2 million by building an enclosed dock on grade. By placing the innovative food-growing hydroponic greenhouse and an outdoor terrace on the roof of the dock, the solution was a win-win for the project — the new, high-profile sustainable feature serves as a visual focus while reducing costs."
The center exceeded expectations for both the Gonzaga University and the design team. "This has become the hub of the campus, as we hoped," Faulkinberry says. "We were hoping for 8,000 visits a day, and now we have 10,000. We were looking at 14,000 events, and we've exceeded 21,000 events. The Gonzaga community is using the space. Rooms are occupied constantly and consistently. And this is a vibrant location. We set high expectations, received great input in the beginning and now receive feedback from customers and staff about the high-quality food and continuous interaction among customers and staff. We're very pleased with the results."
Faulkinberry's advice to others embarking on a major project is to "break down every facet into small bites. Look at equipment packages and get feedback for every area. Look to the future to be sure that you have opportunities to change out programs if you need to. And be sure you select the right architect, contractor and consultants who want to build for the community, not for themselves. You must be able to have continuous and effective communication throughout the project with all members of the team."
Facts of Note
Gonzaga University: Student enrollment, 7,500; student residents on campus, 4,800; 2,800 people on mandatory meal plans (for 2 years) and 800 on voluntary meal plans
Opened: August 2015
Scope of Project: Concept development, master planning, space allocation, preliminary design, detailed design, specification writing, site inspections, construction administration, preopening inspections, and interior design for a production kitchen on the lower level, residential dining serveries on two floors, a catering support kitchen and retail operations on the first and second floors
Size: 167,726 sq. ft. total for building; 25,000 sq. ft. for foodservice space, including an 8,438-sq.-ft. production kitchen; 11,300-sq.-ft. board dining servery and seating on the first level; an 8,250-sq.-ft. board dining servery and seating on the second level; a 710-sq.-ft. catering support kitchen on the third level
Seats: 720
Average Check: $7.50
Total Annual Sales: $9 million
Daily Transactions/Covers: 3,800
Hemmingson Center's Hours: Breakfast, 7 a.m. to 10:30 a.m., Monday through Friday; brunch, 9 a.m. to 2 p.m., Saturday and Sunday; lunch, 10:30 a.m. to 4:30 p.m., Monday through Friday; mid-meal, 1:30 p.m. to 4:30 p.m., Monday through Friday; dinner, 4:30 p.m. to 8:30 p.m., Monday through Friday and Sunday; 4:30 p.m. to 7:30 p.m., Saturday; late night, 10 p.m. to 1:30 a.m., Saturday
Menu Specialties: Daily Bread (deli-style sandwiches on house-baked breads, house-made soups, salads and baked goods from in-house bakery; Spike's Diner (chicken pot pie, meatloaf, burgers and fries, and made-to-order breakfast omelets); World's Fare (global cuisines); Zagriculture (vegetarian-centered and allergy-free menu options, including seasonal produce from the rooftop hydroponic greenhouse); Mediterranean Coast (pizzas, flat breads and other dishes baked in a wood-fired oven); 360 Degrees (Mongolian-style grill)
Retail Menu Specialties: A licensed Starbucks (first floor); Marketplace (first floor); The Bulldog (second floor); Einstein Bros. Bagels (first floor)
Staff: 400 employees campus-wide
Total Project Cost: $60 million
Equipment Investment: $4 million
Key Players
Owner: Gonzaga University, Spokane, Wash.
Director, John J. Hemmingson Center and Auxiliary Services: Chuck Faulkinberry
Executive Chef: Thomas Morisette, Sodexo
Architect: Opsis Architecture, Portland, Ore.; Alec Holser, AIA, LEED AP BD+C, principal, and Paul Kinley, AIA, LEED AP BD+C, principal and project manager; with Bernardo Wills Architects, Spokane, Wash.; Mike Wallace, AIA
Interior Design: Webb Foodservice Design, Anaheim, Calif.; Linda Midden, design director; and Opsis Architecture, Portland, Ore.; Jeri Tess
Foodservice Consultants: Webb Foodservice Design, Anaheim, Calif.; Costel Coca, FCSI; Ben Pollock, senior project manager, Colorado Springs, Colo., office
Equipment Dealer: Smith & Greene Co., Kent, Wash.
Construction: Hoffman Construction, Portland, Ore.
Meet the Players
Chuck Faulkinberry, director, Hemmingson Center and Auxiliary Services. Arriving at Gonzaga in October 2010 as a resident district manager with Sodexo, Faulkinberry held this position until the fall of 2014. While the John J. Hemmingson Center was in mid-construction, he was asked to join the university team to create and lead a new organization that manages the John J. Hemmingson Center for the campus. He also oversees campus auxiliary businesses. Prior to Gonzaga, he worked for Sodexo for 30 years in higher education.
Alec Holser, AIA, LEED AP BD+C, principal, Opsis Architecture. During his 30-year career, Holser has emphasized sustainable design strategies for his projects. His architecture addresses diverse project types, including student unions, libraries, performing arts centers, student recreation centers and classroom buildings. He led architecture teams in the design of innovative K-12 schools including the net-zero Hood River Middle School Music and Science Building, which is LEED Platinum certified.
Paul Kinley, AIA, LEED AP BD+C, principal, Opsis Architecture, and John J. Hemmingson Center project manager. Kinley brings 30 years of experience in the design of higher education facilities with a deep understanding of the specialized systems and planning criteria that support successful student life spaces. In addition to the Hemmingson Center, he recently completed the award-winning Reed College Performing Arts Building, as well as the Washburne University Center at Pacific University.
Linda Midden, design director, Webb Foodservice Design. Midden joined Webb Foodservice Design 10 years ago. She brings more than 20 years of experience in retail design across the country, as well as extensive experience in management and in architectural graphics. Midden's other recent projects include Chapman University's Randall Dining, UC San Diego's 64 Degrees, and The Lodge at University of Colorado – Colorado Springs.
Thomas Morisette, executive chef, Sodexo. After culinary arts school graduation, Morisette worked at the Tulalip Bay restaurant near Seattle, Yummy Wine Bar and Bistro in Seaside, Ore., and Zag Dining by Sodexo at Gonzaga University. When he became executive chef in 2013, he helped plan and transition to the Hemmingson Center where he leads a team of five salaried chefs and 70 culinarians campus-wide.
Ben Pollock, senior project manager, Webb Foodservice Design, Colorado Springs, Colo. office. Prior to joining Webb Foodservice Design in 2010, Pollock began his career at Hatch Design Group in Orange County, Calif. After more than 16 years, he went on to work independently as one of the founders of Total Concept Designs. Pollock's other recent projects include The Lodge at University of Colorado – Colorado Springs and CSU Sacramento Dining Commons.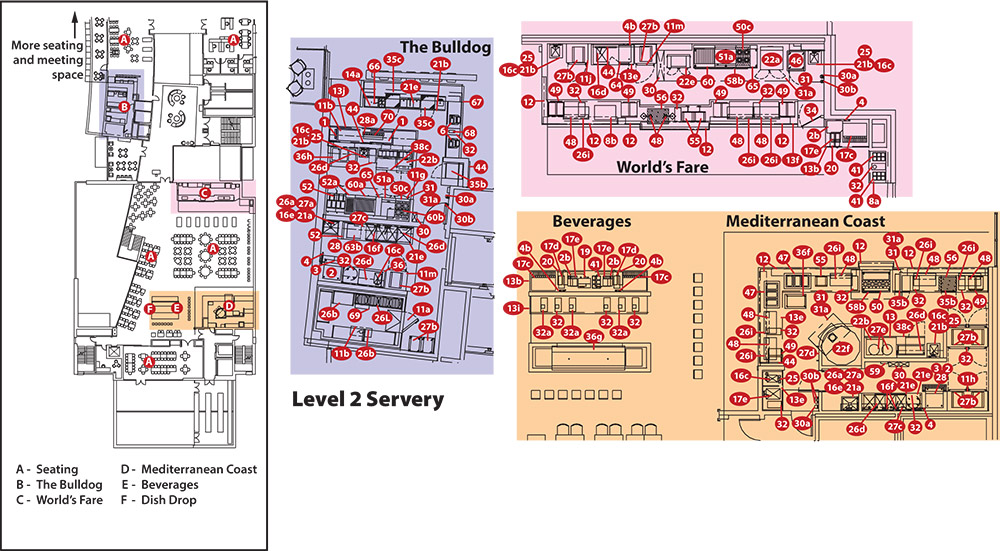 Equipment Key
1. Millwork
2. Ice maker
2a. Ice maker w/out bin
2b. Undercounter ice maker
3. Ice storage bin
3a. Mobile ingredient bins
4. Water filtration system
4a. Water pre-filtration system
4b. Water filtration units
5. Refrigerated/dry display case
5a. Bagel case
5b. Refrigerated display case
6. Cash registers
7. Printers
8. Cashier counter
8a. Mobile condiment counter
8b. Concealed frost tops
9. Airpots
10. Espresso machines
10a. Automatic espresso
11. Undercounter refrigerator
11a. Walk-in refrigerator
11b. Blower coil
11c. Walk-in freezer
11d. Work-top refrigerator
11e. Refrigerator display doors
11f. Freezer display doors
11g. Refrigerated base
11h. Two-door roll-in
refrigerator
11i. Undercounter freezer
11j. One-door roll-in
refrigerator
11k. Two-door roll-in freezer
11l. Countertop refrigerator
11m. One-door roll-in freezer
12. Food shield
13. Work counter
13a. Work counter w/utensil sink
13b. Beverage counter
13c. POS counter
13d. Service counter w/
hand sink
13e. Work counter w/prep sink
13f. Service counter
13g. Service counter w/hand sink and prep sink
13h. Work counter w/hand sink, soap and towel dispenser
13i. Recycle and trash counter
13i. Back bar countertop
14. Drop-in ice station
15. Jockey station
16. Faucet
16a. Hand-metered faucet
16b. Glass filler faucet
16c. Hand sink faucet
16d. Deck-mounted faucet
16e. Janitor's sink faucet w/vacuum breaker
16f. Splash-mounted faucet
16g. Pot filler faucet
17. Hot water dispenser
17a. Coffee server
17b. Iced tea urns
17c. Beverage dispenser
17d. Tea dispensers
17e. Juice dispensers
17f. Milk dispensers
17g. Cereal dispensers
18. Water heater
19. Coffee brewer
19a. Coffee maker
20. Cup dispenser
20a. Disposable lid dispenser
20b. In-counter disposable cup dispenser
20c. In-counter disposable bowl dispenser
21. Three-compartment sink assembly and hand sink
21a. Janitor's mop sink
21b. Hand sink
21c. Dump sink cabinet
21d. Drop-in dump/hand sink
21e. Three-compartment sink assembly
21f. Mobile soak sinks
21g. Janitor's sink faucet w/vacuum breaker
22. Oven
22a. Double convection oven
22b. Rapid-cook oven
22c. Microwave oven
22d. Conveyor toaster
22e. Rotisserie oven w/heated cabinet base
22f. Pizza oven
23. Coffee grinder
24. Water softener system
25. Soap and towel dispenser
26. Dry storage shelving
26a. Chemical wall shelf
26b. Refrigerator shelving units
26c. Freezer shelving units
26d. Wall shelf
26e. Sandwich shelf
26f. Retail shelving
26g. Gondola shelving
26h. Produce display shelf
26i. Drop-in heated shelves
26j. Overhead sloped shelf
26k. Tubular rack storage shelf
26l. Keg storage shelving unit
27. Bake rack
27a. Janitor's mop rack
27b. Mobile tray rack
27c. Utensil rack
27d. Pizza paddle hooks
27e. Pizza rack
28. Floor trough
28a. Drip trough
29. Bulk CO2 and soda system
30. Fire protection system
31a. Class K fire extinguisher
31b. Fire pull box
31. Exhaust hood
31a. Hood trim and closure panels
32. Trash receptacle
32a. Recycling receptacles
33. Condiment unit
33a. Mobile condiment station
34. Gate
35. Coffee cabinet
35a. Modular holding cabinet
35b. Undercounter heated holding cabinets
35c. Drain board cabinets
36. Worktable w/sink
36a. Display table
36b. Display table/nesting style
36c. Island baker's table w/wood top
36d. Mobile worktables
36e. Conveyor table
36f. Mobile worktable w/
wood top
36g. Dish drop table
36h. Steam table
37. Countertop warmer
38. Refrigerated sandwich
prep table
38a. Prep table w/removable cutting board
38b. Sandwich prep table
38c. Pizza prep table
39. Food slicer
39a. Slicer cabinet
40. Digital menu system
41. Dry topping pan
41a. Drop-in cold pans
42. Soup wells w/lids
43. S/s trim
44. AV console
45. Rice cookers
46. Heated transport cart
46a. Mobile work carts
46b. Ice transport cart
47. Drop-in cold units
47a. Drop-in hot/cold units
48. Heat lamps
49. Mobile dish dollies
50. Fire and ice saute range
50a. Wok ranges
50b. Countertop six-open-burner range
50c. Countertop four-open-burner range
51. Griddle w/cabinet base
51a. Countertop griddle
52. Fryer assembly
52a. Fryer dump stations w/heat lamps
53. Mongolian grill
54. 208-volt convenience outlet
55. Undercounter induction cooktops
56. Cutting board
57. Proofer/retarder
58. Equipment stands
58a. Mobile stand
58b. Refrigerated stand
59. Control panel
60. Countertop radiant broiler
60a. Countertop broiler
60b. Salamander
61. Vertical accumulator conveyor
61a. Bussing conveyor
62. Pulper
63. Flight-type dish machine
w/booster heater
63a. Vent bowl risers
63b. Undercounter dish machine
64. Countertop convection steamer
65. Countertop spreader
66. Soda gun
67. Bar top and die
68. Paging system
69. Beer system
70. Beer tower