Renovation decreases student wait time while the new service line improves employee morale at this Marion, Iowa, high school.
Prior to the renovation of Linn-Mar High School's foodservice operation, students waited up to 25 minutes to move through the service line to get their meals — which left them with only 5 minutes in the half-hour lunch period to sit down and eat. Today, the wait time is only 7 to 10 minutes for each of the 1,600 students (400 students are served during each of 4 lunch shifts) who participate in the school lunch program. That gives the high schoolers 20 minutes to relax and enjoy their meals.
The Linn-Mar project's servery renovation features insightful design that accommodates the physical flow of students and foodservice staff through the space and provides students with more menu choices. The kitchen renovation adds more powerful and efficient equipment to the back of the house and improves the production flow from delivery to service. In addition, a refurbished dining area enhances high school students' dining experience.
"We've literally gone from a 1960s look to a contemporary, open, well-lit space that is inviting," reports Susan Knight, the district's nutrition services manager until her retirement on Jan. 31, 2017.
Behind the pizza station sits a refrigerator and warmer. The convection oven sits across the aisle. Photo courtesy of Rapids Foodservice Contract and Design, photo by Paul AdamsThe many visible lines of sight allow employees and students to see multiple components of the pizza station simultaneously. The pizza station features a convection oven and display unit for pizza slices and breadsticks. Since the renovation, meal participation has increased by 15 percent and students' selection of meals reimbursable by the government is up 7 percent. This is a significant increase, particularly for a high school with an open-campus policy. Improved aesthetics and the stations' positioning both contribute to the participation increase.
Additional changes contributing to the larger reimbursable meal participation increase include a larger variety of menu items that also meet the USDA's nutritional guidelines. "Hot sandwiches, for example, have been a big hit with the students and are practically flying off the shelves," Knight says.
More students are also selecting healthier choices due to the new placement of the salad bar. "It's positioned so it is the first station hungry students pass when they walk into the cafeteria," Knight says. "So there is an increase in the number of students who take a salad with their meals."
Team members welcome the renovation as well. "The cafeteria has a more spacious feel and is much more efficient," says Stacy Fish, who was Linn-Mar's kitchen manager during the renovation and stepped into the nutrition services manager position upon Knight's retirement. "We have more storage, so everything team members need for certain tasks can be in one place. They love the efficiency." Team members also appreciate the inclusion of a cleaning trough for the trays, which helps speed cleanup tasks.
The Design Process
The contemporary dining room features the school colors and offers options for small and large groups and students on the go. Photo courtesy of DLR GroupThe high school remodel project began in 2014 and went through 2016. The 59-year-old Linn-Mar High School serves grades 9 through 12. With enrollment of 2,200 at the start of the 2016-17 academic year, the school is one of the largest high schools in the state. "Initially, the kitchen was not a part of the remodel, but the need was apparent and additional funds became available," Knight says.
Once the decision was made to remodel the dining program, Knight, Fish and Rick Ironside, executive director of support services, started the process of determining the dining project's design. Two outside partners came on board at that time: Eric M. Beron, AIA, LEED AP, principal at DLR Group, an integrated architectural and interior design firm, and Luke Green, contract and design specialist at Rapids Foodservice Contract and Design, based in Marion, Iowa. Beron was involved in the building renovation, and Green worked with Knight to observe the serving lines and find solutions to the traffic flow problems well before funds were made available for a complete remodel.
Design for the entire building began in October 2014; the foodservice project design started in late October 2015. All documents and drawings were completed in January 2016. The school district requested bids for a general contractor and subcontractor with a March 3 submission deadline, and the contracts were awarded in late March. Construction began on May 1 for the back of the house and May 30 for the front of the house. The entire project was completed on August 12.
"One of the biggest challenges was timing," Beron says. "This is an active foodservice scenario, so they had a limited time for construction during the summer before classes started. Sequencing and construction documentation became very important. Working with Rapids to integrate systems was key."
Demolition, including the corridor, old dry storage, bathroom and mechanical room, began May 30 while school was still in session. A new grease trap was put in underground and work began on the walk-in cooler/freezer pit. Demolition of the rest of the space began on June 1, including tearing up all the flooring and changing the load-bearing walls for the servery exit.
"We turned the kitchen 180 degrees and basically turned it upside down," Beron says. "Some new equipment was purchased, LED lighting was added and the theme is now about celebrating the food and displaying it to look appetizing."
During the transition from the old building to the renovated space, parts of the building were closed and some classes were temporarily relocated. The kitchen, servery and dining room remained in their original places. "With clever design, we were able to utilize an eight-foot underutilized corridor to accomplish all the school's goals," Green says. "The entire space was gutted. The concrete floor was taken out to add grease interceptors, the pit was relocated for the walk-in, and we changed space for equipment."
Sustainable Features
"Energy efficiency was paramount to the project," Beron says. Key elements include a recirculating trough collector. "Using recirculated water in the trough greatly reduces utilities compared with a fresh water trough," Green says. The food collected in this unit can be picked up by a local farmer for feeding pigs.
Other environmentally friendly features include no disposers at prep space, water-saving faucets, Energy Star-rated equipment where applicable, and hood systems that contain variable-frequency drive controls to save energy. An airconditioning system also reduces the atmospheric temperature and contributes to better employee morale.
The Back of the House and Servery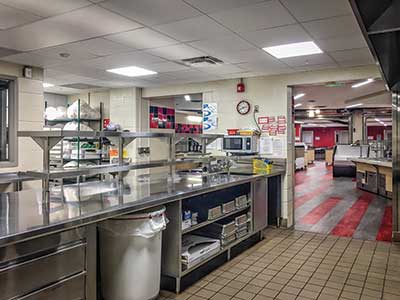 A double-sided chef's counter offers team members more room to move. The adjacent servery is shown at the right. Photo courtesy of DLR GroupPart of the 180-degree turn in the kitchen involved switching the storage and dishwashing areas. After deliveries arrive at a back door, team members take the items to dry storage or to the newly purchased walk-in cooler and walk-in freezer. "We repositioned the storage to create a more efficient product flow," Green says.
"Previously, all food was prepared in a small single area and distributed to serving lines," Knight says. "By adding warming units near each serving line and a separate prep/serving area for pizza products, production was streamlined. A prep area contains a new, large, double-sided chef's counter; a can opener; a 30-quart mixer; and a microwave oven. The hot prep area contains a tilt skillet, 40-gallon kettle, a double convection oven and two combi ovens. A high-efficiency hood system pulls exhaust out and captures it efficiently.
All existing back-of-the-house cooking equipment was reused in the renovation. "Luke understood our budget constraints and was very helpful in arranging existing equipment in an efficient production pattern," Knight says.
Another addition to the back-of-the-house space, a new manager's office, allows the manager to oversee all areas of the operation. "With the new office, the manager doesn't have to work in the dry storage area, as she did before," Green says.
As well as creating a better workflow for production, Green's design also brought more space into the warewash area. "The previous warewash area was a disaster," Knight says. "During a previous kitchen remodel many, many years ago, the warewash area was designed to accommodate the use of disposables. The dishroom area was not designed for the volume of warewashing being done on a daily basis. The exhaust system was terrible, and staff were literally running into each other in the limited space."
The dishwashing area contains a dishwasher, hood and recirculating trough collector. The streamlined area now has three times the space and better airflow. Photo courtesy of Rapids Foodservice Contract and Design; photography by Paul Adams"Staff would complain of sore backs and arms using standard prerinse equipment," Green says. "Because we had to utilize the school's existing conveyor machine and pot/pan machine, we were limited on how we could configure this space. With the addition of a new recirculating trough collector, fewer team members are needed to perform these tasks, team members need less time to pre-scrap dishes and do not report sore backs. This entire area has been streamlined, giving them up to three times the space and also getting better airflow in the area to reduce worker fatigue."
In the servery, the design team focused on form and function. "From an aesthetic point of view, we had to complement the other renovations in the building and use the same color palette," Beron says.
"The space is very contemporary and includes the use of school colors, beautiful tile and excellent lighting," Knight says. "It is a remarkable change, and students love it."
Reconfiguring the servery resulted in a more efficient, convenient traffic flow. In the old servery, team members had to continuously reload serving carts to refill food needed at the lines. "Cross traffic between servers and students created challenging traffic flow," Knight says.
"Traffic flow was very hectic and slowed down students trying to get out to eat," Green adds. "The students also entered and exited in the same area, creating a large bottleneck for everyone involved." The new design allows students to enter in a different area and exit directly into the dining space.
The back-of-the-house cookline includes a tilt skillet, a kettle and combi ovens. Photo courtesy of Rapids Foodservice Contract and Design; photography by Paul Adams"After they enter the servery, students can go to different lines to pick up the foods they like rather than stand in one line," Fish says. "They can visit as many lines as they like."
"This traffic design has eliminated bottlenecks and helps students move through the lines more quickly," Knight says. "It also allows students a better view of the choices we have available."
Also in the original servery, students picked up full meals and a few a la carte selections. The new design contains seven lines, including two main entree lines, along with a salad bar, a grab-and-go line, a separate a la carte line and a new pizza corner. In addition, equipment needed to restock all the lines sits in a different area that does not congest the lines of students.
"Previously, students had limited choices, and now that they have easy access to all choices available to them, they are making better decisions," Knight says. "The location of the salad bar at the main entrance to the servery attracts more students than ever because they walk into the servery hungry and the first thing to catch their eye is a beautiful salad bar."
The pizza counter also attracts students. "Before the renovation, the pizza was served on the opposite side of the dining room and was a burden to stock and staff," Green says. "We put in a pizza corner that gives one team member the ability to prep, cook, hold and serve all the products here independently, but other team members can help if needed." A display case near the salad bar holds pizza slices and breadsticks.
The salad bar greets students as they enter the servery. Photo courtesy of DLR Group"One thing that surprised us is the popularity of the sandwich display servers, which hold a variety of grab-and-go, foil-wrapped hot sandwiches," Knight says. "For example, when we serve a spicy chicken sandwich as a main entree and also include the sandwich as a foil-wrapped sandwich in the display server, more students like pulling the wrapped sandwich off the display server. We did not anticipate the popularity of these serving pieces, but Luke did."
The seating area's transformation also contributes to improved customer satisfaction. "The old dining area had traditional prefabricated, bench-style seating," Beron says. "We wanted a much better dining experience." The renovated room features everything from small bistro-style tables to large community tables. "We installed different levels of seating," he says. "Students' schedules are very busy, and they are on the go. So in addition to seating, we installed many stand-up stations also where students can stop for five minutes, eat and collaborate with friends, and move on."
"We are 100 percent satisfied with the final result of the project," Knight says. "Students love the contemporary, clean look. It is a jaw-dropping change!"
Facts of Note
About Linn-Mar Community School District: 10 schools; 7,600 students enrolled; district plans to open additional buildings in the next 10 years
District-wide School Meal Participation: 4,850 students participate in the lunch program; 20 percent free and reduced-price participation in the breakfast and lunch program
Linn-Mar High School Enrollment: 2,150 students
Linn-Mar High School Meal Participation: The school serves 1,600 meals each day. Of those 1,600 meals, 1,100 are reimbursable, which accounts for 50 percent of the student body; of these reimbursable meals, 17 percent are free and reduced-price meals. The school also serves 500 students daily with a la carte purchases.
Linn-Mar High School Remodel Opened: August 2016
Scope of Project: A remodel and renovation of the kitchen, warewash and servery
Size: Kitchen and servery, 3,800 sq. ft.; dining room, 7,600 sq. ft.
Seats: 400+
Average Check: $1.50 for paid breakfast; $2.60 for paid lunch
Annual Sales: $2.2 million for the district; $760,000 for the high school
Hours: 7:30 a.m. until 10:30 a.m. for breakfast (block scheduling allows a variety of arrival times, so hot breakfast is available until 8:35 a.m.); 11:45 a.m. until 1:50 p.m. for lunch. Grab-and-go options are available throughout the morning.
Menu Specialties: Addition of a pizza line and sandwich line in addition to more healthful options at the salad bar
Staff: 16
Total Project Cost: $1.96 million
Equipment Investment: $308,000 for serving equipment (production equipment, except the walk-in cooler and freezer, was repurposed)
Website: www.linnmar.k12.ia.us
Key Players
Owner: Linn-Mar Community School District
Executive Director of Support Services: Rick Ironside
District Nutrition Services Manager: Susan Knight (she retired Jan. 31, 2017)
High School Kitchen Manager During the Project and Current District Nutrition Services Manager: Stacy Fish
High School Nutrition Services Manager: Chrystal Heneisen
Architect and Interior Design: DLR Group, Des Moines, Iowa; Eric M. Beron, AIA, LEED AP, principal
Foodservice Consultant: Rapids Foodservice Contract and Design, Marion, Iowa; Luke Green, contract and design specialist
Equipment Dealer: Rapids Foodservice Contract and Design, Marion, Iowa
Construction: Garling Construction, Cedar Rapids, Iowa; Brian Mumby, project manager
Meet the Players
Eric Beron, AIA, LEED AP, principal and regional practice leader of DLR Group in the Des Moines, Iowa, office. Since joining this integrated design firm with 26 offices worldwide in 2000, Beron's experience centers on education facility design. He has served on the Iowa Chapter of the American Institute of Architects and the Iowa Architectural Foundation, and also volunteers with several K-12 academic committees.
Stacy Fish, Linn-Mar kitchen manager and district nutrition services manager. Fish joined Linn-Mar Community School District in 2009 as the high school kitchen manager. She became the nutrition services manager when Susan Knight retired. Prior to these positions, Fish worked at a restaurant in the Waterloo, Iowa, area and was promoted to general manager at a Cedar Rapids location, where she stayed for six years. She joined school foodservice so she could work while raising a family.
Luke Green, contract and design specialist, Rapids Foodservice Contract and Design. Joining Rapids in 2005, Green's Iowa projects include Panera Bread of Iowa; Zombie Burger & Shake Lab in various Iowa locations; Black Sheep Social Club in Cedar Rapids; Valley View Community Center in Des Moines; and Kirkwood Hotel and Culinary Center in Cedar Rapids. Off the job, he refurbishes his ski boat and cooks large meals for friends and family.

Susan Knight, nutrition services manager. Knight was employed by Linn-Mar Community Schools for 25 years; in 2000 she began serving as the district's nutrition services manager. During her tenure, the growing district added several school buildings. Lunch participation increased from 2,600 to 4,900 meals daily, and breakfast was added to the program. She served as a board member of the Iowa School Nutrition Association for many years and was selected as Iowa Director of the Year in 2015. She retired on Jan. 31, 2017.
Equipment Key
1. Shelving/dunnage unit
1a. Shelving unit
1b. Heated shelf food warmer
2. Walk-in cooler
2a. Evaporator coil cooler
2b. Evaporator coil freezer
2c. Walk-in freezer
2d. Refrigerator, 1-door, reach-in
2e. Refrigerator, roll-in
2f. Milk cooler
3. Hand sink
3a. Hand sink w/ base
3b. Faucet
3c. Mop sink
4. Office equipment
5. Worktable
5a. Clean dish table
5b. Soiled dish table
5c. Tray return; soiled dish table
6. Wall cabinet
6a. Holding/proofing cabinet
6b. Heated roll-in cabinet
6c. Mobile proofing cabinet
7. Can opener
8. 30-qt. mixer
9. Mobile rack
9a. Sheet pan rack
9b. Detergent rack
9c. Mobile drying rack
10. Work counter w/sink
10a. Hot/cold food counter
10b. Cold food counter
10c. Hot/cold serving counter
10d. Cold food counter
10e. Drop-in cold well
10f. Condiment counter
10g. Serving counter, pizza line
11. Microwave oven
11a. Combi oven
11b. Double convection oven
12. Trash container
12a. Trash counter
13. Utility cart
14. Floor trough
15. Tilt skillet
16. Kettle
17. Exhaust hood
17a. Control panel
17b. Condensate hood
18. Food shield w/light
18a. Food shield w/light, heat
19. Display warmer
20. Drop-in cold well
20a. Three-well hot/cold food
20b. Drop-in cold pan
21. Tray dispenser
22. Mop/broom holder
23. Reverse osmosis system
24. Storage tank
25. Washer
26. Dryer
27. Refrigerated self-serve case
28. Glass door merchandiser
29. Mobile cashier stand
30. POS system
31. Condiment dispenser
32. Pot and pan dishwasher
32a. Conveyor dishwasher
33. Prerinse spray
34. Hose reel
35. Food waste collector
36. Lockers