A 16,800-square-foot culinary support production center with state-of-the-art bake shop, cold food production, warehousing, cook-chill/sous vide production and packaging supports catering, residential and retail dining operations.
Photos courtesy of Yale Dining; photography by William Wilson, director of marketing and communications
A team member at Café Med prepares menu items based on customers' requests. The Yale Dining team wanted to change the way they provided food to campus operations in order to improve its quality and consistency, increase value, enhance efficiency and reduce waste. The solution was to integrate decentralized operations into one centralized facility that could support cold food production for catering, residential and retail dining facilities. "Yale Dining's vision was to have a world-class culinary center that could add value to the students as well as support our mission," says Rafi Taherian, associate vice president for Yale Hospitality.
Finding the perfect facility to house the operations posed an inner-city dilemma for the team. Catering production and the bakery had been housed for 50 years in the basement of a building that opened in 1902 and contained the dining commons. "The building was outdated and needed expensive regulatory code updates," says Adam Millman, director of auxiliary operations. "In addition, the building was on a busy street without the proper loading dock, which led to the practice of loading trucks in the middle of traffic to support our catering operations, which was very dangerous for our employees."
After considering options, the Yale Dining team, including Taherian, Daniel Flynn, director of asset renewal and planned projects for Yale Hospitality, and Ron DeSantis, director of culinary excellence, found a 16,800-square-foot space inside the former Winchester arms manufacturing plant, which Yale University leases under a long-term contract and which also houses the facilities department. "The plant sits in an uncongested area only 3 miles from campus. It was exciting to have an open warehouse where we could design to what we required for all the operational functions," says Flynn.
The converted warehouse space is home to eight functional components including large-scale warewashing; a sanitation room for large equipment such as carts, bins and racks; a
bakery for retail, residential and catering operations; large storage areas for dry, refrigerated and frozen ingredients; hot production for catering and retail operations; cold food production for residential, retail and catering operations; cook-chill production; and a logistical hub for nine trucks that deliver hospitality-related food, equipment and supplies on campus. It also includes two loading docks and four garage bays for smaller vehicles, all of which are located on one level, making it easy to move goods. "A shared parking lot with Yale facilities allows for central preventative maintenance coordination of more than 200 university-owned vehicles," Flynn says.
All equipment in the Culinary Support Center sits on wheels so it can be easily and thoroughly cleaned.The trade-off for acquiring such ample space was dedicating approximately 30 percent of the project cost to infrastructure improvements. "There were no utilities, no floor drains or a grease interceptor, due to this being a capped area," Flynn says. In addition, the truss system supporting the roof could not accommodate the massive refrigeration rack, so an alternate location had to be developed at ground level.
"As a result of high infrastructure costs, production equipment was value engineered down by approximately $280,000," Flynn says.
"Perhaps the biggest challenge was to value engineer the cook-chill system," says Mark Romano, FCSI, vice president and design principal, Romano Gatland. "We modified the kettles and their sizes and brought in jet chiller systems that are cook tanks and chillers as well."
During the research phase, Taherian and Flynn visited many production facilities at colleges including Brigham Young and Notre Dame, as well as at casinos and retail chains to investigate best practices. "Each of our team members had a different focus, and together we considered overall cost, functionality, what was required to prepare high-quality menu items, energy efficiency, dependability, consistency and ease of cleaning and maintenance," Flynn says. He focused on equipment that "made work easier and was a benefit to the staff so they wouldn't have to spend an inordinate amount of time cleaning."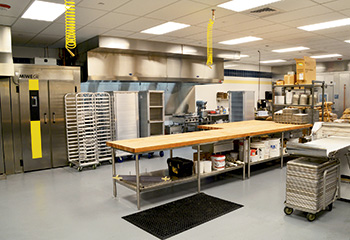 The central bakery produces bars, muffins, pastries, decorated cakes, about 200 dozen cookies and 57 pounds of granola daily. Production begins in the bakery at 2 a.m. and ends at 2 p.m. Two mini-rotary rack ovens are highly programmable; they turn on at 1:30 a.m. and are hot when the baker arrives at 2 a.m. When planning began, the Yale Dining team brought in Mark Romano as well as Romano Gatland consultants Chris Brady, FCSI, president and principal, Bill Vomvoris, FCSI, principal for planning, and David Cutrone, FCSI, project manager. "We reviewed over and over and over again the production space needed for each function, the flow of goods, trash handling and equipment storage," Flynn says. "We made multiple changes to each drawing to make sure we maximized our use of space, efficiency and productivity."
"Our challenge was to recommend a design considering the fact that college students are tech-savvy and demanding consumers," Vomvoris says. "They want to be part of the farm-to-table movement, and they want transparency, to know where their food comes from and how it is produced. We had to incorporate these trends along with other considerations such as healthy selections, wellness, nutritional considerations and a global approach to meet these ever-changing and variable demands for services. This had to be done within Yale Dining's operating and financial constraints."
Vomvoris says the production system "had to deal with costly peaks and valleys of Yale Dining's staffing demands and production considerations. Service expectations included an extensive demand for catering and catered events, unique student dining programs, special events and a rapidly expanding fresh grab-and-go approach."
The goal was to develop a multifaceted system that could expand and contract seamlessly with the demands yet meet the expectations of excellence placed on the Yale Dining experience. The team developed a three-part program that included an advanced food-production element based on component production that was coupled with just-in-time production and preparation of fresh ingredients for demonstration cooking. "Thus, the look and feel of transparency and the use of fresh local ingredients were achieved," Vomvoris says. In addition, an in-house bakery was developed that supplies pastries and desserts to all areas of the operation. "The ability to expand and contract production and inventory based on demand was achieved," he says.
Shelving and clear dates contribute to precise ingredient management."The Culinary Support Center [CSC] allowed us to change how we approach our residential and retail operations and allowed us to create greater value through combined functions," Millman adds. Today, CSC supports the 12 residential colleges, retail operations at the Divinity School, Café Med at the Medical School, West campus, KBT Café, the School of Management, Becton Coffee Shop, Thain Family Café at the library and Durfees C-Store on Elm Street.
To staff CSC, at least one employee working at each college was assigned to the new facility. "Because CSC is a commercial facility, it required an entirely different work paradigm," Flynn says. "The people selected have the highest cold food production skills."
"Today, CSC is a facility employees want to work at because of the state-of-art equipment, overall culture and quality of food that is produced here," Millman adds.
Production and Product Flow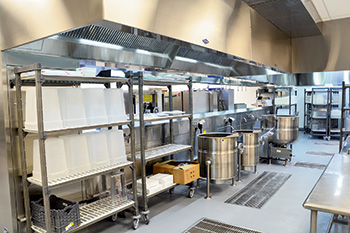 Cook-chill equipment allows staff to produce menu items during nonpeak service periods.Food arrives at a loading dock on the north side of the building on the main and only level. Here, two staff members check it in using pull sheets from the menu management system at a central receiving area, and other staff break down the shipments and send them to storage locations, which include a dry storage room, large freezer, deep freezer, catering walk-in cooler and freezer within it, a food bank walk-in cooler, a bakery walk-in cooler and freezer. Typically, dedicated staff deliver the menu items to their designated areas, but occasionally unit culinary staff pick up what they need.
"When we were planning, a lot of time was spent talking about how to reduce the amount of times each product is touched," Flynn says. "For example, we felt beverages for catering were overhandled. So, we put in a walk-in that opens from the loading dock so staff members can receive beverages on pallets into storage. On the other side is a door where the people that are packing out beverages for the events can have access to those items. So, there's no more double handling."
"We focused on the flow, with raw products coming in, going into storage, first-in and first-out rotation of products and getting everything to move through without backflow," Romano says. "And we had to be sure the circulation of clean and dirty was correct to minimize chances of cross contamination."
In the cold pantry where the temperature stays in the 50s, team members prepare a trio of compound salads such as kale with local apples, dried cranberries, roasted pecans and lemon cumin vinaigrette, as well as staple items such as Mediterranean tuna, roasted pepper hummus and curry chicken salad. They also prepare condiments, dressings and marinades for the residential colleges. Team members pack prepared food into appropriate-sized containers before placing them into a shipping refrigerator that holds only food going out that day.
As team members walk down the hallway, they can enter the receiving area, dishwashing, scullery, offices, employee break room and restrooms without going into the food-production area. Once they reach a certain point in the hall, they need to don a hairnet or hat, scrub and sanitize the hands and soles of their shoes in a sanitizer machine before entering into the food preparation rooms, including cold food prep rooms, hot food kitchen, cook-chill, the bakery and catering prep area. "We're very strict about adhering to sanitation and safety standards," Flynn says.
The cold pantry's equipment package includes a tumble mixer for gently and quickly mixing — for about 15 seconds — large batches of tuna and chicken salads.
An automated meat slicer assists with productivity and quality. "This slicer has been a home run because we can program the thickness we want and determine the pack size, stacked or shingled," Flynn says. "This slicer took the work of three people down to one, providing better utilization of labor. Many automated slicers don't allow this." After cutting is complete, a large conveyor belt moves products to the packaging station.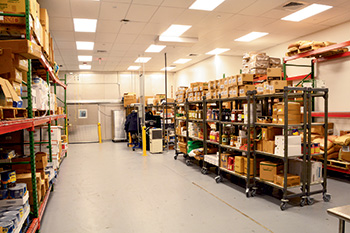 Each menu ingredient is given a specific space and is clearly marked with dates in the storage room. The cold area also contains a vertical cutter-mixer, which was originally installed for making hummus and marinades. "We found out after some experimenting that the mixer actually heated the hummus as it mixed it, reducing the shelf life and turning it sour," Millman says. "We had to change our process to ensure the product did not heat up."
Products are made to order based on facilities' needs, packaged for various locations and placed into shipping containers in the cold room and into a shipping refrigerator next to the dry storage area. Products ship out to various residential colleges daily via the university's refrigerated trucks. "This is a huge improvement for consistency and food safety controls," Flynn says. "We used to make these products in 10 different kitchens every day. Even with uniform recipes, cooks made them a little different to suit their customers. We now have a lot less inventory on hand and one central delivery place, which results in less food waste."
Central Bakery and Hot Food Prep
The central bakery produces bars, muffins, pastries, artisan cakes, vegan desserts, about 200 dozen cookies and 57 pounds of granola daily. "We gave up bread baking about 12 years ago because we can outsource and get high-quality products at a reasonable cost," Flynn says. "We make the super high-end products with better margins."
Production begins in the bakery at 2 a.m. and ends at 2 p.m. "Putting in two mini rotary-rack ovens was one of the best choices we made," Flynn says. "The ovens are highly programmable, so they turn on at 1:30 a.m. and are hot when the baker arrives at 2 a.m. We used to bake cookies at the end of day at 2 p.m., cooled them and shipped them out the next morning. Now, cookies are baked off in the morning and shipped out that morning at 6:30 a.m." Flynn also appreciates that the oven produces cookies and other baked items "that are far more consistent than our previous products." The proofer is also programmable.
The bakery also contains a muffin batter and cookie depositor that runs on compressed air. "Using this machine saves a lot of time scooping and hand work production," Flynn says. "The staff kept old mixers but upgraded them. Having more square footage in the bakery is extremely helpful. Everything is on carts and racks."
On the hot kitchen line, staff work with an energy-efficient vertical broiler to mark off chicken breasts and grill vegetables and winter stone fruit; a 5-foot flattop griddle to sear fish, burgers and vegetables; a fryer to make falafel, vegan meatballs with kale and hors d'oeuvres such as sweet potato croquettes; and a steamer for vegetables and hard-cooked eggs.
Team members also use a double-stacked combi oven to cook fish at low temperatures, steam large batches of vegetables and braise roast beef and pork butt overnight. Two convection ovens mainly support the cold pantry staff to prepare vegetables and other ingredients for salads.
Kitchen designers built in as much flexibility as possible with equipment such as utility distribution systems to allow staff to switch out equipment if necessary.
Cook-Chill Production
The majority of the cook-chill processing takes place when the university shuts down for breaks. Yale has seven periods during the school year, and during the down periods staff in the culinary support center assemble menu items such as chicken breasts that will be used to make chicken salad. For retail locations, team members prepare soups using the cook-chill process when school is in session. "Operationally it's wonderful because cooks in the various colleges come together, collaborate and work under talented chefs like Ron [DeSantis]," Flynn says.
As in many operations that transition to a centralized food-processing system, staff resistance was initially high. "Fairly soon after we started operating this facility, our staff members became accustomed to giving up their own recipes and embraced the consistency of the menu items coming from CSC," Flynn says.
Cook-chill equipment produces everything from chicken and salad dressings to sauces, soups, stews and stocks in two 100-gallon kettles, two 80-gallon kettles, one 60-gallon and one 40-gallon kettle. Liquid-based items quickly cool in the kettle tank and are next pumped into storage bags, sealed and placed into containers on carts for storage in the food bank where they can be held for up to 29 days, though most menu items are used within 2 or 3 days. A deep freezer can also hold products, but is not often used in this process, with the exception of soups and chicken breasts, both of which are used over the course of a few months.
"We did a lot of on-site research on cook-chill, as well as the other functions within a centralized operation," Flynn says. "Ron focused on the culinary side, and my focus was on the bags, assembly, casters, racks and plastic containers."
Team members also utilize the cook-chill equipment to prepare sous vide products such as short ribs and muscle meats for use primarily in high-end catering.
When the units require food products, staff place bagged and chilled menu items into plastic containers and onto a refrigerated truck that delivers food to the various colleges and retail locations.
"We spent a great amount of time figuring out how long each item requires for packaging and how well packaged items fare when shipped," Flynn says.
Sanitation and Cleaning
Staff working in the CSC load carts with dirty containers and supplies and bring them to the pot- and dishwashing areas. Pots are washed in a pot washer and three-compartment sink.
"The clean end of potwashing and dishwashing come together in the center of a specified area, so one person deals with all the clean dishes, and makes sure there is no cross-contamination between the dirty and clean dishes," Flynn says.
A cart washer designated for carts only is loaded on one side. After carts move through and are sanitized, they come out the other end. "No food products are washed in this unit so the water is cleaner than washers that also sanitize pots and pans," Flynn says.
Throughout campus, preconsumer prep waste is placed in compost toters that a vendor picks up daily along with trash and single-stream recyclables. Pickups take place six days a week.
Finding the appropriate flooring also required research. "Team members' safety was one of our major focuses," Millman says. The design team worked with many campus departments including the animal care research center and Yale's environmental department of health and safety. They also visited nearby colleges to identify flooring that would be slip resistant, minimize accidents, provide comfort, allow for easy maintenance and give long-term durability. "We did mock-ups and tried to make flooring materials as slippery as we could to test it out," Flynn says. To meet their criteria, the team selected an epoxy resin floor. Flynn says that the floor selection and improved standard operating procedures have resulted in a 25 percent reduction in accidents during the past year.
Looking back on its first year of operation, the Yale Hospitality team is pleased with CSC's accomplishments. Flynn would like to add a finishing pastry oven in the bakery and a hoist system to lower large colanders that hold ingredients such as heavy pasta into the kettles. "We have a hoist sitting on the loading dock, but we'd have to build a frame from which to suspend it at a cost of about $25,000," he says. "We probably won't be able to do this for some time."
No doubt, CSC is "still a work in process," Flynn says. "This was a major shift in the way we operate, and as we move forward we continue to find ways to build on our success and work more efficiently and smarter."
"We set out to create a world-class facility, and through the hard work and dedication of our team members, the value the Culinary Support Center has added is intertwined into the success of our operations," Millman says.
Yale Culinary Support Center Floorplan
Equipment Key
1. Soiled dishtable w/sink and reel

1a. Clean dishtable
1b. Soiled dishtable
1c. Beverage table w/sink and trough
1d. Mobile worktable
1e. Worktable w/spice rack
1f. Worktable
1g. Baker's table w/undershelf
1h. Prep table w/sink
1i. Baker's table w/maple top
1j. Prep table
1k. Worktable w/sink
1l. Worktable w/drawers
2. Vent duct
3. Rack conveyor warewasher
3a. Pot and pan warewasher
3b. Can wash/mop sink
4. Kitchenware dryer
5. Mobile pot rack
5a. Wall-mounted pot rack
5b. Dunnage rack
5c. Mop rack
5d. Mobile pan racks
5e. Mobile garment rack
5f. Oven racks
5g. Pan rack
5h. Can rack
5i. Overhead mixer parts rack
6. Condensate hood
6a. Exhaust hood with makeup air (MUA)
7. Floor trough
7a. Floor water receptacle
8. Pot washing sink
8a. Hand sink w/eye wash
8b. Hand sink
8c. Hand sink, wall-mount
8d. Hand sink, floor-mount
8e. Two-compartment sink
8f. Three-compartment sink
9. Wall shelf
9a. Mobile walk-in shelving
9b. Welded shelving
9c. Pallet rack shelving
9d. High-density storage shelving system
9e. Storage shelving
9f. Mobile shelving
9g. Wall-mounted shelf
10. Transport cabinet, noninsulated
10a. Equipment parts cabinet
10b. Mobile enclosed cabinet
11. Hose bibs
12. Forklift
13. Charging station
14. Pallet tugger
14a. Pallets
15. Mobile trash tilt trucks
15a. Bowl lift trucks
16. Walk-in cooler
16a. Evaporator coil
16b. Blower coil
16c. Walk-in freezer
16d. Power-sliding door
16e. Roll-in refrigerator
16f. Undercounter refrigerator
16g. Mobile reach-in freezer
16h. Worktop refrigerator
16i. Refrigerated cold prep room
17. Security fence and gate
18. Mobile mop bucket
19. Ice flaker
19a. Icemaker filter system
19b. Ice bin w/bagger (future)
19c. Ice dispensing bin w/cart
20. Coffee brewer
21. Dollies and baskets
22. Floor scale
22a. Scale
22b. Weigh/wrap scale
23. Air compressor
23a. Air dryer
24. Sanitize mat
24a. Hand sanitizer w/foot bath
25. Overhead cord reels
26. Can opener
27. Vertical cutter mixer
28. Food processor
29. 30-qt. mixer
29a. 20-qt. mixer
29b. Countertop mixer
29c. 80-qt. floor mixer
29d. Floor mixer
30. Food slicer
30a. Mobile slicer stand
30b. Food cutter
31. Roll-in double-rack oven
31a. Combi oven
31b. Stacked convection ovens
32. Depositor
33. Proof box
34. 20-gal. tilting kettle
34a. 80-gal. tilting kettle
35. Stockpot range
35a. Countertop hotplate
35b. Heavy-duty range
36. Ingredient bin
37. Chocolate melter
38. Water meter
39. Dough divider/rounder
40. Dough sheeter
41. Broiler w/mobile stand
42. Griddle w/stand
43. Deep-fat fryer
44. Wall-mount pot filler faucet
45. Convection steamer
46. Utility distribution system (UDS)
46a. Cook-chill kettle control panel
47. Pasta basket and dolly
48. Overhead rail and hoist
48a. Hoist-system monitor
48b. Mobile basket hoist
49. 100-gal. kettle
49a. 60-gal. cook-chill kettle, agitator
49b. 20-gal. kettle
49c. 40-gal. kettle
50. Fire protection system
51. Tumble cook-chill tank (future)
51a. Tankless heater
52. Pump fill station
53. 80-gal. tilting skillet
Facts of Note
Ownership: Yale University
Opened: September 2014
Scope of CSC Project: A design-build facility, which
contains eight functions, including large-scale warewashing for support equipment and catering; an area for sanitation equipment with carts and racks; a bakery for retail, residential and catering operations; storage areas for dry, refrigerated, frozen and long-term ingredients; hot and cold production for catering; cold food production for campus foodservice operations and cook-chill; and a logistical
hub for nine trucks that deliver hospitality-related food, equipment and supplies as needed on campus.
Size: 16,800 sq. ft.
Total Annual Sales: $10 million
Storage: Contains $150,000 of inventory
Hours: 2 a.m. (bake shop) until 7:30 p.m., 6 days per week; stays open until 2 a.m. during events
Daily Menu Specialties: Black-eyed pea salad with corn and tomatoes; roasted Brussels sprout salad with pecans, pecorino and maple Dijon vinaigrette; roasted vegetable banh mi with chipotle aioli; roast beef sandwich with spicy feta and balsamic onions on a rosemary focaccia roll. (Daily production quantities: 450 sandwiches, 1,000 pounds of compound salads, 100 gallons [2 varieties, 50 gallons each] of salad dressing, 200 dozen cookies for residential operations, 57 pounds of granola, up to 5,000 pounds of chicken for cook-chill as needed)
Staff: 46 FTEs
Total Project Cost, Including Equipment: $6.8 million, including $2.2 million for equipment
Key Players
Owner: Yale University
Associate Vice President for Yale Hospitality: Rafi Taherian
Director of Asset Renewal and Planned Projects, Yale Hospitality: Daniel Flynn
Director of Auxiliary Operations, Yale Hospitality: Adam Millman
Director of Culinary Excellence, Yale Hospitality: Ron DeSantis
Director of Supply Management, Yale Hospitality: Gerry Remer
Architect: Yale Facilities
Foodservice Programming and Design Consultants: Romano Gatland, Amityville, N.Y.; Mark Romano, FCSI, vice president and design principal; Chris Brady, FCSI, president and principal for programming; Bill Vomvoris, FCSI, principal for planning; David Cutrone, project manager
Concept Development Consultant: The Pulse Group, Palm Springs, Calif.; Tom Tucker, partner
Equipment Dealer: US Foods, Norwich, Conn.
Construction: Standard Builders, Newington, Conn.
Meet The Players
Daniel R. Flynn is the director of asset renewal and planned projects for Yale Hospitality. He specializes in equipment knowledge and operational management. As a member of the senior leadership team Flynn has played a key role in the design functionality of multiple Yale renovations, including contract management, equipment selection and design functionality. Prior to joining Yale University, he worked for 15 years in the restaurant industry as a restaurant owner and chef.
Gary M. Lepore, AIA, NCARB, LEED AP, is principal at LDL Studio Inc. He and his twin brother, Glenn, have completed 380 hospitality design projects since the firm's founding in 1995. They have worked on seven projects with Yale since 2009, and have completed other projects at Harvard, Duke, Drexel, Cornell, Tufts and Curry. They also focus their attention on projects in hotels and restaurants.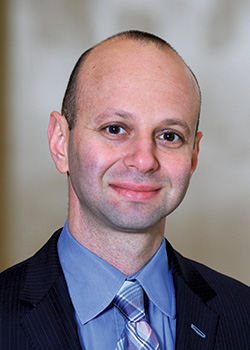 Adam Millman, director of Yale Dining auxiliary operations, retail, catering and culinary support center, earned a bachelor's degree in restaurant management from Florida International University and has more than 15 years of experience in the hospitality industry. In his new role, Adam provides leadership for retail, catering, graduate dining and the Culinary Support Center operations, which includes concept development and innovation.
Mark Romano, FCSI, is executive vice president in charge of design for Romano Gatland. A past recipient of the FE&S Young Lion Consultant Award, Romano now has more than 30 years of experience in the design, project management and construction of numerous projects across all foodservice market segments worldwide.
Rafi Taherian, associate vice president for Yale Hospitality, joined Yale seven years ago. Prior to this position, he served for 13 years as the executive director for Stanford Dining. With these and other positions, he brings more than 25 years of expertise to the hospitality industry. He has been nationally recognized as a seasoned veteran in piloting various industry-leading sustainability initiatives and has received numerous awards for his vision and leadership in conceptualizing and implementing innovative hospitality programs.
Bill Vomvoris has been a principal in operations management for Romano Gatland for 20 years. He has been directly involved in programming, management and operations advisory for numerous Romano Gatland clients. Prior to joining this firm, Vomvoris was the director of food and nutrition services at one at of the country's largest healthcare systems and cook-chill programs.