Page 2 of 2
Equipment List
1. S/s cabinet
1a. Wood storage cabinet
1b. Holding cabinet
1c. Cabinet
2. Drop-in cold pan
3. Oyster bar fixture
4. Food shields
5. Iced display
6. Undercounter refrigerator,
two-section
6a. Underbar pass-thru cooler
6b. Refrigerated sandwich/salad prep rail
6c. Refrigerated base
6d. Reach-in freezer
6e. Wine cooler
6f. Undercounter refrigerator
6g. Back bar cooler, two-section
6h. Underbar ice chest
7. Counter w/sink
7a. End counter
7b. Chef's counter
8. Mobile worktable
8a. Spreader table
8b. Prep table w/sinks
8c. Clean dishtable w/
three-compartment sink
9. Ice transport cart
10. Chilled-water dispenser
11. Island exhaust hood
11a. Exhaust hood
11b. Exhaust hood control panel
11c. Exhaust hood w/makeup plenum
12. S/s wall panel
13. Wood broiler/grill
13a. Salamander broiler
13b. Overfired broiler
14. Pressureless steamer, 10-pan
15. Deep-fat fryer
16. Griddle
17. Four-burner range w/12-in. griddle
17a. Six-burner range w/convection oven base
17b. Six-burner range w/standard oven
18. Double-tiered s/s pass shelf
18a. Wall shelf
18b. Storage shelving
18c. Underbar glass storage w/drainboard
19. Food warmer, overhead
20. 10-gal. tilting steam kettle
21. Two-deck convection oven
22. Smoker
23. French fry cutter
24. Hand sink
24a. Mop sink w/faucet
24b. Four-compartment underbar sink w/faucet
24c. Underbar handsink
25. Fire protection system, wet chemical-type
26. Ingredient bin
27. 40-qt. floor mixer
28. Soda and ice dispenser
29. Iced tea brewer
29a. Coffee brewer
30. Coffee grinder
31. Espresso machine
32. Water filter assembly
33. Corner drainboard
33a. Underbar drainboard
34. Underbar blender station
35. Bar blender
36. POS cabinet w/lights
37. POS machine
38. Trash receptacle
38a. Underbar dry waste
39. Menu holder
40. Soda chase and gun rack
41. Soda gun
42. Underbar combi ice bin
43. Underbar liquor display
44. 16-head beer tower and two rinsers
45. Bar fixture
46. Underbar beer drainer, 30"
47. S/s perforated drain pan
CoV Floorplan
Design Capsule
Opened: July 31, 2014
Scope of Project: Complete remodel of existing restaurant named Sunsets
Size: 6,900 sq. ft. under roof; 2,000 sq. ft. outside on deck
Seats: 212 inside, including 20 in the private dining room, 30 at the bar, 12 at the oyster bar; 200 outside
Average Check: $36
Total Projected Annual Sales: $8 to $9 million based on a full calendar year
Transactions/Daily Covers: Summer up to 1,600 per day; winter, 600 per day
Hours: 11 a.m. to 1 a.m., Monday though Saturday; 11 a.m. to 11 p.m., Sunday (10 a.m. to 2 p.m., Sunday brunch)
Menu Specialties: Brunch — crab cake Benedict, classic eggs Benedict, omelets, breakfast sandwich, French toast, pancakes, huevos rancheros; midday lunch — flatbreads, raw bar, fish tacos, shrimp roll, prosciutto mac and cheese, tomato pesto gnocchi, Italian sausage bucatini, steak frites, cioppino, pan-seared Skuna Bay salmon, fresh ground burgers; dinner — raw bar, burgers, sandwiches, sustainable seafood such as Walleye fish and chips and Skuna Bay salmon; pasta; all-natural farmed baby back ribs, "brick" chicken, soft smoked prime rib, filet mignon and prime New York strip
Staff: 60 in winter; 100 in summer
Total Project Cost: $3.5 million
Equipment Investment: $750,000 for kitchen equipment, underbar equipment and furniture
Website: www.covwayzata.com
Key Players
Owner: Genuine Restaurant Group (GRG), the parent company for Craft Kitchen and Bar and Pub 42 (in northern Minneapolis suburbs) and C?V in Wayzata; Dean Vlahos, principal; Steve Anderson (silent partner) and Steve
Wagenheim (active partner)
Executive Chef: Clay Gibbins
Chef de Cuisine: Zach Schugel
Architect: Shea Inc., Minneapolis; David Shea, CID, NCARB, owner and creative principal
Interior Designers: Shea Inc., Minneapolis; David Shea, CID, NCARB, owner and creative principal; and Jennifer Cashman Interior Design, Minneapolis, Jennifer Cashman, principal
Kitchen Consultants: Premier Restaurant Equipment and Design Co., Minneapolis; Jim Hara, president
Equipment Dealer: Premier Restaurant Equipment and Design Co., Minneapolis
Construction: Dering Construction Co., Minneapolis; Adam Dering, principal
Meet The Players
Jennifer Cashman
Cashman is the principal of Jennifer Cashman Interior Design. A native Minnesotan, she has been in the interior design business for 22 years. Her projects include residential properties in Minnesota and in Telluride, Colo., and assorted other projects. This is her first restaurant project.
Clay Gibbins
The executive chef of C?V is originally from Lake of the Woods in northern Minnesota. Clay moved to the twin cities after high school and earned a bachelor's degree in fine arts at the College of Visual Art in St. Paul. Before C?V he worked for McCormick and Schmick's in Minneapolis, Axel's Charhouse and Radisson Roseville, as well as Mandalay Bay in Las Vegas. Gibbins enjoys the pastry side of the food industry and loves creating new dishes.
Jim Hara
Hara established Premier Restaurant Equipment & Design 26 years ago with partner Gary Zechmeister. After earning a master's degree in finance, Hara practiced as a CPA for four years, giving him great appreciation for the need to use experience to provide value to a project. With his experienced team in sales, project management and design, Hara has done work in restaurants, casinos, senior housing facilities, colleges and grocery stores. He is especially proud of his work on the Stratosphere Casino in Las Vegas, Nevada, which is a round, rotating restaurant that sits 1,150 feet in the air.
David Shea, CID, NCARB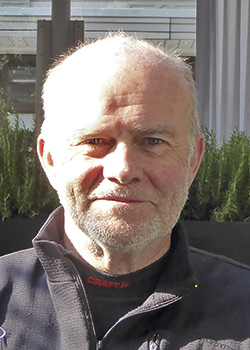 Shea is owner and creative principal, at Shea Inc., a national design and marketing firm that specializes in creating successful consumer environments using brand development, architecture, interior design, marketing and graphics. Shea's work specializes in the areas of hospitality, retail and office. As principal creative director on most Shea projects, Shea has been directly involved in the design of more than 400 retail, hospitality and office projects in his firm's 36-year history.
Zach Schugel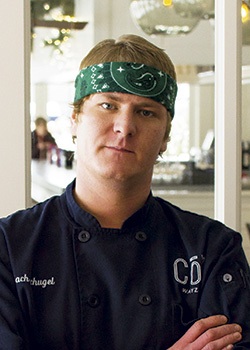 C?V's chef de cuisine grew up in the small German town of New Ulm in southern Minnesota. He moved to Minneapolis a month after graduating high school in 2006 to follow his culinary passion at the Arts Institute International of Minnesota. While at school he participated in as many volunteer and competition teams as he could and became a member of the ACF Junior Culinary Team. His discipline, skill and attention to detail contributed to his being part of the team for James Beard Award-winning chef Alex Roberts who was named Best Chef Midwest in 2010 at Restaurant Alma. At age 21, Schugel landed an opportunity to open an 80-seat restaurant as the executive chef.
Dean Vlahos
Vlahos is the owner of C?V. Born in New Jersey, he has lived in Minnesota for the past 30 years. His restaurant ventures include the national chain Champps Americana, Minnesota-based Redstone American Grill restaurants and local restaurant BLVD Kitchen and Bar.
Photographs courtesy of Premier Equipment and Design Co.;
photography by Travis Anderson/http://travisandersonphoto.com