This new urban dining hall leverages a flexible foodservice equipment package and utility distribution system to implement a cook-to-flow system that helps provide students with a varied menu of restaurant-quality food.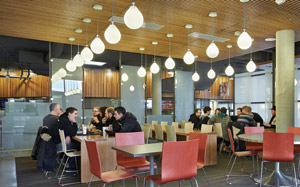 Photo by Benjamin Benschneider/OTTOThe centerpiece of the revitalized neighborhood on the University of Washington's west campus, Lander Hall is the newest freshman residence hall. "Initially planned as a remodel of two mid-century dorms, early analysis demonstrated that the urban site was dramatically underutilized and that new construction was less expensive and more energy efficient than renovation," says Bill LaPatra, AIA, LEED AP, partner, lead architect for Mithun, the project's architect and interior designer. "The design places three smaller buildings onto the original neighborhood grid and reintroduces streets, thus creating a vibrant heart within this
revitalized campus neighborhood."
A 245,000-square-foot building with 650 beds, Lander is at the heart of the expanded west campus precinct and features a blend of student and city life experiences for more than 3,000 students. Two more residence halls will open in 2015, which will add 1,100 boarders.
Situated on Lander's main level, Local Point is the main dining facility. It features a service counter that curves around the interior of the space and houses five dining concepts: the grill, Global Kitchen, Pagliacci Pizza, a deli and a self-serve salad bar. The space also contains displays for desserts and counters for beverages. In addition, the Big Kitchen concept at the back of the space serves special Sunday night dinners until it is in full operation when two more residence halls open in 2015, and the Chef's Table demonstration classroom kitchen with theater seating allows students to watch cooking demonstrations and learn about nutrition. A front-of-house conference kitchen provides food for visiting groups.
"Local Point is much more than dining," LaPatra says. "It is an extension of a building community."
Because Local Point operates 20 hours a day, serving as facility for communal gathering, group studying, socializing and informal meetings, the building features a "hip vibe, an unbuttoned aesthetic that is not seen in most student dining," according to LaPatra and Elizabeth MacPherson, lead interior designer for Mithun.
"Local Point has a modified marché dining approach that exhibits the food preparation but also provides an efficient flow from loading dock to table to compost," LaPatra says.
"We're running a restaurant and serving 800 people in a short amount of time," says Storm Hodge, assistant director, Housing and Food Services, UW Dining. "We've introduced a new style of service — cook to flow — to campus and our customers. We don't cook food ahead of a meal period, let batches sit in a hot box and scoop it out and serve it later. And we don't generally take orders from customers, though we modify offerings as requested. Rather, we have a set menu of five or six items, prepare the mise en place and cook it in front of the customers in equipment near to the service point. We work in a flow process, placing restaurant-style, fully garnished quality dishes on plates and landing them on a hot rail. As customers come in, they take a plate."
Hodge became aware of the concept while working for Marriott/Sodexo and eventually worked as a trainer and helped implement the concept. The concept uses science and technology to create restaurant-quality food as defined by taste, temperature and appearance. "Few people are doing this now, but it will catch on and spread throughout the country," says Hodge, pointing out Wendy's as a quick-service chain implementing cook to flow. "The worst thing you can do to food is to hold it under a heat source because it deteriorates over time. As an industry we've been doing this for decades. Even at platforms serving burgers, for example, the burgers are cooked ahead of time and sit under heat till they are served. It's not good for food quality even if done in high volume."
When the concept was first introduced at Local Point, students were somewhat confused. However, Hodge says, "They soon picked right up on it."
Back-of-House Operations
Three factors drove the space's layout. "First, there were four major entry points into the facility," says Tim Stafford, principal of Stafford Design Group and the project's foodservice design consultant. "Second, a large sloped area in the middle of the space allowed large trucks to enter the loading dock spaces below the building; and third, one-third of the space towards the back had a tight ceiling space due to the building above."
The back part of the space was the logical place to put the main kitchen, storage, dish/potwashing and administrative spaces. The freight elevator comes up into the zone, and the dry and refrigerated spaces, including the walk-in cooler and walk-in freezer, sit off a corridor leading from this elevator. This corridor goes around behind the kitchen and dishroom, eventually connecting to the administrative spaces. The kitchen has easy access to the storage areas off the corridor. Staff from each station come to the storage areas to collect the food they'll need. The back kitchen supports the restaurants. Staff use worktables, a food cutter and floor mixer to prepare mise en place and to cook sauces, soups and proteins in 25- and 40-gallon steam kettles, a 40-gallon tilt braising pan, a 48-inch griddle, and a 45-inch broiler, as well as fryers, ranges and combi ovens. Equipment is split between two cooking areas in the kitchen.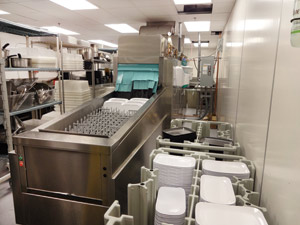 Dishes and pots are cleaned in this room. Photo Courtesy of UW Dining"Dishwashing was a real challenge," Stafford says. "We wanted to create both a dishwashing and potwashing room because of our space constraints. It couldn't be out in the main dining space due to the fact that the dining/serving area was a double-high space and a dishroom didn't make sense out in the open. The solution was to put it at the edge of the low back space against both the kitchen and the dining area. We created a large free-flowing space with a 20-foot-long tray conveyor in its center and trash, recycle and compost containers on its edges. Students are able to drop their wares on either side of the conveyor and the dish-drop zone is right off of the main circulation zone, allowing fairly easy access to the exit points in the facility."
Front-of-House Stations
The main space features a flow pattern that interconnects all four entrances and provides the solution for serving and dining placement. Four of the five serving platforms sit on the inner part of the circulation zone. "The circulation zone is fairly wide, which solved queuing issues at each restaurant and allows students to freely move to the restaurant of their choice without having to fight lines blocking them," Stafford says.
The dining spaces line up around the outer perimeter of the main space. The fifth restaurant, Big Kitchen, sits against the main kitchen, which allows Local Point staff to close the area without
making it feel like a dark space.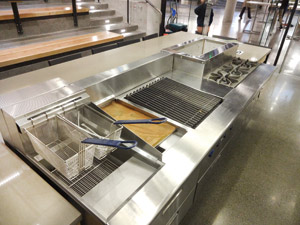 A cooking suite with a fryer, charbroiler and range allows chefs to prepare dishes for students. Photo Courtesy of UW DiningThe placement of the Chef's Table serves as the centerpiece of the main space. "We used the sloping surface of the loading dock entrance as a means to create the stadium seating," Stafford says. The cooking area sits at the bottom of the sloped seating area, and both fixed and movable glass walls enclose the entire space. This allows UW to close the area for events yet remain open for students to circulate through the space during other periods.
"The servery uses a more raw and natural material approach," MacPherson says. "The top curvilinear organizing
element uses reclaimed, resawn cedar strips. A 'raw' steel armature of angles and plates with perforated metal infill panels holds the menu screens. Other materials include a solid surface counter top and stainless steel elements with raw steel panels as infill. The raw steel has been treated around the servery to retain its natural appearance but not let it rust or weather further. The concrete floor is ground and polished cast-in-place."
The architects and interior designer created several seating neighborhoods, each with its own unique character. Seating takes many forms so customers can use the facility for dining, studying and socializing.
Designing the Servery
The servery uses a more raw and natural material approach. The top curvilinear element uses reclaimed, resawn cedar strips.Each station requires its own equipment. Though Local Point uses a fairly traditional equipment package, the items are flexible, allowing staff to use them at multiple stations. "Labor efficiency was created by making the platforms all self-sufficient so staff can stock each space with enough product to avoid the need to go back and forth to the main kitchen and storage areas," Stafford says.
As the design progressed, Stafford brought up to 60 3- dimensional images of all of the different areas to supplement the traditional plan review. It worked so well, he says, that at one point Storm Hodge and his team wanted to see what they called "pictures" rather than the printed drawings. "Storm and his team used the images to review the layouts with their staff," Stafford says. "They gave me marked-up and annotated versions of the images that I used to continue developing the design. The best part was that on opening day, staff already knew exactly how the stations would look and work, which made implementing them easier than usual."
In the servery, the flexible nature of three platforms — the grill, Global Kitchen and Big Kitchen — allows staff to prepare myriad menu items. "During the early part of the process, Local Point staff presented 14 potential cuisines that they could serve at the 3 flexible service platforms," Stafford says. "We developed cooking lines for each type of cuisine and used those layouts to determine how much hood space would be necessary to support the equipment. To allow equipment to be changed to support the different cuisines we used utility distribution systems and flood fire protection systems at each hood to allow a plug-and-play approach to changing equipment layout to support the different cuisines. All of the platforms have their own small kitchens, which are open for the customers to see how the food is prepared and cooked."
At the three flexible platforms, the serving counters facilitate staff's presenting the food items plated, ready for pickup rather than in traditional hot and cold food display units. "The solution was to create a couple of slightly raised shelves at each station with flat heated display units on which staff place plated food," Stafford says. "We were looking to create a way for staff to cook food to order, and when the order is up, staff place it on a shelf, not unlike the way waitstaff pick up food in a restaurant kitchen. The customer takes the role of the waitstaff in this case."
Hodge, Tracey MacRae, campus executive chef, and the Local Point team selected the platform's concept themes in response to student requests and research of national trends. "The goal is to have menu finesse, and Tracey does a great job making sure customers have everything they could ever want," Hodge says. "We track everything we serve daily and review the data at a planning meeting, and so we know how much of every portion we'll need the next time we serve."
"We finesse the menus to be equally interesting at all stations," MacRae says. "Each platform performs about 375 transactions, so traffic is well dispersed."
Above: At the grill, screens inform students of menu items. Food display on shelving is one of the most important elements of this delivery system. At the grill, staff prepare traditional burgers and chicken, but also feature creative menu items such as the Daddy Melt, a griddled patty with Swiss cheese and caramelized onions on marble rye; the Cali burger with avocado, bacon and pepper jack cheese; the Hilo Monster with fried Spam, grilled pineapple and teriyaki mayoli; NW Foragers with sautéed mushrooms, marbled jack and red onions; the Jive Turkey with avocado, cheddar and salsa, and the Smokehouse with an onion ring, American cheese and barbecue sauce. Other specials include corn dogs, sausages, hot dogs, chicken strips, fish and chips and varieties of fried potatoes and onion rings.
To prepare these menu items, staff use a refrigerated sandwich unit, mobile heated plating table, frying battery, 36-inch broiler, 48-inch griddle, cook's table with sink, combi oven and steamer, as well as mobile undercounter heated cabinets and refrigerated plans. Overhead display lights show off the food set on countertops.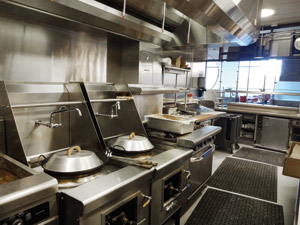 Woks at Global Kitchen allow culinary staff to prepare a variety of recipes with authentic ingredients from around the world. Photo Courtesy of UW DiningAt Global Kitchen, staff work with a 6-burner range with a cook's table, a 6-burner range with an oven below, a 16-inch wok and fryers. Menus here feature dishes spanning the cultural spectrum, including Cajun and Creole items such as chicken and sausage jambalaya; south-of-the-border dishes, such as mojo grilled chicken, ajíes rellenos, picadillo bowls with ground beef, potatoes, green olives, raisins and tomatoes served with white rice, black beans and sliced hardboiled egg; and Mediterranean dishes such as spanakopita, dolmades, roasted garlic hummus, Greek flatbread sandwiches and house-smoked salt-seared Albacore tuna steak with tomato-tangerine jam and Greek panzanella salad.
A made-to-order deli allows customers to order sandwiches assembled from ingredients displayed in cases. Staff warm sandwiches on panini grills. Soup wells hold up to three varieties daily.
A generous self-serve salad bar stands nearby, offering items displayed in refrigerated wells.
Big Kitchen sits near the back kitchen, so staff use the equipment there to prepare entreés for Sunday night dinners. Its hours will expand once two more residence halls open in 2015. This section features many of MacRae's favorite pieces of equipment, including a versatile range used for searing, sautéing, grilling, simmering and frying, and the combis used for roasting, steaming and smoking. "For example, we use the smoker to prepare regional barbecue as one of the menu rotations in Global Kitchen," she says.
Sunday night dinners at Big Kitchen feature carved ham glazed with marmalade and stone-ground mustard, served with mashed potatoes and steamed broccoli; spicy turkey meatloaf with baked mac and cheese and minty buttered peas; brisket braised in red wine and rosemary, with baked potatoes and roasted carrots; Tuscan-style roasted baby back ribs with baked polenta and roasted cauliflower, Kalamata olives and tomato; and chicken cobbler with cheddar-herb biscuit topping. Also popular here is a wing bar, enchilada bar and mac-and-cheese bar.
In addition, one platform supports Pagliacci, a popular local Seattle pizza chain. Staff working here use a refrigerated pizza table and a double-stack deck oven to prepare hand-tossed pizzas. They place the finished pies on a heated pizza display shelf.
Above: The centerpiece of the dining hall is the Chef's Table where students can watch cooking demonstrations and learn about nutrition — part of the university's desire to enhance living and learning experiences. Photo by Benjamin Benschneider/OTTOThe Chef's Table has become one of the most popular and certainly most visible areas. "In the initial design stages, Storm and the team wanted a place to conduct staff meetings, interview potential chef candidates and do tastings," Stafford says. "It was programmed to have a small cooking line and some space for tables and classroom seating. But then the concept took on a life of its own."
The result is a classroom-style setup with stadium seating for 40 in addition to 102 seats around a cooking suite with a fire-and-ice cook station with 3 open burners and a cold well built in for sauté, as well as a small broiler, small griddle, small fryer, undercounter refrigerator, full-size espresso machine and small combi oven. Local Point uses this multifunctional dining platform for staff training, student classes in nutrition and cooking, and as a production platform for meals or a casual dining spot.
Hodge is convinced the cook-to-flow restaurant-style operation is the future of college dining. "It's too easy to get stuck in the paradigm of the past, and it's time we moved on," he says. Hodge and the design team took a chance bringing it to life at Local Point. As they continue to experiment with the concept they'll help reformulate this new paradigm to attract next-generation diners who have very different expectations of dining than their parents.
Sustainable Features
Designed to meet LEED Gold certification, Lander's and Local Point's sustainable design strategies were developed in three primary areas: energy, water and waste. The following are a few of this project's sustainability-oriented features.
The design team took advantage of the large dining facility's efficient heat-exchange system by incorporating a mixed-mode natural ventilation strategy that captures and uses the cooking hoods' exhaust heat to preheat other parts of the building.
Through efficient water use, the building will use 35 percent less than similar buildings.
Designers integrated a storm water strategy with extensive rain gardens on the courtyard roof that contain native plants that require little to no irrigation.
Composting plays a key role in the building's waste strategy. Operationally, and by ease of chutes, the design team created a system that will encourage an extremely high use of compost and recycled materials with minimum use of landfills.
Students are encouraged to be stewards of the environmental performance of the building. Through the use of building-performance dashboards and other communicating tools, students will be able to compete to achieve the most environmentally efficient building.
A high-performance, high-efficiency envelope surrounds the entire exterior.
The project made use of materials that are local, recycled, reused, and non-red list, along with certified wood products.
The urban site is easily accessible by public transit and by bike.
The residential portion is naturally ventilated. FE&S
Design Capsule
Ownership: Housing and Food Services – UW Dining
Opened: January 5, 2014
Scope of Project: Lander Hall is a 639-student residence hall with a dining facility designed to serve approximately 5,000 students, employees and guests on the UW West Campus. The project is anticipated to meet LEED Gold standards. Local Point includes concept stations, support kitchens and seating areas. A service counter curves around the interior of the space and houses five dining concepts: Pagliacci Pizza; Global Kitchen; a grill; a deli and a self-serve salad bar. Additional facilities include Big Kitchen (a concept at the back of the space that is used for special Sunday night dinners and will be in full operation when two more residence halls open in 2015); Chef's Table (a demonstration classroom kitchen with theater seating); a front-of-house conference kitchen designed specifically for visiting groups; plus a lounge, a restaurant, and communal and restaurant-style seating areas.
Size: The project is 245,000 gross sq. ft. of residence hall housing, with a dining facility and service kitchen of 34,000 gross sq. ft.
Seats: 625
Average Check: $6.50
Total Daily Sales: $14,000
Daily Transactions: 2,300
Forms of Payment: All declining balance UW Dining and Husky Card accounts, and Visa and MasterCard
No. of franchised restaurants: One (Pagliacci Pizza)
Hours: Breakfast, Mon. to Fri., 7 a.m. to 10 a.m.; Lunch, Mon. to Sun., 11 a.m. to 2 p.m.; Brunch, Sat. and Sun., 10 a.m. to 2 p.m.; Dinner, Mon to Sun, 5 p.m. to 8 p.m.; Pagliacci Pizza, Mon. to Thurs., 11 a.m. to 10 p.m., Fri., 11 a.m. to 9 p.m., Sat., 12 p.m. to 9 p.m., Sun., 12 p.m. to 10 p.m.
Menu Specialties: Menu items from Pagliacci Pizza, a favorite Seattle-area chain; a rotating menu of popular national and international cuisine; a grill and a deli with a generous salad bar and made-to-order sandwiches; and Sunday-night special dinners for the residential community.
Staff: 18 classified staff members, 80 student staff members
Total Project Cost: $77.8 million, including approximately $12 million allotted for Local Point
Equipment Investment: $1.77 million
Key Players
Owner: Housing and Food Services (HFS) at the University of Washington, Seattle
Director, HFS: Pam Schreiber
Associate Director of Facilities, HFS: Rob Lubin
Assistant Director of UW Dining, HFS: Storm Hodge
Executive Chef, HFS: Tracey MacRae
Administrator, Residential Dining, HFS: Lance LaFave
General Manager, Local Point, HFS: Andrea Yeckel
Architect: Mithun Architects, Seattle; Bill LaPatra, AIA, LEED AP, partner, lead architect
Interior Design: Mithun Architects, Seattle, Elizabeth MacPherson, lead interior design
Foodservice Design Consultant: Stafford Design Group, Seattle; Tim Stafford, FCSI, principal
Equipment Dealer: Smith and Green, Seattle; Bob Pyka
Construction: Walsh Construction, Seattle; John Gilson